Dale Brown via Skype: We filed the lawsuit to win, not to make a statement or lambaste the DOL.
Dale Brown was supposed to be the star speaker at 10th annual Laser App conference last week, but no-showed.
No problem.
The CEO of Financial Services institute Inc. appeared live-by-Skype on a 20-foot screen from his lobbyist office back in Washington D.C. to speak to the 250 people assembled at the Marriott Marquis in Downtown San Diego.
Brown bolstered his keynote-by-keystroke billing with head-spinning historical context for fiduciaries and the DOL rule. See: As DOL contemplates stiff fiduciary-related penalties on advisors, NAPFA and FPA find rare concord with FSI.
"There are several issues with the bill, but being a fiduciary is not one of them," Brown said. "We were fiduciary believers long before being a fiduciary was cool."
What is, like, totally not cool about the DOL's crack at a fiduciary upgrade, Brown contends, is that it could hold stockbrokers accountable to fiduciary demands that they are not structured to fulfill. Brown's concern is that investors will sharpen their knives for brokers if the next down market slices their portfolios to ribbons.
Five-year funeral
"The liability risk under the [best interest contract exemption] contract exposes firms to lawsuits, even class-action lawsuits," he said. "The danger is that five years down the road when the markets go down and plaintiff attorneys get involved, the second-guessing will begin in terms of did the advisor do the right thing? How can we prove it, one way or the other?" See: What a wave of 401(k) lawsuits tell us about what RIAs really need to worry about.
Typically the way fiduciaries — namely RIAs — have solved for the proof problem is by documenting an individuals's long-term goals, risk tolerance, periodic cash needs, and then sticking to that plan. The plan gets modified from time to time as priorities and goals shift. When regulators or liability lawyers come knocking, The RIA is typically fine as long as it has proper documentation.
Brown added that "the government" has a ginned up a questionable case against commissioned retirement advisors by, in essence, solving a problem that doesn't exist.

Advisors tweeted their sentiments about FSI
CEO's speech.
"We started this process by asking the DOL, what problem are you solving for? The best answer we heard is that the government believes that there is rampant abuse of retirement investors advised by commission-based financial advisors and that investors are being harmed by this conflict of interest." See: Why SIFMA & Co.'s trip to a friendly North Texas court to upend the DOL rule looks more like its Alamo.
Though Brown faced little derision from the crowd, aided perhaps by Skype's uni-directionality in this case, when your correspondent tweeted out snippets of Brown's address industry observers fired back derision, ironic and not, that pointed to FSI's track record on regulation and fiduciary duty — one that advocates for the status quo in the name of smaller investors. See: Dale Brown tells RIAs why SEC's fiduciary standard is too costly for their clients.
News to Joel
Advisor Michael Sicuranza responded via Twitter: "Isn't that the organization that fought a fid[uciary] standard for like …ever?"
Regarding the FSI's avowed pro-fiduciary stance, Joel Bruckenstein, producer of the T3 conferences, tweeted: "Really, that's news to me."
Fear of lawsuits in the wake of the DOL rule, Brown continued in his address, will necessitate instituting new processes, procedures and technology and require a lot of time and effort to ensure that the advisor is following the rules.
"It makes things more complicated and there is no clear path to compliance. We hope we get it right, but this is a very poor way to regulate."
Even Brooke Southall, the editor of this publication, weighed in via tweet to that last Brown quotation from up north in Mill Valley: "My answer to 'no clear path' would be: Then maybe it's time to get out of the business."
Vexing lawsuits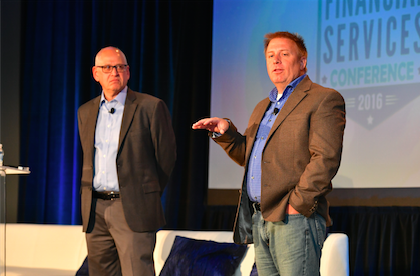 Bruckenstein and Aaron Spradlin are recruiting
custodians, broker-dealers and a few technology
companies to join in an industry
movement to collaboratively set standards.
To forestall such complications, the FSI has joined a consortium that includes the U.S. Chamber of Commerce to sue the DOL.
"We filed the lawsuit to win, not to make a statement or lambaste the DOL," Brown said. See: Why SIFMA & Co.'s trip to a friendly North Texas court to upend the DOL rule looks more like its Alamo.
But software vendors swatted aside such assertions as nonsense.
Brown allowed that until such a legal victory is gained that the FSI "is in a vexing position in that our members will have to spend time, money and resources to comply with a rule that we hope gets vacated."
Robo-momentum
But if the DOL rule was topic A at the conference, the robo topic showed that its sizzle hasn't fizzled. Laser App CEO Ed Beggs welcomed conference-goers with the brief, but encouraging message that the industry will adapt to the many mega-trends currently in play, particularly when it comes to the competition from robo-advisors.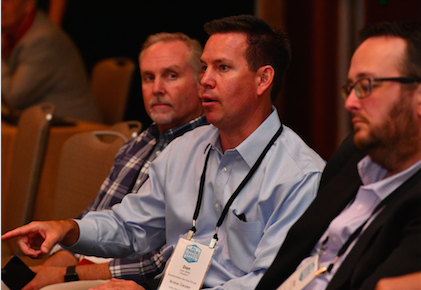 Dan Skiles of SSG, Greg Friedman
of Junxure and Brian McLaughlin of
Redtail
"Robo capabilities are just another tool in the toolbox," Beggs said as he recounted his roots as an accountant prior to founding Laser App 21 years ago. "When TurboTax came on the scene, accountants were initially threatened, and many left. But ultimately, that automation became just part of the way of doing business."
Beggs' comments echoed in tone and wording those of Schwab CEO Walt Bettinger, who has also dismissed automation as a "tool" and not an investing channel per se. See: In a six-month-mark reality check, Walt Bettinger recasts Schwab's retail robo-advice as a 'tool' — but a handy one.
"We start with good people and good companies and build long-term relationships — that is the value of partnering with Laser App," said Beggs, who, in Laser App, has quietly built a forms empire that processes over 40 million applications each year from a library of more than 34,000 forms from over 350 custodians, broker-dealers, fund companies and insurance providers.
Repapering the industry
Also at the conference, Laser App launched Laser App 11, designed to expedite account opening and expand e-signature capability.
"Over 25% of the forms in our library are now e-signable," noted Robert Powell, Laser App vice president, as he highlighted the growth of e-signing despite the current lack of standards and variability of acceptance by the custodians. See: Laser App is showing the prosaic business form's sexy side at its San Diego conference.
"Because of DOL, there is going to be a repapering of the industry," Leanora Williamson, senior vice president of Signix, said from the main stage. "So, now is a great time to look at e-signature capabilities."
In the exhibit hall, a swath of financial services technology firms showcased software geared toward making DOL rule compliance easier and battling robo-advisors more effective. Those companies included MoneyGuidePro, Laserfiche, Riskalyze, Redtail, Junxure, Envestnet | Tamarac, Finance Logix, Folio Dynamix, Orion Advisor Services, eMoney, Signix, Gentech, Paper Clip, ActiFi, Oranj, Circle Black, Grendel, Advisors Assistant and Advicent. See: eMoney makes its first big enterprise sale as a Fidelity sub-unit by showing a few features and much salesmanship.
Setting standards
Bruckenstein and Spradlin are recruiting custodians, broker-dealers and a few technology companies to join in an industry movement to collaboratively set standards. It's an initiative similar to the "Your Silver Bullet" tech vendor ad hoc co-op established by Junxure CEO Greg Friedman nine years ago to set integration standards, but which was subsequently disbanded in 2014. See: What Tamarac's overhauling of its Advisor Xi has yielded.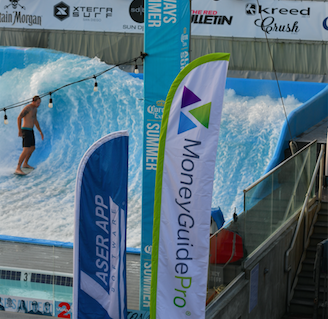 Wipe out: An unfortunate tech vendor
vying for the top surfer trophy
on manmade waves ended up with
broken collarbone.
Spradlin recounted how United Planners was exposed by a cybersecurity incident that highlighted the lack of standards and agreements regarding the many technology vendors and custodians involved and integrated in software as a service (SAAS) deployments.
"As an industry, we are not ready," noted Bruckenstein. "All it takes is one high-profile incident in our space and then new regulations will be imposed that will not be optimal for anyone. When it comes to technology integrations and cybersecurity, you are only as strong as the weakest link."
Bruckenstein is laboring to produce a prototype to roll out to the industry at his upcoming T3 Enterprise conference in Las Vegas in November — the first of those conferences to occur since the widely publicized rift between Bruckenstein and Bill Winterberg. See: As legal battle erupts between Bill Winterberg and Joel Bruckenstein, T3's allegedly wild profits from pay-for-play content get dragged into court of RIA opinion.
Surf's … oops
The Laser App event is known for its high fun factor, and this year did not disappoint. MoneyGuidePro sponsored the conference outing to the Wave House, a beachfront bar and water sport complex on San Diego's Mission Beach boardwalk. Attendees enjoyed surf-themed food and drink while watching professionals ride giant manmade waves. Even conference attendees got into the action, competing for the top surfer trophy, a spirited competition that left one unfortunate tech vendor with a broken collarbone.
The final night bash was held in the famous San Diego Gas Lamp district at the popular nightclub Barley Mash, where LaserApp hosted the after party until the late hours of the night.
To learn more about what went on at the Laser App Financial Services Conference, check out the #LaserApp2016 hashtag on Twitter.
Timothy D. Welsh, CFP® is President and founder of Nexus Strategy, LLC, a leading consulting firm to the wealth management industry, and can be reached at tim@nexus-strategy.com or on Twitter @NexusStrategy.
---
Related Moves
---
September 10, 2019 – 10:52 PM
---
---
Mentioned in this article:
---
---
---