Kunal Vaed: This is not a me-too solution. We were careful not to start when the others came out.
Brooke's Note: In business, one winning hand is to achieve "first-mover status." A more difficult footing to play from is last-mover status. Yet that is where E-Trade enters this conversation — both as a provider of automated portfolios and as an RIA providing some semblance of financial advice. Still, after E-Trade's robo execs showed up at InVest in New York City last month, we did not dismiss the late entrant. They have a large and loyal web-based clientele and an e-brand par excellence. We're listening, watching and trying to get a first-mover understanding of just what play Kunal Vaed is making here. But the vision seems to reflect the ambivalent nature of E-Trades do-it-yourselfers — beset by bifurcation.
As "robo" launches go, E*Trade's barely registered.
In June, E*Trade Financial announced Adaptive Portfolios, a mostly automated online investment service, with a decided absence of marketing fanfare or hype — but with a play at using its economies of scale to get active funds into its portfolios without pushing fees to the moon.
No play on the fact that this New York-based company is perhaps best associated with serving investors with a website. Not even a good baby joke.
The faint fanfare for the month-old robo — and almost willfully forgettable seven-syllable name — belies the uphill climb the discount broker is taking on by entering an arena where its big-brand-name competitors are seemingly so far ahead.
Under such external adversity, the key is to look inward.
"This is not a me-too solution. We were careful not to start when the others came out," said Kunal Vaed, E*Trade's head of digital services via telephone from his firm's New York headquarters "..... We chose to first study our own users and their needs. The firm built the product over the course of the last year and relied on a mix of client surveys and one-on-one evaluations to direct its efforts."
Unique challenge
E*Trade's offering, which it is building in-house, is similar to competitors on the surface — cheap-ish portfolios heavy on ETFs. The attempt at differentiation lies in bringing mutual funds into the mix and promising to keep the all-in price of portfolios down around 75 basis points even after taking its own 30 basis-point cut. The company will accomplish this by only placing investors in mutual funds that retail investors are typically barred from because they have minimum investments of $1 million, according to a spokesman.
The idea is that investors pay slightly more than at hyper-cheap Betterment and Wealthfront and in exchange get managers who play to beat the averages. Investors, for now at least, receive a level of service commensurate with a discount broker: Namely, continuous access to call center staffers. E*Trade's offer differs from Charles Schwab & Co. by eschewing proprietary funds and bringing in active management upon launch.
E*Trade faces unique challenges relative to Schwab. The company — with "trade" in its name and only about 30 branches — has never found a way to sell much financial advice.
Nor has the online broker yet found any great traction with the next generation of investors. E*Trade, under its managed account subsidiary, has just $3.2 billion in assets. E*Trade once tried to roll up RIAs but has since reversed course and rolled them back out. See: E*TRADE unwinds its RIA roll-up, and a giant RIA rises in the Boston burbs.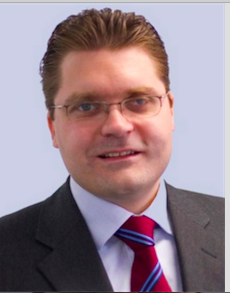 Alois Pirker: If these portfolio-management engines
mature and become more complete at
what they can do, there are
many accounts and portfolios at other
firms that can take advantage of
them.
Formerly diehard do-it-yourselfers with approximately 3.2 million brokerage accounts with the company are mostly self-directed baby boomers, which is a near oxymoron considering the complexities facing boomers as they face retirement, inheritances and tuitions.
Two ways that E*Trade is looking to chart a course that differs from competitors in playing to these schizophrenic boomers is to charge higher fees and mix in more active management. This offering may be the ticket for in terms of appeasing existing clients — older millennials and boomers — frisky to invest in portfolios of funds rather than just funds. Better to accommodate these maturing customers than lose them to a competitor, says Alois Pirker, a senior analyst and research director with Aite Group in Boston.
"They were smart and kept it nicely under wraps," he says.
Especially if you are seeking assets that are already sitting on your platform.
Indeed, Vaed acknowledges that the automated service's chief intended audience is E*Trade's existing customer base, at least initially. He declined to disclose exactly how many users the service currently has or how much the firm spent on its development. He did say since the robo launched on June 7, most adopters have been older millennials, followed by baby boomers and Gen Xers. See: The ironic reason robo-advisors aren't gorging on assets — a determination to dictate bloodlessly to millennials.
Too early for innovation
Pirker compares E*Trade's strategy favorably to that of another laggard, Fidelity Investments. The Boston-based financial services firm announced its automated offering, Fidelity Go, in November 2015, but has yet to formally launch.
"Fidelity, for instance, talked about [its robo] earlier on and it is still not out. What E*Trade has built is an in-house alternative to clients' leaving," he says.
What E*Trade may also be eyeing is the robo-advisor launched about 15 months ago by Charles Schwab & Co. Schwab Intelligent Portfolios manages about $7 billion — an unqualified success in the eyes of many. Schwab's objective was also to bring automated portfolios to existing clientele — while planting a flag in millennial ground. See: Schwab sings 'Blue' as it rolls out its robo — and phono — functions ahead of deadline, with minimums.
Though E*Trade's product may be one man's late-to-market, it is also following a laudably conservative course, says Will Trout, senior analyst with Celent LLC, a Boston-based consultant.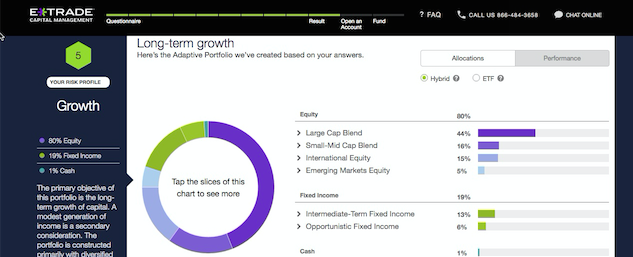 These represent the first and final
iterations of what the Adaptive Portfolio
risk tolerance questionnaire might look like.
This example is for long-term growth
with moderate risk
Final
"They didn't want to be first-movers — it is part of their innate conservatism. We are at a point where product innovation doesn't sell yet."
Soft shoulder ahead
Trout adds that E*Trade's corporate mindset jibes with that of its customers, who don't want or need cutting edge or quickly evolving robo.
"That's Wealthfront's issue," he says. "It was ahead of its time in rolling out features. Meanwhile, people want a shoulder to cry on at times when the markets are down and when there is a lot of uncertainty and the spouse is mad at how down the portfolio is." See: Betterment shut down trading post-Brexit to dodge 'trading blindly into extraordinary volatility'.
The shoulders Trout refers to belong to E*Trade's investment consultants, who are available via phone to new Adaptive Portfolios clients who are existing customers. Again, this is a page out of the Schwab book, as Schwab lavishes all its retail staffing on robo-customers.
It remains to be seen whether such service largesse will be extended beyond the initial rollout. The company's SEC brochure on Adaptive Portfolios reads: "Client interaction with ETCM will generally be limited to the automated Adaptive Portfolio web-based interface. Certain exceptions may apply and clients will be able to consult with the ETCM investment adviser representative ("IAR") service team…" See: Wealthfront takes on another Facebook vet — a clue that going dark in Palo Alto doesn't mean going away.
'Uber'-like engineering
In designing E*Trade's robo, it was crucial to visualize what a best-of-breed digital experience should look like — at least for its own clients, says Vaed. In so doing the company looked well beyond robo-advisors to best practices across the online commerce world.
"How do you take the signup of an Uber or data visualization of [the] New York Times [website] and bring it to life? The goal with the product became to take the client or potential client from idea to investment in five minutes," he says.
The design and development team, based mostly in Silicon Valley's Menlo Park, is made up of a "few tens" of engineers and developers and around 100 staffers in total, counting the full multi-discipline, multi-location team. That team focused on building a clean, uncluttered user interface —one that is ideally equally easy to use across all devices — desktop and mobile including tablets and phones.
E*Trade already places a lot of value on the mobile channel," says Lena Haas, head of investing product management and retirement for E*Trade Capital Management. See: After Schwab robo launch, Trizic phones leap off the hook as Wall Street brokers and bankers come calling — and VCs write checks.
"We have seen that fully 16% of our trades are currently being made via mobile."
What's inside
Its onboarding process, like its competitors, begins with a guided online questionnaire that determines a customer's risk tolerance, and thereby the portfolio allocation. There is a $10,000 portfolio minimum to get started. When it comes to cost, Adaptive Portfolios is pretty straightforward. The total "all-in" cost for the ETF-only option will be approximately 50 basis points, which includes a 30-basis-point management fee and the underlying expense ratio of the ETFs. If an investor wants actively managed mutual funds in their portfolio, they can expect to pay more like 75 basis points.
ETF selection currently includes funds from iShares, State Street Global Advisors and Vanguard. The menu of mutual funds available under the hybrid includes 13 firms, among them BlackRock, Franklin Templeton and T. Rowe Price. See: An advertiser's chats from the Inside ETFs event and the Vanguard-versus-the-world chess match they depict.
Passive and aggressive
Pirker sees semi-active robo strategies like E*Trade's as part of a larger industry trend — one more likely to survive and thrive than the passive-only current offerings of Betterment and Wealthfront.
"The traditional asset management industry has always assumed a maximum-capability stance. You put everything onto your offering — and on the fee side — whether all those clients need it or not," said Pirker.
"If these portfolio-management engines mature and become more complete at what they can do, there are many accounts and portfolios at other firms that can take advantage of them," says Pirker.
He means that while robos can and will woo away clients from other firms, it's just as much about not losing existing clients and placing them in a cheaper, more cost-effective product offering. See: TD Ameritrade makes play to become top robo by 2016 with out-of-the-gate $100-million revenues — albeit with some risk attached to the power play.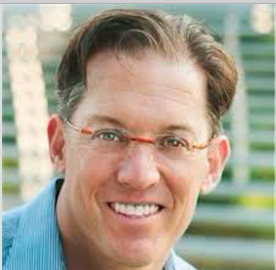 Will Trout: They didn't want to
be first-movers …. We are at
a point where product innovation doesn't
sell yet.
Legacy firms will likely go the E*Trade-route, says Pirker. While Schwab led the pack among big industry players in rolling out a robo, its offering will likely evolve to resemble what E*Trade is offering from the jump — namely one with more active management and higher fees..
As for the other financial services providers, "Fidelity is getting ready with 'Go' and will likely have some sort of active component but TD hasn't really said anything yet," he says. Scottrade must be thinking about this as well," says Pirker. See: The non-Big Four RIA custodians, no longer runts but stunted in growth, are applying tougher love to hobbyist RIAs.
The one constant
Successful robos of the foreseeable future will also likely include a human component, says Trout, as all the robo bells and whistles in the world still don't fill a basic need — particularly on the part of older clients — for actual advice from an advisor. That's where big discount brokerages like Schwab and E*Trade and the likes of Vanguard still have a "people" advantage to leverage. See: Six ways that human advisors kick robo-advisor butt.
"Smart firms will look at where the world will be 10 years from now," says Trout, who points out that all clients, regardless of age, are edging ever-closer to retirement, will still want a human voice from time to time to help them make sense of increasingly complex portfolios.
Both Pirker and Trout note one commonality among the big industry players — with the exception of Pershing LLC: They are all building the robo offerings themselves.
"Schwab, E*Trade, Fidelity, Vanguard, they predict that automated is going to be big and so they have shied away from white labeling and instead have sought to completely tie in what they are building with their existing infrastructure to keep costs down," Pirker says. See: Casting a marketer's eye on Pershing INSITE, April Rudin pleads with promoters to tone down the digital doublespeak.
That's the plan, according to Vaed: "Incremental changes with rapid and constant iteration of features for the future."
*The headline and a few sentences in the top section were rewritten to reflect the E*Trade's plan to get institutional active mutual funds into the portfolios of retail accounts.*
---
---
Mentioned in this article:
Wealthfront
Portfolio Management System
Top Executive: Andy Rachleff
Aite Group
Consulting Firm
Top Executive: Frank Rizza
---
---
---