Did Vestorly just right-place, right-time itself into an advisor content force with Dow Jones deal -- and what seems set to follow?
The New York-based startup is out-Dow Jones-ing Dow Jones at distributing the Wall Street Journal to advisors but very much with its blessing, too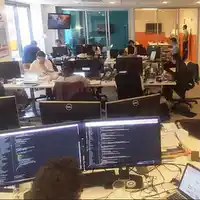 The Vestorly office in New York needs to be regularly unburdened of pizza boxes.
---
Justin Wisz
Thanks for taking notice, Brooke. We anticipate this feature will benefit financial professionals throughout the industry.
There are a few important facts we have to clarify for everyone, however:
We wouldn't say Vestorly is "out Dow Jones-ing Dow Jones."
That would be very difficult for Vestorly to do as Dow Jones provides many unique and valuable products used by thousands of professionals and millions of consumers. Dow Jones is an innovative company and this partnership is a new enhancement so Dow Jones and Vestorly can add value specifically for financial services professionals and how they communicate with their relationships.
I would not characterize it as a problem Vestorly is fixing for Dow Jones. On the contrary it's a privilege and opportunity for Vestorly to enhance its platform, and one for which we are very grateful.
It is important to note that Vestorly is not redistributing all Dow Jones content or the Wall Street Journal in full. This is a limited, although uniquely designed and curated, amount of daily content based on trending data on what is likely to resonate with Vestorly users. I do not believe Dow Jones creates 12,000 pieces of content per day. I am not certain of the volume, but I can say that Vestorly is not redistributing it all in full.
Wall Street Journal subscription paywalls are not "nasty." It's the most subscribed to news outlet in the US for a reason: it's the highest quality content based on the highest journalistic standards and the subscription fees (which I myself pay) are reflection of that. You get what you pay for. In fact, we hope this partnership leads to more exposure of that high quality content and helps drive more subscriptions to full Dow Jones content products, creating value for all involved.
I hope this additional clarity here helps sharpen the focus on how this will help financial professionals stay better connected with their relationships and add value to all parties working to make it happen. We appreciate RIABiz' commitment to covering the most interesting happenings of the moment when it comes to the financial advisory community.
Brooke Southall
Justin,
I have to admire anyone with a sunny outlook on life that has you seeing paywalls as
non-nasty. I am constantly forwarded links where I experience this dead end. That your service takes
this out of play for the articles involved sounds like a big improvement over what happens to me
when I try to click on Barron's article: Paywall!. I fall for it every time with the accompanying nasty shock.
Keep up the good work,
Brooke
Neil St. Clair
Thanks for covering the move! I'm thrilled to be part of this reimagining of financial services communication. As an enthusiastic WSJ subscriber I'm also excited about Vestorly working with Dow Jones. But still…way to take the thunder from my headline here! Kidding of course, and looking forward to working with everyone.
Jen Mulfer
February 17, 2017 — 10:10 PM
And now Neil St. Clair is gone already and customer service at the company is terrible! Phone calls and emails not returned for over a month. Growth pains perhaps? And if you are subscribing to their service , read the fine print carefully. Their contracts are annual and if you don't proactively contact them 30 days before expiration, you are automatically renewed for another year! Not happy with the service? Too bad - you're stuck paying for it all year. Seemed like a good idea, but most clients don't want more news articles in their in-box.
Jen Mulder
February 21, 2017 — 3:54 AM
After posting the above review, the company did contact me to offer an apology, a refund and allow me to cancel the remainder of my contract.
brooke southall
February 21, 2017 — 5:19 AM
Thanks for the follow-up comment, Jen. Brooke
Justin Wisz
February 28, 2017 — 9:34 PM
Hi Jen, I'm sorry about your experience and I'm glad we got the situation clarified and your refund processed after the auto-renewal. I'd like to make it clear here that we refunded your account in order to honor the verbal agreement you had with a former Vestorly employee, and not solely because of your comment here. We appreciate your attempt at asking Brooke to remove your comments for the sake of integrity, accuracy and in order to avoid confusion about Vestorly's policy. Unfortunately, RIABiz does not allow your comments to be edited even if you wish to do so (we are unsure as to why that is). We wish you the best and hope to earn your business again in the future.
Michael Clark
October 14, 2017 — 1:18 AM
I would not recommend Vestorly to any Financial Advisor wanting to provide content to their clients. There's better options out there for minimal costs. Vestorly is a little bit of a bait and switch. Premium content was pushed heavily as a "game changer" but it's not the top stories. For example, right now on the WSJ "Page One" section the second article is 'What A Job As A Dog Walker?' That's not exactly what Advisors are expecting for Page One articles. They recommended we create a "Unique URL" that's clean and relevant to our site. But they failed to tell us once we changed the URL for future articles it made all articles not worth that we've already shared in emails and publicly on social media. When you first sign up you will love the articles available. But after a couple months you'll likely use them up and won't be happy with what comes out consistently. They are very delayed on responding back to questions and/or concerns.
Justin Wisz
October 25, 2017 — 7:13 PM
Hi Michael. As CEO of Vestorly I'm sorry to hear about your feelings on these specific articles. But Vestorly's AI curation engine is the reason people opt for Vestorly over other products: the data knows what works better than our gut or preferences. I looked at the data in your specific account and found that your click-though-rates are 10X email marketing industry average click-through-rates. Did you know this? Click-through-rates of that magnitude are not possible with other products. That's incredible performance! We'll be in touch to help you realize the relationship building potential Vestorly affords you that no other marketing technology product can replicate. Thanks for your comment and your business.
---
---
Mentioned in this article:
Addepar
Portfolio Management System
Top Executive: Eric Poirier
---
---