News, Vision & Voice for the Advisory Community
The New York-based startup is out-Dow Jones-ing Dow Jones at distributing the Wall Street Journal to advisors but very much with its blessing, too
July 21, 2016 — 11:47 PM UTC by Lisa Shidler
Brooke's Note: On a B-to-B level, social media has been a bit of a fizzle for advisors. For every problem it solves, it creates even more — and lots of work. Another level of intelligence was needed to accomplish its ultimate goal of expanding the hyper-finite bandwidth of a human financial advisor. Vestorly is only four years old and only a few months into its latest iteration. But it is showing signs of harnessing wild amounts of content in a way that allows advisors not to get dragged into the mess.
Justin Wisz is executing Plan C — a modified business model to capitalize on a growth opportunity of a size and scope not contemplated by Plan B, never mind A. See: Vestorly makes play for RIA browsers with $4.1 million of VC funding — tiptoeing past prowling issue.
The CEO and co-founder of New York-based Vestorly Inc., which creates news and content feeds for advisors to send to clients, last month signed a sweeping deal to distribute the content of Dow Jones and today announced that his firm has hired a chief growth officer away from an $8 billion RIA.
It's all in anticipation of two events that Wisz declines to offer specifics about, namely its next round of venture capital and the signing on of wirehouses that were, in effect, the spurred Vestorly-Dow Jones partnership.
Vestorly has signed on more than 900 firms — including insurance companies — which employ about 100,000 stockbrokers, insurance brokers and financial advisors. But Vestorly declines to quantify the adoption rate at those firms, which ultimately determines usage and revenues.
On a relative basis, success is good. The firm's year-to-date revenues are 216% of the revenues for all of 2015 and revenue for all of 2016 is anticipated to be up 600% from 2015. See: How one firm is supposedly cracking the lead generation code to the tune of 50,000 advisors supplied — by, for now, not trying to create referrals.
'Dow Jones came to us'
The hiring rate is following suit. Vestorly started 2016 with 26 employees and now has nearly 50 — all working in the firm's office near Grand Central Station.
The newest hire is Neil St. Clair, 30, in the newly created position of vice president of growth. He was formerly director of marketing for Shepherd Kaplan LLC, a Boston-based RIA with $8 billion under management.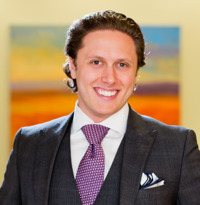 Neil St. Clair: I come from
a startup background and it's a
wonderful opportunity to get back into
the startup world and be part
of a unique and novel growth
story.
The bad news about licensing all that content, drawn from publications that include MarketWatch, The Wall Street Journal and Barron's, is that it plumps up overhead without passing along the costs to the financial advisors who use it. Vestorly won't raise the prices it charges its existing advisors for the tsunami of new inventory. See: In the big business vs. big business net neutrality battle, go with the Google-Obama viewpoint over the Cisco-Comcast one.
Yet Wisz maintains that taking on the overhead is a sound move. The Dow Jones signing, he says, comes with a major perk — a probable big deal with a wirehouse.
"Dow Jones came to us," he says.
The News Corp. subsidiary came to Vestorly on behalf of an as-yet-identified wirehouse that demanded that Dow Jones stop delivering its feeds through a fire hose. — Dow Jones produces 12,000 pieces of content per day and getting the right pieces to the right customers is a daunting task. Vestorly will have access to and curate from a portion of those 12,000 pieces. See: Social media is effective with ultra-wealthy clients but forget the Morgan Stanley approach.
Finely aimed content
"We know financial advisors need a quick, easy and integrated news platform to be able to identify relevant stories and share such insights with prospects and customers. We are confident this partnership will give financial advisors the edge when it comes to engaging their audience with trusted and relevant content," said Joe Cappitelli, general manager of news, alerts and data at Dow Jones, in a prepared remark.
The job of Vestorly is to pick a handful of pertinent articles on a per-investor basis and present the pieces in well-produced fashion. Part of the tough-to-replicate Vestorly advantage is that its artificial intelligence is able to learn from experience about which investors like what content. It also accounts for the problem of sending a story link to clients harvested from the Internet.
"Before, you had access to Dow Jones but you had to deal with paywalls," Wisz says. "Now, it's more quality and more curated. We're solving a problem for Dow Jones, too. They came to us to build this out because wirehouses were coming to them to find a better way to take the feeds and repackage them. This is kind of a perfect storm."
Wirehouse begets wirehouse
Wisz expects the imminent wirehouse deal to trigger other wirehouses to follow and he plans to sign other content providers with the stature of Dow Jones to enrich his offering.
In turn, he says that his company will soon announce another round of funding to augment the $6 million raised thus far. The last raise of $4.1 million happened in late January
Vestorly was co-founded by Wisz in 2012. The firm brought on $4.1 million in venture capital earlier this year to add on to the $2 million of angel money it banked in 2015. The first tranche of cash included a check written by Joe Lonsdale, the 32 year-old wunderkind founder of Palantir and of Addepar Inc., the biggest VC play yet aimed largely at the RIA market. See: The wary love affair between RIAs and Addepar and where it's headed.
The protagonist of the latest round of funding is Vestorly board member Jere Doyle, managing director at Boston-based Sigma Prime Ventures.
Wisz anticipates another round of funding, which could be announced as soon as a few months from now.
Paywalls comes tumbling down
While Vestorly already offers content for advisors, the deal with Dow Jones creates a treasure trove of material for advisors, Wisz says. But the biggest value of the content is it eliminates the nasty paywall and advertisements that clients would receive if an advisor sent them a Wall Street Journal article link on their own.
"The problem we're solving is [that] advisors are reluctant to share content if it's just going to send them to a newspaper where a client doesn't have a paid subscription," Wisz says.
"The Dow Jones-Vestorly partnership enables us to further provide Dynasty's independent network of advisors relevant content from The Wall Street Journal to engage clients and prospect," says Gordon Abel, Dynasty's director of marketing, in a release.
Shareables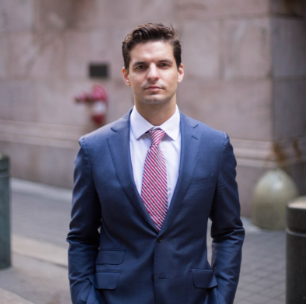 Justin Wisz: They came to us
to build this out because wirehouses
were coming to them to find
a better way to take the
feeds and repackage them.
Wisz says that the deal with Dow Jones allows his firm to send stories to advisors and their clients based on their reading preference. If a client is interested in wine tasting in southern California and another shows interests in competitive swimming, they will receive those types of articles.
"By combining these feeds with Vestorly, we're able to help to repurpose the content with personalized websites and send it out on social media. We're solving one of the financial advisor's problems because the content is now shareable." See: Escaping the content bubble: How RIAs can break out of a PR slump.
In fact, many of the stories advisors are passing on aren't so much inside baseball about custodians and broker-dealers but the content is more focused on arts and culture, travel and entertainment. "People want that kind of content and we're combining it with what advisors' want and need to interest with their clients," Wisz says. "Whatever the client is interested will be recommended that the advisor push to."
Free-range content
Wisz continues: "We're heavily weighting feeds and it's not just what the fed is doing and apple stock but it is more consumer friendly. Our feeds from Dow Jones are weighted heavily towards lifestyles, arts, culture, science and technology, travel, leisure and food and wine," he says. "It's like getting your own Wall Street Journal newspaper from our advisors. They're choosing the best of the feeds and our engine processes it. It's fresh content every single day."
Since the Dow Jones deal, Vestorly sends out new stories daily.
"It'll be fresh every single day. Other content platforms are sending out the same thing to customers. You've got 100 advisors sending out the exact article from Forbes because that was one of the pieces curated that day. This way is more natural and more organic."
Wisz intends to keep developing Vestorly's customized RIA videos, Vestorly Bespoke, which the company says it will formally announce later this year. St. Clair is also founding correspondent and CEO of AlleyWire, a video-first digital news agency focused on stories of global innovation.
"I come from a startup background and it's a wonderful opportunity to get back into the startup world and be part of a unique and novel growth story," St. Clair says.
Vestorly declines to list its fees.
---
Mentioned in this article:
Addepar
Portfolio Management System
Top Executive: Eric Poirier
---
---
Share your thoughts and opinions with the author or other readers.
Justin Wisz said:
July 23, 2016 — 7:55 PM UTC
Thanks for taking notice, Brooke. We anticipate this feature will benefit financial professionals throughout the industry.
There are a few important facts we have to clarify for everyone, however:
We wouldn't say Vestorly is "out Dow Jones-ing Dow Jones."
That would be very difficult for Vestorly to do as Dow Jones provides many unique and valuable products used by thousands of professionals and millions of consumers. Dow Jones is an innovative company and this partnership is a new enhancement so Dow Jones and Vestorly can add value specifically for financial services professionals and how they communicate with their relationships.
I would not characterize it as a problem Vestorly is fixing for Dow Jones. On the contrary it's a privilege and opportunity for Vestorly to enhance its platform, and one for which we are very grateful.
It is important to note that Vestorly is not redistributing all Dow Jones content or the Wall Street Journal in full. This is a limited, although uniquely designed and curated, amount of daily content based on trending data on what is likely to resonate with Vestorly users. I do not believe Dow Jones creates 12,000 pieces of content per day. I am not certain of the volume, but I can say that Vestorly is not redistributing it all in full.
Wall Street Journal subscription paywalls are not "nasty." It's the most subscribed to news outlet in the US for a reason: it's the highest quality content based on the highest journalistic standards and the subscription fees (which I myself pay) are reflection of that. You get what you pay for. In fact, we hope this partnership leads to more exposure of that high quality content and helps drive more subscriptions to full Dow Jones content products, creating value for all involved.
I hope this additional clarity here helps sharpen the focus on how this will help financial professionals stay better connected with their relationships and add value to all parties working to make it happen. We appreciate RIABiz' commitment to covering the most interesting happenings of the moment when it comes to the financial advisory community.
Brooke Southall said:
July 25, 2016 — 5:49 PM UTC
Justin,
I have to admire anyone with a sunny outlook on life that has you seeing paywalls as
non-nasty. I am constantly forwarded links where I experience this dead end. That your service takes
this out of play for the articles involved sounds like a big improvement over what happens to me
when I try to click on Barron's article: Paywall!. I fall for it every time with the accompanying nasty shock.
Keep up the good work,
Brooke
Neil St. Clair said:
July 25, 2016 — 10:12 PM UTC
Thanks for covering the move! I'm thrilled to be part of this reimagining of financial services communication. As an enthusiastic WSJ subscriber I'm also excited about Vestorly working with Dow Jones. But still…way to take the thunder from my headline here! Kidding of course, and looking forward to working with everyone.
Jen Mulfer said:
February 17, 2017 — 10:10 PM UTC
Jen Mulder said:
February 21, 2017 — 3:54 AM UTC
brooke southall said:
February 21, 2017 — 5:19 AM UTC
Justin Wisz said:
February 28, 2017 — 9:34 PM UTC
Michael Clark said:
October 14, 2017 — 1:18 AM UTC
Justin Wisz said:
October 25, 2017 — 7:13 PM UTC
---
---