News, Vision & Voice for the Advisory Community
In what may be a prelude to commission-free RIA custody era, Schwab eliminates equity and ETF commissions for all new clients for a year; Fidelity says it is still cheaper
July 1, 2016 — 8:25 PM UTC by Lisa Shidler
Brooke's Note: A throwaway line in the RIA business is that custody of RIA assets is a commoditized service. But is it? The price-chopping move by Schwab that we write about here is coupled with Schwab's promise to spend millions advertising its RIAs. The bad news for competitors is that it looks like a sleeping giant — with a larger wallet than thou — is awakening. The bad news for Schwab is that it is having to buy the love of RIAs by writing checks or absorbing costs — a strategy that has obvious limitations..
Bernie Clark has quietly launched a price war — or what could escalate into one depending on the reaction of the competition.
The executive vice president and head of Schwab Advisor Services announced 12 months of commission-free equity and ETF trades on new-to-Schwab accounts brought aboard by RIAs. The price cut is in place through Dec. 31 — new accounts must be opened during that timeframe to be eligible.
No minimum asset levels are required for this program, which began June 16. The program doesn't include trades on mutual funds, according to Schwab spokesman Rob Farmer.
Many RIAs first learned of the promotion via a letter from Clark sent to the 7,000-plus firms who use the San Francisco-based custodian.
It was also announced to RIA attendees of Schwab's EXPLORE conference in June, at which time a Schwab advertising campaign for RIAs was also announced. See: Schwab wows EXPLORE 2016 crowd with revived bid to advertise RIAs with two magic ingredients: Schwab branding and a budget of 'millions' of dollars.
"...It's intended as part of our overall ongoing commitment to help advisors compete and succeed. It's a tool to help advisors convert prospects into clients and grow their practices," Farmer wrote in an email.
Loss leader
Though custodians run promotions all the time, this one's timing and scope may usher in a new era of free trades, says Charlie Latimer, director of national recruiting at Private Advisor Group, one of LPL Financial's largest OSJs whose RIA also holds assets at Schwab and TD Ameritrade Institutional.
But it's not clear that it was Schwab fired the first shot in this price war — though it may be using a larger-caliber weapon, according to Stephen Janachowski, president & CEO of Brouwer & Janachowski, which manages about $1.2 billion from Tiburon, Calif.
"Custody is a commodity and there is intense price competition among custodians. Schwab is responding to the competitive pressures in the marketplace," he says.
Not worth a price war
For now, TD Ameritrade isn't rushing to make a pricing countermove, according to TD Ameritrade spokesman Joseph Giannone, who suggests his company's strategy is to market value rather than price.
"We don't as a policy comment on our competition's strategy. What I can tell you is price is just one component of how advisors find value. We believe that customizing our offerings, so we're aligned with the unique needs of each individual advisor and their clients, will continue to be a winning strategy in the marketplace and will continue to fuel our growth," he writes in an email.
Fidelity spokeswoman Nicole Abbott said Fidelity is cheaper than competitors even with its commission rates as per this article. "Overall trading costs are an important factor to consider when choosing which firm to trade with, but firms shouldn't focus exclusively on commission rates when sizing up providers," she says. "Fidelity's execution quality now outpaces the industry and results in average price improvement of $11.33 per order for Fidelity clients, including RIA firms (vs. $1.25 for the industry). So Fidelity's trading clients effectively pay no commission on equity trades." (This refers to online domestic equity commissions when factoring in Fidelity's flat $7.95 commission and the average savings of $11.33 per 1,000 share order.)
Evan LaHuta, managing director and head of client experience at Pershing Advisor Solutions, says his firm isn't going to be lured into self-destructive behavior that could alienate existing clients.
"While a promotion focused on pricing can be disruptive because some advisors are looking for deals, we haven't found it worth getting into a price war for something that is obviously intended to be short-term," LaHuta says. "Pershing will continue to stay focused on the value of what we offer and not react to temporary market dynamics with ideas that create even more conflicts for advisors. Is it reasonable to offer this type of discount for new clients, but not your long-term valuable existing clients?"
Lower cost triggers
Ironically, this fairness-to-existing clients argument is precisely the one Schwab used in the past when, for instance, TD Ameritrade offered free technology to new RIAs. See: TD Ameritrade will make iRebal software available free to all its RIA clients.
But Latimer says that, post-DOL rule, there may be a new twist.
"What's interesting here is that 'lower cost' triggers the behavior of RIAs to act in the best interest of their clients by exercising their role as a fiduciary to direct client accounts to Schwab versus other custodians. I think that's the real motivation here. There may even be some RIAs that go to the extreme and actually move client accounts to Schwab from their other custodian relationships."
Rather, LaHuta suspects Schwab is driven by a desire to gain as many assets as possible in anticipation of the DOL fiduciary rule. See: Why luring 401(k) assets to IRA rollovers in a post-DOL-rule world remains child's play, which keeps $7.6 trillion in the IRA game and growing.
"I am uncertain how to interpret the advantage to a client of a limited-time promotion. Professionally managed advisory firms consistently tell us that the evaluation of custodial platforms must include factors beyond cost, like access to robust private banking capabilities or a combined bank and brokerage technology platform. In other words, the custodial platform is a long-term recommendation, and as a firm, RIAs tend to choose a firm that offers the best range of services to their clients, consistently delivered at a reasonable price," LaHuta adds. See: The non-Big Four RIA custodians, no longer runts but stunted in growth, are applying tougher love to hobbyist RIAs.
Big ante
But TD Ameritrade and Pershing may find it an expensive proposition to get into a price war with the market leader, Latimer adds.
Even in the absence of commission revenues, Schwab can realize substantial RIA revenues from mutual fund trades, OneSource and the ETF OneSource programs, he says. Schwab's recent move to default brokerage cash to an FDI-insured deposit at Schwab Bank has also given it ballast to offer up these deals for RIAs, Latimer adds.
Indeed, Janachowski notes that Schwab is willing to give up a year's worth of trading revenue for the cumulative long-term value of the customer relationship,
"Schwab assumes trading revenues beginning in year two, plus other revenue [beginning day one] from use of other Schwab products or services, such as annual OneSource marketplace fees [and] approximately 0.4% for no-transaction fee mutual funds," he writes in an email.
Stay tuned
But Tim Welsh, president of Nexus Strategy and a former Schwab marketing director, says he doubts that Schwab's price-cut plan comes from a position of strength.
"Schwab has done this promotion multiple times over the years," he says. "Back in the day, when you would bring a client on board, you'd have to rebalance the portfolio and it was expensive. Now, with trades at $9 and $10, it's not that expensive."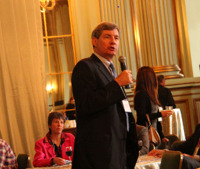 Roger Hewins: There is nothing wrong
with this. It's a good business
decision.
He adds: "The problem is this is a retail offering and these don't work well in business-to-business for the professional advisor. Advisors would prefer free merchandise. They don't care about free trades. There's no real substance to moving the needle here."
Welsh estimates that at least 85% of RIAs pass commission costs along to clients, with the remainder absorbing the transaction fees.
Roger Hewins, president and founder of Hewins Financial Advisors, which manages $3.8 billion of assets, says his firm doesn't benefit as much as others given that it's not an active trader. But he notes that with new clients there can easily be hundreds of trades that take place at the beginning.
"There is nothing wrong with this. It's a good business decision. You're competing hard with a lot of people who like to take their clients money."
Latimer counsels to stay tuned for response across the industry — in pricing, promotions and in how revenues are structured.
"I can only imagine how this will be received by their competitors, including TD, Fidelity and Pershing. I know some rely more than others on trading revenue and they will need to get in front of this and accelerate their development of more annuitized revenue streams. Indeed, none of this will happen overnight, but I can sense the formation of this scenario developing. For this latest salvo, trust me, there will be a response. There always is."
Still, Hewins allows, times have changed.
"I remember in the early days when trades were expensive and could easily cost you thousands of dollars for trading costs."
---
Mentioned in this article:
---
---
Share your thoughts and opinions with the author or other readers.
Teresa Vollenweider said:
July 3, 2016 — 8:09 PM UTC
"The problem is this is a retail offering and these don't work well in business-to-business for the professional advisor. Advisors would prefer free merchandise. They don't care about free trades. There's no real substance to moving the needle here."
What is meant by "free merchandise?"
Bill said:
March 3, 2017 — 5:48 PM UTC
---
---