JB Sullivan: They never talk about 'volatility' when there are wild swings to the upside.
Brooke's Note: An asset management product doesn't know you own it (to steal half a line from George Goodman, aka Adam Smith.) It is more like a rudderless craft tossed about on the high seas with its crew having the vague hope that a boat with a propeller and a compass will tow it to shore. An RIA ship, by contrast, is all about the compass faithfully pointing the ship to shore in all weather. It has a captain who knows that all smooth seas turn rough and storms blow themselves out. Brexit was such a storm. But as a matter for the financial markets, it was more like a squall — a short and intense storm that fakes you into thinking it's a hurricane. First fake, the majority of Brits voted to leave. Second fake, the markets plunged worse than imagined. Third fake, markets rebounded to their former values — at last in the United States — in about a week. Asset managers — and many a broker-dealer — faithfully fell for every fake. RIAs fell for none of them. Any wonder why the two constituencies are heading in such opposite directions given their respective business models.
When advisors awoke last Friday to learn that the United Kingdom had elected to leave the European Union, it wasn't clear when — or even if — the exit would happen, or how long the process would take.
That didn't stop brokerage and asset management types from trying to explain it to advisors.
The Brexit reaction was a new low for those industries — near-total blindness to the possible downside of Brexit before the fact, followed by a deluge of empty chatter after it.
"The Brexit commentary outreach to advisors has been over the top," says Michael Kitces in an email to RIABiz. "Everyone wants to be a thought leader now, as more and more RIAs refuse to take calls from inbound wholesalers so it's the 'only' way they see to reach us. Except when they all do it at the same time, it just bombards us. And not many actually have real substantive thought leadership value to add. So it just feels insanely spammy." See: Betterment explains why its Brexit-sparked trading halt on Friday wasn't 'suspended' trading.
Remainders out; doomsayers in
Before the vote, economic forecasters at banks, brokers and fund firms coalesced behind one opinion — all but unanimously predicting "Remain" to win out.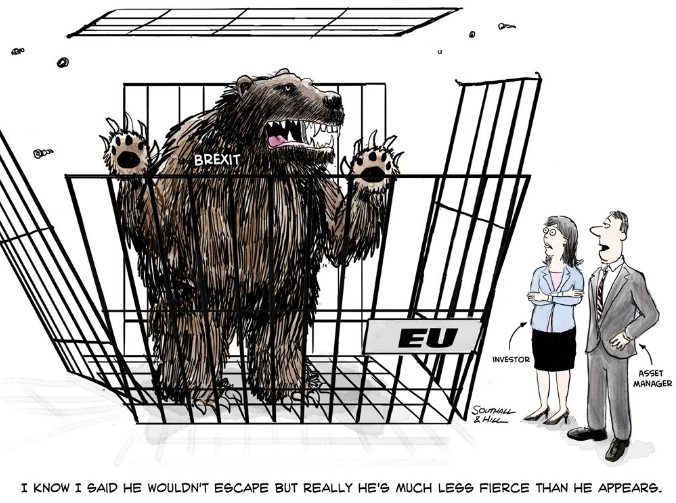 Brexit spawned RIABiz's first cartoon, drawn
by Mark Hill — words could
not adequately describe the phenomenon.
When the "Leave" faction carried the day, markets quickly gave back all the gains that had accrued over the week, and everyone with a negative view of the world economy got a global bully pulpit. A handful of British banks lost 20% of their value in a day, and some U.S. custodians, banks, and asset managers lost over 10% of their value as the promise of interest rate hikes anytime soon appeared to vanish. Economists also adjusted assumptions about recession risks in the U.K. and eurozone. See: Column: Europe is the opportunity of a generation and the time to invest is now.
In hindsight, "Leave's" victory should not have shocked the world. The Economist projected the two sides in a dead heat before the vote, while most poll aggregation services showed only a one to two point lead for Remain. It's not clear why there wasn't more general skepticism of poll results in a political season that has elevated Donald Trump and Bernie Sanders to heights conventional wisdom had once decreed unimaginable.
Lulled by the complacent tone set at the top, most Americans — and probably most investment advisors — didn't pay close attention to the vote. But with the overnight selloff in Europe, Prime Minister David Cameron's resignation, and the direst predictions imaginable given prominent media play (e.g. Jim Rogers: "This is going to be worse than any bear market you've seen in your lifetime;" and Alan Greenspan's "This is the worst period I recall since I've been in public service") suddenly Brexit looked like it could be a very, very big deal indeed.
(Rogers, famed commodities trader and go-to crisis expert, is the chairman of Rogers Holdings and Beeland Interests Inc. He was the co-founder of the Quantum Fund and creator of the Rogers International Commodities Index. Greenspan, of course, was chairman of the Federal Reserve of the United States from 1987 to 2006.)
Everyone's a Brexpert
Enter the asset management industry.
In response to the budding crisis, every investment company under the sun threw together fact sheets, webinars and conference calls for their advisors. They trotted out their top in-house economists, issued press releases, and otherwise tried their hardest to get their brand in front of the RIA community. It didn't matter that firms didn't have anything unique, interesting, or even particularly helpful, to add about the crisis-du-jour; just as it didn't matter that nobody can predict the ultimate outcomes from last Thursday's vote. See: Why technology is vital for RIAs looking to steady client nerves in stormy markets.
(Politico magazine noticed the same trend plaguing generalist reporters, who suddenly woke up on Friday as "Brexperts" hawking their own shallow takes on the issue.)
"In this case there were so many unknowns that the early commentary was guesswork, at best," says Derek Jaskulski, chief financial officer for $400 million AUM Portland Global Advisors, "On day one, many know-it-alls did not seem to realize that the vote was advisory, not a binding plebiscite."
Jaskulski adds he sees a major disconnect between Brexit market chatter and the kind of advice clients actually need. Once again, asset managers just don't get it — advisors and their clients are in it for the long haul.
"In our world, many have come to expect instant reaction and opinion. In that context, 'let's wait and see' is not an acceptable answer, even though it may be the wise answer. Thankfully, most clients have a time horizon which allows for measured reaction and thoughtful response," he says. See: Of Trumpets and Tulips: Is time diversification a myth or reality? Does time horizon affect the tolerance for risk?.
Desperate wholesalers
The uselessness of instant reaction on a subject with so many unknowns frustrated Kitces and others in the advice industry.
Dear Fund Company: The time to gain my trust was by adding value throughout the year. Not by being my 47th #Brexit webinar offer today.

— MichaelKitces (@MichaelKitces) June 27, 2016
On a positive note, however, he says the deluge is yet another sign of RIAs' ascending power in the marketplace and the decreasing relevance of product manufacturers.
"I view it as a good marker of how desperate the wholesaler community is becoming with their inability to reach RIAs by any other means…" he wrote in an email to RIABiz. See: At mostly morose Morningstar conference, mutual fund wholesalers play cards face-up on perma-dislocation — and the glimmers of hope that innovation provides.
Change not good
Economists at Schwab proclaimed "there will be increased volatility"; LPL Financial decreed that "[Brexit is] likely to cause some near-term and perhaps even some longer-lasting financial market volatility"; and American Funds judged that "markets are likely to remain volatile until it becomes clear what a Brexit scenario means for the U.K. and the rest of the EU."
It's not hard to see why commentators grasped at "volatile" like a life preserver tossed to them on the high seas, meaning, as it does, "likely to change suddenly." In this context, "change suddenly" carries the implicit addendum of "for the worse," according to J.B. Sullivan, managing principal at Portland Global Advisors.
"Often when people say 'volatility,' they mean downside risk," he says. "they never talk about volatility when there are wild swings to the upside." See: Anything but passive, Vanguard Group chides Yellen for mistaking market static for market signals in leaving rates alone.

Asset managers like Franklin Templeton made
split-second marketing decisions to harness and
harvest Brexit's energy.
One week on
And yet, true to its obstinate nature of doing just the opposite of what everyone expects, the markets recovered evenly in just a week — and who's to say it won't continue to trade normally as Brexit unfolds?
One week after the supposedly world-changing vote, many in the financial press are already declaring the issue dead.
The Overblown Brexit Market Panic read a headline in yesterday's Wall Street Journal. That's All, Folks — the Brexit Crisis is Over " appeared two days ago on Yahoo Finance.
Once again, advisors who held positions and took the time to absorb the news look likely come out ahead. See: RIAs are managing client fears surrounding the debt ceiling crisis.
With the hubbub dying down, it looks as if the shoot-first prognosticators are the ones in need of introspection. It wasn't RIAs who were boosting the market in the days leading up to the vote, or selling the S&P 500 down 5% across two days, or putting in shrill, panicky appearances on CNBC.
With one eye on the markets and the other on clients, it likely won't be the advising industry that catches on first the next time the world changes significantly. But the me-too Brexit market commentaries left scant hope asset managers will be able to offer helpful economic insights before their "revelations" become either outdated or obvious to the rest of the world. See: Selling your value proposition.
---
Related Moves
January 12, 2022 – 3:13 AM
---
---
---
Mentioned in this article:
Kitces.com
Consulting Firm
Top Executive: Michael Kitces
---
---
---
FAA
Totally get that. Everyone is trying to get the ear of the client- 'add value', 'distinguish oneself', 'provide perspective' yada yada. Some do, some don't and many fall in the middle. Also agree with Michael Kitces- being a resource to the advisor or client is an always not sometimes thing. It doesn't work if the only communication you have is either during some perceived crisis or if you want to sell 'em something.
As an aside- markets go up or down based on supply/demand imbalances. When they go down that means that someone is liquidating. It is possible the asset manager decided to raise cash independently. It is also possible investors in a mutual fund for example put in redemption notices forcing the manager to raise cash. It is also possible investors and/or their advisors decided to sell and raise cash. You just don't know. From my network of 'asset managers' or professional investors- they did not independently panic and sell. If anything- the dip provided an opportunity to buy assets cheaply.
Brooke Southall
Yes, we have painted with a broad brush here! That said, we get bombarded with communications
both on the marketing and PR side — and Sanders and I read dozens of articles — and we came away
with a strong impression. Maybe RIAs were running scared liquidating positions while assets managers
and broker-dealers were acting like grown-ups. We didn't see much sign of that.
Joel Johnson
I call asset managers every day and ask them to REPLY to information requests and RFP's from RIA's and advisors who are looking for new ideas. Most of the asset managers I talk to would rather focus on "selling a story" to advisors who don't want to hear about it.
FAA
Two Comments- one question
Comment- seems odd to criticize the asset management industry for trying to communicate with their constiutents (advisors in this case).
Comment#2- also seems odd to draw the conclusion that Brexit is much ado about nothing…see the markets traded back – no one really knows what the impact will be over the next year/two years and beyond.
Question- how do you know what advisors did? Maybe some found some of the information useful. Maybe some fielded panic calls from their clients and reacted by liquidating positions. Many some didn't answer their phone? Who knows?
Tough to draw conclusions on limited information and a limited time frame.