News, Vision & Voice for the Advisory Community
TD does (almost) Dallas as it announces 100-plus third-party vendor integrations while keeping an eye on the competition
June 30, 2016 — 12:05 AM UTC by Timothy Welsh
At the TD Ameritrade Institutional Technology Summit, the elephant in the TD-rented room was Pershing Advisor Solutions.
A little more than a year ago, at Pershing's INSITE conference in Orlando, Fla., the other Jersey City, N.J.-based RIA custodian validated its open API approach to software integration. See: At INSITE in Orlando, Pershing outs its robo-religious conversion complete with open API store, Silicon Valley and India skunkworks, Marstone robo deal and unabashed digi-speak.
This week, in hot and humid Frisco, Texas, just outside of Dallas, Jon Patullo and Jim Dario seemed game to prove that their firm's six-year head start has Pershing at a disadvantage.
Touting its vendor-driven API integration strategy, TD told 25 software executives about Advanced Alerts, a six-step advisor process, or workflow, which takes place across multiple vendor products and which can be executed with the equivalent of a speed-dial function. Opening new accounts was cited as an example.
TD also updated attendees about its Veo One dashboard, which is facing stiff competition from Ed O'Brien, senior vice president of technology product management at Fidelity Investments, who recently took over as CEO of eMoney Inc. with the goal of making it the dashboard of choice for the industry. See: As Ed O'Brien packs his bags for Philly to take eMoney CEO reins, Mike Durbin resumes his job modifying Fidelity's future from finance to software.
Dashboards are, of course, only as good as the number of inputs one can readily see on one screen. Veo provides an at-a-glance view of a client's holdings, performance, calculated financial planning goals and other key analyses pulled from advisors' various systems. Veo One, scheduled for a general release this fall, aims to save advisors the time and clicks it would otherwise take to navigate back and forth between systems to answer client questions or respond to service requests. See: With Veo Village hive buzzing in background, Tom Nally rides herd on RIA 'Wild West' threats at vibrant LINC 2016.
104 in the shade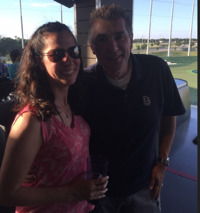 Karen Lisowski of Black Diamond and
Dave Ireland of Salentica at the
driving range.
Patullo, managing director of TD Ameritrade technology solutions, was careful to lay out the history of TD's open API project as it seeks to achieve critical mass.
Recognizing a select group of its key partners, TD announced the winners of the Veo Integrated Awards. Junxure Cloud won the award for Innovation. Junxure was an early participant in the Veo initiatives and now has multiple two-way workflow integrations with Veo. MoneyGuide Pro won for Advisor Satisfaction, based on a survey of over 1,200 advisors. Rounding out the winners' circle was robo-offering Riskalyze Autopilot as Newcomer of the Year.
Brexit banter
Just about everyone I talked to viewed the Betterment move as unprecedented and wondered aloud whether the $4.8-billion robo-advisor had committed the proverbial good deed that doesn't go unpunished — either by potential users of its service or by regulators.
"What if they were wrong, and the markets went the other way? As an investor, I should be able to buy or sell, and not be limited by a human, paternalistic decision," one robo tech exec said. "What will they do during the next round of market volatility or global event? Are the parameters for these decisions specific and disclosed in their agreements as well as their policies and procedures? Let's hope the regulators are examining this decision." See: Betterment shut down trading post-Brexit to dodge 'trading blindly into extraordinary volatility'.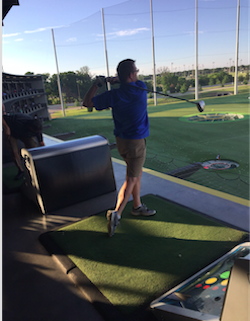 FPPad's Bill Winterberg on the driving
range, displaying good human follow-through on
the robo-range.
DOL-rule denial
The other top-of-mind issue: Broker-dealers' and insurance companies' reactions to the Labor Department's final fiduciary rule. Tech execs were uniformly surprised by their lack of planning, even though these companies will be directly impacted by the rule, and even though they have seen it coming for years. See: Why SIFMA & Co.'s trip to a friendly North Texas court to upend the DOL rule looks more like its Alamo.
"These companies are still in denial that DOL won't happen," said one executive. "The only way out for these firms is to quickly double down on technology and systems to ensure that they can comply and change advisor behavior."
Other tech execs agreed — optimistically. Yet another bullish sign for the advisor technology industry!
Tech maestro standoff
Another metaphorical elephant in attendance, and one much-discussed in hushed tones, was the conflict between two of the RIA businesses' technologists-in-chief — Joel Bruckenstein and Bill Winterberg. See: As legal battle erupts between Bill Winterberg and Joel Bruckenstein, T3's allegedly wild profits from pay-for-play content get dragged into court of RIA opinion.
Both men attended the event though they were not spotted together.
Attendees created thriving bar scene at the Westin Stonebriar Hotel & Golf Club as the tech execs networked, discussed partnerships and potential joint ventures to capitalize on a red-hot advisor tech market. On the final night, TD hosts took everyone to a high-tech golf driving range and lounge where attendees smashed golf balls into the hot evening setting sun, while dining on Texas bar-b-que.
Disclosure: Welsh has consulted with several of the companies listed in this article, including TD Ameritrade.
Timothy D. Welsh, CFP® is President and founder of Nexus Strategy, LLC, a leading consulting firm to the wealth management industry, and can be reached at tim@nexus-strategy.com or on Twitter @NexusStrategy.
---
Mentioned in this article:
---
---
Share your thoughts and opinions with the author or other readers.
---