News, Vision & Voice for the Advisory Community
The regional event in San Francisco with national draw -- even global draw -- gets a guy from Scotland to keep its lofty reputation up there
June 3, 2016 — 2:07 PM UTC by Guest Columnist Timothy Welsh
Brooke's Note: Have you noticed that all these weekend into-thin-air RIA adventure expeditions have one consistent element? Skip Schweiss as leader. How a band of advisor-execs scaled 5,000 sunless feet to the summit of the Half Dome. You go to tackle inhospitable environments but you bring Schweiss to be certain you only indulge legitimate fears and avoid wasting energy overreacting to the more illusory ones. There are parallels with the treacherous new climate of a post-DOL advisory world. It's pure air you want to breathe, as long as you can avoid taking false steps off the narrow path. Schweiss was up to the task of DOL Sherpa at FPA Norcal and Tim Welsh captured his key thoughts in patented fashion.
Driving home the real-world ramifications of the DOL final rule to 700 advisors at this week's FPA NorCal conference, TD Ameritrade's Skip Schweiss clued in the sold-out crowd to the slew of new issues that will have a direct impact on their businesses.
"As a result of RIAs being classified as 'financial institutions,' you will need to have your own anti-money-laundering policies and procedures in addition to your custodian's, as well as name an AML officer next year." See: Proposed DOL regs expose more advisors to fiduciary liability.
Schweiss also teed up some lesser-known impacts of the new DOL fiduciary rule, such as difficulties arising from advisors moving non-billed cash assets into the managed (billed) portion of a discretionary IRA account.
"By doing so, you will be making a decision on a discretionary basis that will increase your compensation and create a conflict of interest, which is prohibited. Additionally, because it is a discretionary account, the best interest contract exemption does not apply," said the managing director of advisor advocacy and industry affairs for TD Ameritrade, who is also the head of TD Ameritrade Institutional's retirement plan services platform.
The solution? "Start billing on cash in IRA accounts," he said. See: After chats with Phyllis Borzi, a flagship HighTower team executes a 'deliberate' breakaway to form a $2.5-billion RIA.
Notes got scribbled. Chins got stroked. People shifted in their seats.
Habla demographics?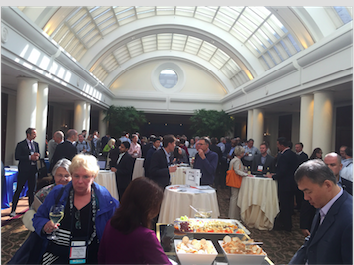 Diversity expert Lee Childs told the
overwhelmingly white attendees that there will
be more people of color than
whites by 2043.
As a result, NorCal attracts top advisors, speakers and vendors from around the country (and the world it seems, as this year featured attendees from as far away as Scotland) and sells out weeks in advance, a true rarity for any advisor conference these days. See: Eavesdropping on a well-kept secret: the FPA NorCal event.
Apropos, the theme of the conference was diversity and inclusion. "Inclusion is good for business, inclusion is smart for business and inclusion is essential for business," said Matt Beck, vice president of American Century Investments and chairman of the conference, as he welcomed attendees. See: The FPA NorCal Conference burnishes its little-gem image with big RIAs and other advisory progressives.
Picking up on that theme in the opening keynote was former IBM corporate manager, and now well-known diversity consultant, Ted Childs.
"Saving for the future is the most important thing people can do," Childs told the overwhelmingly white crowd as a hat-tip to the audience before he laid bare some eye-opening statistics about evolution of the U.S. and global population that will completely change how companies — certainly RIAs — view diversity.
"Workforce diversity is the bridge between the workplace and the marketplace," a phrase that Childs has trademarked to illustrate the competitive advantage that will accrue to diverse companies.
To prepare for this not-so-distant date, Childs advised of the importance to learn new languages.
"In the competitive global marketplace, we have got to get our kids ready." See: Advisor spotlight: Tapping the market of Hispanic entrepreneurs.
GOP asleep at switch
Delivering some good news, Brian Wesbury, who is bullish on the markets, delivered an engaging and popular lunchtime keynote speech making a compelling case for the power that open markets, technology, entrepreneurialism and creativity have for making our economy work, despite the massive government "dead horse" infrastructure slowing us down.
"Real business investment is driving us forward, not government intervention," the chief economist for First Trust Advisors LP, noted as he listed the many problems large government poses to economic growth.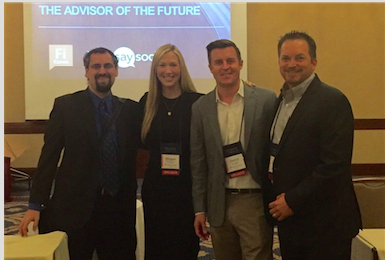 Advisors of the future: Mike Kitces,
Megan Carpenter, Jason Lahita and Victor
Gaxiola
Wesbury used today's mobile devices to exemplify a "real business investment."
"Flash memory cost $45,000 for a gigabyte when it was invented, which means that a 64 gig iPhone would cost over $2.8 million. Yet, today you can get one for $99 and a two-year plan."
Balancing out this good news market story was the regulatory and compliance outlook for the next several years as the industry gears up to implement new requirements, as described above.
Don't fear the tweeter
Despite being a smaller, regional event, NorCal is known for bringing the celebrity factor. This year, conference organizers tapped a well-known Duke University behavioral finance professor, Dan Ariely, to talk about the psychology of money, and author Farnoosh Toorabi to talk about gender issues and money.
Ariely, with his inimitable humor and soft-spoken wisdom, enlightened the crowd as to the complexities of how people react to money and to the often-bad money decisions we all make.
"Money is all about opportunity cost," Ariely said. "There are so many things we can do with it, yet we don't think about it in that way. Particularly when it comes to saving, investing and delaying gratification, our internal workings and biases create conflicts. Money is absolute, yet the way we think about it is relative, leading to situations where we sacrifice long-term goals for short term enjoyment."
Toorabi spoke about the need for transparency in managing money between spouses, highlighting the power that online dashboards, ones provided by financial planning systems and client portals, can have in mitigating potential money-related relationship issues. See: She's the boss: Keeping assets means keeping the power of the family matriarch fully in focus.
Another theme at NorCal this year was growth, which played out in multiple sessions on marketing, business development and PR. Jennifer Micielli of Credit Karma showed advisors how to build their brands with social media, highlighting the results of a recent FPA/LinkedIn survey in which the advisors surveyed reported gaining five new clients and $3.5 million in AUM through their outreach efforts on social media. See: A $17-billion RIA doubles down on a social media strategy that netted it 50 Facebook employees.
Emphasizing digital tools as the future of advisor marketing, Victor Gaxiola of Hearsay Social and Megan Carpenter and Jason Lahita of FiComm Partners LLC led a live tweeting session on how advisors can engage with the media as a PR strategy through Twitter. "PR is a full-contact sport," Lahita said. "But don't be afraid of it as it can deliver powerful results." See: RIAs recount how they reap new clients using LinkedIn and Twitter, stealing a march on shackled wirehouse advisors.
The humans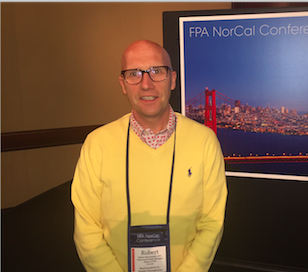 Longest distance traveled: Chartered wealth manager
Robert MacDonald from Gourock, Scotland.
Technology took center stage at NorCal with a new "Tech Center" exhibit space that provided opportunities for attendees to learn how early-adopters were rolling out their own robo-advisors. See: The ironic reason robo-advisors aren't gorging on assets — a determination to dictate bloodlessly to millennials.
James Simos, a former Merrill Lynch broker and now principal with Infinity Financial Services, a hybrid RIA/broker-dealer based in Oakland, Calif., showcased his Jemstep Inc. platform combined with online financial planning tools from Finance Logix that gave his advisors a way to work with clients and prospects online, charging as little as 15 basis points for money management and $99 for a modular financial plan.
Simos was sanguine about the possibility of the robo elements of his business overwhelming his traditional business, saying that clients will always want human advisors and will be willing pay for it.
"This platform is all about bringing in younger clients and advisors into our firm and we know it is a long-term investment that will pay off in terms of new relationships," he said. See: Vanguard's white-hot 'hybrid robo' just added $4 billion in three months — a heat that may cast a chill on 'pure' robos.
NorCal is known for a thriving networking scene during the many meals, receptions and breaks. Sponsors took advantage of the hopping evening scene in the nearby South of Market area to host dinners and after-hours receptions, including Platinum sponsor Franklin Square, which hosted a dinner at Ozumo, a high-energy sushi bar on the Embarcadero.
To learn more about what went on at NorCal, check out the many tweets on the #FPANorCal hashtag on Twitter.
_Timothy D. Welsh, CFP® is president and founder of Nexus Strategy LLC, a leading consulting firm to the wealth management industry, and can be reached at tim@nexus-strategy.com or on Twitter @NexusStrategy.
Disclosure: Tim Welsh has worked as a paid consultant for many of the parties named in this article including TD Ameritrade and the FPA.
---
Mentioned in this article:
---
---
Share your thoughts and opinions with the author or other readers.
---