Jon Stein: I really don't know about the ... presti-i-i-ige ... of a wirehouse.
Brooke's Note: It's who you know, not what. The conference prestige index lives a bit on similar thinking. But its not all about wattage. There is also the feat of getting different Darwinian winners to interact. What happens when a hippo and a rhino square off? A border collie and a crocodile? We have covered this conference in New York pretty intensively but we didn't want to walk away without sharing some observations that were deep in the recordings and pages of reporter notebooks of Sanders Wommack. The interplay is hardly predictable.
They came in humility and to pay homage.
Representatives from big banks, Big Blue, the Big Four and everyone else with a major stake in the future of the financial services industry arrived at In|Vest 2016 in midtown Manhattan to pay obsequious respects to financial technology innovation—and see what they could do to join in.
At the two-year-old conference, companies founded just five years ago were treated as established industry titans. Much of the style that has traditionally accompanied what's called the wealth management industry in New York was left at the door. Suits were in short supply as T-shirts, jeans, and sneakers became the new dress code. Bo Lu, CEO of San Francisco-based FutureAdvisor, did his part to disrupt fashion by delivering his keynote address in a brown T-shirt and black dress shoes.
But one moment put the power shift in capsule form.
During the keynote panel on Friday morning, moderator and SourceMedia managing editor Suleman Din asked the CEOs of Betterment, SigFig Wealth Management LLC, United Capital Financial Advisers and Jefferson National Life Insurance Co. if they expect leading digital advice firms to acquire the "prestige and establishment of a wirehouse." See: The overnight maturation of In|Vest 2016 was like green bananas going straight to brown for some but Joe Duran made sure it bore fruit.
After an awkward, lengthy pause, Jon Stein jumped in.
"I really don't know about the prestige of a wirehouse," the Betterment CEO said with a mocking smile as the audience laughed, "That may be not too hard." See: Betterment raises $100 million a year after a $60-million round, enabling it to step up efforts to win the HNW wallet.
World turned upside down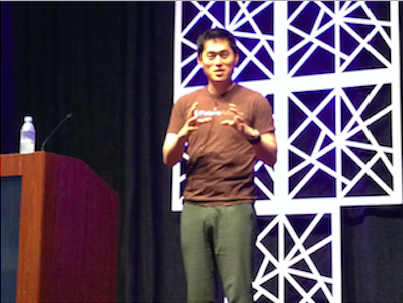 Always innovating: Bo Lu did his
part to disrupt fashion by delivering
his keynote address in a brown
T-shirt and black shoes.
Representatives from the wirehouses were in the audience, of course, and throughout the conference they appeared to have internalized the sentiment behind Stein's comment.
A Thursday afternoon panel served as an engagement party of sorts in which SigFig's Sha and Rich Steinmeier, UBS's managing director for wealth management in the Americas, discussed their recently signed deal. Last month, UBS announced it had purchased a stake in the San Francisco-based robo and would incorporate its technology into its wealth management practice. See: Why there's more to the UBS-SigFig deal than meets Sergio Ermotti's gimlet eye.
Throughout the panel, Sha was relaxed and confident, leaning back in his chair as an admiring as Steinmeier heaped praise upon praise on the young entrepreneur. But the more Steinmeier built up SigFig, the more he seemed to tear down his own company by implication. Steinmeier stated that a crucial component of the deal was that SigFig remain wholly independent of UBS, and thus stay uncontaminated by the worst of his company's traits, which Steinmeier identified as the bureaucracy and conservatism that characterizes a global bank. In such an institution, Steinmeier continued, technology projects invariably move at snail-like speed. He said UBS executives were blown away by SigFig's ability to conceive, design, implement and test a new feature in one week, and move onto version 2.0 in the next.
The whole session, with its one-way flow of admiration, had a surreal component. An observer new to the scene would have a hard time corectly guessing who represented a $60 billion global institution and who represented a firm that had just tapped Eaton Vance to further its existence. See: Eaton Vance leads a $40-million investment round in SigFig with an eye toward capturing some of its lightning to spark NextShares.)
Somewhat surprisingly, it emerged that the venerable Swiss bank, with roots stretching back 160 years, sees its future in wealth management intimately connected to the success of a Bay Area company founded in 2011 and run by a CEO in his mid-30s. See: The head of a $12 billion RIA spars with UBS and LPL execs on the great fiduciary debate.
"They are going to be in bed with us, and jointly we're going to succeed or fail together," said Steinmeier, "This is not a vendor relationship; this is a partnership."
Playing the field
Despite such metaphorical sleeping arrangements, UBS sees the deal as more of a friends with benefits situation. UBS does not demand exclusivity with SigFig. Rather, Steinmeier said, UBS wants the robo advisor to enter into as many partnerships as they can.
Sha likewise hinted that more such SigFig deals should be expected with companies other than UBS, citing a major increase in attention to digital advice on the part of large companies in the last six to nine months. Previously, he said, SigFig would get feelers from lower-ranking leaders in charge of digital strategy; now presidents, CEOs and chairpersons are reaching out directly.
But, an audience member asked, how exactly will UBS differentiate itself if SigFig is available at every bank, brokerage, and credit union in the country?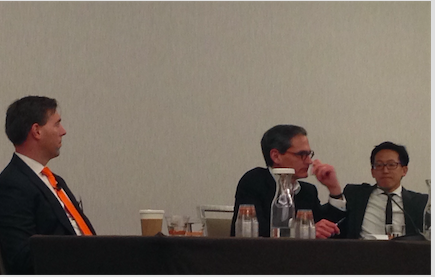 Mike Sha was relaxed, confident and
visibly happy—even before an admiring as
UBS exec started piling high the
praise.
"Ultimately, we stand behind the strength of our advisors," said Steinmeier. See: Why one UBS advisor broke away even knowing that his former partner would keep the 401(k) assets.
Of course what good are great advisors if their underlying technology is showing signs of obsolescence? Morgan Stanley's chief analytics and data officer Jeff McMillan said later in the conference that wirehouse model of communication wasn't making sense anymore.
"One of the challenges with a firm like Morgan Stanley is we have 60,000 financial advisors, 2.2 million customers, just under two trillion in assets, and the biggest problem is that we engage with a thing called a telephone. When the market drops 500 points, our advisors simply can't pick up the phone and call enough people. I think you have to credit some of the robos out there, that's what they're going after. They're going after constant conversation." See: The ironic reason robo-advisors aren't gorging on assets — a determination to dictate bloodlessly to millennials.
"I think this is a big deal," he said, "And if you're not paying attention to it, you probably should."
IBM … to replace your CRM?
As "artificial intelligence" replaces "big data" as corporate America's latest watchword, IBM is hoping it can finally climb aboard a trend rather than chasing one with a good head start, as it did with cloud computing. IBM's Watson Wealth Management division, led by 14-year firm veteran Robert Stanich, has two partnerships with Singaporean and Aussie bans dating as far back as December 2013, and recently signed an agreement to provide predictive the robo-advisor Marstone. But its overall effort seems, like its share price, stalled. A Time magazine article from last year was headlined IBM is stumbling into the future and was only outdone by MarketWatch's headline: IBM is shrinking and the future is ugly
Still, the aura of potential for IBM's Watson is huge and the technology received several mentions during In|Vest's day one keynote talks. A packed room showed up to the firm's lunch presentation on Friday to hear more. For those not at the conference, a very compressed, two-minute demo can be viewed here.
Presented by Stanich and two other Big Blue executives, the demo was impressive but not revolutionary. Some of Watson's applications, such as predicting when a client is about to leave practice, could become essential for major advising firms. Others—such as predicting when a client is about to marry, have children, or switch jobs—might only be helpful for robo-advisors and humans with the personality of robo-advisors. See: Schwab sings 'Blue' as it rolls out its robo — and phono — functions ahead of deadline, with minimums.
With the disclaimer that he did not attend the In|Vest lunch at which IBM presented, Davis Janowski, a fellow RIABiz correspondent at the event, positioned IBM's potential this way in an email: "My take is it is meant to be a big supplement to, or replacement for, your CRM. Rather than tediously over the course of years collecting client info like birthdays, family member names, deaths, sicknesses, types of travel you like, trips you take, anniversaries and on and on, you would set Watson loose on your clients through social media and what is available on the Internet. It fills in all sorts of blanks. A benevolent big brother in the hands of the advisor." See: The overnight maturation of In|Vest 2016 was like green bananas going straight to brown for some but Joe Duran made sure it bore fruit.
Validation, however, won't be easily forthcoming for IBM in this industry. On Friday, the firm placed second to United Capital's outsourced software platform in a vote for the conference's most disruptive new technology. See: A veteran DFA exec tells what enduring RIA success is made of — and why the next-gen advisors will not disappoint.
IBM was a "Gold" sponsor for the event, below only "Salesforce Inc."https://www.riabiz.com/d/salesforce at "Platinum." In addition to the industry's consulting expert, A.T. Kearney, consultants from Deloitte and Ernst & Young also bought sponsorships, held down exhibit booths and were featured in panels. Still, they seemed to be there to sell services and understand the visions of practitioners rather than to offer their own.
Saw it coming
There was at least one long-time industry executive who refused to cede his pride to the new wave of fintech firms. At "The Value of Advice in a Robo World" with Envestnet Inc.'s, Bill Crager and CircleBlack's John Michel, the audience was asked if the industry would have seen as much innovation had robo-advisors not "disrupted" the more established firms. The vast majority raised their hands.
"We saw digital coming, and if you look at the strategic activity of the firm over the last two years, you get a sense of what we believed was going to happen," said Crager in a dissenting voice. "The robos didn't force our hand. It's something that I think we anticipated and made investments in and have now integrated to deliver."
Envestnet purchased robo-advisor Upside in February 2015, financial planning software firm Finance Logix that May, and, quite controversially, the data-aggregator Yodlee in August. See: "Envestnet buys Yodlee and its treasure trove of 'permissioned' data by selling its vision of the future of financial advice": https://www.riabiz.com/a/4948800317685760/envestnet-buys-yodlee-and-its-treasure-trove-of-permissioned-data-by-selling-its-vision-of-the-future-of-financial-advice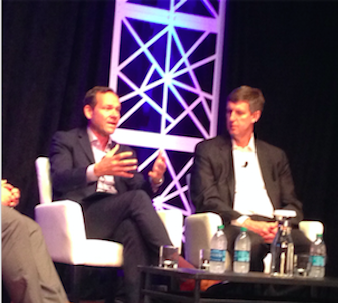 Bill Crager [w/Jon Michel]: The robos
didn't force our hand. It's something
that I think we anticipated and
made investments in and have now
integrated to deliver.
"You have waves of innovation," Crager continued. "You had a hardware wave, a software wave, and I think there's a data wave that is coming and it's something we've invested significantly in."
The chatbot and mom
Indeed, Crager predicted that data integration via firms like Yodlee would drive the next three-year consumer cycle. What innovation lies beyond that horizon was the subject of the mind-bending panel, "Conversational Commerce," the conference's last.
"Conversational Commerce," explored the potential of chatbots in the wealth management industry. The dream is that artificial intelligence will one day be so powerful that clients will be able to converse with a Siri-esque 'bot who can interpret conversation well enough to take over some aspects of financial planning. See: Vanguard CEO says: 'We are a technology company' and hints strongly that robo-for-RIAs may be in the offing.
The panel had the expected quota of wild-eyed futurists, but was leavened, unexpectedly, by the presence of Morgan Stanley's chief analytics and data officer, Jeff McMillan.
Even more surprising was the seriousness with which he approached the subject. McMillan, who was part of a team that poached Naureen Hassan from Schwab in February, came across as knowledgeable, savvy and deeply engaged with the applications and potential consequences of wealth management A.I. He even hinted about where Morgan Stanley sees its own, as yet unannounced, digital advice service, going in the future.
In a hypothetical scenario, MacMillan discussed the possibility of artificial intelligence helping him find the best nursing home for his mother and laying out in a lucid manner all the financial and legal implications behind each choice.
"That's a really complicated problem. But I tell you what, I'd pay a hundred basis points a year forever if someone helped me solve that problem. And that's where we think we want to play long term. Because 60/40 asset allocation? Yeah, you can get it from us, you can get it somewhere else. But you solve that problem for my mom …. and I'm with you for life."
---
---
Mentioned in this article:
---
---
---
FAA
Hopefully the robo/ tech stuff fulfills the fiduciary standards. It may or may not…but it has not to date. I would short Envestnet because when you look under the hood…past the mediocre technology…to how they are compensated, how they trade, what the research etc…it is a short. They throw great parties and profess helping you build your business (who doesn't). Don't see how any advisor using Envestnet could defend they are acting in their client best interest. Up to the advisor to do their own DD but if you do – most likely you will come to the same conclusion.