Neesha Hathi was coy about whether the 500 RIAs using Schwab's robo have contributed to the 'well over' $7 billion of assets attributed to it.
UPDATE: A previous edition of this story reported that 17% of Betterment's clients are over the age of 55. The correct figure is 7%.
Brooke's Note: I'm not a giant conference fan. This In|Vest 2016 conference is really cool. I was drawn in by everything from its website to its roster of speakers to its Ted-style speech lengths. But the millennial-leaning event produced by SourceMedia will succeed best if it can get these bright lights to really speak their mind and be generous with sharing knowledge and experience. It's hard because companies are wary about proprietary information. Still, I'm hoping it'll happen in a full spirit of coopetition. For now, I'm betting that this conference can't go too far wrong just based on the dynamism of the people [albeit far too few RIAs] there, hence RIABiz has two writers there and so you can expect more coverage to come.
Anybody who came to hear Neesha Hathi speak yesterday based upon the promising title to her speech — The Path Ahead: Technology and the Future of Wealth Management — was destined to be let down.
Yet attendees of the In|Vest 2016 in NYC who wanted an update from Charles Schwab & Co.'s executive vice president of investor services platforms, strategy and client experience about Schwab's robo progress — and not at McKinsey-esque speech — would say she delivered the goods.
Schwab Intelligent Portfolios, she said, has "well over" $7 billion in assets, a bump from when Schwab announced it had hit $6.6 billion at the end of the first quarter two months ago. The robo added $1.3 billion in the first three months of 2016 and $800 million during the final quarter of 2015. Schwab Intelligent Portfolios was launched in March 2015. See: Schwab's robo spikes suddenly to nearer $5 billion as 500 RIAs sign on. Schwab has signed on 550 RIAs to use its robo though Hathi did not delineate RIA and retail assets.
In a video she showed an RIA in Tennessee making use of the platform. See: Schwab tells the SEC its robo-advisor has a 30 basis-point fee and big-time cash allocations held by Schwab Bank.
Love from Dovey
Welcomed to the stage by Seb Dovey, managing partner at Scorpio Partners, Hathi's speech kicked off the two-day conference to a packed house in the Manhattan East ballroom of the Sheraton in Times Square, where attendees could get a "discounted" room for $379 per night. [I stayed the two nights with a college friend]
Briskly moving through her presentation, Hathi gave a brief overview of the platform's mass affluent demographics. 58% of clients have under $250,000 in investible assets, she said, and the average account size is $90,000.
But then she turned to the age of clients Schwab has managed to attract to its "next-generation" platform. 59% of Schwab Intelligent Portfolio users, she said, are over the age of 50.
There were audible gasps around the room.
Angel triumvirate
Hathi quickly stated that the average Schwab brokerage account client is in their mid-50s, but her figures put Schwab Intelligent Portfolio's growth into context that was bad news, good news. Robo-dogma has it that advisors need to adopt a digital strategy to attract the next generation of clients. Schwab's asset demographics imply that incorporating a robo-advisor into your practice isn't going to be enough.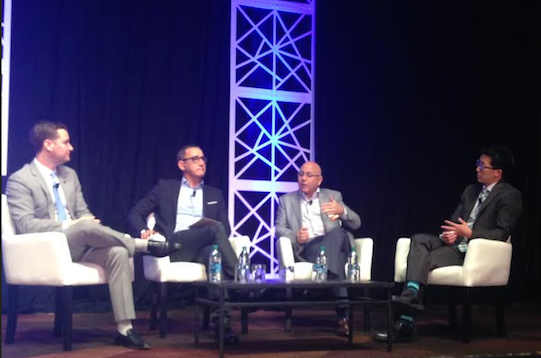 "I think that there was an assumption for a while that only 21-year-olds use robos," says Niko Karvounis, chief strategy officer at Quovo, "Unless you think introducing a robo is going to completely change your demographics, you're going to be seeing a lot of different people use the technology." See: Quovo rakes in $4.75 million from VC backers and a triumvirate of angel RIAs: Carson, Bicknell and Lockshin.
Schwab's aging client base came into sharper contrast this morning at In|Vest during the keynote panel discussion on "The role of robos." At one point, New York-based Betterment Inc. CEO Jon Stein cut off "United Capital Financial Advisors" CEO Joe Duran, who stipulated that an emerging business like automated advice just won't make money until those in their thirties, forties, and fifties start using a service.
"Implicit in what you're saying is that it hasn't happened yet," Stein said, "But at Betterment, already, our biggest segment is the 35-50 year olds. We have more assets in that segment than any other."
Young at heart
With demographics taking center stage, SigFig Wealth Management LLC CEO Mike Sha took the opportunity to share a couple details on his firm's average client. SigFig has of late deemphasized its consumer channel and turned attention to partnerships with established firms like UBS and Eaton Vance. See: "Why there's more to the UBS-SigFig deal than meets Sergio Ermotti's gimlet eye but still has a younger average user than Schwab at 48 years old.
Sha also said that his clients had an average household wealth of $400,000 and that 90% of the firm's assets come from people without advisors.
A spokesman for Betterment provided more detail on the firm's demographics after the panel.
In direct contrast to Schwab, 59% of Betterment's customers are younger than 35. These millennials have 33% of the firm's assets. 34% of Betterment's clients are aged 35-55 and account for 48% of the firm's assets. Finally, only 7% of Betterment's clients are over 55. These clients account for 19% of the robo-advisors' assets.
Schwab has long hinted at its offering's strength with clients over the age of 50, and its failure to catch fire with millennials. At Schwab IMPACT eight months ago, CEO Walt Bettinger told the crowd that, "It's our belief that digital advisory is not age-based. It's not more attractive to millennials. We see enrollment from all age brackets." See: Schwab's robo spikes suddenly to nearer $5 billion as 500 RIAs sign on.
In with the new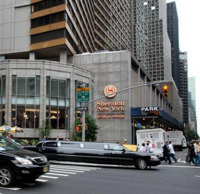 Also at INSITE, Bettinger said that about one-third of new assets into the robo offering were coming from new investors. See: As Schwab edges closer to letting RIAs in as 401(k) middlemen, leaked details suggest to some that the firm still marginalizes the advisor.
In her speech before the In|Vest crowd, Hathi nudged that figure down very slightly to 30%.
Of these new clients, Hathi said that 40% are under the age of 40. This appears to be a much less favorable ratio than was initially projected by Schwab executives. Weeks after Schwab Intelligent Portfolio's launch, Bettinger had told analysts that two out of three new clients were under the age of 45.
Women rising
Robo platform or not, some things stay the same across all Schwab accounts. Hathi said 40% of Schwab Intelligent Portfolio clients are female, matching the ratio Schwab sees in its brokerage account clients.
Hathi ascended to her position as Schwab's de facto robo chief in January after Morgan Stanley hired away Naureen Hassan to lead its own digital advice efforts. See: What exactly to make of Morgan Stanley poaching robo-talent Naureen Hassan from Schwab on the heels of Greg Fleming's departure
The one comment she made that pertained to the future is that technology is shifting to the client experience whereas it was more oriented toward the advisor heretofore.
The In|Vest Conference is a two-day event produced by SourceMedia, which publishes Financial Planning, Bank Investment Consultant, On Wall Street and others. See: An insider reveals turbo-contents of the In|Vest conference in New York, a summit of VCs, robo-founders and big banks.
---
---
Mentioned in this article:
Quovo
Portfolio Management System

---
---
---