Bill McNabb mingled at Morningstar conference -- here stopping for a post-speech word with John Rogers, CEO of Ariel Investments
Brooke's Note: Again, Graham Thomas has done great work reporting for RIABiz from an industry event though his job description does not include asking hard questions and scribbling furiously. We are well aware that he is conflicted in making this report but, at least for conference coverage, we err on the side of getting you the scoop by hook or crook. Send any concerns about our approach to our complaints department, brooke@riabiz.com, or leave a nasty note at the bottom of article. I won't delete it if it's civil. What I learned in talking to Graham is that Bill McNabb, whose stature may be only rivaled in the mutual fund business by Laurence Fink, not only gave a speech but offered a session scheduled for 45 minutes and running over. He then spoke to anyone who wanted follow-up in the hallways. It's the type of behavior that endears you to reporters — especially if you are transparent in laying out details about your continuing metamorphosis. His allusion to "dry holes" and his company's embrace of them made me smile. I'm less certain that legacy robo-advisors will smile when they read this article. Though Vanguard has been lumped in on the robo conversation in all take-out articles on this topic, the giant has steered clear of automation and offered advice the old-fashioned way — by telephone. What makes Vanguard's entry into robo-advice so interesting, besides its sheer size and resources, is the degree to which it would compete with some of its most ardent distributors — existing robo-advisors.
Were Bill McNabb to only present his angular limbs, strong nose and look of aplomb to the crowd of Morningstar Investment Conference, these advisors and vendors would likely catch half his drift.
What chairman and CEO of The Vanguard Group exudes is the earned ease that flows from heading a company that manages $3.4 trillion of assets ("give or take 100 billion" joked Morningstar's interviewer Jeffrey Ptak) in the kind of products that are mostly not under siege from the momentous changes happening in the industry. See: McKinsey: Robo-advisors have a cloudy future but 'virtual advice' delivered by 24-hour super-centers with experts and algorithms will win the day.
But what animates McNabb is the topic of how Vanguard will make its play for financial advice itself rather than just the ETFs as building blocks — including what sounds to be a build-it-yourself robo-advisor in the works.
"I mentioned I was really intrigued by some of the software development that we saw in Silicon Valley among the robo-advisors," he says. "So we are working hard on how do we get that kind of capability within the firm to do more cutting edge? We have great technologists, but you know we are running big platform, legacy systems, so how do you develop something for this in three months the way you would see out of the Valley? So we actually created some teams and development methodologies to get at that. So it more by looking, studying and actually trying to do it ourselves rather than going out and buying somebody."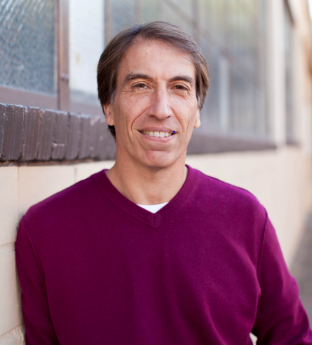 Andy Rachleff: We employ ETFs from
Vanguard as part of our managed
portfolio, but we would never take
an investment from a firm that
offers investment advisory services. Having a
potential competitor as an investor weakens
the messaging we could use.
Valley visit
McNabb mentioned in his speech that he took his entire executive team to Silicon Valley to see firsthand innovators in action.
Still, Katie Hirt, spokeswoman for The Vanguard Group says Vanguard's intrigue regarding robo-advisors hasn't yet translated into wanting to become one or offer one to RIAs.
"Bill's point was more general, meaning that Vanguard is looking to harness technology, be more nimble, and continue to drive innovation across our businesses in order to better serve our clients. We do not currently have any plans to offer a robo for RIAs." See: How exactly Vanguard Group — with a dash of robo and lots of mojo — went from a virtual unknown in wealth management to posing a threat to Merrill Lynch.
McNabb declined to specify what robo-advisors he visited, though his company and Wealthfront have always operated publicly as open-admiration societies and the Palo Alto-based firm almost exclusively uses Vanguard ETFs in managing its $3 billion of assets.
No thanks
Still, as recently as May 25, Wealthfront co-founder and chairman Andy Rachleff wrote on the company's blog why he does business with Vanguard but won't take venture capital from a company that gives financial advice because it could be a "potential competitor."
"I faced this dilemma up close," he writes. "My company, Wealthfront, operates an automated investment service. We employ exchange traded funds from Vanguard as part of our managed portfolio, but we would never take an investment from a firm that offers investment advisory services. Having a potential competitor as an investor weakens the messaging we could use to explain how much they take advantage of their clients with high fees. It also creates the potential for a conflict should we ever want to specifically compete against them."
(An earlier version of this article interpreted this Rachleff blog quote as saying that Vanguard could be viewed as a potential competitor. Rachleff emailed to say he does not view Vanguard as a competitor. Specifically he wrote in his email: "I was saying I would partner with a supplier and not a competitor. As I have consistently said I do not view Vanguard as a competitor." Our RIABiz apologies for the crossed wires)
All of the above
But though Vanguard is not shy about giving advice on its own, it also foresees partnering with external RIAs.
"I think what you are going to see are the successful advisors actually rely much more on product and other support partners to help them with technology. I fully expect we will be working with our clients to share what we have learned and help them, because they are not going to have the resources to do that — you need to have a certain amount of scale."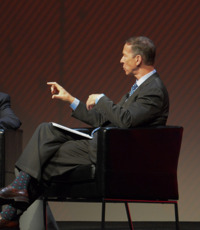 Bill McNabb: I was really intrigued
by some of the software development
that we saw in Silicon Valley
among the robo-advisors so we are
working hard on: How do we
get that kind of capability within
the firm to do more cutting
edge?
'Fails, it fails'
"One of my favorite things we are doing right now is we can take a number of small details and say 'lets experiment with this technology in this way' and if it fails it fails and its not going to change the strategic direction of the company — but if you hit something that is actually relevant, you can maybe change the course of what you are doing. So we actually have active teams pursuing new things from a service and technology standpoint, a lot of which I expect will be dry holes. But if you get one or two of them right — its great. If you're a small company with limited resources — you just can't do that."
Such talk evokes the spiels that flow from the mouths of venture capitalists and owners of technology incubators in Silicon Valley — an impression that McNabb does not seek to dispel. See: HighTower adds an existing RIA and two big UBS producers to a burgeoning Silicon Valley office.
In comments to reporters later, McNabb went further stating, "I think you should always be imagining what somebody could do. We are watching Alibaba in China very closely, and they have entered a space and done so very successfully."
In a conversation with an RIABiz writer outside of the sessions, McNabb stated what he had hinted at all day "We are a technology company."
He added — on two occasions — that his company's technology claim backed by employing an army of 3,000 engineers.
ETF eureka
But he also cautions not to take Silicon Valley-envy too far.
"The difference here is the leaders in our industry have pretty big advantages in terms of scale and breadth and would make entry a little more difficult — I think the surest way to extinction as a company is not to be paranoid about what competitive threats are out there."
McNabb then cited his own experience of growing up in Rochester, N.Y. and seeing what happened to Eastman Kodak and Xerox. Offering up a more modern context for Vanguard's metamorphosis from its almost quasi-government bearing to its version of an only-the-paranoid-survive mentality, he said that Vanguard experienced an awakening when Barclays Global Investors put iShares up for sale.
When Vanguard perused the opportunity presented of getting into the ETF market it had eschewed up until that time, eureka. See: Why the industry needs to accept some blame for 'flaws' in PBS Frontline's 'Retirement Gamble'.
Under the hood
"We didn't appreciate what they had done" until Barclays Global Investors took a look under the hood "and that made them more serious" about ETF's, he said in answer to a question from the audience.
In response to a question about justifying fees for higher service, and how does that play out— McNabb again turned the conversation to tech.
"If you think about what we did 25 years ago, especially from a service and technology standpoint, its really night and day. The changes coming with how advisor interface with clients will have to change — but will clients want to pay more for that?"
"That is a very tactical example, but that's the sort of thing we see moving forward."
---
---
Mentioned in this article:
Wealthfront
Portfolio Management System
Top Executive: Andy Rachleff
---
---
---