News, Vision & Voice for the Advisory Community
Mark Tibergien, Mike Kitces, Addepar CEO and others in San Francisco show pathway to capturing the hearts and savings of 'bankless' millennials
May 6, 2016 — 9:05 PM UTC by Guest Columnist Min Zhang
Brooke's Note: We know what we think of robo founders and millennials. But what does a Stanford grad, Totum founder, about 31 years of age think of us — particularly fresh off time among classmates in Palo Alto, and fresh after hearing Mark Tibergien give a fine-form speech, ditto Mike Kitces? That was what we were after in getting Min Zhang to cover Pershing's West Coast RIA event for 2016. She has thoughts.
As chance would have it, the weekend before the Pershing's Regional Symposium in San Francisco, I attended my five-year reunion at he Stanford University Graduate School of Business.
Many of my classmates — mostly "millennials" in their 30s like me — have started families or sold businesses, all living up to our school's lofty motto of "change lives, change organizations, change the world," while creating wealth.
But their views on financial advice and advisors were sobering for me as a person building my career on supporting those things.
Some simply do not want to pay financial advisors, but they recognize they need a way to handle the intricacies of restricted stock units and planning for family. As digital solutions do not directly tackle these issues, some of my friends leave their assets sitting in cash or in losing bets while they are busy taking over the world.
It made for an enlightening prelude to the Pershing conference, which was held at the St. Regis Hotel in San Francisco this week. See: Mark Tibergien reveals big Pershing robo future as his firm partners with Vanare, SigFig and Jemstep — and follows TD Ameritrade's open API lead.
Millennial millionaires
I was impressed with Pershing's strides in digitizing the wealth management experience under Pershing Advisor Solutions CEO Mark Tibergien's forward-thinking leadership. Mark spoke to the profound changes in economics, demographics (i.e. millennials) and regulatory reform. The millennial generation is already the largest U.S. demographic segment at 75 million people and will continue to hold the top position over the next 20 to 30 years, according to Pew Research Center tabulation of U.S. Census Bureau. See: The ironic reason robo-advisors aren't gorging on assets — a determination to dictate bloodlessly to millennials.
As an entrepreneur providing digital services to advisors, I was interested to hear Mark joke that investment advice is being charged in pounds and ounces rather than priced based on its complexity. How would we feel if a physician charged us for health care based on our weight that way advisor charge by assets, he asked rhetorically. He spoke of the shift toward toward a retainer model in financial advice as a nod to a fairer way to charge investors. See: Why RIAs should hedge their fee income to stay aligned with client interests.
My sense is the latter. Mark is a big fan of the hybrid model, e.g. Personal Capital, a big Pershing client that he praised publicly and enthusiastically for effectively blending humans and automation I have always taken to heart a quote of its founder, Bill Harris, that many different innovations in personal wealth management can co-exist. See: Almost lost in the robo shuffle, Personal Capital, in its 'special category,' is winning as told by an overlooked metric: revenues.
Michelle Feinstein was inspirational for me
as there are so few female
leaders in advisor technology.
Different levers
Many advisors still instinctively think of existentially threatening competition the moment them hear the "R" word. But as a fintech entrepreneur, I am very pleased to see these partnerships, because it's a validation that larger platforms are starting to be infused by the newer digital DNA.
Mark also indulged the audience with a quick accounting and strategy class on how advisors can preserve margins by changing the levers in the practice: pricing, productivity, service mix and client mix, and how each RIA practice should align its structure with the characteristics of their clientele. See: Investor Karl interviews Mark Tibergien — guru, author, chief — who tells why solo practices are far from extinct.
I believe Pershing has a good start on helping advisors obtain more actionable insights using their client data and by connecting with the head of the project, Michelle Feinstein, director of product strategy and client engagement for technology solutions at Pershing LLC. She was inspirational for me as there are so few female leaders in advisor technology.
Kitces and robo dreams
Another popular speaker at the event was Michael Kitces, who has written about my firm, Totum Wealth, and was immediately recognizable as he looks just like his Pac Man-style avatar.
I had the chance to chat with Michael at length about robo-advisors, his XY Planning Network, and its human capital equation — a thoughtful approach to investing — that Totum is digitizing.
Most robo-advisors are going the B-to-B route, and Michael is the most bullish on Betterment Institutional.. I had dreams of starting a robo-advisor while at PIMCO, but refrained from doing so as robo-advisors kept raising funding — making me feel I'd missed the boat. We both wondered if the venture capitalistss did not care for a slide on CAC (customer acquisition cost) vs. CLTV (customer life time value) i.e. the return on investment in paying to get that client.
We also discussed the challenge of fitting human capital factors into the existing model portfolio structure and its related operational process. It is an interesting problem for my company to tackle — and perhaps this is part of the reason why my friends from business school are not going to financial planners — if the portfolio they get from a human advisor isn't customized anyway.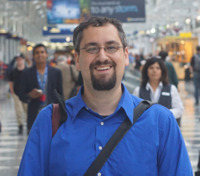 Mike Kitces discussed the challenge of
fitting human advisors into the existing
robo model portfolio structure and its
related operational process.
Bionic extensions
In his presentation, Kitces depicted a digital future where advisor software is more intelligent and interactive, which reminded me of J.A.R.V.I.S. in "Ironman."
I think that we already live in this digital world outside of finance and wealth management. For example, e-commerce businesses can barely survive without analytics on their websites and clever ways to engage their customers. The problem is still a lot of advisors do not feel like they need to become Ironmen and get a "bionic extension." a phrase coined by United Capital Financial Advisers Joe Duran. See: How to hold 1,000 hands: Robo CEOs lay out a stark choice for traditional advisors at MarketCounsel Summit.
The younger advisors are totally capable, but as Mark said in his talk, the younger generation seems to have contempt for the profession and fewer people are becoming financial advisors.
Addepar's appeal
It's encouraging to see Addepar's increasing adoption in all three segments — RIAs, single family offices, and banks — as the company migrates to a web-based platform.
What was interesting to me is that all their clients use the exact same product and platform, which delivers a consistent experience, but which also means the pricing probably remains out of reach for smaller RIAs.
Eric himself was disarming. His company is known for its swagger, exuding a kind of power associated with its powerful VC backers, its ambitions, the impeccable resumes of its staff and its culture.
But Eric was a gentle person who was easy to talk to. He's from New Hampshire where I went to college (Dartmouth) and carries that way, unassuming and straight-shooting.
He offered his take on why Addepar appeals to three kinds of RIAs — though details were few about exactly how the software varied from legacy competitors like Black Diamond, Orion and Tamarac.: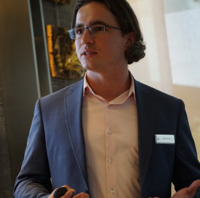 Eric Poirier: For accounts across diff
banks/legal ownership – Addepar is an
outstanding fit.
"For accounts across diff banks/legal ownership – Addepar is an outstanding fit," he says. "Also for RIAs who are not as complex but want an edge in digital engagement and for breakaways that want technology to differentiate their practices." See: The inner orchestration of Dynasty, Addepar and Pershing/BNY Mellon it took to harmonize a $1.4 billion Merrill Lynch family office team.
Contrary to robo-advisors who have to keep raising funds, Addepar hasn't needed to do this and Joe Lonsdale remains involved as executive chairman. The company is hiring aggressively — it now has more than 180 employees, with the New York office's additions driving the growth. See: Addepar has two new 'grown-up' leaders but the same mantra: double down, triple down then quadruple down on engineering.
Threat matrix
On the cyber security panel, Eric talked about the resources and procedures dedicated to protect client data. This is something Totum is also investing in given our plans to integrate with other vendors.
Addepar adopts a "threat matrix" internally — a good practice that enables a company to prepare and react rapidly to different types and severity of risk.
Eric said that robo-advisors deliver a vanilla portfolio to optimize on fees, which is a different market segment than the one Addepar serves and that skilled human advisors can deliver value with better technology, similar to our philosophy.
I other words, he is the Silicon Valley fintech CEO whose vision presumes the ineffectiveness of robo-advice.
I also think there is a gap for those who don't yet have family offices or private bankers that can afford complex tools like Addepar, i.e. the soon-to-be millionaires who are practically "unbanked." There has to be a profitable model to serve them.
Min Zhang, CFA is CEO and co-founder of Los Angeles-based wealth analytics firm Totum Wealth and a fintech entrepreneur.
---
Mentioned in this article:
---
---
Share your thoughts and opinions with the author or other readers.
Test Boy said:
May 13, 2016 — 11:35 AM UTC
---
---