News, Vision & Voice for the Advisory Community
In speech at St. Regis in San Francisco, the BNY Mellon RIA unit CEO says Pershing is taking a deeper robo plunge by signing on marquee names
May 4, 2016 — 6:11 PM UTC by Brooke Southall
Brooke's Note: Just when you think you have Pershing figured out, you don't. The clearing and custody unit does plenty in style and substance to give an observer the impression that the 220-year history of BNY Mellon is an albatross around Pershing's neck. Cases in point are Pershing's slow-to-the-starting-line approach to the robo race and its reliance on legacy-style integrations with some 250 software vendors. But now Mark Tibergien seems to be quietly turning all that on its head. Pershing's RIA custody unit now has a plethora of robo partners and, lo and behold, is embracing an open API that may give TD Ameritrade a run for its money. If you're looking for an intangible about whether these Pershing advances are real or not, I'd say this: I haven't seen Tibergien so animated and crisp in years as he spoke in San Francisco this week — and he is always animated and a clear thinker.
Pershing Advisor Solutions is adding SigFig Wealth Management LLC, Vanare Inc. and Jemstep Inc. to the list of RIA robo choices on its custody platform as part of a radical rethinking of how it builds bridges to third-party software vendors.
The RIA custody unit based in Jersey City, N.J. is adding the three B-to-B robo providers to its list of approved and integrated partners. It signed on New York-based Marstone Inc. last summer but the product remains in development. SigFig is based in San Francisco; Vanare is in New York City and Jemstep is in Silicon Valley. See: At INSITE in Orlando, Pershing outs its robo-religious conversion complete with open API store, Silicon Valley and India skunkworks, Marstone robo deal and unabashed digi-speak.
Mark Tibergien broke the news to a roomful of RIAs at the Pershing Regional Symposium held at the St. Regis Hotel in San Francisco yesterday afternoon.
"I don't think we're done by the way," said the Pershing Advisor Solutions CEO in an interview following his speech. "We feel we need to offer choice rather than a proprietary experience."
Tip of the hat
A common denominator of the new Pershing partners is that RIA users will need to hold all their robo assets at Pershing, which boasts 560 RIA firms as clients. See: Pershing clarifies how it's the un-Schwab and a far-flung crowd pours in to South Florida.
Pershing's two largest competitors, Fidelity Clearing & Custody Solutions and Schwab Advisor Services, are both going all-in on homemade robos for RIAs. Fidelity has yet to release one. Schwab announced a rollout last July but still has few, if any, assets on the software. See: Schwab's robo spikes suddenly to nearer $5 billion as 500 RIAs sign on.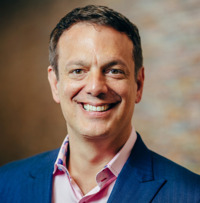 Rich Cancro: Pershing is opening up
their API to tech companies, and
it's a big deal to be
part of the first wave of
integration.
Tibergien says these robo additions have occurred in relatively rapid-fire fashion because Pershing is opening its API to software makers so they can engineer connections.
Polly Portfolio CEO Jasen Yang says Pershing has its priorities straight.
"Pershing has a such a large and diverse base of advisor clients, creating an open ecosystem for technology is critical to keeping everyone happy. Apple and Android had app stores while BlackBerry dragged their feet, and look what happened. There's great technology emerging to help advisors engage clients while saving everybody time— Pershing can't be in the situation where they're the obstacle to advisors using the tech of their choice."
APIs for everyone
Vanare CEO Rich Cancro applauds Pershing for taking a page out of the TD Ameritrade playbook.
"Pershing is opening up their API to tech companies, and it's a big deal to be part of the first wave of integration," he writes in an email. "Much of what was written about private-label robo-advice is really about the work firms like ours did at TDA. This news means the same can happen for Pershing's client base." See: How tech vendors pierced the glare generated by Fidelity's uni-bundle to get their message in edgewise to 650 advisors at T3.
It's an approach that TD Ameritrade developed and has proselytized for several years now.
"It's a different market but I'll tip my hat to what TD is doing," Tibergien says.
TD has about 105 software partners using its Veo system. See: Joining the industry-wide trend, TD Ameritrade announces its upcoming project for 'open architecture' technology integration.
TD Ameritrade has moved beyond the Tinker Toy connections of open API, according to Kristin Petrick, spokeswoman for TD Ameritrade.
"We expect that others will follow TD Ameritrade's lead," she writes in an emailed response to a query about competing with Pershing. "It's important to note that, opening our API was just one of many steps we've taken to earn our technology leadership position. Since then, we've gone way beyond just onboarding and integrating disparate technology applications. No other custodian gives advisors access to a single sign-on dashboard and the ability to plug-in different applications for customer relationship management, financial planning, portfolio management and others."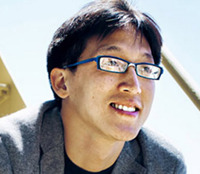 Mike Sha: "I think most RIAs
want [a robo] where the RIA
as human is front and center

The dark horse and the natural
Tibergien's bang-bang software robo and open API announcements are impressive, according to Joel Bruckenstein, producer of the T3 conference series.
"The Marstone rollout hasn't come to fruition. This is much more exciting because these robos exist and they can be implemented fast and that's encouraging."
Still, Bruckenstein expressed surprise at seeing SigFig on the list as it's not known to be engineered for RIA use. SigFig has a vanilla B-to-C unit and a B-to-B version used by Cambridge Savings Bank See: Why SigFig is shifting its focus to using banks as middlemen despite having captive consumer audience with $350 billion.
Bruckenstein describes Vanare as a high-quality dark horse and Jemstep as a natural because of its track record with firms like Gupta Wealth Management and its backing by new owner, Invesco. See: DOL glows and Invesco glowers over $10 million settlement of alleged ERISA infraction.
Tibergien says that Pershing went with a wide variety of providers because different RIAs are looking to automate different aspects of their practices and that each of these three providers has its respective strengths.
Cancro delineates where those differences lie.
"Vanare will appeal to RIAs and IBDs that want to customize a system," he writes, "If they want to configure models, portfolios, the design of the site and answers to questions, Vanare is the right answer. While other companies [like SigFig and Jemstep, respectively] focus on outsourcing the investing and operations, we are all about helping advisors do more of what they do today."
Mike Sha, founder and CEO of SigFig, allows that his firm's sweet spot is with very large financial institutions and tha only the largest of RIAs are candidates for SigFig.
"I think most RIAs want something different [from SigFig] where the RIA as human is front and center," he says. Sha adds that SigFig likely made the cut because some banks that are Pershing clients gave his product high marks based on their experiences. He adds that SigFig will reveal some big B2B deals in coming weeks. Its much discussed ties with Bank of the West never resulted in a signed deal, he says.
Jemstep declined to respond to requests for comment sent to the CEO Kevin Cimring by Twitter message.
Bruckenstein adds that Pershing needed an announcement like this to "plant its flag" in the robo game.
Integration at last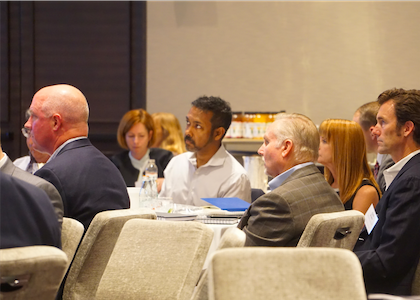 Attendees at Pershing's Regional Symposium listened
to an energized Mark Tibergien as
he announced robo additions to Pershing's
custody platform.
Although Pershing may have lagged in the robo game at a public level, Tibergien says his firm has been learning rapidly behind the scenes. Besides building a robo from nearly the ground up with Marstone, Pershing has also worked closely with big robo-like custody clients like Motif Investing Inc. in Rancho Cordova, Calif. and Personal Capital Advisors Corp. headquartered in San Francisco. See: Almost lost in the robo shuffle, Personal Capital, in its 'special category,' is winning as told by an overlooked metric: revenues.
"They really pushed us," he says.
Whatever pushed Pershing to open API, it seems to be the smart move. It will improve existing clunky integrations, save money and help Pershing rub elbows with more entrepreneurially minded software developers — certainly more so than it does in old line banking circles.
Bruckenstein claims that the open API at TD did wonders for the company's flow of ideas in addition to pleasing RIAs and software vendors. "They tell you they have 250 integrations but some of them aren't world-class integration. This open API makes a whole lot of sense."
Petrick explains what distinguishes TD Ameritrade integrations.
"When an advisor moves from one app to the next, Veo One automatically takes them to the same client record they had been working with," she write. "Changes made in one app will automatically update in others, and all of the information is displayed on one 'Client View' screen."
Cancro says he hopes that TD's approach becomes standard..
"If custodians want to give the best user experience and tech to their clients, an open approach is table stakes," he says. "Like the iPhone App Store, they should encourage competition and let the best solutions win."
Last but not least, Tibergien mentioned in the interview that Pershing Advisor Solutions and BNY Mellon have, at long last, combined their technologies and that 100 client RIAs straddle both. With the service teams already merged, this was the final step. BNY tends to hold trust and foundation assets and Pershing holds wealth management assets. See: Pershing and BNY Mellon unveil a unified, 'dream' RIA and bank custody unit.
---
Mentioned in this article:
AdvisorEngine
Financial Planning Software
Top Executive: Rich Cancro
---
---
Share your thoughts and opinions with the author or other readers.
Marie Swift said:
May 5, 2016 — 1:02 AM UTC
Great article, Brooke. Only wish I could have been in the room when Mark Tibergien made the announcement. Loved Joel Bruckenstein's comment about Vanare being a dark horse in the race. Urban Dictionary defines a "dark horse" as someone or something "somewhat unknown who exceeds expectations of all others in an event." Sounds like Rich Cancro and his team at Vanare to me. Its been my pleasure to work alongside them the past year or so. Definitely don't under estimate them. They are smart, motivated, nimble and experienced at building out solutions for advisors and firms. Will be interesting to see how this shapes the future for RIAs.
---
---