Mark Tibergien reveals big Pershing robo future as his firm partners with Vanare, SigFig and Jemstep -- and follows TD Ameritrade's open API lead
In speech at St. Regis in San Francisco, the BNY Mellon RIA unit CEO says Pershing is taking a deeper robo plunge by signing on marquee names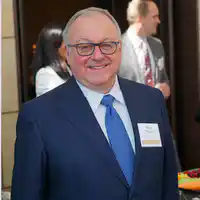 Mark Tibergien: That's probably our highest priority -- an API store.
---
---
Mentioned in this article:
AdvisorEngine
Financial Planning Software
Top Executive: Rich Cancro
---
---
---
Marie Swift
Great article, Brooke. Only wish I could have been in the room when Mark Tibergien made the announcement. Loved Joel Bruckenstein's comment about Vanare being a dark horse in the race. Urban Dictionary defines a "dark horse" as someone or something "somewhat unknown who exceeds expectations of all others in an event." Sounds like Rich Cancro and his team at Vanare to me. Its been my pleasure to work alongside them the past year or so. Definitely don't under estimate them. They are smart, motivated, nimble and experienced at building out solutions for advisors and firms. Will be interesting to see how this shapes the future for RIAs.