News, Vision & Voice for the Advisory Community
I was a 1988 bronze medalist -- a first for a Kiwi male -- taught swimming, sold Speedos, but wanted to help others avoid the fate of my badly advised parents -- a path that took me to the World Trade Center as a Morgan Stanley trainee in 2001
May 27, 2016 — 3:49 PM UTC by Guest Columnist Paul Kingsman
Brooke's Note: Becoming a financial advisor is a hell of a big challenge. You need to pass tests, survive training programs and, most often, come away with a book of business. You also need to find a firm that shares your values, stay out of trouble and be in it for the long haul. It's not easy to put a clientele in cold storage while you go off and try a new career for a few years. You need to become a professional. The stories of how people navigate those straits really never get old — and often I think they'd make good movie script material. Paul Kingsman's tale is every bit of that and then some played out on a sweeping stage that extends from New Zealand to Berkeley to the 1988 Olympic Games to starting a swimming school to the World Trade Center towers in 2001 and back to California. There is even a mother-in-law angle to his biography that ends with him developing a business to help other people achieve his dream of making a living as a financial advisor. He calls his method "distraction-proof" — a bold claim until you consider what he's accomplished. And he wrote this artful article with little editing at all from the easily distracted editors at RIABiz.
"This is the greatest time to be working on Wall Street," a Morgan Stanley mutual fund manager declared to me and the rest of the Morgan Stanley trainee class sitting in a room on the 71st floor of 2 World Trade Center in Manhattan in July 2001. He talked about the markets being a great way to preserve wealth and the chance we had to make positive differences in people's lives.
It was just what I wanted to hear. As I allowed his words to sink in, I felt the road ahead was full of promise and exciting opportunities.
Six months earlier, I had arrived in the United States from New Zealand with my wife and young son, ready to embark on my new career in the financial services industry.
The Bay Area, where we had moved, was familiar territory. I attended University of California, Berkeley on a swimming scholarship in the late 1980s, and my wife had grown up in the area, so we visited her family often over the years, though we had moved to New Zealand when we married in 1990. See: Why the San Francisco Bay area is almost certainly the capitol of the RIA business.
I also knew my new business partner well — she was my mother-in-law! I had always been interested in the equities markets — I'm convinced I was the first Kiwi to have an E*Trade account — and when my mother-in-law began her financial advisory business in 1997 I was intrigued by her outlook and her decision to build a financial planning-based model. When she began her practice (a second career) she was about 70% fee-based, a model she was convinced would be increasingly important in the industry in the years to come. The prospects in the financial services industry were bright, she said, and with our combined strengths and skills we would make a dynamic team that could deliver real help to investors. (My mother-in-law is still an advisor — with Raymond James — with a practice that is about 98% fee-based.)
The idea of joining her grew more and more appealing. All my life I had seen my parents work hard to grow their clothing manufacturing business, and I was thrilled for them when they sold their large operation in the mid-80s. Unfortunately, in the following years I saw the consequences of the poor advice they had received regarding the investment of the proceeds from that sale to plan for their future. Helping others navigate important life decisions about their finances and sparing them the stress and worry my parents went through when they were supposed to be enjoying retirement became a personal mission. See: A conversation between a wirehouse advisor and a senior citizen who seeks trust.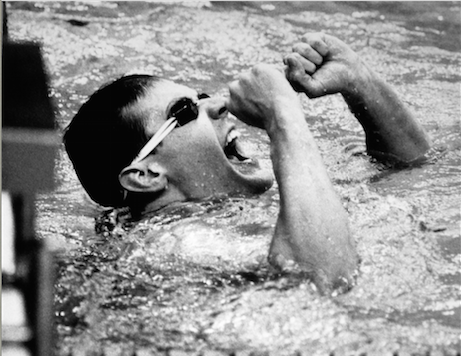 In 1988, Paul Kingsman became the
first New Zealand individual male to
win an Olympic swimming medal by
only four-one-hundredths of a second.
In New Zealand, my wife and I had made a good life for ourselves. For our first several years there, I worked with my father (who had come out of retirement) manufacturing and selling a U.S. clothing brand we had the license for in New Zealand. From there, I took over New Zealand's operations for Speedo, the swimwear company. Eventually I moved out of the clothing industry, and my wife and I opened a swimming school. We built our operation to three pools, a 16-person staff and more than 1000 students of all ages coming to sessions each week. We had some very good friends and our son was happy and doing well in school.
But, we were ready for a new adventure.
No net
I'm optimistic by nature, and dreaming big doesn't scare me. When I was 8 years old living in Auckland, New Zealand's largest city, I started swimming lessons. When I watched the 1976 Summer Olympics in Montreal on TV, competing in the Olympic Games became my dream. After a lot of hard work — as well as tremendous support and sacrifices by my family — eight years later that dream came true when I competed in the 1984 Olympics in Los Angeles. See: How an Olympic hurdler and Smith Barney broker made the leap to his own RIA.
But I was young and still had a lot to learn if I really wanted to foot it with the best in the world. Over the next four years, I devoted myself to training and learning all I could to be one of the best swimmers in the world. In 1988, in Seoul, Korea, I became the first New Zealand individual male to win an Olympic swimming medal — a bronze in the 200 meter backstroke — by only four-one-hundredths of a second.
When my wife and I told our family and close friends of our upcoming plans to move to the United States to start a new career and life, many advised us to keep our house in New Zealand "just in case," which actually meant, "just in case you fail and can't make a new life over there." We had known several New Zealand families who had moved to the states with big dreams. All of the families who had kept their New Zealand homes as a safety net, "just in case," returned within a few years when things didn't work out. We knew our friends' advice was well intentioned, but keeping a back door open was a distraction — and an out — we didn't want. We chose not to listen to those opinions.
Walking away
Most great adventures include some turbulence along the way and ours was no exception.
Because we were determined to create our new life in America we decided to sell everything in New Zealand. One of the last details was transferring our lease for our main swimming pool to a staff member who was planning to purchase our business. Though the terms of our lease meant the transfer should have been straightforward, the pool owners had seen the success of our business and viewed this change we wanted to make as a prime opportunity to renegotiate the lease and ultimately take back control of the pool's operations for themselves without compensating us or the new swim school owner in any way.
Our lawyer advised us that if we wanted to fight what the pool owner was trying to do, we had a very strong case and would likely win any litigation. However, he also advised us that it could take about four years before everything was finally resolved.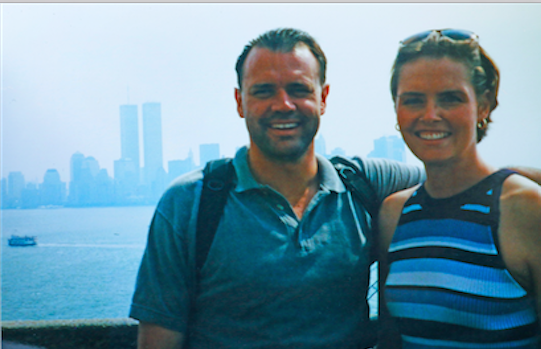 The author with his wife, Aliesha:
None of us who trained in
2 World Trade Center could have
imagined that the building we sat
in every day would no longer
exist just weeks later.
We had already sold our home, most of our belongings, and booked our tickets to leave the country within the next month. We had made the decision to go, and this last minute wrangling wasn't going to stop us. So we chose to walk away from our business with no financial compensation because we were committed to what lay ahead.
Doing what you know is right isn't always easy, especially when it clearly has a cost in the short term. It's like walking away from a prospect who has significant assets and needs help, but who you know will not listen to your advice. You need to keep your longer-term objectives in focus so you can recognize distractions that threaten to pull you off course in the short-term. Without the income from the sale of our business and a terrible international currency exchange rate at the time, we didn't have the money to purchase a new house in the United States as we had planned. But a house was just a small portion of our larger goals in moving countries, and so we continued forward and the house purchase waited a few years.
Fail once, shame on you
Within a week of arriving in the United States, I met with the manager of the local Morgan Stanley office who approved me to work with my mother-in-law, who was then an advisor with MS, and within a few days I was leafing through old Series 7 exam books, anticipating mine arriving shortly. See: 20 months in: A field dispatch from an advisor who started an RIA in a strange city with no clients.
Studying to pass a six-hour exam was not my idea of fun. Plus, Morgan Stanley had a policy: if you failed it, you weren't to come back to the office — ever. They would just pack up your belongings and send them to you. I saw the exam as a huge obstacle, and the adventure started feeling like a pressure cooker. Being tested in an Olympic final was intense, but at least if I blew it, I would be the only one who really suffered — my family's welfare did not depend on the outcome. See: Counterpoint: Intra-Wall Street recruiting by Morgan Stanley Smith Barney has picked up in the past 60 days.
I let off some steam by telling everyone that at least in this test I could keep my clothes on and avoid shaving my legs. See: How to ace the grueling Series 65 exam and keep your wits and your nerves intact in the process.
On a sunny May afternoon I passed the exam!
Don't be tardy!
Upon arriving at the hotel that would be our home base for the next three weeks, we were greeted by three notes on the coffee table: one welcoming us to the firm, another regarding our departure to the training site the next morning and the biggest note, clarifying that if we missed the bus we'd be immediately fired and sent home. The next afternoon we learned some of the trainees had, indeed, lost their jobs that morning. They let the excitement of being in the Big Apple distract them from the serious work that had to be done there. See: Why the slow-evolving metro New York area is still on course to be the capital of the RIA business.
I already knew from my work with my mother-in-law that building a business in this industry takes time and perseverance. There were so many great people at training, but even while we were in New York, I knew some of them would need more time to build their businesses than our performance deadlines allowed. See: A Merrill Lynch trainee shares what it's really like to be part of the firm's revamped, more RIA-like training program.
Collateral damage
On Sept. 11 2001, just eight weeks after I had returned home to the Bay Area, terrorists attacked the United States. None of us who trained in 2 World Trade Center could have imagined that the building we sat in every day would no longer exist just weeks later.
The U.S. stock market was closed for four days and Morgan Stanley, along with the entire financial services industry, suffered a great blow.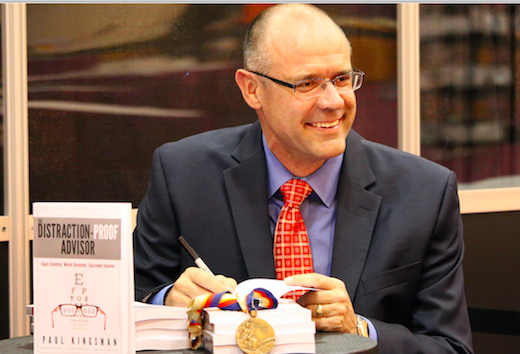 The author at a book signing
with his bronze medal.
I was fortunate enough to have the support of an established business partner so that traumatic time didn't derail me from pursuing my objectives. However, most of the advisors in my class didn't have that advantage. Sadly, I saw a lot of talent get wasted over the next year as emails regularly came through with the names of the latest rookie advisors who had "washed out." See: This father-daughter-son team survived 9/11 but divorced Wall Street altogether 14 years later.
Split-seconds count
I knew that staying focused over the long haul is tough, especially when success is not guaranteed and because there are always unexpected circumstances that threaten to pull you off track. I had spent 13 years of my life training for a two-minute swimming event in which my victory was determined by only a split second. After our New York training, I knew I wanted to speak to and coach advisors to help them focus on what really matters when they are on their own path of adventure, growing their businesses. I wanted to ensure they had tools so distractions did not derail them.
Within a few years I left Morgan Stanley and moved to Wells Fargo to have the freedom to continue advising as well as to speak and coach within the industry. I was hybrid advisor at both firms, selling some commission products but strongly leaning toward fee-based advice, as I had learned from my mother-in-law.
It has been another adventure in my life, with both bumpy times and victories. But with a good support network around me, I have been able to persevere. Last year I completed another long-term goal of writing a book — The Distraction-Proof Advisor: Gain Control, Work Smarter, Succeed Sooner (Focused Potential 2015) — to help more advisors gain control of their businesses and work smarter so they can enjoy the success they want sooner.
Recently, I stepped back from my responsibilities as a producing advisor to devote my full attention to speaking and coaching as this business grows.
Whether as an advisor, a coach or a jail chaplain for the last 14 years (I hold a Master of Theological Studies degree from Golden Gate Baptist Theological Seminary) I've seen plenty of people get distracted and experience the negative consequences of poor decisions. From the final DOL rule to the arrival of robo-advisors, change is going to continue in our industry.
What matters most is how we decide to respond and adapt to those changes. My greatest adventure and enjoyment comes from encouraging people to overcome distractions, stay focused on what matters most, and succeed sooner in their endeavors.
Paul Kingsman is a sought-after expert on how to be distraction-proof. Through his speaking, coaching writing and his blog, he combines his experience as an Olympic medalist and as a financial advisor to help financial-services professionals overcome distractions and focus on what matters most so they can succeed sooner. He is the author of The Distraction-Proof Advisor: Gain Control, Work Smarter, Succeed Sooner. He can be contacted through http://www.paulkingsman.com.
We invite RIA business people like Paul Kingsman or you to write their becoming-an-advisor biographies for these pages. Coming soon: A rural banker nudged toward advising after being held up twice at gunpoint in the teller booth.
---
---
Share your thoughts and opinions with the author or other readers.
---