News, Vision & Voice for the Advisory Community
10 OSJs walk into a room and the rest is silence for 90 locked-out attendees
May 23, 2016 — 4:22 PM UTC by Guest Columnist Marion Asnes
Brooke's Note: As a Philadelphian as defined by my parents and grandparents and back from there, I have always admired its residents for how they never see much reason to go elsewhere, except maybe North to cool off a little in the summer. (My grandmother felt her soul stretch at taking a trip to Longwood Gardens in Delaware.) So it does not surprise me that Paul Lally and cohorts at Gladstone Associates keep their conference in their own city. More firms should do that. Who needs Orlando? And it's likely pleasing to some high-quality speakers like Brian Hamburger who would rather drive than tangle with Newark Airport. The RIA business wins by playing to its comparative advantage as a collection of local firms. But if you're in California running RIABiz, get a writer from New York like Marion Asnes to cover the Philly event.
The Annual Advisor Conference kicked off last Thursday with a whisper — by design.
Gladstone Associates LLC, a Conshohocken, Pa. business consultancy with a strong M&A tilt, invited 100 of us, including the bigger IBD reps who run offices of supervisory jurisdiction, or OSJs.
Those big hitters arrived early at the event, held at Logan Hotel in Philadelphia, for a private confab that was kept quiet from the rest of us. Ten super-OSJs, representing a combined $15-billion-plus in assets under advisement, gathered in a conference room to discuss — strictly off the record — the current state of the industry, opportunities, threats, and the need to plan for objectives amid them. The 10 OSJ chiefs — whose size gives them serious leverage with their broker-dealers and who had, in many cases, RIAs of their own — shared concerns (presumably) about their upsized challenges, including best practices regarding business structure, growth, access to capital and the war for new talent.
Perhaps this hush-hush meeting reflects the reality that super-OSJs — a hybrid of rep, broker-dealer and RIA in their structure and scale — are finding their own moment of relevance and will become a greater force in the industry as they create their own tribe. See: Why exactly LPL Financial nixed NestWise and how OSJs, once again, may be wagging the big dog.
DOL rule? Stay calm
Of course, the challenge du jour for OSJs along with everyone else in the RIA business is the imposition of heightened fiduciary care by the federal government. See: How the DOL brought the IRS wolf to the RIA door with its 'rule' — think IRAs.
"For a small to mid-sized fee-based advisors, DOL is like the election: There's a lot to do but not right now," said Brian Hamburger of Marketcounsel Inc. of Englewood, N.J.
His reasoning is that the hype has gotten ahead of the need to change. Rules aren't written indelibly yet and we have a big election coming up, with candidates that have very different attitudes about regulation. Hamburger counseled patience until a new administration comes to power. Of course, at that point, we'll all be asking him to pick up the pieces.
For Hamburger, the more immediate compliance problem for advisors lies is cybersecurity. His message: The SEC is focused on it. Much more important, your clients care about it deeply. There have been too many hacks, too many identities stolen, for any conscious being not to feel vulnerable. (This reporter now has to file an affidavit with her tax return every year, after multiple false returns were filed in her name.) See: Schwab CEO issues 'sincere' apology, reassures on data security and calls attacks a 'fact of life' after website goes down.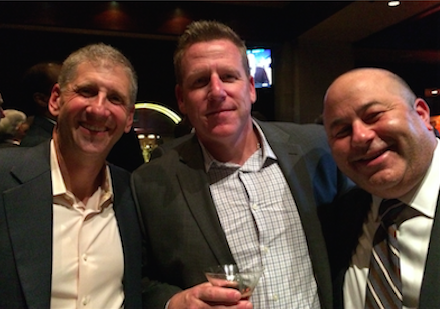 Andy Putterman [l.] with Paul Lally
and Brian Hamburger: Being in the
right place at the right time
is a strategy, not an accident.
You have to be there to
catch the baby.
"Cybersecurity may not be a reason clients hire an advisor, but it is a reason they fire," he added.
Two-factor identification, anyone?
Customer in charge
In a keynote called the Age of Analytics, Frank Coates, founder of Wheelhouse Analytics in West Chester, Pa., asserted that building an advisory practice was no longer about selling the prospect your services, but instead about being top-of-mind when the client starts looking around for an advisor.
"Consider that the customer has more power than you believe," Coates said. "Americans check their iPhones 85 times a day, on average. They can find almost any piece of information in it. But can they find you? Are you in their lives in a meaningful way?"
It's "meaningful" to be in that phone and in the client's head when the client decides to act. You want to be the person they call, email, text or otherwise ping when they have a life change that affects their plan. How do you do that? By driving engagement through a rigid routine that combines social media, phone calls, meetings, regular emails and a mobile website that's bursting with educational material. See: In her words: A former Goldman Sachs star gets into the depths of winning UHNW clients, without being in that tax bracket.
"Being in the right place at the right time is a strategy, not an accident," as Andy Putterman, Fortigent LLC founder, observed. "You have to be there to catch the baby."
The next step, Putterman says, is to have aggregated data so you can speak knowledgeably about their whole financial life.
Beware the bus
What is interesting to me is that best practices are easy to know intellectually but take a great deal of work and time to put into place. So RIAs never tire of hearing what other RIAs — particularly the big ones — are up to. As one advisor with a very large business said to me, "it gets lonely. We don't have a lot of peers."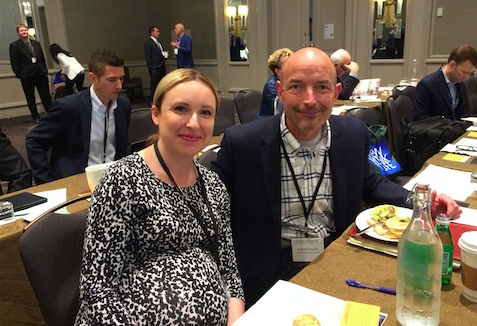 Rob Wermuth, senior partner at Legacy
Planning Partners, with colleague Natalie Hodak

"Gladstone helped us figure out what kind of company we want to be when we grow up," said Rob Wermuth, senior partner at Plymouth Meeting, Pa.-based Legacy Planning Partners LLC.
The truth is that RIAs have a lot of maturing to do — or so it seemed when Gladstone's managing director, Carla McCabe, shared some pulled statistics compiled by Gladstone to the effect that only 13% were working on a succession plan and 84% of advisors lacked even an interim continuity plan that covered the temporary disability of a partner.
"We have had a client who was truly, actually hit by a bus!" McCabe said. See: 5 thoughts about how to actually do what RIA experts say to do.
In the vault
Rather than continuing on that morbid track, McCabe and succession expert John Rhodes (CNL Securities' succession guru) suggested crafting a "day after plan," which could apply to storms, power outages, bus accidents—whatever. Yes, we know this is a continuity plan, but sometimes it's important to reframe. Chilean sea bass was called a Patagonian toothfish until 1977. Now people eat it. See: RIAs must prepare for post-disaster recovery or regulators will lower the boom.
Logan Hotel was formerly a Four Seasons and had a really nice rooftop bar, which is where the after-parties took place. The conference dinner was in the vault of the former Pennsylvania Bank, now a Del Frisco's. The roof had a great view of Philadelphia on a warm, clear night.
Disclosure: Gladstone is a client of Idea Refinery.
_Marion Asnes is president of the Idea Refinery LLC, a new consultancy offering strategic marketing, communications and content-generation services to institutions that want to reach financial advisors. Idea Refinery helps you figure out a clear, consistent message — and how best to share it.
---
Mentioned in this article:
MarketCounsel
Regulatory Attorney, Consulting Firm, Specialized Breakaway Service
Top Executive: Brian Hamburger
---
---
Share your thoughts and opinions with the author or other readers.
---