News, Vision & Voice for the Advisory Community
Automation is hard enough but the ex-Merrill chief is resolved to deliver to women what they want even if its means giving them what they don't think they want
May 20, 2016 — 5:35 PM UTC by Sanders Wommack
Brooke's Note: The general take of those in the RIA business is that Ellevest is the longest shot of them all among the higher-profile startups. First of all, its CEO is so corporate that she is seemingly late to the anti-Wall Street party. Worse, Sallie Krawcheck seems to be taking on a lot in trying to innovate advice automation and throwing in a half-pike twist to gear it to women. But based on her answers to Sanders' questions in this article, I'm guessing the Vegas odds on her succeeding might shorten. Among Sallie's better qualities is her ability to laugh at herself as a woman, an investor and as a person. See: Sallie Krawcheck talks tough — and with disarming openness — online about the glass ceiling and lip gloss. We've seen it for years in her blogs. She's also taking an approach to marketing to women that seems to capture that spirit, an X factor that could build on itself.
After much ballyhoo, and late off the mark in the investor-facing robo race, Sallie Krawcheck launched her women-oriented automated advice website at the TechCrunch Disrupt NY 2016 conference last week.
And despite the bland branding, "Investing, redefined for women," the brainchild of the former head of Merrill Lynch brokers and CFO of Citigroup is based on some seemingly counterintuitive premises regarding what the members of a "niche" that encompasses 50.4% of potential U.S. investors might really want.
The RIA isn't completely open for business. Visitors to the site can sign up for the service and confirm their email, but then have to wait for a rolling invitation from Ellevest to deposit. Krawcheck says the firm is still in its beta test phase but is managing money. Its most recent ADV, filed on March 29, says the firm is managing $136,185 across 40 accounts.
Ellevest allows clients to track their portfolios in relation to their goals as opposed to market indexes. It charges users a 50-basis-point fee and, while not outsourcing the investment process, relies on Morningstar Inc., its largest outside investor, for data and research that goes into portfolio construction and asset allocation. See: Relying on men but 'losing sleep' Sallie Krawcheck seeks to robo-reap women investors with Ellevest.
Nails on a blackboard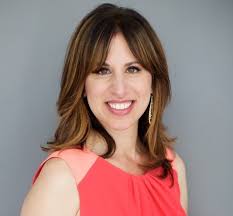 Tina Powell: We were the first
automated platform for women and I
think being a first mover has
had an impact on other firms
to launch.
Entering a crowded field years after the current market leaders, Ellevest faces criticism that it's a "me-too" effort without significant differentiation from its better-established competitors.
"We were the first automated platform for women and I think being a first mover has had an impact on other firms to launch," says Tina Powell, CEO of Hackensack, N.J.-based robo-advisor SheCapital, who adds that she has the "utmost respect" for Krawcheck and is happy to see other female-centric platforms in the market. See: Long the underdogs, female advisors are actually winning in two important categories, a study based on $3.5 trillion of AUM shows.
But Krawcheck sees a larger obstacle than being perceived as a Jane-come-lately: the reality that many women cringe when their vast demographic is treated as a niche market.
"Our research showed that when they initially hear something is for women, just under half don't like the concept. For some, there can be a perception that the offering is going to be 'pink it and shrink it,'" Krawcheck says. See: 'Bristling' at 'pink-it-and-shrink-it' pitfalls, Sallie Krawcheck files an ADV.
If you know what's good for you…
Krawcheck intends to overcome that perception with hard facts. "Once they walk through the difference between men and women (again, that living longer thing, which needs to be planned for), they get pretty interested." See: How a suddenly wealthy, young Bay Area widow found her RIA after months of fruitless efforts.
Krawcheck stresses that marketing to women is not a gimmick.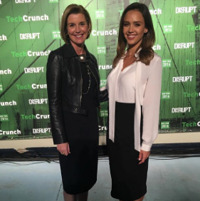 Sallie Krawcheck continues to harness feminine
sizzle, in this instance with Jessica
Alba at Tech Crunch confab.
"We have done hundreds of hours of testing and research with women, to dig in on what they are looking for — and what hasn't worked for them in the past. Many other initiatives have been marketing initiatives for women, instead of initiatives to rethink the product, as needed, to serve women," she writes in an email.
"Women told us they are looking for true goals-based investing (investing to get them to start a business, retire well, buy a home, for example), rather than outperforming some market index; they want more attention to risk management; they want full, interactive financial plans before they invest; they want their lower salaries and longer lives recognized in their financial and investment plans."
Assume risk
Even so, it's hard to see how Ellevest can capture clients whose profile is noticeably different from the investors currently catered to by the robo-advice industry, says Ethan Eden, principal of Market76 Inc. in New Haven, Conn., which sells portfolio management software.
"You might have Lutherans and Methodists but you don't have Zen Buddhists and Muslims." See: Market76's young Ivy League founder is threading a business-model needle and extending his mother's legacy.
But Ellevest's approach does look different from most other robo-advisors in one key respect. A query notably absent from its client questionnaire is the one about risk tolerance. To Ellevest's leaders, such self-reporting isn't always conducive to long-term returns. The firm, therefore, uses algorithms — not client self-analysis — to determine what risk is appropriate based on the size of client goals and her (or his) timeline for achieving them.
Because Ellevest emphasizes achieving goals rather than maximizing returns, portfolios become much more conservative as investors get close. If clients fall off the glide path along the way, Ellevest contacts them robotically to offer options to rectify the problem. See: The top 10 financial mistakes women make.
Training wheels off
In developing SheCapital, Powell found that women clients — at least her clients — weren't all-in on a pure robo model. Her JemStep Inc. and Orion Advisor Services LLC platform launched last August but SheCapital is now transitioning to a more traditional model after clients failed to warm to the initial offering.
SheCapital, which currently has 10 accounts and $1.2 million in assets under management, had many clients call and write asking to talk to someone in its early months, so the firm is now offering counseling over the phone and in person. See: Relying on men but 'losing sleep' Sallie Krawcheck seeks to robo-reap women investors with Ellevest.
By contrast, Krawcheck has no plans to hire advisors for her female client based on the theory that it's not the advisor/client relationship they desire as much as the confidence and security that goes with it.
"I heard for years women want more handholding; women need a personal relationship. The women told us that," she told co-panelists on CNBC's Closing Bell on May 11. See: Why women just aren't buying what financial advisors are selling.
Out-of-a-suitcase CIO
As Ellevest begins to take on client funds, its chief investment officer is keeping her day job.
Sylvia S. Kwan, founder and CIO of SimplySmart Asset Management Inc., with two employees and $22 million under management, will split her time equally between New York and San Francisco.
"I continue to advise members of my family and a handful of others through SimplySmart. It is truly a labor of love," writes Kwan, who works out of her office near Telegraph Hill. "I believe very deeply in what Ellevest is doing to help other women. I am not only a committed CIO, but also an investor and client of Ellevest. I live out of a suitcase in New York to be part of it!"
Krawcheck says Kwan's bifurcated duties shouldn't be a problem.
"The needs of SimplySmart clients and the investment strategies implemented for them are wholly different from those used at Ellevest," she writes. "Sylvia is 100% committed to her CIO role at Ellevest — believe me … you should see how hard she works."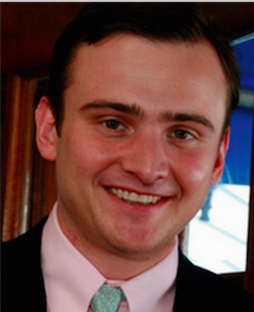 Ethan Eden: You might have Lutherans
and Methodists but you don't have
Zen Buddhists and Muslims.
Morningstar backing
Ellevest has strong connections to the Chicago based data and rating firm Morningstar, which is its largest outside shareholder and a firm otherwise absent from the robo-advice industry. Morningstar led a $10 million Series A funding round for Ellevest last September, and owns between 10% and 25% of the firm, according to Ellevest's ADV. Cathy Odelbo, Morningstar's head of strategy, is one of three directors on the robo-advisor's board. There is even a small co-branding relationship. Morningstar's logo is featured on the bottom of Ellevest's website.
Ellevest is working with Morningstar's investment management group on asset allocation, investment selection, and portfolio construction and is licensing the firm's wealth forecasting engine, according to a spokesman for Morningstar.
That's not to say Morningstar is providing the "engine" behind Ellevest's robo offering, says Krawcheck.
"Ellevest does not outsource its investment process or portfolio management functions; the investment strategy is set by Ellevest's investment committee Morningstar provides Ellevest with research and data in an advisory capacity. Ellevest serves as the only advisor and fiduciary to its clients."
Morningstar has also invested in Chicago-based YCharts and Seattle-based PitchBook Data. It previously led investment rounds for the personal finance app HelloWallet before acquiring the company for $52.5 million in May 2014. See: Morningstar throws more money — and loses one of its own — at keeping its stake in a Bloomberg-lite venture intact
---
Mentioned in this article:
---
---
Share your thoughts and opinions with the author or other readers.
---