News, Vision & Voice for the Advisory Community
The big NY talent consultant counters the national media's growing attention to the stumbles and pitfalls of these managers of $3 trillion of assets
May 18, 2016 — 9:21 PM UTC by Irwin Stein
Brooke's Note: When you can charge double the industry norm for asset management, take 20% of the profits, live without transparency, get regulators to look the other way and often be oversubscribed in your funds, then you are the hedge fund industry and the power of your PR is beyond just about anything Wall Street and the free enterprise system has ever come up with. In fact, you are your PR, much more than your lackluster returns. When that power starts to unravel, it is not an ordinary challenge with ordinary stakes. It may explain the odd presence of Mercer in the picture.
In what may be a sign of desperate PR times, Mercer LLC has become de facto super PAC for the hedge fund industry — countering the media's treatment of each setback for hedge funds with a blitz of favorable PR spin for the managers of that $3 trillion pool of assets.
Most recently the New York-based global talent recruiter and consultancy's investment division sent out a press release — accompanied by a report, The Ebb and Flow of the Hedge Fund Industry in April — taking aim at journalists and politicians for bad PR that is hitting hedge funds — as if skepticism relates little in the long-term to redemptions, massive fees, lackluster returns and the dilution of talent spawned by an explosion of the funds.
120 for one
Mercer indeed suggests that in assessing talent my be the solution the hedge fund industry malaise.
"Successful hedge fund investing is predicated on investing with the best active managers in the world, so manager selection is key," says Mercer's Scott Zipfel, a principal and hedge fund research analyst. Mercer has more than 120 employees, worldwide, performing due diligence on and helping clients select fund managers.
The talent firm counsels readers to take a rearview-mirror perspective on hedge funds in its report.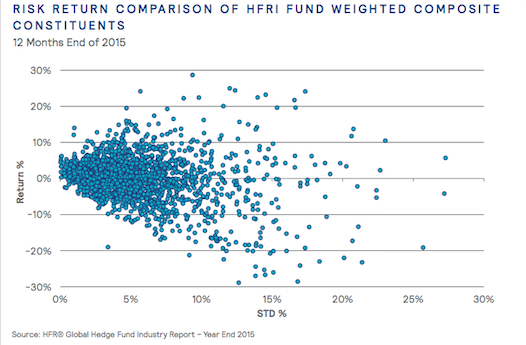 A chart illustrating Mercer's view that
active hedge managers are the most
important factor in a fund's success.

"Despite attention-grabbing headlines proclaiming the decline of the hedge fund industry, we do not believe that much actually has changed. In our opinion, a historical perspective diminishes many of these concerns," reads the Mercer report.
Cliffwater reports that 87% of state pensions earned 10-year returns that exceeded the 6.8% return that would have been achieved by a 60/40 "buy and hold" mix of stock and bond index funds. Cliffwater attributes this to investments in real estate, hedge funds, and other alternatives.
While acknowledging that 2015 was a "disappointing" one for hedge funds — amid flat markets, the average hedge fund lost about 1% — the media made a regrettable situation worse with an alarmist spin, it suggests.
Minority Report
"We believe that concern about a 'record' amount of hedge fund closures in 2015 requires perspective. Although more fund closures occurred in 2015 than in any year since the financial crisis, the margin of difference actually was minor," the report reads.
A month earlier the Employees' Retirement System of Rhode Island (ERSRI) announced it was withdrawing $35 million managed by New York hedge fund Luxor Capital Group LP, which had posted losses of over 18% in the preceding two years.
In 2004, when ERSRI announced it was withdrawing $35 million managed by New York hedge fund Luxor Capital Group LP, which had posted losses of over 18% in the preceding two years, it was on the advice of a Mercer competitor, Cliffwater LLC of Marina del Rey, Calif., which advises on roughly $55 billion in alternative assets invested in hedge funds.
No bail trail
Zipfel acknowledges that there are scenarios under which Mercer would advise a client to bail on a hedge fund, but would not elaborate of what those circumstances might be.
He declined to disclose exactly what criteria Mercer employs to rate and select fund managers, how many hedge fund managers make up its list of the best of the best, and under what circumstances Mercer would cut a hedge fund loose.
Mercer had also jumped to hedge fund defense after CalPERS, the nation's largest public employees' pension fund pulled out of hedge funds in September 2014, chief investment officer Ted Eliopoulos stressed the complexity, cost and scale of the products. Performance, he said, was not an issue.See: CalPERS's hatchet man, Ted Eliopoulos, goes on a manager firing spree, shaving hundreds of millions in management fees — but is it enough?.
Following CalPERS recusal, Mercer did Eliopoulos one better by publishing a report reaffirming its position that hedge funds can provide both long-term growth and diversification from other asset classes. At that point, Mercer was able to demonstrate that hedge funds had outperformed the broad equities markets on a consistent basis. Mercer touted hedge funds' ability to deliver "equity like returns with bond-like volatility."
What neither CalPERs nor Mercer stressed were issues raised last week in a Yahoo! article also took a swat at hedge funds — and which may explain why stewards of billions are moving from hedge funds.
Carried interest
Yahoo! quoted Joe Brusuelas, chief economist for consulting and accounting firm RSM who said the carried-interest tax provision — which some fund managers to declare investment income as a capital gain, at a 20% tax rate, half the top income rate of 39.6% — is a dead duck after the November elections:
"It appears, regardless of who wins the election, hedge fund managers are going to see the end of the carried interest provision," he told Yahoo!.
Meanwhile, he added that the days of clients stomaching the so-called two-and-20 fee structure hedge funds charge their clients — a 2% fee on AUM, plus 20% of any gains — are limited.
But the hedge fund cataclysm will come if the federal government declares that they fall under bank-like rules of reserves, Brusuelas adds in the article.
The better news for the hedge fund industry is that it produced the best aggregate performance in two years this March, according to eVestment's latest Hedge Fund Performance Report, with the company's Hedge Fund Aggregate rising +2.29% for the month. It notes that nearly 70% of hedge funds produced positive returns in that period.
'Considered newsworthy'
In addition to an unsympathetic press, even larger forces were at work, according to the report.
"We understand that when a large investor publicly eliminates its hedge fund program the action is considered newsworthy. However, more factors than are mentioned publicly (such as political pressure) are often what drive such decisions."
It's a stretch to cast the hedge fund industry as a defenseless damsel. In the first 13 months of the election season, it has lavished about $47 million from two dozen of the industry's top managers on presidential candidates, lawmakers and the political action committees that support them, according to a Reuters' review of Federal Election Commission filings.
Investors themselves are not blameless, says Zipfel. "Those who redeemed in the first half of the first quarter missed the rebound in the second half," he says. "Those who redeemed in the first half of the first quarter missed the rebound in the second half," says a principal and Mercer and hedge fund research analyst.
All about the talent
In addition to being a talent recruiter and a consultancy, Mercer also creates model portfolios that represent a material allocation to hedge funds, says a Mercer brochure. The firm, however, declined to identify the number of managers it recommends or the criteria for putting them on or taking them off its list. Mercer does not publish any composite that demonstrates whether the results that these managers obtain for their clients are superior to the industry average.
Massive redemptions, coupled with other performance losses of $43.2 billion in January, caused global hedge fund assets to plunge to $64.7 billion for ther month, dropping total industry assets under management to $2.96 trillion — marking the first time since 2014 that cumulative hedge fund AUM has dropped below the psychologically important $3 trillion level, according to research firm eVestment in Marietta, Ga.
Correction: A previous version of this article characterized Mercer as a firm that does recruiting and that the pres release emanated from that portion of the company. Mercer does HR consulting but no recruiting and the release came from the investments side of the business. We regret the error. We are also still trying to better understand and describe Mercer's juxtaposition to the hedge fund business and will try to clarify as today, May 19th, progresses.
---
Mentioned in this article:
---
---
Share your thoughts and opinions with the author or other readers.
Big Bopper said:
May 19, 2016 — 4:42 PM UTC
Looks like Wall St just moved the ole active management shell game into the shadows. Does anybody who understands stats and isn't conflicted still believe in the active manager unicorn?
Paul Damon said:
May 19, 2016 — 8:15 PM UTC
I don't understand the premise for the article, nor whether it is intended as news or an opinion piece. How is it odd for an institutional investment consultant to be supportive of the thoughtful usage of hedge funds in (institutional) client portfolios? It's their business to take a longer term view and be experts at manager selection, diligence, monitoring and allocation recommendations (hiring AND firing when necessary), as it is for many other firms in the space, including Cliffwater. Should they suddenly decide to exit that business, fire associated staff and cease recommending any allocation to strategies that can help better the risk-return profile of an institutional portfolio with a very long / infinite investment horizon? The larger the universe of managers, the more relevant such firms, who have done quite well taking market share from Hedge Fund of Funds (until recently). Correlations of broad hedge fund benchmarks — that are exposed to the bloating of the industry at times and survivorship bias at others — to equities don't tell the story of individual investors' experiences. If hedge funds were the disaster that they are, the asset retreat would be a lot more rapid than it has been. Maybe that is coming, but even as bloated as the industry is, and as undeserving of a rich comp structure that many managers are (which is no longer 2/20 btw), I doubt global assets will dip below $2 trillion anytime soon. Big institutional managers with increasingly diversified businesses – like AQR, Bridgewater and Citadel – and deserving emerging managers should continue to win flows while less talented funds that expose investors to unwelcome volatility and/or losses see outflows. Investing in a 60/40 portfolio, even as good as both asset indexes have done post-Crisis, won't leave you without potentially deep losses in certain environments, especially considering market distortions with central bank liquidity (which, yes, has made fools of many an active manager); it's just not that easy. That's where allocating some percentage (e.g. 5-20% perhaps, depending on objectives & risk tolerance) to risk dampening strategies can provide value. I'd advise more balance and consideration in your reporting on alternatives, which seems to be lacking of late. My thinking goes back to the Blackstone Fidelity article, which featured performance figures for BXMMX that didn't exactly check out and failed to mention that fund is/was actually a category leader in the Morningstar multialternatives category (the actual category the fund belonged to wasn't mentioned in the piece, just lumped in with all of liquid alternatives, a swiftly growing pool of varying strategies…). It also failed to mention that the Blackstone registered (40Act) fund platform has 2 products, with "identical" objectives (Blackstone's words from their press release), and fees. The other fund, Blackstone Alternative Multi-Strategy (BXMIX), launched 10 months after the soon to be liquidated Fidelity-seeded BXMMX (giving it ~1/3 less time, or about 22 months then, to gather assets), managed to accumulate $4.3B in assets (as of the article's publishing), multiples of the $1.2B in BXMMX prior to the redemptions started in February reported by Bloomberg. Impressive but, after all, this is the world's largest discretionary investor in hedge funds, so I guess we shouldn't be too surprised of this pull to the registered offering. Maybe the decision on Fidelity's part wasn't just on performance, and if it was, it was shortsighted, which should've been pointed out. I see the note at the end of this article that the mis-categorization of Mercer as a talent consultant, and perhaps misconceptions behind the intentions of the business of the unit that released this report, are being amended, so maybe the story will change. Further, politics is always a consideration with public pensions and can influence decisions. That's part of the process of transparency and disclosure that goes along with the public plan space. It can push fees down and force accountability as well as it can unfortunately lead to exiting investments at the wrong time, locking in losses on top of high fees. But what about the case of SFERS, who through public protests decided to allocate 5% of their then $20B portfolio to HFs in Feb 2015 after a protracted debate where critics drew from CalPERS' decision (which was more about challenges achieving scale frankly)? Or what about CalSTRS recent 9% "risk mitigation strategies" allocation to alternatives, including hedge funds and hedge fund-like strategies? Are those instances not worth mentioning alongside the paring? And what about comment from the voices in the more retail space — like CAIS, Dynasty, etc — that could provide commentary more focused on the wealth management challenges of alts usage and client education rather than institutional space? None of the firms mentioned here are my clients nor do I represent any industry trade bodies currently.
Your longtime reader,
Paul Damon
Steve Jones said:
May 19, 2016 — 11:24 PM UTC
This article has several inaccuracies. Mercer's Talent group does not do recruiting or headhunting and its Investment group is very open about its investment due diligence process. Brooke, have you stopped editing bc I would bet there are several people looking to speak with you about the mis-information published here.
Sue Smith said:
May 20, 2016 — 2:42 PM UTC
---
---