Why the 56-year-old scion of Wall Street barons is 'broke' but unforgiving toward the financial advisors who might have kept him rich
From a golden childhood in Buzzards Bay to a goat barn in the Alps, the baby boomer searches for the source of his paycheck-to-paycheck reality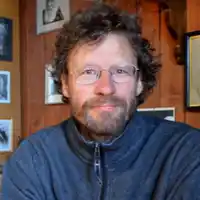 Ashley Curtis: Money is boring. I like what it could give me -- it is not that I wouldn't like to be rich -- but the expense of spirit required to actually get rich presents a hurdle I am incapable of overcoming.
---
---
NYC GAL
Spare me!
Your sad, pretentious tale of woe!
Your Grandfather clearly was made of strong and better stock (no pun intended) that has been diluted.
I certainly agree with you – who needs to listen to this junk?
Must be a slow news day for RIA biz. Too bad for all of us
Sinkler
Ashley, you are suffering from liberal guilt and teacher burnout. Very predictable for one of your class in their 50's. I know countless sad friends who have never come to terms with having a trust fund. I have to laugh at Brooke's characterization of the "nameless horror" of millennials who can't trust financial advisors! Oh my god, with all the horrors to worry about, that one has to be the most hilarious.
Ashley, you will survive. One thing I miss in your plaint: any concern for others, any motivation to help those less privileged than yourself. One of the reasons some of us work and invest is to have the resources in case a child or a friend is in need, or to give to causes and people who have no trust funds of their own. Another reason some invest carefully and respect money is to save enough to take a risk and fulfill a dream, to have the freedom to walk away from boredom, anger, hypocrisy and guilt and get on with life. I wish you luck.
BigBopper
And so the chickens come home to roost.
Brooke Southall
Sinkler, Chicken Farmer and NYC Gal (Nothing pretentious about that self-tag),
You can read this piece as a 'tale of woe' or as a biographically oriented essay that plumbs the depths
of a certain kind of mindset, rarely, if ever, self-described that can develop toward money.
I think it's much more the latter and should be appreciated as such — especially since the author puts himself on trial and delivers a verdict.
Based on a number of private messages about it sent to me, I think a large number of people did read it as an illuminating essay.
That said, I am very pleased you commenters commented! Considering the thousands of reads that this piece has received, and its provocative nature, I am surprised how little commenting has happened.
Brooke
P.S. Can you accuse somebody of showing no care for others and say they are burnt out from teaching in the same comment?:)
Jeff Spears
October 19, 2016 — 4:09 PM
I missed this article in May but found it after reading your recent article and researching how I could contact you. I don't know where to start except to say I feel your pain and struggle and would add that most financial advisors struggle with many of the same questions. Thank you for sharing. I look forwards to you next post.