Dan Skiles: The reality with today's advisor technology is that you can compete with anyone -- you don't have legacy issues.
Brooke's Note: A healthy RIA business requires a diversity of asset custodians to best manage not only the industry's fragmentation but also its segmentation. The giant segment that is smaller, younger RIAs are most easily forgotten because, at least in the short haul, it is the most thankless lot to serve. Some mini-RIAs go on to become big asset gatherers but many remain immature hobbyists. Cherry-picking is hard to do so you take the whole bowl, pits and all, if you're Jack White circa 1996 or SSG 20 years later. The good news is that it is a winning strategy for the patient as proven by TD Waterhouse, Jack White, and even Schwab, which started with little guys in the late 1980s. You just need to measure success by the decade and keep the faith. This event showed RIAs, vendors and likely SSG execs themselves that this organic strategy can work and some fun can be had along the way.
When into the independence-crazed RIA business came a custodian startup — Shareholders Service Group Inc. — whose co-founders included a known Schwabbie and TD Ameritrade-Jack White alumnus, there was a bit of a yawn.
Dan Skiles and Peter Mangan certainly had the skills to create a bank-free, discount broker-free, stock brokerage-free custodian for registered investment advisors work.
But observers had doubts that a scale business could be started from scratch. It would demand so much patience to grow along with RIA startups that are likely the only folks who'll show you love. See: A small RIA custodian in San Diego faces a new challenge: accelerating growth [updated].
Not only did Skiles and Mangan delay gratification of critical mass, they have also shown the restraint not to criticize larger, more conflicted, competitors.
But with the esteem of having 1,300 firms with a few billion of assets in custody, Mangan again used the fifth annual event at the Sheraton San Diego Hotel and Marina to gently chide the big custodians.
"When we began 15 years ago, we knew that there is a built-in conflict with advisors and their custodians as part of a larger retail organization," Mangan, the CEO of SSG, said in his welcoming remarks. "As a result, we built SSG without that conflict of interest and are dedicated first and foremost to the advisors we serve." See: Peter Mangan taunts rival RIA custodians as Shareholder Services Group adds weapons, advisors.
Comparing size to TD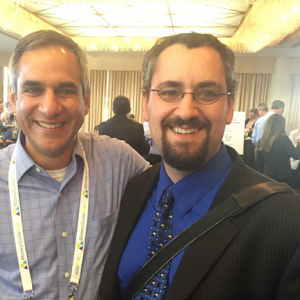 Sunit Bhalla and Michael Kitces
New accounts at SSG grew at a 12.5% clip in the first quarter of 2016 when compared with the year-earlier period, Skiles, president of SSG, noted in his talk.
"The average account size at SSG is now at $149,000, which I think surprises people as the average account size at TD Ameritrade is $103,000."
TD Ameritrade includes both self-directed and RIA-managed accounts. SSG still keeps its total assets in custody under wraps. See: TD Ameritrade CEO sees RIA custody competitors adjusting to his killer strategy — even as he whips his in-house RIA into shape.
Skiles, whose software bona fides are considered upper echelon from his time at Schwab, reminded RIAs that the evolution of software is playing into their hands.
"The reality with today's advisor technology is that you can compete with anyone — you don't have legacy issues," he said. "Today's investors are more sophisticated, need more services and there is more competition than ever before — how do you respond?"
SSG uses the custody technology of Pershing Advisor Solutions, NetX360.
Skiles answered his own question with a few familiar answers: Focus on the client experience, leverage technology, as well as better refine and articulate the value proposition that differentiates RIAs from Wall St. and robo competition. See: How RIAs can compete with super-RIAs, robo-RIAs and the 'phono'- and faux-RIA market of 2015 and beyond.
Tech encampment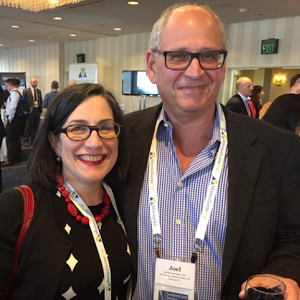 Joel Bruckenstein [with Marion Asnes]: In
five years the hackers believe that
they'll have new technology to be
able to decrypt this data.
The majority of the few dozen exhibiting vendors were software providers, and following Skiles' keynote, Joel Bruckenstein, T3 producer, moderated a panel featuring Dave Welling, Jacksonville, Fla.-based general manager of San Francisco's SS&C Technologies Advent Black Diamond wealth platform; Greg Friedman, CEO of Junxure and yours truly.
SSG and Black Diamond grew close years ago with a sweeping deal. See: Several hundred small RIAs gain access to Black Diamond software at reduced rates.
Decryption for the future
In his sardonic baritone, Bruckenstein threw a charge into the audience by opening up with a cybersecurity topic that most had not even considered.
"Right now, hackers are storing any data they can get off of non-secure Internet connections, even if it is encrypted data. Why is this? It is because in five years the hackers believe that they'll have new technology to be able to decrypt this data and then be able to use it for nefarious purposes in the future."
This diabolically long-view hacking strategy — evoking Tour de France officials' collecting blood in hopes of better screening techniques in the future — reinforced why advisors need to avoid public Wi-Fi connections whenever they are dealing with client information. See: Investing In the Digital Age: How RIAs could start a free-data revolution and why it won't bankrupt the vendors.
With minds wide awake, Bruckenstein grilled the panel on the latest trends in advisor technology. Welling identified the client experience as a key focus for advisors and reminded them to choose a system that avoids the trap of garbage-in, garbage-out.
"There seem to be a proliferation of client portals and data aggregation systems connected to your systems these days, which brings up challenges for which platform do you use so that your client only has one login. The key to that decision is that whichever one you choose, you really need to have quality data feeding it."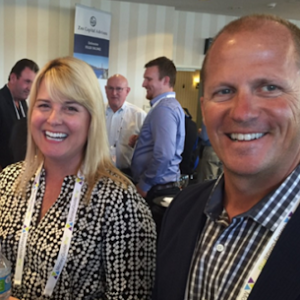 Dave Welling [r.]: There seem to
be a proliferation of client portals
and data aggregation systems connected to
your systems these days, which brings
up challenges.
Read owner's manual
Junxure's Friedman took a tough-love tack of putting the onus back on the advisor to make the most of what he or she has, by, in essence, reading the owner's manual.
"Nine times out of 10, the software you currently own can accomplish what you need it to do, the real challenge is technology adoption." See: Friedman makes his case to Hong for why Junxure Cloud's doubling-plus of fees is worth that much more.
Friedman encouraged advisors to focus on existing technology first and not to be distracted by "the next shiny thing."
All about the banks
Industry gurus Bill Winterberg and Michael Kitces also held popular sessions on how financial planning is changing in the digital age and which video conferencing and document sharing tools to choose from.
Another key theme at the conference was business management issues, with advisor M&A as a hot topic. John Turner, senior loan officer for Live Oak Bank, led a discussion on using bank financing — as opposed to taking back paper — to fund acquisitions, internal or external. See: Why a $1 billion-plus RIA attended Dan Seivert's two-day M&A conference despite having no intention of buying or selling.
"Bank financing has become a game changer for doing deals," he said without irony. "By being able to offer more cash up front, buyers get a bigger discount on the price and sellers get paid quicker, reducing their risk — all of which help make deals go through."
Live Oak does not require putting up your house but does requires a no-bull valuation. Last year, the bank made 400 loans worth $750 million.
In the hall
The exhibit hall at the SSG conference was the center for the conference, which made for lively discussions during receptions and meals and excellent traffic for the vendors.
Taking advantage of the conference to make announcements were Morningstar and Redtail, which dropped news of their tighter integration.
PowerAdvisor, the portfolio accounting platform that spun itself out as an independent company after the TRX acquisition by Morningstar Inc. announced its new client portal. See: Turnaround artist has almost completed her revamp of Cornerstone Revolutions.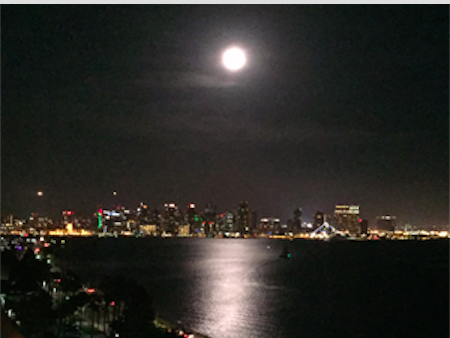 Moon over San Diego from the
writer's hotel room.
SSG proudly trumpeted its relationship with SS&C's Black Diamond as its preferred portfolio accounting system. "We have over 100 advisors on Black Diamond," Skiles noted.
Bright future
The evenings were busy with T. Rowe Price's Steve Larson hosting an elegant dinner at a beachfront steakhouse, while Advisor Partners and Riskalyze the hotel's top suite for an after-hours reception.
Sunit Bhalla, a small RIA and big RIA technology pioneer, graced with his presence. See: How one RIA is running his practice on a Mac and finding it totally doable.
Marion Asnes, the former editor in chief of Financial Planning magazine and current head of consultancy Idea Refinery, noted in her observations of the SSG conference that its clients embody the future of the industry. See: Extraordinary women awaken the RIA business, shepherd billions.
"This is the first event in many years that the diversity of the advisors was noticeable — more younger people, more of color and more women. The future is bright here indeed!"
Disclosure: Welsh has consulted with some of the companies mentioned in this article, including TD Ameritrade, Black Diamond and SSG itself.
Timothy D. Welsh, CFP® is President and founder of Nexus Strategy LLC, a leading consulting firm to the wealth management industry, and can be reached at tim@nexus-strategy.com or on Twitter @NexusStrategy.
---
---
Mentioned in this article:
---
---
---