Edward Siedle: Overstaffing, underfunding, a lack of transparency and too much politics [are unacceptable].
Brooke's Note: That cluck-clucking you hear in the wake of the DOL rule is the sound of chickens coming home to roost. The fowl began to scatter in 1978 when 401(k) system was put in place as a means of improving on state and company pension plans. The old defined benefit plans were albatrosses around company necks because these pension plans needed to deliver the goods to employees as guarantors. What they did do effectively, however, was to make plans, of necessity, pursue disciplined practices under pain of legal ramifications. Only now is the more loosey-goosey defined contribution, i.e. 401(k) business being brought to heel. CalPERS was often considered the gold standard in defined benefit plans — a view held less commonly today for reasons noted in this article. The story of CalPERS is the story of a rise, a fall and then the appointment of Anne Stausboll to try to restore its fiscally integrity and its reputation. Stausboll managed to keep CalPERS beneath the national radar during her tenure. But as she races for the exit come June, does Stausboll deserve accolades or a calling to account — and fortunately we had Irwin Stein eager to do some digging and begin to frame the issue. What is disturbing is that when Stausboll took over, CalPERS was funded at a miserable 65%. Now it's about 77%. Pretty bad considering the market doubled in the meantime. You might wonder why RIABiz cares about CalPERS. Here's why: The RIA beat so often boils down to whether there is an ideal admixture of incentives, compensation and rules that deliver the right outcome to investors. Participants in 401(k) plans regularly get shafted because their plan providers and plan sponsors put their own interests ahead of theirs. At CalPERS, sadly, many of the same forces are at play with people perversely drawn to bad bets, large fees and wishful thinking — and a penchant to gloss it all over with practiced PR brush.
In January, Anne Stausboll quietly and unexpectedly resigned as CEO of CalPERS, the nation's largest public employees' pension fund, amid a flurry of significant developments and continuing problems.
When her resignation becomes effective June 30, Stausboll will leave a legacy at the California Public Employees' Retirement System defined in starkly varying tones by her supporters and detractors.
Stausboll's supporters in Sacramento say she came into an organization whose morale was scraping bottom and that she executed change on a variety of levels leaving CalPERS with a brighter future. In addition, they point to how she exemplifies CalPERS's world-famous reputation for doing what amounts to socially responsible investing on a grand scale — pressuring companies to be greener and to diversify their boards.
'Great job'
"She did a great job with the cards she was dealt," says former CalPERS general counsel Richard Koppes. "She got a very demoralized organization and it's just amazing what she's done."
Her detractors are having none of it. Stausboll is leaving behind a bloated, patronage-plagued, rudderless pension plan in her wake, they say, one that still falls far short of the funds it needs to pay benefits of thousands of California state employees in the future. The detractors see the do-gooding as a bad joke given that the behavior of CalPERS as an entity does not, to them, pass the sniff test.
"CalPERS is the poster child for everything that is wrong in the public pension industry" says Edward Siedle, a longtime critic of CalPERS. He is the head of BenchmarkAlert.com in Ocean Ridge, Fla., a firm that conducts forensic investigations of the money management industry.
"CalPERS suffers from too much political influence, underfunding, high costs and a lack of transparency. The scandal that resulted in its two highest officials being indicted for kickbacks [in 2010] should have been reason enough to clean house." See: Regulatory Wire: The public is depressed about financial reform and an exemption for auto dealers is just a warm-up.
To these critics, today's CalPERS is the product of the 2008 financial crisis, corruption, bad real estate deals, overweening confidence in hedge funds, private equity and active management.
But even those peccadilloes might have been overlooked if the net effect of those ills was to radically underperform in the most plain vanilla of index portfolios and breach the trust of hundreds of thousands of pensioners. The insult to injury is that the salaries of the 400 or so CalPERS investing staff only served to add to the underfunding.
Even then, the public might even have forgiven, or at least forgotten, were it not for some lurid details straight out of an airport newsstand paperback thriller.
To wit: Fred Buenrostro, 71, is reported to have pled guilty to taking kickbacks in cash stuffed into paper bags and a shoebox in return for steering investments to private equity firms.
And then there's Alfred Villalobos, ex-board member and Nevada businessman, who was about to stand trial for his role as a "placement agent" in the deals, but is reported to have committed suicide at a gun range. His attorney defended him in press reports by saying that he had had a prolonged illness and that he had looked forward to exonerating himself.
Stausboll's greatest accomplishment may be that she helped put Buenrostro and Villalobos in the rearview mirror.
Coming up short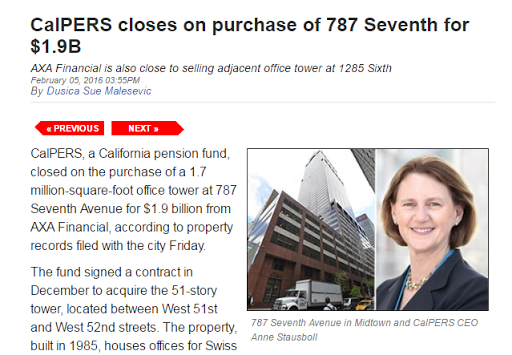 In fall 2007, CalPERS had investments worth $260 billion and was more than fully funded with 101% of the projected assets needed for future pension obligations. Stausboll took over as CalPERS' leader in January 2009 at the height of the financial crisis. By March 2009, the investments had dropped to about $160 billion and the funding level to 61%. See: A careful look into whether CalPERS is ticking along or a ticking time bomb.
The fund returned to roughly $288 billion in value by year-end 2015 but In the interim, the number of retirees increased as had the average age of covered workers. Budget cuts around the state have resulted in fewer young workers being hired. Medical and prescription costs have skyrocketed. As a result, CalPERS has only 77% of the funds that it will need to pay future benefits. More than 1.8 million government employees and their dependents are counting on CalPERS for their retirement and benefits now and in the coming years. See: Giant push is on in Washington to create a nation of savers.
But 77% isn't so terrible, argues Koppes.
"I'm not sure the fund needs 100%," he says, adding that there are those who say 90%, or even high 80s, is very good for a fund its gargantuan size.
Koppes adds: "Clearly, 65% funding was not [good]."
For the five years ended June 2015, the fund returned an average of 10.7% per year. During the same period the S&P 500 index rose, almost doubling from 1100 to 2100. At the end of March 2009, when the fund hit bottom, the S&P 500 was at 872. If CalPERS had just done as well as the index from that point there would not now be a significant problem with underfunding.
Employees foot the bill
Before becoming head of CalPERS, Stausboll served as chief operating investment officer. Prior to that, she served as the chief deputy of the California State Treasurer's Office.
RIABiz sought comments from CalPERS and Stausboll regarding her tenure and future plans but received no response.
We specifically asked about CalPERS' plans for funding the shortfall and whether CalPERS was looking for a new CEO with specific plans to remedy the situation. Neither CalPERS nor Stausboll responded a request for an interview.
Experts say that Stausboll worked to make up for lackluster investing largely by using the non-investing levers at her disposal.
"For a fund like CalPERS there are only three ways to close the funding gap," says James Hawley of the School of Economics and Business at Saint Mary's College. "Increase contributions from the state and municipal employers, cut benefits — which will open a political can of worms — or seek higher returns which provide real challenges in these shaky markets. There is a brewing pension crisis nationwide that will require long-term solutions."
At its November 2015 meeting of its board of directors, CalPERS, with Stausboll's blessing, essentially chose door number one: higher contributions. Municipal employers, meaning California taxpayers, will be asked to pay more to close the gap that Stausboll and her board could not. The board has adopted a risk-mitigation plan that lowers the earnings forecast gradually over the next 20 years from 7.5% to 6.5%. As the earnings forecast goes down, the fund can be shifted to less risky, bond-like investments. The yield on these investments is likely to be lower, but so are the odds of sustaining big losses in an economic downturn. See: The 401(k) industry braces itself for fruits of a CalPERS rethink that reflects a cut-the-crap mentality about active investing.
It's Stuyvesant Town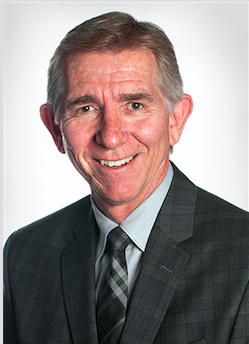 What will happen during economic downturns over the next 20 years, while CalPERS resets its portfolio, remains to be seen. Lowering the earnings forecast means that contribution rates will go up to offset the lower earnings assumed in the future. Increased pension contributions can hit municipalities hard, often causing library closings and the curtailment of hiring and essential services. These are not long-term solutions to a problem caused by poor investment decisions.
The 2008 real estate crash certainly took its toll on CalPERS' real estate portfolio, which declined by more than 45% between 2005 and the end of 2010. It is easy to attribute the loss in value to the crash, but that that's not the whole story — some wounds were clearly self-inflicted.
For instance: CalPERS lost all of the $500 million that it had invested in Stuyvesant Town and Peter Cooper Village, a complex of 56 buildings with 11,000 rental units near the East River in Manhattan. CalPERS had purchased a 26.5% interest in the complex in 2005 in a partnership led by Tishman Speyer Properties and BlackRock Inc., one of the fund's real estate investment advisors. See: LPL Financial sees explosive asset growth of model portfolios by linking BlackRock and J.P. Morgan-level brand names to the little guy.
CalPERS offloaded its stake in 2010. It's unclear why CalPERS didn't keep the stake given the long-term nature of the investment. All real estate markets, New York City included, are usually cyclical. The vast majority of apartment complexes were not forced into foreclosure by the crash; the only realized losses were on those properties that were too highly leveraged for the price that was paid.
But even as it was finalizing its risk mitigation plan last November, CalPERS was plotting its return to the New York City real estate market, negotiating the purchase of 787 Seventh Avenue, a 51-story office building in midtown. CalPERS paid $1.9 billion for the property making it — at the time — the most expensive office building ever purchased in New York City.
Headshot spot
The deal closed in mid-January — around the same time that Stausboll announced her retirement. Soon after, real estate trade publication Real Deal featured a photograph of Stausboll next to a picture of the building in question — optics that seemed to run counter to the image she had worked to burnish. See: What I learned from the CalPERS meeting in which the 10 Beliefs were unveiled — and why I came away mystified.
Mark Hebner of Index Fund Advisors Inc., which manages about $2 billion of mostly DFA funds from Irvine, Calif., sees CalPERS' decision to concentrate funds in a single investment as a classic error known as "prediction addiction."
"CalPERS would have been better served to invest in a globally diverse REIT," he says, adding that CalPERS actually sold off a diverse real estate fund to purchase this single office building.
Cutting hedge funds, finally
In 2014, Stausboll directed CalPERS to begin severing relationships with its private equity and hedge funds, citing the high cost associated with these private managers. These funds represented about 10% of its total portfolio — including $4 billion of hedge funds and $31 billion of private equity. See: WSJ: CalPERS questions its own ability to execute winning trades.
Hebner calls starting the process of divesting hedge funds Stausboll's "number one accomplishment." Others, however, argue that it looks more like high-level window dressing — an age-old practice of cutting investments that perform badly so that investors don't need to be reminded of them by seeing them on their statements.
But at the same meeting, CalPERS disclosed that it still paid $700 million in performance fees to private equity firms in the fiscal year following the decision to terminate private equity funds — and that CalPERS has paid a whopping $3.4 billion in fees since 1990.
CalPERS justified the fees by pointing to the $34 billion in profits it made from these funds in the same period. Despite Stausboll's promise to cut down on private equity funds, the fund was still invested in more than 280 funds at the end June 2015.
New scandal?
Outside consultants may lie at the root of yet another major scandal still brewing.
Cost-cutting has been a recurrent theme of Stausboll's tenure. In addition to cutting the real estate, private equity and hedge fund managers, CalPERS was on a mission to cut the number of outside consultants and bring much of their work in house.
But this does not apply to all outside consultants.
One member of the CalPERS' board, J.J. Jelincic, requested copies of reports from three new lobbying firms that CalPERS hired. When he was denied copies of the lobbyists' reports, Jelincic filed California Public Records Act requests in summer 2015. The rest of the board questioned his behavior rather than accepting it as due diligence, according to the blog Calpensions.
Jelincic has been at odds with the board before. He declined to support the appointment of Ted Eliopoulos as chief investment officer. Eliopoulos had been in charge of CalPERS' real estate investments beginning in 2007. Despite the significant losses in the real estate portfolio, Stausboll and the rest of the board supported Eliopoulos' promotion. See: CalPERS' hatchet man, Ted Eliopoulos, goes on a manager firing spree, shaving hundreds of millions in management fees — but is it enough?.
Dubious choices
One of Jelincic's critics is Robert Klausner, who joined CalPERS' fiduciary counsel in 2014. Although not a member of the State Bar of California, Klausner was hired to advise the board on matters that certainly involve California law. His lack of California bar membership has raised some eyebrows.
Klausner has a dubious reputation in the pension industry. He runs educational seminars for his clients at which advisors and pension consultants pay handsomely to make presentations. Clients pay nothing to attend. Staff members at the pension funds get a few days in Florida for free all the while being sold on the expertise of the consultants who pay Klausner for the privilege. Hebner has referred to these seminars as "boondoggles."
Additionally, according to published reports, Klausner is currently under scrutiny as part of an investigation of the Jacksonville (Fla.) Police and Fire Pension Fund where he has acted as general counsel since the late 1990s. Rather than comply with subpoenas issued as part of the investigation, Klausner hired a criminal defense firm to fight the subpoenas issued by the city council, as well as a public relations firm, according to published reports. See: The 401(k) industry braces itself for fruits of a CalPERS rethink that reflects a cut-the-crap mentality about active investing.
You would think an individual under such a cloud would have trouble passing muster as a CalPERS consultant — one who is supposed to help the board make certain that it is acting according to their fiduciary duty. See: Why some pension experts believe CalPERS got 'nothing' out of paying Towers Watson $275,000 to define its 'beliefs'.
Evidently not. Klausner was vetted by CalPERS General Counsel and members of the General Counsel's staff. Several board members have complained that they received incomplete and summary information about Klausner at the time that he was hired.
'In cahoots'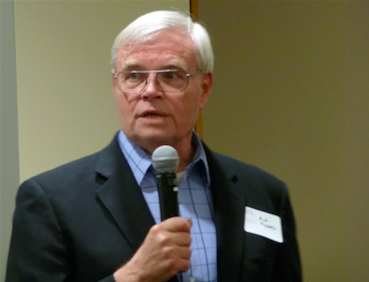 Indeed, CalPERS' board, not its CEO, may be the problem, says Joe Nation who teaches the Practice of Public Policy at Stanford University. He notes that it has not been a particularly good year for CalPERS in terms of the fund's performance. Stausboll "probably should have pushed a little harder to de-risk the fund although she might not have been successful even if she had. She was constrained by the system. The professional staff at CalPERS is actually pretty good even if the board seems shortsighted."
Hebner concurs, while observing that the CalPERS Board members were political appointees.
"It is up to the professional staff to educate the board on how the market works," he says. "They cannot be trying to cheat risk or time the market. It is important that they understand diversification and indexing."
Hebner also takes issue with the size of CalPERS professional investment staff, which is consists of 400 financial advisors. Despite the size of the fund, he thinks it could be effectively managed by a staff of "no more than 25 people if they focused on low costs and risk control. The professional staff recommends consultants who set low benchmarks that are easy to beat. The consultants then recommend fund managers who tilt toward smaller capitalization stocks to beat those benchmarks. All three groups, the professional staff, consultants and managers are in cahoots to keep the status quo and provide themselves with job preservation."
Koppes notes that the professional staff was demoralized when Stausboll took over. "They were not accustomed to working for an organization involved in a criminal investigation."
Vision wanted
During her tenure, Stausboll directed the fund to become more of an active investor in companies working to address climate change, and especially carbon footprint issues. CalPERS' board members have also voiced concerns about water shortages given the multiyear California drought.
Stausboll's imminent retirement seems to have caught CalPERS by surprise. There is no apparent successor being groomed from within. Instead, CalPERS has hired a professional recruiting firm to find Stausboll's replacement.
The job description does not require a candidate to have any prior knowledge or experience regarding investments or pension fund portfolio management. CalPERS is looking for an executive who has general management skills. Apparently, the person at whose desk the buck stops need not have any in-depth understanding of how the fund investments are actually managed or how markets work. See: WSJ: CalPERS questions its own ability to execute winning trades.
The fact that the compensation tops out at around $350,000 per year. That amount is less than the state pays the Chancellor at the State University in Fullerton, who is responsible for fewer than 40,000 students and a budget of approximately $350 million. CalPERS' annual operating budget tops $1.8 billion.
---
---