Robo-advisors are supposed to reach millennials but their automation carries over into the persona of their websites.
Brooke's Note: If robo-advisors fail, it won't be a lack of really great low-cost, tax-efficient capabilities for investing. They are good at that. Where they seem to be in trouble is with the people who were supposed to love them — millennials. See: Online RIAs will mostly fail — and here are 10 reasons why. But millennials are not a market where you know in advance what they want. If there is one thing on Earth that I know millennials like, it's smartphones. You can see where robo-entrepreneurs would be licking their chops over a robo app that gathers millennial assets in that natural habitat. But here's something millennials love, too — Bernie Sanders. What's the common denominators between a smartphone and a rumpled, 1950's four-eyed, Brooklyn-accented man so, in theory, out of touch with the American ethos that he calls himself a socialist? Not so much. But what Bernie does is to talk to young and old as if they are intelligent people. He does this with his high school principal appearance that shows he isn't trying to create a pseudo-presidential persona. He does this by copiously and completely refusing to buy the party line on almost anything. Robos need to be more of a smartphone version of Bernie — to wear who they are on their sleeves and show a greater generosity of spirit. I have a writer, Pamela Livingston, working right now on a piece about robo-advisors. She asked me deadpan which charities each one represented — and was shocked that I didn't really associate any of them with a cause, except Aspiration. Aspiration later formed a deal with the Sierra Club, which has 2.4 million members. It would be a terrible shame if robo-advisors failed to catch on because people couldn't see the humanity in them. There are lots of great people working behind the scenes at these places. But their faces, their voices and their artistic expression, by blog, web design or other medium of communication, seems muffled. The irony is that their bosses are willfully scrubbing any sign of their existence from the company deliverable and aura. That might work. But if it doesn't, the obituary writers may look back and say the robos failed to make investors 'feel the Bern' when they had the chance.
Resolved: Millennials don't want to deal with financial advisors in flesh-and-blood form.
That is a valuable truism — if understood in the right context.
There are currently thousands of brainy robo-advisory engineers beavering away to invent the next, best, robo software with the help of Ph.D.-laden financial and mathematical wizards thinking big thoughts in the next room. See: Can Silicon Valley rewire the RIA business? eBay investors think KaChing is the answer.
They know that millennials are different from you and me. They know that Americans born on or around the year 2000 don't respond to smiling human beings in suits, much less phone calls or emails.
They also know — or think they know — that the younger generation wants to feel like a number — as long as they are masterfully manipulated by a sweet algorithm that allows them to avoid frictional encounters with their fellow man or woman. See: McKinsey: Robo-advisors have a cloudy future but 'virtual advice' delivered by 24-hour super-centers with experts and algorithms will win the day.
One of the standard-bearers of this school of thinking, Andy Rachleff, co-founder of Silicon Valley robo-advisor Wealthfront Inc., has managed to attract more than $3 billion of assets, largely from 18- to 33-year-old investors.
It's an Impressive — and provably replicable — feat: New York-based Betterment Inc., a robo with a similar product and focus, has more than $3.5 billion in its managerial grasp, virtually all gathered on the business-to-consumer side. See: Betterment adds 50 firms to its new 401(k) plan — and IBM and Marcia Wagner connections.
Being served?
But for all their success, these companies seem not to have anything resembling a WhatsApp Inc. kind of growth going on.
Robo-advisory principals have a good explanation for low adoption rates — namely that their businesses are just getting started and that the main course has yet to be served. Getting somebody to sign up to chat, after all, is different than asking for their life savings.
Which would seem to be the point.
These companies are demanding the ultimate leap in trust in asking for people's investments — but what are these firms doing to inspire such trust? See: Need an up-to-the-minute 2016 RIA model? Read the large print in Brooke's hypothetical Southall Advisors RIA brochure.
And there is so much engineering yet to come: Robo-advisors currently omit such crucial factors like financial advice, behavioral coaching, managing based on wealth held at other custodians and any sort of decent hand-holding. See: Six ways that human advisors kick robo-advisor butt.
Empathy deficit
But for all its myopic focus on to deliver what the couple that works 80 hours a week presumably wants — a lot of stuff for their children — not even the most visible tip of the engineering capability robo-websites engender much trust. These are dull, look-alike websites with nothing more than a cursory effort in the way of atmosphere. They are neither hip nor establishment —but seem intent on averaging the two. See: James Surowiecki has lessons for RIAs about marketing's mushy middle.
Granted, there are a few faces here and there on the "about" pages, but with virtually no effort to tell us what their weirdo titles mean or why we should care — but I couldn't even find one of those on Betterment's site. Acorns has an infinite scroll of beautiful workers' faces, but that's it.
In general RIAs have depressing websites with sterile photos and descriptions of what they do. Luckily most are infinitely better when you meet them in person. Robo-advisors don't have that fallback. They are their websites!
One thing robo-advisors could convey on their websites is that they have people who give a hoot about us and our money. Do they have any sense of how much our financial goals mean to us? Have they ever been poor, or made sacrifices or had their parents make sacrifices as a result of not having money? Have they ever experienced the professional joy of helping somebody out with financial guidance — a joy that leaves them eager to seek that reward again and again? See: Why quiet co-breakaway of LPL and Ameriprise advisors in Downeast Maine speaks so loudly to Shirl Penney.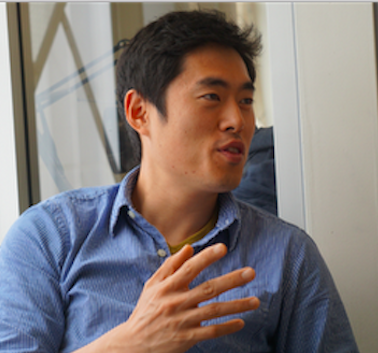 FutureAdvisor's Bo Lu makes you believe
he wants your family to avoid
the kind of financial trauma his
family experienced.
What about student debt? Do any of these people experience stress about loans hanging over them so heavily that the idea of saving a few dollars here and there seems like a hopeless cause? See: Fidelity study reveals greater reliance on advisors to manage the college savings vs. nest egg vice grip.
My point is this: I believe that a stupid machine is capable of doing almost anything. But I do not believe the world has yet created a computer with a conscience, that cares about me or feels my pain. That's fine. It's a trade-off. But the companies better find another way to convey to me that they care. The computer per se may not care but the people behind it had better.
Lookalikes
The one person I know of in the robo game who has offered up such a story is Bo Lu, co-founder of FutureAdvisor, whose family struggled after losing money in the markets. You really believed that he wanted to make sure that other people lived their financial lives without that kind of trauma. Maybe it's not a coincidence that Lu hit a very early jackpot with BlackRock. See: Why BlackRock's purchase of FutureAdvisor for $152 million could be a deal of destiny.
But more commonly, we see the top executives at robos comprised of people who seem to have the Midas touch. They got rich and so money management became an important aspect of their financially charmed existences. They decided to marry their business and their personal lives as stewards of their own overflowing coffers into a robo-advisor.
James H. Clark, founder of Netscape, was the first notable entrepreneur to go that route when he founded myCFO LLC. Bill Harris did that with MyVest Corp., then Personal Capital Advisors Corp. Wealthfront is loaded with people in the post-success portion of their career after making the big kill at places like eBay, LinkedIn and Facebook. See: Wealthfront takes on another Facebook vet — a clue that going dark in Palo Alto doesn't mean going away.
B2B handmaidens
There is absolutely nothing wrong with that — if it works.
But as the ability of the robo-business to gather assets comes into question, there is a painfully look-alike quality to the players. Try to find differences — without engaging in agonizing hair-splitting — between Betterment, Wealthfront and Acorns Advisers LLC as far as the way they present themselves on their websites. Schwab just looks like Schwab — that polished big-company feel.
The sad irony is that many of the original robo-aspirants out to "democratize" investments have thrown in the towel and proclaimed themselves to be business-to-business robos — firms like Upside, SigFig and FutureAdvisor. Even Schwab has begun to refer to its technology as a tool that can be sold to banks. See: In a six-month-mark reality check, Walt Bettinger recasts Schwab's retail robo-advice as a 'tool' — but a handy one. God knows what Northwestern Mutual will do with LearnVest or what Goldman Sachs will do with Honest Dollar.
The unspoken message is this: We robos don't know how to appeal to human beings and therefore we're turning to institutions that know even less about humans because at least they are big enough to have assets. Maybe some of those assets can be leached over to a robo-solution. See: Why SigFig is shifting its focus to using banks as middlemen despite having captive consumer audience with $350 billion.
Getting real
Such a cynical outcome could have been avoided if these robo-advisors had understood what business they are in — handling investors' money matters in a way that engenders trust.
To visit the physical offices of robo advisor — any of them — is to step into a mythical nest of millennials leading a semi-utopian existence of intellectual challenge in a warm environment.
But you need to be a pushy reporter to experience this side of robo-advisor staffing and spirit.
The robos execs seem to have the misguided notion that these people need to be sequestered away in the land of Java script and crafted coffee.
Trust is two-way street and right now the connection seems anything but bilateral and interactive. Trust is engendered in a democracy. Right now we feel like we are dealing with young princes and princesses and we are the subjects in their kingdom.
---
---
Mentioned in this article:
Wealthfront
Portfolio Management System
Top Executive: Andy Rachleff
Upside
TAMP
Top Executive: Tom Kimberly
---
---
---
Jack Waymire
Financial advisor websites are supposed to convert visitors into prospects based on content and free offers. 82% of advisors, in a Paladin survey, say that is not happening. Robo website are supposed to convert visitors into clients using a higher level version of the same strategy. There is no data that show the conversion rates of Robo websites. Based on the lack of success of advisor websites (includes human contact) I suspect the Robo sites (w/o human contact) are struggling for many of the same reasons.