News, Vision & Voice for the Advisory Community
Fund wholesalers say the research based on the FT 300 distorts reality and RIAs admit liking what wholesalers provide under the right conditions
February 6, 2016 — 12:27 AM UTC by Brooke Southall
Brooke's Note: What message mutual fund wholesalers need to get from RIAs is this: Come sit on my side of the table and parse out the best way to build a good portfolio for my clients. How foreign that importuning by RIAs seems in a sales culture. But fund companies are adapting and switching sides of the table — with dire consequences when they don't.
Big RIAs are overwhelmingly unreceptive to mutual fund and ETF wholesalers — but there's much more to the story.
Only 10% of the elite RIAs and only 20% of the mid-size RIAs consider themselves receptive to wholesalers, according to a newly released report from Ignites Distribution Research, owned by The Financial Times. See: 10 fund wholesalers and executives offer views about how they seek to add value for RIAs.
Elite RIAs are defined as ones that make the Financial Times 300, a list of 300 elite, independent RIA firms with average assets under management of $2.8 billion per firm; 60 midsize RIAs, with AUM of $100 million to $500 million and an average AUM of $207 million; and the Financial Times 400 Top Broker-Dealers Advisors, a list of 400 top stock brokers who advise $1.7 billion in per advisor on average.
"Wholesalers" in this survery applies to both ETF and mutual fund salespeople who call on financial advisors. Advisors surveyed were left at their own discretion to determine what "receptive" means.
No phone calls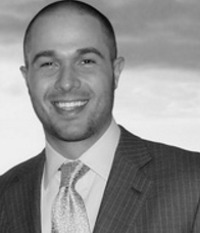 Marcel Dawson: Many of us have
informally banded together to champion each
other to elite RIAs, referring to
the other as a 'veteran wholesaler
that gets it'.
One principal at a $1-billion-plus RIA explains the dynamics that explains these seemingly dismal odds for wholesalers marketing to RIAs.
"We get hundreds and hundreds of inquiries," says Steve Janachowski, president and CEO of Brouwer & Janachowski, which manages about $1.3 billion from Tiburon. Calif.
"Spam filters capture most of them. Some get through and I look at them. Often they don't get through. I don't take the phone calls or I wouldn't get anything done."
Nobody is more concerned about RIAs getting saturated with calls by wholesalers than high quality wholesalers, according to Marcel Dawson, senior director wealth management – RIA at Principal Global Investors
"Native wholesalers also recognize the damage that's being done by the flood of new sales guys in our business… which has made it harder for us to provide the value our end clients actually want," he writes in an email. "Many of us have informally banded together to champion each other to elite RIAs, referring to the other as a 'veteran wholesaler that gets it.' This way the advisor knows well to take the meeting and that it'll truly add value to their oversight duties."
Loren Fox, chief of research at Money-Media, which owns Ignotes Research, says that the statistically daunting low receptivity of registered investment advisors should not discourage fund firms from aggressively selling into the market.
Warm bodies
"It's not a no-go zone. It's harder. You can't throw warm bodies at RIAs."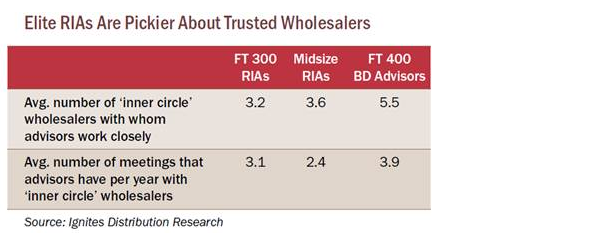 Getting in is hard but once
you're in, it's sweet.
Still, the notion that 90% of elite RIAs are unreceptive to wholesalers seems out of alignment with reality, according to Jonathan Apsley, director – national accounts, Principal Funds Distributor, Inc.
"I think the data points they use in the study may be skewed because of who they are talking to," he says in an email. "For example, the elite RIAs probably have people at their firms that interact regularly with reps (i.e. wholesalers, internals, analysts, etc.) from asset management firms. The top folks at the RIA firms probably don't, but that's by design. And, if they do, they are likely hesitant to admit it due to the appearance of doing so, which could cause their objectivity to be questioned. Also, the term 'wholesaler' itself is misleading. That is largely a b/d term and the successful asset management reps that do call on top RIAs are likely not viewed as wholesalers. They often have advanced degrees or designations (CFA, CAIA, etc.) and may be considered consultants, analysts, etc. — very different than the traditional wholesaler."
Indeed, wholesalers should not be discouraged, agrees Janachowski.
"Do I have a problem talking to them? No, not if they're intelligent. I can quickly size them up. If we use a firm, they become a lifeline, to get a manager or research analyst on a conference call." See: How RIAs are forcing mutual fund wholesalers to lead or get out of the way.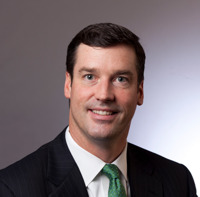 John McDonough: RIAs can ascertain very
quickly if [wholesalers] spend their time
[mostly] in other channels.
Top 10
Indeed, RIAs are able to specify the 10 companies they believe understand them best.
1. DFA
2. BlackRock and Vanguard
4. Fidelity
5. JPMorgan
6. PIMCO, American Funds and Goldman Sachs
9. Deutsche Bank
10. Putnam
Asked whether the list is simply dominated by the biggest asset managers Fox counters by saying that many firms out of the top 10 are larger than Deutsche Bank and Putnam and that Dimensional Fund Advisors is smaller than several of the managers that follow it.
The RIA channel is indeed a unique challenge, agrees, John McDonough CEO at OppenheimerFunds Distributor, Inc at OppenheimerFunds, which had two wholesalers dedicated to RIAs for at least the past eight years. He recently added seven more wholesalers to RIAs.. The hires partially reflect Oppenheimer's move into ETFs via its purchase of Revenue Shares in 2015
Brokerage wholesalers are square pegs in round holes when applied to RIAs, according to McDonough.
"I think RIAs can ascertain very quickly if [wholesalers] spend their time [mostly] in other channels," he said.
Still, RIAs need to ber careful not to screen out wholesalers too readily, Dawson says.
Fiduciary considerations
"It's borderline non-compliant for a fiduciary advisor, elite or not, to say they aren't receptive to receiving proprietary updates from wholesalers that represent the fund managers that are investing their end clients' money. As a fiduciary, they require and rely on the information exchange."
Bigger RIAs aren't gratuitously shunning wholesalers, Janachowski says. Bigger firms tend to have bigger research capabilities so the discover on their own which funds they want to buy.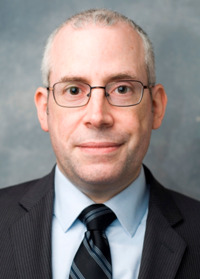 Loren Fox: You can't throw warm
bodies at RIAs.
The difference is as stark as buying and selling, Janachowski says.
"Advisors don't want somebody telling them how to [sell]," he says. "We don't need help selling. We're shopping."
Indeed, the vast majority of the asset managers selling to RIAs — 93% of them — have a team that's dedicated to the RIA channel, according to Ignites Research. And half of the firms covering RIAs plan to boost their RIA sales staff in the next 12 months, which is another sign of how competitive the RIA market is becoming, it adds.
Exalted status
Elite RIAs will meet with their inner circle wholesalers an average of only 3.1 times per year (and midsize RIAs 2.4 times per year on average). That compares with nearly four times per year for top advisors at wirehouses and independent broker-dealers, according to Ignites.
Indeed, Fox says that wholesalers, when they're not getting hung up on or ignored by RIAs, actually occupy a much more exalted status than ever as part of the "inner circle."
---
---
Share your thoughts and opinions with the author or other readers.
---