Naureen Hassan's departure from Schwab did not necessitate a replacement nor did she take anyone's place at Morgan Stanley -- unless you want to say she replaced Greg Fleming.
Brooke's Note: It may take a while to fully grasp what could have made an executive like Greg Fleming, at the peak of this powers, leave his Morgan Stanley post. But sources have reached out to me since Keith Girard wrote his article for us which endeavored to fill in the blanks. See: What the deletion of no-drama Greg Fleming bodes for Morgan Stanley, wirehouses and CEO James Gorman. Harvard Business School could have a case study with the elements at play here: A colossal wirehouse never fully integrated between Smith Barney and Morgan Stanley, executives in the vice grip of innovator's dilemma, Wall Street culture and — as this article shows — very defined factions that live in Wall Street sub-cultural contexts. The poach of Naureen Hassan gave a window onto where all of this may be headed.
A whole new solar system is forming at a post-Greg Fleming Morgan Stanley — with Jim Rosenthal establishing himself as the non-orbiting sun — but the press release version of his latest move goes like this:
Naureen Hassan, one of the chief engineers of Charles Schwab & Co.'s robo advisor, left for a new position at Morgan Stanley where she is expected to help establish a robo-advisor for the giant wirehouse.
The implicit message of triumph in the hire is that Hassan is a poach of the most-pedigreed and trial-tested big brokerage executive who can bridge the worlds of overseeing robo-engineering talents while running interference at the corporate level. It is all but certain that concerns may arise about freebie robo offers competing with big, expensive Morgan Stanley stock brokers.
Quash internal dissension
Hassan may also need to quash internal dissension about why Morgan Stanley is reinventing the robo wheel when BlackRock-Future Advisor, Schwab or Invesco-Jemstep would happily rent one out to them for private labeling. BlackRock has, for example, signed on BBVA Compass and RBC.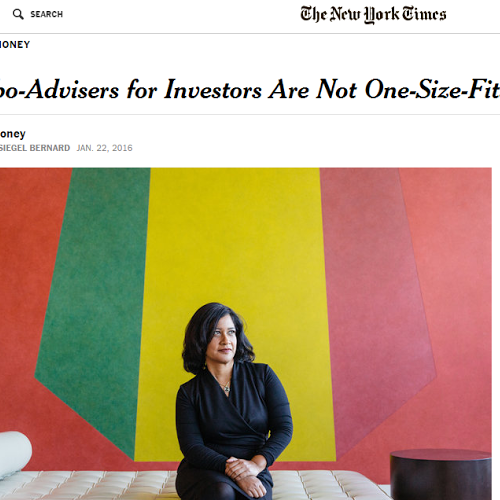 Just a few days before Hassan
gave Schwab her walking papers, the
New York Times featured her in
its article on robos.
But people close to Morgan Stanley say that the Hassan hire portends bigger changes based on the Morgan Stanley executives who were bypassed so she could be hired — not to mention the timing of the hire so close on the heels of Fleming's departure — which suggests heavily that Nassan's hire was in the works before Fleming disembarked.
One of those close sources said in an email:
"We can assume this is a snub of Chris Randazzo — CIO of [Morgan Stanley Global Wealth Management], in that digital offerings should be managed within his organization of 4,000 people, 2,000 full-time employees and a similar number of consultants, mostly offshore."
The source adds: "It's perhaps a snub to co-heads of GWM, i.e. Saperstein and O'Connor, appointed after Fleming quit. If she has any soft revenue target (unlikely, since Jim Rosenthal doesn't…), revenue and the Business belongs those 2 co-heads of GWM… "
The first thing people who describe Jim Rosenthal want you to know about him is the beyond-Hollywood caricature experience of meeting him in his office. It's a system of no fewer than three antechambers to meet up.
Wizard of Id
"It's like seeing the Wizard of Oz," one person said.
People say that Rosenthal is bigger than life in other ways, too. He is an imposing figure — a tall, patrician Yalie. His entourage includes some of the rich and cool like Addepar founder Joe Lonsdale who he plays golf with. He remarried. He has a young eye-catching wife.
Rosenthal, for better or worse, oversaw the effort to merge the technology of Smith Barney and Morgan Stanley – though his background doesn't involve technology. He is said to have been enamored of connecting to Silicon Valley — making trips to Menlo Park, making unsolicited software-oriented recommendations, entering into license agreements with software providers that turned out to be less than ideal.
In keeping with his ability to elbow in as the Morgan Stanley technology expert, he recently got himself appointed as the head of the robo-advice effort at Morgan Stanley.
In other words, Rosenthal has himself wedged into the action at Morgan Stanley in a way that makes him — at least from an external perspective — invaluable. He has also set a tone and formed a power bloc of two — with CEO James Gorman as the other half. Both men are said not to suffer fools well — which is to say people who fail to look at life through a Machiavellian lens — both stylistically and expeditiously.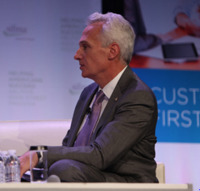 Jim Rosenthal's hire of Naureen Hassan
may be more than just the
hire of a road-tested robo-specialist.
Mach-(iavellian) speed
Greg Fleming, head of wealth and asset management at Morgan Stanley until his recent departure, is someone who was "not dark at all" and not a great fit in a Machiavellian atmosphere, sources say. Nor, they say, could Morgan Stanley chief financial officer Ruth Porat stomach Machiavellian machinations. She left to take the same position at Google. Google is known for its non-dark ways but it is also known to have brightened Porat's eyes with a massive pay increase to $30-million-plus.
Other liked and respected talent that left Morgan Stanley in recent history includes Lance Braunstein. He left to head up advisor technology to go to Goldman, and Ken DeGiglio who took his place before departing himself, to TD Ameritrade.
Almost forgotten now is the departure of Ellyn McColgan who had become president and chief operating officer of Morgan Stanley's Global Wealth Management Group effective in April, 2008 and reported to then co-president James P. Gorman, whom she succeeds in the GWMG leadership role.
McColgan was 53, upon joining Morgan Stanley after a 17-year career at Fidelity Investments.
Meanwhile back in San Francisco, Schwab was not compelled to jump into search mode to find a Hassan replacement.
If anything, Hassan's departure seem to pave the way for Tobin McDaniel, an up-and-coming superstar to debut publicly. He has long been the day to day leader of the firm's robo – Schwab Intelligent Portfolios. McDaniel has a no-nonsense background that includes a bachelor's of science in chemical engineering from Carnegie Mellon University. He also earned his MBA from the University of Pennsylvania's Wharton School.
McKinsey kinfolk
McDaniel also consulted for McKinsey & Company from September 2006 to October 2009 — a qualification he shares with Hassan who worked as an analyst at McKinsey from 1993 to 1996 and then an associate principal at McKinsey until 2003 when she joined Schwab.
Schwab is not directly replacing Hassan. But Neesha Hathi, who heads Schwab Advisor Services RIA technology including Raleigh, N.C.-based Schwab Performance Technologies, will be taking on Hassan's more general oversight duties. McDaniel will continue to oversee Intelligent Portfolios.
A Schwab spokesman says the firm's robo effort was crowdsourced from the start and will continue to flourish in Hassan's absence. See: Schwab's robo spikes suddenly to nearer $5 billion as 500 RIAs sign on.
"A team of 300 people from across Schwab built Intelligent Portfolios; the formal construct of the service was developed well before Walt asked Naureen to lead the project. We are very pleased with the success of Intelligent Portfolios and confident in its continued progress," spokesman Rob Farmer writes in an email.
Even though Schwab has a giant team, David Lyon, CEO of Oranj, which offers digital advisor solutions, says Hassan's loss will likely be felt.
"Anytime there's a key member of the team that was there from inception, there's a culture and I can't speak to the role she played. But I think it would be selling her role short to say they can move along without feeling the loss of one of their core members of the team that helped from the ground up."
Indeed, from February 2014 to November 2014, a critical stretch leading up to its launch in early 2015, Hassan served as senior vice president of Schwab Intelligent Portfolios. But then she was moved to vice president of investor services strategy, segments and platforms where she maintained some oversight of the robo.
Shortening the robo-creation cycle
Now, Morgan Stanley is betting Hassan can duplicate her efforts at creating a robo inside the giant firm. The firm announced Jan. 27 that Hassan is joining a newly created post as chief digital officer. She is poised to lead the marketing tools and platforms for the firm's 16,000 advisors and 3.5 million clients, according to a press release.
Creating a robo for a giant firm like Morgan Stanley won't be easy, says Lyon says.
"Building a robo from the ground up takes a team of many people and they're able to bring on someone with this level of expertise, it'll shorten the cycle of getting to the place where they can build and develop. But it can take 6 to 9 months just to plan it before they even get developers working on it."
Once the planning stage is complete, there's still loads more work, he says.
But insiders say her real task will be assisting Morgan Stanley chief operating officer Jim Rosenthal with the creation of the new robo. The New York firm announced in an internal memo in January that he would be at the helm of the robo.
Princeton Tigress
Few details were divulged about the robo. No one at Morgan Stanley offered any response to two emails seeking comment.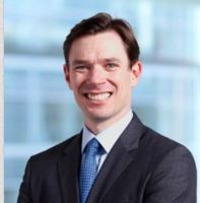 Tobin McDaniel is in the spotlight
for Schwab's robo
Hassan, who graduated from Princeton University and earned her MBA from Stanford University Graduate School of Business, will take on a big challenge at Morgan Stanley and apparently has the uncanny ability to work with Silicon Valley techies.
Hassan's movement to Morgan Stanley comes at a time as the giant firm is facing massive changes. In October, reports showed that Gregory Fleming, former wealth management president at Morgan Stanley, offered hints that a robo-advisor for advisors was underway.
It was announced suddenly in January that Fleming was leaving the firm, according to a memo from CEO James Gorman.
Colm Kelleher, currently president of the firm's Institutional Securities Group, will become the sole president of the bank, including the wealth-management division. Insiders say that Fleming and Kelleher were both eyed as potential successors to Gorman.
In a separate memo dated Jan. 6, from James Gorman and Colm Kelleher, the executives announced that Shelley O'Connor and Andy Saperstein have been appointed as the new co-heads of wealth management and will report to Kelleher. O'Connor has more than 30 years of experience in the firm's wealth management business and Saperstein joined Morgan Stanley in 2006 and served as head of field management.
In the same email, Gorman and Kelleher wrote that Jim Rosenthal will also head up the digital offering for financial advisors and wealth management clients.
"Digital technology and its potential for our business is one of the most important strategic opportunities we face. Jim is uniquely qualified to lead a team addressing this critical area given that he oversees Technology Firmwide and serves as Head of Corporate Strategy," the memo says.
Rosenthal's full plate
According to an insider, Rosenthal has a full-plate. He's responsible for human resources, corporate services, operations, technology and now the digital wealth offering. The insider adds that Rosenthal has a history of jumping to various posts at the company.
Rosenthal is clearly interested in the technology. He has been the chief operating officer and executive vice president at Morgan Stanley since Jan. 1, 2011. He also served as head of corporate strategy at Morgan Stanley from January 2010 to May 2011. He served as the chief operating officer of Morgan Stanley Smith Barney LLC from January 1, 2010 to August 2011. He holds a bachelor's degree from Yale and earned his J.D. From Harvard Law School.
It appears Rosenthal was convinced that Hassan could help him with the robo effort.
"Her record of successful innovation bringing exceptional digital resources to financial advisors and clients will sharpen our ability to compete for today's high net worth individuals as well as those emerging in the next generation," he said in the statement.
The anonymous source says that Rosenthal's prepared statement suggests where all this is headed.
"My take is that it's most likely setting her up —- and these things are generally, under Gorman, very orchestrated — for a more senior role to take over broader responsibility, i.e. she takes over from Randazzo or someone else. She won't have any staff to begin with, so she's being trained to take over someone else's job."
---
---
---
Stephen Winks
February 5, 2016 — 6:59 PM
Major wirehouses will be taxed to execute strategy outside their comfortable corporate culture. Hassan affords excellent insight into the competitive forces outside of big brokerage that largely is insular to advisory services innovation. In Machiavellian big brokerage culture, will Hassan be given voice? If so, surely Hassan has a major role to play in the industry at large as major brokerage firms must adapt from high cost, low value added product sales/distribution to low cost, high value added advisory services importantly entailing the professional standing of the broker in rendering advice.
SCW
Stephen Winks.