Under founder and CEO Robert Jesenik, Aequitas Capital expanded into private equity, wealth management and consumer-, student- and commercial-debt companies.
Brooke's Note: As Sanders Wommack worked on this article, he kept me updated. One thing that blew him away was how nobody — but nobody — wanted to talk about any of it. The good news is that various publications over the last few years have picked up bits and pieces. The ADV had a very interesting disclosure. And Sanders is very good at taking a pile of informational pixels and getting a big picture. What Aequitas seemed determined to do was to create "alternatives" for RIAs who were desperate for ways to differentiate their investments. But in the process some advisors, with Aequitas as enabler, seem to have forgotten that stretching for yield and gains means taking on more risk, which can have dire consequences if it isn't managed properly. It seems reasonable, perhaps, to cut Aequitas some slack on betting on the student debt of Corinthian Colleges. After all, students are known to be very good bets for paying debts and that these students went on debt strike en masse has the look of an unforeseeable Black Swan — until you look at the Aequitas ADV II and see that very eventuality was presaged.
A once highflying alternatives provider and lender for RIAs has defaulted on hundreds of millions in high-yield notes and slashed its staff to a skeleton crew in the wake of souring student-loan holdings, an SEC investigation and huge client redemptions.
Just less than a year ago Aequitas Capital Management in Lake Oswego, Ore. oversaw $1.7 billion in assets and was marketing its high-yield alternatives investments to advisors around the country. Currently, Aequitas has around $317 million in unsecured short-term, high-yield notes outstanding to investment advisors. These notes, which yielded between 8% and 12%, were understandably attractive in the unprecedented but longstanding low-interest-rate environment.
On Monday, Aequitas announced it had hired an outside consulting firm to manage the liquidation of the lending unit overseeing the private notes business — a process that could take as long as a year. Two privately placed funds managed by Aequitas Investment Management are also being liquidated.
Redemptions delayed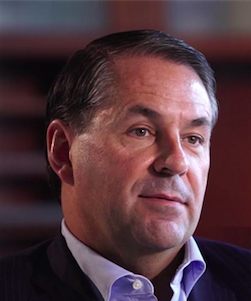 Brian Rice: There are wonderful opportunities
to partner with those that share
our common values: growth, and a
focus on accredited high-net-worth investors.
According to The Oregonian, the firm first delayed its redemptions in November, when it issued a letter to some clients with language that raised serious questions about Aequitas' financing strategy.
"This redemption is on our schedule to payout, however, we are currently experiencing some delays in redemptions of our Private Notes," the letter read, "This is due to some unexpected delays in incoming investments and related timing mismatches on our cash flows."
Aequitas continued to accept new payments into its high-yield notes up until early January.
"All Aequitas-related entities will continue to cooperate fully with regulatory inquiries," said a spokesman on behalf of Aequitas Capital.
In addition to providing high-yield notes to advisors, Aequitas also served as an eager and willing source of capital for acquisition-hungry RIAs. In a promotional video for another of the firm's many subsidiaries, Aequitas Capital Partners, the unit's current president, Brian Rice, laid out the group's guiding values.
"We think there are wonderful opportunities to partner with those that share our common values: growth, and a focus on accredited high-net worth investors." See: The hedge fund legal elite meet in NYC to wrestle with a terrifying new threat — RIA-like accountability.
National RIA in trouble
One of the firms that shared Aequitas's values was CONCERT Wealth Management, a $2 billion AUM San Jose, Calif.-based roll-up. It's not clear how many deals, if any, Aequitas financed on behalf of CONCERT, but a Financial Planning article from October 2014 says CONCERT was indeed a member of the Aequitas Capital Partners' network and quoted its parent company's CEO, Felipe Luna, praising the firm's now-delinquent private notes.
Aequitas Capital Partner's checkbook came with strings attached for firms like CONCERT. An advisor approached by Aequitas Capital Partners in 2014, Stan Lochrie of Lake Oswego, Ore.-based Etesian Wealth Advisors Inc., was quoted in The Oregonian saying, "It was clear that if you got money from them, you were to be compelled to sell the private notes and other Aequitas products."
The same Financial Planning article claimed that advisors looking to join the Aequitas Capital Partners network were expected to put at least $10 million of client assets in Aequitas products but saw additional services kick in when they invested $25 million. See: Now come the robo-alts firms — a full flock of 'em as unwavering as the robo-advisors.
Messages left at CONCERT Wealth Management asking about the firm's exposure to these notes were not returned.
Churn times 1,000
Last Saturday, The Oregonian published a lengthy article profiling one advisor who accepted Aequitas' bargain: Chris Bean of Lake Oswego-based Private Advisory Group.
In 2014, Bean sold 68% of his company to Aequitas in exchange for tripling his AUM through the acquisition of another local RIA, $400 million AUM Strategic Capital Group.
But Strategic Capital Group came with a steep cost. More than a quarter of its assets, $110 million, were in Aequitas-sponsored investments. Furthermore, it was sold just before serious compliance problems came to light.
Two months after the deal's closing, the Securities and Exchange Commission fined Strategic Capital and its former co-owner, Gary Price. According to SEC documents, Price bought bonds through his personal broker-dealer before selling them to Strategic Capital Group Clients at a mark-up. Price performed this trade over a thousand times and netted $368,459. See: 10 things worth knowing from yesterday's Tiburon CEO Summit.
The president of Aequitas Capital Partners at the time of this transaction, Keith Gregg, left the firm at the end of 2014. In an email to RIABiz, he says the move was unrelated to any issues at Aequitas.
"Things appeared to be fine when I left at the end of 2014."
In a June 2014 article in Opportunist Magazine article, Gregg was pounding the table about the "win-win" Aequitas way that later took on a lose-lose outcome.
"We have what's called the Aequitas way and that is really all about building mutually beneficial relationships — true win-win partnerships," he said. "Ultimately, the client wins by accessing a higher-income producing investment, their advisor wins through access to capital for growth and better products for high-net-worth investors and Aequitas wins through adviser relationship and assets from wealthy investors."
That quotation was first grabbed by The Seattle Times in its article: Investment advisor: Aequitas lied to investors
Smash notes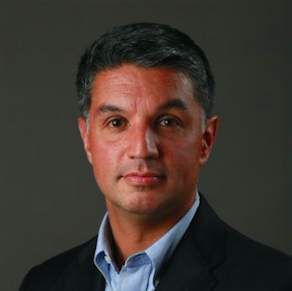 Felipe Luna told Financial Planning in
2014 that 'products like private promissory
notes are appealing because RIAs could
use more tools to attract high-net-worth
clients who would otherwise go to
a trust company or a larger
firm.'
And indeed, aside from this compliance hiccup, Bean was satisfied with the transaction and his new partnership with Aequitas. He told The Oregonian that as their products continued to pay out, he continued to allocate client money to the firm. By the end of 2015, when Bean put a final $200,000 into Aequitas notes, Private Advisory Group had 330 of its 600 clients invested in Aequitas products. Of PAG's $600 million in assets, $128 million were in Aequitas notes.
Then came the tragic unraveling. In mid-January, Aequitas told Bean the firm didn't have the money to pay back client notes (curiously, The Oregonian reported that other investors were notified as early as November). Aequitas executives reassured Bean that this was merely a short-term cash crunch.
A week later, Aequitas announced the first round of layoffs that quickly snowballed to over 80 of the firm's 125 employees. Soon after, the company announced it would liquidate many of its investment funds.
Bean doesn't know how much he will be able to recover and has spent February breaking the bad news to clients. His story isn't unique, but it is undoubtedly one of the most catastrophic. Private Advisory Group's $128 million in unsecured notes represents about 40% of all outstanding Aequitas notes.
Breaking bad
Other RIAs who are either in the Aequitas Capital Partner's Network or independently purchased Aequitas notes without accepting financing or selling ownership in themselves include $400 million AUM Elite Wealth Management of Kirkland, Wash.; Integrity Bank & Trust of Colorado Springs, Colo. (which also served as the company's custodian); and Foxborough, Mass.-based Fieldstone Financial. None of these firms responded to messages seeking comment.
There also appear to be deep ties between CliftonLarsonAllen's RIA, the $2 billion AUM CLA Wealth Advisors, and Aequitas. CLA Wealth Advisors executives, including CEO Tony Hallada, make multiple cameos in the flashy promotional videos for Aequitas Capital Partners and Aequitas Financial Services Network. See: Envestnet-Tamarac wins four more RIAs with an average of $5 billion of AUM by selling a vision.
And filings show the two firms own an established RIA together. Last August, Aequitas and its CEO Robert Jesenik bought majority ownership of Innovator Management LLC, a Philadelphia portfolio manager, from a Philadelphia venture-capitalist firm. SEC filings show CLA Wealth Advisors owns 49% of Innovator Management.
Innovator Management serves as the advisor for the $40-million AUM "Innovator McKinley Income Institutional Fund" (currently rated one star by Morningstar Inc.) and the $40-million AUM "Innovator IBD 50 Fund," an ETF based on Investor Business Daily's quantitative ratings.
Emails and calls to CLA Wealth Advisors asking about its exposure to Aequitas's high-yield private notes and the extent of its relationship were not returned.
Strapped students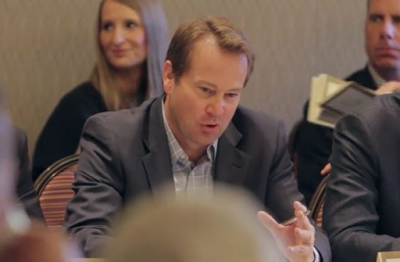 Tony Hallada, CEO of CliftonLarsonAllen Wealth
Advisors, speaking at an Aequitas Capital
Partners forum.
Aquitas's implosion is widely reported to have had its origins in the delinquency, or the perceived delinquency, of student load debt of former Corinthian Colleges Inc. students.
Founded in 1995 as a for-profit college roll-up, Corinthian, whose flagship school was in Columbia, Mo., had, at its peak in 2010, more than 110,000 students enrolled at over 100 campuses in the United States and Canada. Like most for-profit colleges, Corinthian relied on federal student loan grants for almost 90% of its revenue.
In 2011 and over the next three years, Aequitas purchased $561 million in student loan debt, earning tens of millions of dollars in fees in the process. According to The Oregonian, the firm held roughly $100 million when the two companies ceased their partnership at the beginning of 2014.
By then, the move into the student loan industry appeared ill-timed. The SEC, Consumer Financial Protection Bureau, and several state's attorneys offices were investigating the student loan practices of Corinthian Colleges. Aequitas's investors and lenders worried that current returns on these products were not worth the risk of providing further financing.
These concerns would prove justified. In June 2014, a three-week freeze on federal payments in punishment for an allegedly sluggish response to the federal investigations hamstrung the college chain and kicked off the process of its eventual dissolution.
Despite having been valued a few years earlier at $3.6 billion, Corinthian Colleges sold over half of its campuses in November 2014 for only $24 million. The following April, the Department of Education fined the chain $30 million. Corinthian shut down operations on its last 28 campuses by the end of that month.
'Erase these loans!'
With the collapse of Corinthian Colleges, its student loan debt portfolio turned from a cash cow to a penniless albatross. The Department of Education canceled debt for students whose colleges were shuttered, and a small debt-strike movement sprang up of former students who refused to pay their loans on principle.
Initially organized as the "Corinthian 15" in February 2015, the strikers demanded the Department of Education recognize Corinthian's fraud and fully forgive their loans.
"Repayment plans presented as a helping hand simply aren't good enough. The wrong done to us is deeper than that," the strikers wrote in an open letter. "To the Department of Education and to the lenders, servicers, and guarantee agencies who have stolen our futures, we say: enough! Erase these loans." See: RIABiz takes on Occupy Wall Street in New York and finds investors wanting answers.
The strike gained attention from major media outlets and finance-reform-friendly politicians..
In the year since its founding, the Corinthian 15 has since grown to more than 200 students and continues to lobby the Department of Education for redress.
Foreseeable consequences
But should the Aequitas saga ends with an SEC enforcement action, at least the firm won't be completely nailed for insufficient disclosure. Midway through the eight pages Aequitas used to disclose its business risks in its May 2014 Form ADV, the company presciently foresaw both the danger of its acquired Corinthian debt and the coming revolt from Corinthian student loans debtors:
"Funds that hold assets with exposure to student loan receivables may suffer a loss in relation to regulatory litigation the educational institution may be involved in because of the potential rescission of the student loans, among other actions. Further, the obligors of the student loan debt obligations may develop an unwillingness to pay their debts thus limiting the Funds' ability to collect on its investments, which could have a material adverse effect on its operations and financial performance and payments on the interests or senior notes could be delayed, reduced or terminated."
According to The Oregonian, Aequitas has continued to play hardball with its student debtors and the federal government. Until recently, Aequitas was still trying to collect on Corinthian debt despite judicial rulings that such loans violated consumer protection laws.
Toxic culture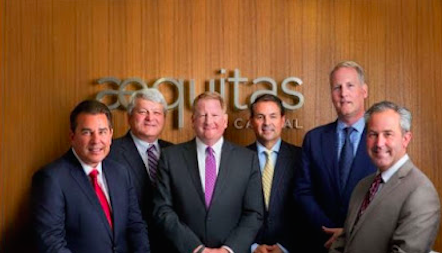 Aequitas leadership team last July. Employee
reviews were not as sunny.
Aequitas was founded in 1993 by Jesenik and morphed into a vast conglomeration of associated lending and financial businesses, at least 50 in all, that operate under the Aequitas corporate umbrella. Aequitas Capital has expanded into private equity, wealth management, consumer, student and commercial debt companies. In 2014, an Aequitas subsidiary bought Unigo, a firm that matches prospective students with colleges scholarships.
One of the company's strongest divisions, CarePayment, buys and refinances medical debt. The unit received a $60 million investment from Bank of America in 2014 and $100 million from Wells Fargo in 2015. See: The 19 ways private equity has juiced up the RIA business and how it's working out.
Employee reviews of the company left on GlassDoor.com were mostly negative even before the company abruptly laid off two-thirds of its staff, at which point they became universally poor. Posters claiming to be former employees (the posts were anonymous) commonly cited a bullying, toxic work environment and senior leadership that was directionless and constantly changing.
Posts on the site provided portents of the coming collapse. Last August, a then currently-unemployed accountant wrote under the "Con" section of his or her review: "Sweat every 2 weeks. We have severe cash issues and I do not understand why we keep hiring chiefs and always friends of friends. Leader of the department lacks fundamental knowledge and makes inappropriate comments."
Worse than Gekko?
After the mass layoffs, disgruntled former employees felt liberated to publicly air the worst of what they had seen.
"Too much pressure to get new investors in so we could make payroll," wrote one, "Sales teams were trying to sell dreams and funds that had no real value. Company created dozens so shell companies then funds to move the debt."
"Sales teams were pressured to close more business to help rob Peter to pay Paul," wrote another.
"They knowingly took investor money without the intention of paying it off," wrote a third.
The most vitriolic review concluded by unfavorably comparing the company's ethics with the man widely considered to be personification of Wall Street greed.
"This place could embarrass Ivan Boesky."
---
Related Moves
January 21, 2020 – 7:52 PM
---
---
Mentioned in this article:
---
---
---
Jerry Meek
Fantastic analysis , Just to add my thoughts , you a AU Form 80 , my friend found a fillable document here <code>http://goo.gl/NljVp6</code>
FAA
Not good- those which took the expansion loan and put client assets in the strategies got some 'plaining to do!
Stephen Winks
February 27, 2016 — 7:34 PM
A story often repeated which illustrates the preeminence of the sales story in product distribution as opposed the secondary consideration of commercial viability and merit of the enterprise as a business enterprise. This is downside of the IB/D business. The very same mistakes are repeatedly made. and internal b/d opposition is considered as anti-product distribution the IB/D bread and butter. This is why advisory services with higher consumer protection will eclipse product sales/distribution.
SCW