Fidelity's Ed O'Brien, backed by a 30-strong army of staffers, unveiled a bundling app geared toward planning, not investing.
Brooke's Note: Please feel a little Tim Welsh's pain as you read this article — knowing both that he has a day job that doesn't involve being a journalist and that when we get finished with his rather diplomatically woven article, it is far less so. Tim accepts our jading of his prose with aplomb. In this instance, he also accepted our Fidelity-ectomy of his piece. Fidelity's plan is covered here in abridged form; a fuller view is still in the works as it became clear the subject needed descriptive elbow room. What remains amazing to me about the RIA technology business is how vibrant it is at a technical level and how brain dead is its presentation to RIA prospects. As you'll see, there was a slew of new product announcements. But if you asked the vendors to describe exactly what the jargon means, they generally fight jargon with more jargon. Some of the same vendors say that the answer is bundling so advisors won't get confused in understanding all this stuff. But who or what exactly is creating all of that confusion about the enhanced digitization of platform tool portal integration and automation?
In sunny — but freezing — Fort Lauderdale last week, Ed O'Brien, senior vice president and head of platform technology for Fidelity Institutional, dazzled attendees with an all-encompassing, if jargon-laced, vision for a grand symphony of just about every application advisors will ever use and its application into and onto their custodian and clearing platforms.
It was a hard act to follow in that it involved Fidelity Investments laying down just how it plans to use its weight to leapfrog asset custodians and software vendors alike, all with one mighty plan involving its clearing, custody, its eMoney acquisition, third-party amigos and the ripening fruits of its $2.5 billion annual technology budget. See: After years of work to gain parity with Schwab RIA custody, Fidelity is ready to show fruits of its $250 million move to gain an edge.
Essentially, it's a merger of WealthCentral and StreetScape into WealthScape — an effort to deliver on all the promise HybridOne once promised, and which is now bolstered by eMoney, robo-knowledge and lots more empirical knowledge.
After Fidelity's bombshell announcement, the rest of the general sessions may have seemed tame in comparison — but not for lack of trying on the part the 650 attendees and 80 tech vendors and custodians who swarmed into Marriott Harbor Beach Resort and Spa for Joel Bruckenstein's Technology Tools for Today T3 conference. This year, the emphasis of the famously no-frills gathering was on client portals and client self-service technologies. In other words: dashboards and robos.
Stack attack
Fidelity's big play — proving once again that it's is the king of announcing advisor technology initiatives at T3 — was the company's vision for a next generation "total adviser" technology platform designed to help RIAs, broker-dealers, banks and family offices digitize their businesses. Supporting this vision was a show of force by Fidelity, with over 30 staffers in attendance.
"The value stack is shifting away from investing and moving rapidly towards financial planning," said O'Brien in a standing-room-only general session. "As a result, we all need to embed services such as planning and behavior management into our technology."
While nobody was entirely certain what a shifted value stack was, embedded or well-behaved, there was a pervasive sense that Fidelity is working hard on it — if less on describing it in plain English. (Keep a lookout for upcoming article based on interviews by Tim Welsh and Brooke Southall that delves more deeply into exactly what Fidelity is — and is not — doing, and not, with creation of WealthScape.)
Too much, too fast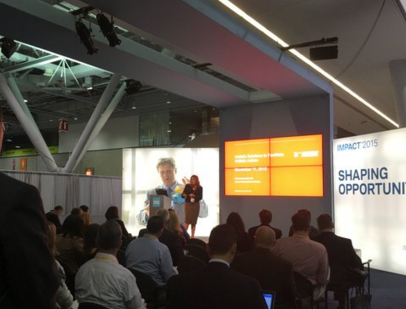 Morningstar's Tricia Rothschild discussed how choice
and complexity are working against advisor
tech adoption.
In what may augur things to come, this year's T3 featured only a small number of robo-advisors, like Jemstep Advisor Pro, Vanare and Betterment. Last year nearly a dozen or so showed up. Almost every vendor included some sort of client experience/client portal in their offering, showing how the Mint.coms are raising the bar in wealth management and, perhaps even more telling, the speed at which the advisor technology space can adapt to bring these capabilities to advisors.
In an elegant presentation, Tricia Rothschild, head of global advisor solutions for Morningstar Inc., described how choice and complexity are working against advisor tech adoption. The industry has grown so fast, she argued [echoing Fidelity], that so many more options for advisors could actually slow down overwhelmed advisors.
Throughout her talk, Rothschild highlighted the many enhancements and new capabilities Morningstar has quietly accumulated, making it a formidable force in advisor tech, specifically its acquisitions of Total Rebalance Expert, data aggregator ByAllAccounts, and robo-advisor Hello Wallet, to complement its popular advisor workstations. See: Morningstar buys standalone rebalancer to fulfill its all-in-one vision by getting Sheryl Rowling to cash out and go back to RIA.
Client calmers
And, a slew of news and product announcements came out of this year's T3:
• WealthTechs, a new data technology company, launched at T3. WealthTechs provides advanced technology to aggregate, standardize and integrate financial account data from the world's leading custodian banks with the industry's leading investment systems for advisors, fintech companies and back office outsourcing firms.
• Riskalyze's launch of Check-Ins, an automated behavioral finance tools for advisors in the form of a monthly email that gather data points from each client, allowing the advisor to see how their client is doing, with the goal of keeping investors sticking to their financial and investment plans and not bailing out in volatile markets like the one we're experiencing now.
• Junxure's enhancements to Junxure Cloud, including new business development tools, deeper integrations, custom client portal and client data automation. See: At Junxure confab No. 2, Friedman kvells about his 6-week-old Cloud and announces closer ties with Pershing.
• Tamarac's launch of "percentage ownership" capability to help advisors communicate client holdings and run analyses when multiple clients in a household have varying ownership in an asset or investment such as a limited partnership.
• eMoney launch of an enhanced client experience through an improved client portal to deliver more tools that enrich the advisor/client relationship.
Other product announcements were from BNY Mellon, Advicent, BizEquity, E-Valuator, WorthFM, Vanare, Fox Financial Planning Network, Advisor Software, Croesus, T. Rowe Price, and many more. (A full list can be found here.)
Twisted Sister, entrepreneur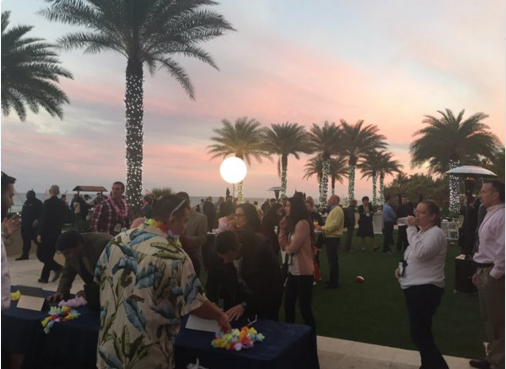 Palmy, not balmy, as T3 attendees
donned long sleeves and sweaters for
the fintech beach bash.
The lion's share of T3 agenda consisted of tens of 12-minute speed-dating sessions running concurrently, thus allowing tech firms to grab a small piece of advisor mindshare by introducing their technology and the detailing business problem it would solve.
In a first for T3 in recent memory, Bruckenstein included a couple of well received speakers from outside the industry for compelling keynotes. One of the most popular and unusual was an amiable, wandering chat from Jay Jay French, leader of the heavy metal band Twisted Sister. French regaled the audience with stories of his life as a rock star and the many ups and downs he experienced, including bankruptcy and health problems, which led to his becoming a business-savvy entrepreneur.
Though T3 thrives precisely because it doesn't get bogged down in generic presentations, this twist was extremely popular with attendees. It colorfully reminded to take what life gives you and make the most of it and never giving up, no matter what the odds — universal themes that apply to every business.
Bruckenstein also brought "Genius Bars" that enabled platinum-level sponsors to host an open forum for advisors to stop by and ask questions, see demonstrations and catch up in a more intimate one-to-one style as opposed to the carnival-like atmosphere in the exhibit hall.
While the pre-conference was lightly attended, Orion Advisor Services garnered the most traffic because of its full embrace of the Apple vibe, down to individual workstations and staffers in colorful uniforms.
Unlike most industry conferences that lavish attendees with food and drink, the bare-bones format of T3 (continental breakfasts and drink tickets) provides plenty of white space for the tech vendors to create entertaining ways to network with advisors, build relationships with complementary tech partners and close deals.
Wake up now!
After the bombshell Fidelity announcement, everything else seemed somewhat muted. Even Bob Curtis of MoneyGuidePro was eschewing his usual T3 shenanigans — last year, if you recall, he arrived tricked out as a "knight from Monty Python's The Holy Grail. Curtis was introducing MGP's G4 platform rewrite that will have multiple new features and enhancements. See: In a T3 teeming with deals, eMoney's Edmond Walters owned Dallas.
But what Curtis lacked in costumery he more than made up for with props, integrating a three-foot alarm clock into his presentation to emphasize the impact that digital technology is having on the industry.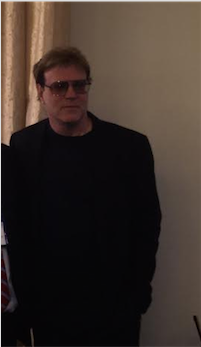 A candid shot of Twisted Sister's
Jay Jay French, whose stories of
life as a heavy metal star
had surprising resonance with advisors.
"This is your wake up call!" he said as the clock went off loudly. See: McKinsey: Robo-advisors have a cloudy future but 'virtual advice' delivered by 24-hour super-centers with experts and algorithms will win the day.
Then, in an apt metaphor for the potential damage that could befall RIAs should online giants like Amazon, Facebook or Google get into the financial advice biz, an actual flying drone delivered a financial plan to Curtis onstage. See: Credible reasons Facebook and Google won't become robo-RIAs and other things I learned at Hearsay Social-Pershing event in San Francisco.
Fintech beach party
Ground zero for extracurricular activity was the Marriott lobby bar where tech executives, custodians and advisors talked late into each evening discussing partnerships, alliances and new ways to better serve the advisor industry. See: Postscript: What exactly should we make of the T3 phenomenon?.
The final night party, "Fintech Beach Bash," was sponsored by a consortium of vendors including Advicent, SS&C Advent, Redtail Technology, Riskalyze, Laser App, and Morningstar, and featured fire dancers entertaining the freezing crowd on the outdoor, beach-front patio of the hotel.
To learn more about what went on at the 2016 T3 Advisor conference, check out the many tweets on the #T32016 hashtag on Twitter.
Disclosure: Welsh has consulted with some of the companies mentioned in this article, including Jemstep, Black Diamond and Junxure.
Timothy D. Welsh, CFP® is President and founder of Nexus Strategy, LLC, a leading consulting firm to the wealth management industry, and can be reached at tim@nexus-strategy.com or on Twitter @NexusStrategy.
---
---
Mentioned in this article:
---
---
---
Joel Bruckenstein
February 17, 2016 — 6:14 PM
Thanks for the great article Tim and Brooke. I'll take exception with one small item: It did not feel like a bare bones affair this year. We substantially upped our food and beverage budget. The Beach Bash was a blast thanks to the support of our wonderful sponsors. The venue was on of the best we've ever had. We received numerous complements on the hotel, the speakers, and the overall experience.Looking forward to hosting RIA Biz and all of our Tech friends next year in Anaheim, CA February 14-17, 2017