News, Vision & Voice for the Advisory Community
Ebullience born of dreams of a bright future for the ETF channel infused the crowd of 2,000 in South Miami
February 1, 2016 — 6:03 PM UTC by Graham Thomas
Brooke's Note: When you're small, it's you against the world. It was RIAs v. World. It was ETFs v. World. But that pattern is changing as ETFs and RIAs become the world, and a bigger part of each other's worlds The internecine warfare, more like evolution, is really taking hold. Perhaps this Inside ETFs conference provided the best chance yet to put the ETF business under a microscope, and macroscope, and see where exchange traded funds are headed, how fast they'll get there and where giant Vanguard fits in to all of that. Graham Thomas was not assigned to write this piece but as the conference unfolded his notebook filled up and he was easily prodded to share what he saw and heard.
In the universe of products and advisory channels fending off asset declines, RIAs and ETFs are two bright, fixed stars — two growers that absorb and reflect each other's light.
That synergy powered the Inside ETFs conference last week as 1,700 attendees and 120 speakers converged in Hollywood, Fla. — including big names like Liz Ann Sonders, Bill McNabb and Jeffrey Gundlach.
In contrast to the wattage of the onstage talent, conversations tinged with a sense of urgency and destiny were taking place offstage. I was a part of many of these conversations that cast light on the RIA-ETF future.
Full disclosure: I am fully ensconced selling advertising for what I believe are the two lead publications in each space, ETF Trends and RIABiz.com. But bear with my observations, which I endeavor to report here in the straight-shooting manner of RIABiz and its reporters.
Fittingly, the conference opened with Vanguard CEO Bill McNabb opining about the Future of Financial Advice — a speech that Brooke Southall and I teamed up to report earlier in the week. See: Bill McNabb declares 'bull market' for RIA advice then downplays role of Vanguard Personal Advisor Services.
Vanguard frames fee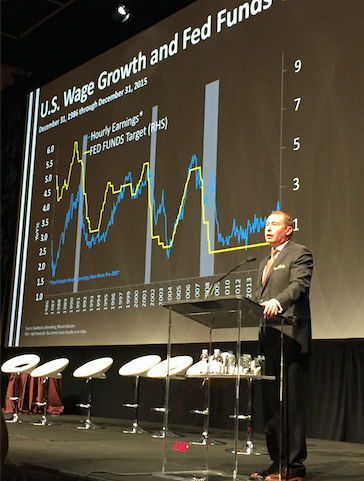 Jeffrey Gundlach was one of the
big-name speakers on tap at Inside
ETFs last week.
"The best advisors add significantly to what their clients experience — the advisor's Alpha helps clients not make mistakes," said McNabb
Advisors accomplish this, he said, by ensuring tax efficiency, rebalancing systematically, keeping costs low, — and thinking about the fee as part of the return. McNabb did caution against the rapid product proliferation in the ETF space, equating it to late 80's and early 90's — "we have to be very careful from a product standpoint that if we go too far as an industry people might have concerns about the overall construct."
McNabb did sound a note of caution, warning against the rapid product proliferation in the ETF space, referencing similar proliferation in the late 1980s and early '90s.
"We have to be very careful from a product standpoint that if we go too far as an industry people might have concerns about the overall construct."
Any leader in the field, Vanguard Group of Malvern, Pa. elicits strong feelings from those in the business — including grudging respect.
"I give them a lot of credit — they launched the first index in '74 and no one followed up with a second for almost 10 years," stated Bob Andrialis, now a special advisor to INDXX. As CFO for the S&P 500, Andrialis made the first index agreement with Vanguard for $1,000. See: Why Vanguard Group has proved impervious to a '$34.6 billion' whistleblower suit and why nobody's suggesting Vanguard execs should breathe easy.
"They are novel and aggressive — they are becoming more innovative with the robos and alternatives, and you have top management focused on the client first. They certainly aren't resting on their laurels." See: Vanguard Group, set to gather $300 billion in 2015, is crushing it on every level but could it succumb to its own success?.
Unpatriotically passive?
Not all attendees were unalloyed Vanguard fans. Jerry Wagner, for instance, founder and president of Flexible Plan Investments Ltd. of Bloomfield Hills, Mich., finds the firm's passive approach culturally offensive.
"Passive investing is un-American. No other business works that way, the country wasn't formed that way. We didn't make the advances that we have by sitting back passively — we all want to express our inner beliefs and feelings and active investing is a way to do that. Passive investing is a way to take what is given, not built."
Other fund execs like Noah Hamman, CEO of AdvisorShares Inc., which makes actively managed ETFs plead nolo contendere in the face of trillion of dollars of mostly indexed investments.
"We don't sell against them. It's just not worth it for us. Our strategy is active. We don't even compete on the active vs. passive debate — if an advisor wants to talk about that they probably aren't a good fit for our strategies." See: Fidelity launches major division in Denver with an 'ETF quarterback' calling the shots.
Firms like Hamman's believe they can engineer products to outperform the passive indexes, and they are hardly alone.
ETF DNA
One such firm, Lattice Strategies LLC of San Francisco, uses a novel multi-factor approach that focuses on risk first — not necessarily less risk but more deliberate and rewarded risk. See: Amid papal euphoria, a bullish ETF event at NYC's Conrad Hotel where pros plot the next few trillion of assets.
Darek Wojnar, former head of U.S. product at iShares, and now head of Lattice Strategies' ETF business, channels a DFA-style spiel. See: Dimensional's co-CEO tells clients at Monterey event that DFA is changing its Classic-Coke intellectual fund recipe.
"We design portfolios around the risks we believe are really worth owning — which has to be part of the design, not an outcome or byproduct. After risk characteristics are defined, our security selection emphasizes proven factors that can lead to better long term outcomes." See: First, own all the risk.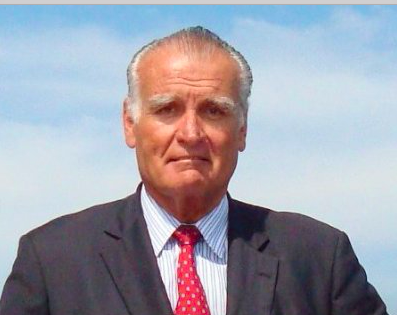 Bob Andrialis: [Vanguard is] novel and
aggressive …. They certainly aren't resting
on their laurels.
Seeking to illustrate this value to advisors, Lattice has developed a customized offering for RIAs in the form of a "RiskGenetix" assessment, which gives the advisor the opportunity to look at the "DNA" of their current portfolio like a geneticist. Markers like exposure to different factors, how they are balanced, and other design features are reliable indicators of a portfolio's performance potential. And because of the transparency of ETFs, Lattice pitches that advisors can analyze precisely what they own and where they might be taking on more risk than they want — or are even aware they are taking. See: How ETFs have been oversold when it comes to flexibility, lower costs and tax efficiency.
Under the hood
Lattice represents a fever-pitch realization among ETF providers that products they are pitching can't look anything like the giant passive portfolios at BlackRock, Vanguard or State Street. See: New company will allow RIAs to manufacture ETFs.
"What we have seen is that ETFs are more academic in nature," says Mick McLaughlin, head of ETF distribution for Deutsche Asset Management. "This is neither good nor bad but the mutual fund side will spend time on specific products — why they make sense or what the portfolio managers are doing. But with 60 ETF providers out there now, no advisor has time to meet with them all. But with the power users there is a demand to find that one person that can be a partner in my business who knows more than I do about the competing products, and really is my one-stop shop.'"
It certainly helps when fund providers are alert to what information is germane in making a selection, says Paul Nolte, senior vice president and portfolio manager at Kingsview Asset Management LLC, a Chicago-based RIA.
Plenty of room
Another hot area of new ETF assets — one where pretty much every commentator sees major growth ahead — is fixed income.
Inserting a bit of caution, Dave Nadig of FactSet Callset LLC of New York echoed Kingsview's Paul Nolte in warning attendees that the increased popularity of ETFs could exacerbate liquidity issues in the high-yield bond market — and potentially increase the popularity of inverse and leveraged products. See: Picking through the ETF pile for some relatively safe high yields.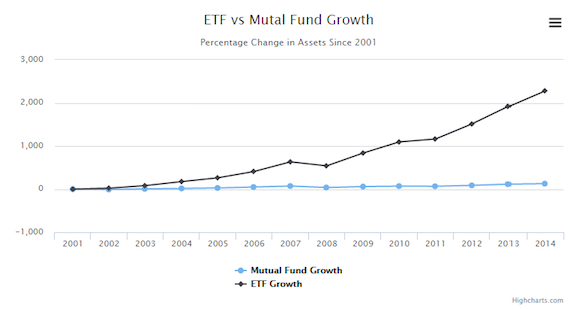 ETF assets, like RIA assets, are
one reliable area of growth.
William Belden, managing director and head of ETF business development at Guggenheim Investments, disagrees.
"If you look at the behavior of high yield ETFs during periods of stress in that area, you should feel comfortable with the liquidity of those products going forward. Keep in mind that ETFs have served to provide price discovery for many segments within fixed income, so there are times when you'll see widening spreads or some discounts in high yield ETFs when contrasting against other areas of the market." See: With 'revenue sharing' as primary consideration, Guggenheim transfers its in-house RIA to HighTower.
When the potential for over-creation in fixed income ETF's, Belden added: "There's a lot of room that remains for fixed income innovation in the ETF space, especially for products that consistently deliver value. That being said, we're always mindful that any product that doesn't operate or trade as expected has potentially negative implications for the broader ETF market. It's harder to be successful in fixed income, so I believe there are some barriers to entry that mitigate the likelihood of too many also-rans.
The event coincided with several major announcements, including the launch of the hybrid ETF and mutual fund, NextShares ETMF. Set for a Feb. 26 launch, EVSTC will list on Nasdaq and will be available through online Folio Investing. Less clear is when the product will be available on other broker-dealer and custody platforms. See: Fleet-footed RIAs storm into the active ETF market as fund giants tie pretzel dough.
Additionally, See: RIAs surpass wirehouses in ETF asset distribution and it'll mean change. Financial Solutions Inc.'s Fund Distribution Intelligence reported ETF assets increased $124 billion in 2015, hitting an all-time high of $2.2 trillion. That's in contrast to long-term mutual fund assets, which decreased by $161 billion to $7.29 trillion.
Of special note, wirehouses catching the ETF bug, as they had the biggest decrease of actively managed products in 2015 and saw a 2% increase in passively managed funds and ETFs. See: ETF makers mostly have $500-million-plus-AUM RIAs to thank for growth, study shows.
Cavemen and yoga mats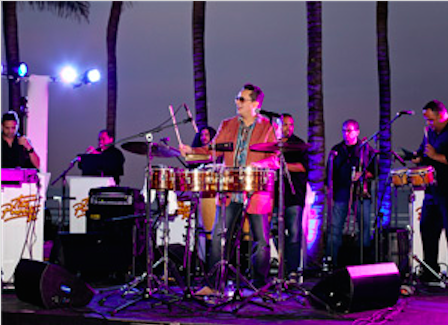 Tito Puente Jr. and his band
brought the Cuban beat.
There's one infallible measure of a great conference: the interactions, side conversations and general traffic in the exhibit hall.
Michael Crinieri of Goldman Sachs was there to drum up enthusiasm for it recently launched smart beta ETFs. See: The wild ride that Goldman Sachs took to launch its first ETF — one that even an RIA could love?.
"We found the conference engaging in all aspects. Our interactions with the advisor community and their adoption of smart beta strategies continue to grow!" he wrote in an email.
Echoing that sentiment was Mike Reynolds, regional director at John Hancock. "We had a constant flow of interested advisors asking really in-depth questions about our ETF products." See: The 'other' Morningstar conference shaped up as a true ETF summit with principals of exchange traded fund programs on the prowl.
High kudos in the exhibit hall go to Janus Capital Group for their "High Striker" strongman (a version of the carnival game where you swing, hit and ring the bell) — much to the chagrin of their immediate neighbors, Select Sector SPDR, which encouraged wellness and inner peace with yoga mats and bags. Jane Street gained favor by dispensing always appreciated cell-phone chargers to road warriors. See: How Janus CEO Richard Weil's Bill Gross hire completes the PIMCO-ization of the Denver equity shop.
As far McNabb's plea for restraint in launching a plethora of new ETFs goes — good luck with that. The discerning RIA can look forward to more choice, and the vetting work that comes with that, in the future.
---
---
Share your thoughts and opinions with the author or other readers.
---