News, Vision & Voice for the Advisory Community
The Fontainebleau glitters, but not with newly minted Trumpsters, as Summit chief Brian Hamburger got more than he bargained for with the conference's theme of 'change'
December 9, 2016 — 4:41 PM UTC by Janice Kirkel
I first became aware of MarketCounsel Summit 2016 in October, when I met Brian Hamburger for the first time, at a Fidelity conference in New York at what used to be the Helmsley Palace. I met with Brian briefly in the media room, he told me what he did and how he did it and left, but on his way out he asked if I would be going to Miami, and I said that was up to Brooke, not me. I was just six weeks into my job at RIABiz. See: MarketCounsel event opens window on race to first $100-billion RIA and why a new round of 'destruction,' 'blunder,' culture wars, tech disillusionment and SRO jockeying must play out
A number of weeks went by and an election happened, one with surprising results that vaulted two scheduled speakers at the conference into newfound prominence. One was Brian's law school classmate, Republican National Committee chairman Reince Priebus, now President-elect Donald Trump's prospective chief of staff. The other was Anthony Scaramucci, founder of hedge fund SkyBridge Capital and a more recent and reluctant supporter of Trump's who only came around once it seemed inevitable that The Donald would get the nomination. 
Just before 9:45 a.m. Tuesday, though, as Hamburger was on stage to introduce (we assumed) Scaramucci, Brian reminded all of us reporters poised over our computers that the theme of the conference was change, and we were about to experience some. Scaramucci had been called away by the man he once called an "inherited-money dude" and a "hack politician." In his place would be the woman who became Trump's third campaign manager and who has gotten a lot of credit for the Trump victory, Kellyanne Conway. See: MarketCounsel Summit weathers Trump mayhem as Scaramucci and Priebus bail and Kellyanne Conway makes a night flight to Miami
Conway and Hamburger talked only politics, no DOL, or any other financial topic, for that matter. DOL would have been the star of the show had Scaramucci shown up, since he has vowed to repeal it. I asked Brian if there were any ground rules for that interview, and he said no, he does not honor such requests unless there is a legal reason. See: At MarketCounsel, a Ron Rhoades-Skip Schweiss exchange reveals new DOL-rule threat -- a Trump-led compromise creating a mutant strain of the reg that benefits no one.
Later, in an off-stage exchange with AdvisorHub editor Jed Horowitz, Conway that revealed that Trump is keeping his options open regarding the DOL rule.
"I wanted to know was whether DOL rule was even on his radar, and she affirmed that it was," Horowitz said in an emailed note. "The paraphrase is precisely right...as I was asking her if I could connect the dots between Scaramucci's views and his access to Trump, she quickly interrupted saying not to make the connection because Trump does what he does, thinks what he thinks, etc."
How to win an election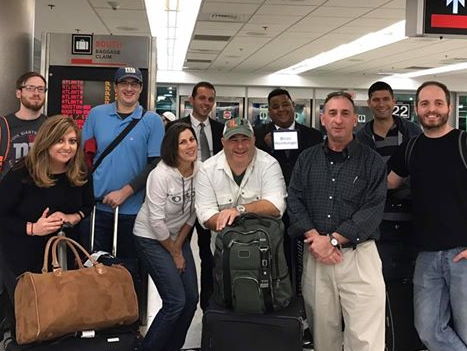 After Conway strode onto the stage in a pink-and-black flowered scuba dress and black-studded, very, very, very high heels that actually seemed to pitch her forward, she proceeded to explain how she had helped Trump win.
"Don't presume who the electorate is. Let them tell you who they are."
"We had one slogan. The Clinton campaign poll-tested 82."
"It's a month after the election. I still don't think I could tell you what Hillary Clinton's message was."
"He was talking to people. Hillary was talking about him."
"It wasn't enough to make him look anti-female and boorish. There's a difference between what may offend you and what absolutely affects you."
Conway did mention that she receives death threats.
I asked Jason Lahita of FiComm Partners LLC, who was handling PR for the conference, what the odds were of Priebus making it on Wednesday. He said 80%-20%. By Wednesday morning, that was 100%/0%, with no replacement. The sessions were extended to cover his time.
Tale of two Rons
With the heavy hitters locked up in Trump Tower, my conference became the Tale of Two Rons. The first was Ron Rhoades, a finance professor at Western Kentucky University, who moderated a panel on the prospects for the DOL rule. The panel included Skip Schweiss of TD Ameritrade. The two differed on the fate of DOL, but did agree on one thing – that the worst possible outcome would not be no rule at all, but a rule that redefines fiduciary responsibility, possibly making it no more than the suitability standard. The rule could be turned into a mutant strain that not only would not help consumers, but could do lasting damage. See: At MarketCounsel, a Ron Rhoades-Skip Schweiss exchange reveals new DOL-rule threat -- a Trump-led compromise creating a mutant strain of the reg that benefits no one.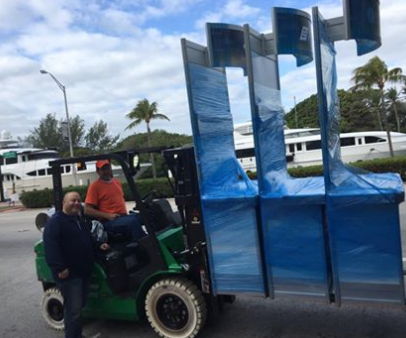 When Rhoades made that pronouncement to me in a private interview afterward, this big bear of a man in his blue blazer, red shirt and khakis looked genuinely crestfallen and concerned about how Americans' retirement savings could be affected.
The other Ron was Ron Carson, the Omaha billionaire advisor who has been rumored to be leaving LPL Financial for Cetera Financial Group. Weeks have gone by with nothing after the initial reports. He was part of a panel on growing your advisory business, a general how-to-do-it-right kind of thing, and while he was talking about how he did it I was wondering how I was going to do it – it being how I could corner him to ask if he was leaving LPL, how he felt about the change in command there, and whether that was affecting where he was keeping his assets. See: Almost-confirmed reports had Ron Carson bolting LPL for Cetera as part of a $35-million shake-up of his RIA; 92 hours later the silence is deafening
Lahita had texted Carson on my behalf and been told he had no time for an interview. He also had a miserable cold. Still, I found him, and asked about Cetera Financial Group. He simply turned and walked away.
Carson denied Tuesday to AdvisorHub's Mason Braswell that he plans to defect to a rival brokerage firm.
"I don't know where they got that," he told the writer in an interview on the sidelines of the MarketCounsel Summit in Miami Beach. "We're all sitting here laughing."
I had taken pictures of Rhoades after talking to him, but, like me, they apparently didn't want to leave 80-degrees-and-sunny in Miami for 40- degrees-and-wintry-mix in New York. The pictures eventually made their way there, but only with the help of my brother at his business in Manhattan. He said let's try a half text, half email approach. Text them to me, and I'll email them. It worked. He gets a production assistant credit.
Road warrior
Tuesday night, I heard the term "freedom score" for the first time. Marie Swift and her company, Impact Communications Inc., had a bunch of us media folks to dinner at StripSteak in the Fontainebleau, and between the Cabernet and the many courses I learned about it from Scottrade's Brian Stimpfl.
That score measures how close you are to achieving your retirement goals, to living the life you want. Stimpfl jets around more than almost anyone I have ever met, to St. Louis, where he works, and just about anyplace else you can think of. He is on the road Monday through Friday, only spending weekends with his family on Long Island. But he is living the life he wants.
"There's nothing better than getting in there with the people who are really doing it," he says with wide eyes and a pumped fist while describing his travels to meet with advisors all over the country. "I just love what I do."
Tech pills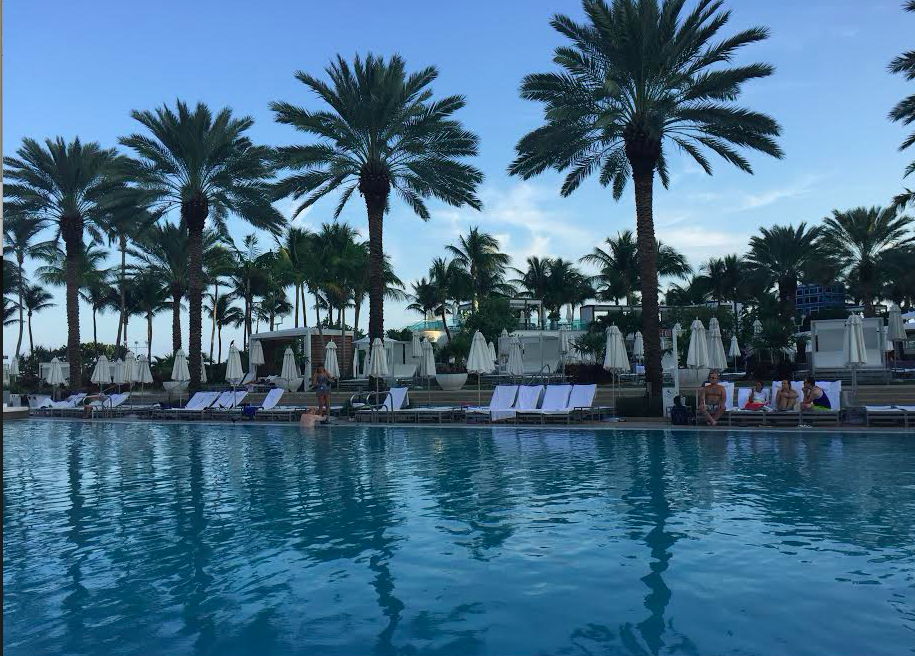 Wednesday's lunch in the ballroom was accompanied by a media panel offering up their most notable stories of the year. One reporter said he had read a story about an African village where no one had heard of the United States of America.
Outside the ballroom is, of course, the exhibit hall, with companies and their latest marketing tools, like a prescription bottle of "pills" for your technology migraines, billiard balls to keep you on your game, and pancake art. Yes, pancakes in the shape of and painted with company logos, like the one for Vestwell, looking like it belongs on a box of laundry detergent from the 50s.
My flight home was delayed 90 minutes, to 9:15 Wednesday night. Since it is just plain cruel to be in Miami and at the Fontainebleau without getting to put your bathing suit on and swim the length of the lagoon pool, I did. By then it was time for the down coat, the boots, the 40-buck cab ride to the airport, a two- -and-a half-hour flight, and a midnight landing at LaGuardia.
---
Mentioned in this article:
---
---
Share your thoughts and opinions with the author or other readers.
123CFP said:
December 10, 2016 — 7:29 PM UTC
Marie Swift said:
December 13, 2016 — 2:37 AM UTC
---
---