News, Vision & Voice for the Advisory Community
The departing LPL chief is one of two general partners of Vestigo Ventures, which bought a stake in LifeYield -- an advisor software company
December 8, 2016 — 9:59 PM UTC by Brooke Southall
Brooke's Note: Having just learned that Mark Casady is leaving LPL next month, we have a better sense of when those wheels may have gone into motion. Namely, about 18 months ago. And, yes, that was about when rumors began to circulate that he was moving on from LPL. This not insubstantial Vestigo venture of his suggests Casady had as much of a carrot as a stick in ending his LPL career. This new venture is all about the fun stuff of the RIA business minus the baggage of a legacy broker-dealer like a few hundred albatrosses around the neck, and a wolf pack. After stealthily buying up LPL stock, a 'wolf pack' of activist hedge funds has a leg hold
Fresh off announcing that he is departing his role as CEO of LPL Financial in March, Mark Casady allowed his launching of a venture capital firm to be leaked to the media. Previously, his involvement was downplayed an "investing." LPL takes selling off the table and takes out boisterous Mark Casady at CEO in favor of quiet Dan Arnold
The 14-year chief of the 14,000-advisor IBD co-founded Vestigo Ventures, with Ian Sheridan and Dave Blundin. Board members include Andrew Putterman, ex-CEO of LPL-owned Fortigent LLC, Maliz Beams, ex-CEO of Voya. Blundin is CEO and chairman of Cogo Labs and co-founded Vestmark -- a software used by Boston-based LPL Financial. Giant of the broker-dealer tech world takes aim at Advent.
The company, is housed in an office at the edges of the MIT campus in Cambridge, Mass., was founded last April but kept a low profile until Casady could make his retirement official. The Vestigo Ventures Fund One will be the first in a planned series of funds with a targeted size of $50 million to $75 million per fund, according to a Vestigo release published in April.  Each fund is expected to invest in 15-to-20 companies that are creating breakthroughs in on one of four core strategies.
Conundrum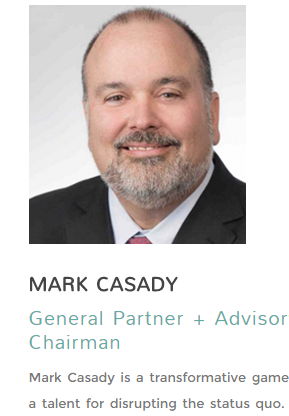 It's a relief that Casady can now participate openly as a Vestigo general partner, says Jack Sharry, an executive vice president of LifeYield since 2008 who does business development for the firm.
"He's been in a bit of a conundrum [in advance of] leaving LPL." See: LPL shares spike despite CFO downplay of buyout prospects as CEO Mark Casady reveals 'large programs' at banks are kicking LPL tires
LPL spokeswoman Lauren Hoyt-Willams says there was no conflict of interest with Casady founding Vestigo. "Mark is an investor with Vestigo; he is not an employee or officer of the firm. He has been involved with them for about 18 months, so this is nothing new." Vestigo does not have an ADV.
Indeed, Casady's title is general partner and advisor chairman, according to the Vestigo website.
The first investment by the Casady startup is $250,000 in LifeYield, a company founded in 2008.  LifeYield, which has received about $12-million in non-VC backing since its founding, caught fire in 2016 when it struck upon a software that helps advisors help their clients to manage Social Security.
Though Casady was preoccupied with LPL as his day job, Sharry says he showed LifeYield, whose 25 employees work at 175 Federal Street in downtown Boston, lots of heart over the past few months.
"We met with Mark a number of times. He's very available, accessible and excited about it."
Clients of LifeYield include Franklin Templeton, New York Life, SunTrust Banks and two of the wirehouses. There are about 50,000 advisors using LifeYield software, a number set to double in 2017 on the strength of the Social Security application. See: Why a $1.5 billion RIA is selling internally this time -- perhaps with Schwab as 'investment bank' -- after a sale to an outsider went bad
Breakout year
With his firm's cash flow and previous investments, Sharry says that the VC funding was not critical to his LifeYield success.
"It was by no means a requirement. We wanted to be connected to quality people."
Mark Hoffman, CEO, LifeYield echoed that sense of flattery and that his firm is operating from a position of strength in welcoming its first VC money. 
"We are honored the industry veterans and leaders at Vestigo Ventures chose to put their trust and investment in our company," he said in a release.  "We are in the midst of a breakout year and Vestigo's investment will play an important role in accelerating our delivery of software that help investors, advisors and their firms enjoy significantly improved results."
Sharry adds that the $250,000 Vestigo investment will largely go to making the Social Security app simpler and more attractive. See: RIABiz Conversations: Eugene Steuerle answers RIAs' technical questions about how to use Social Security as an annuity
Though the Social Security aspect of its software has been hot, LifeYield focuses on software that helps advisors optimize withdrawal of income across multiple accounts. It also has portfolio software that helps advisors know where to locate assets based on their tax consequences.
Vestigo's board also includes E*Trade's former president, Jarrett Lillien and former head of BlackRock iShares, Martin Beaulieu as notables on a star-studded list.
---
Mentioned in this article:
---
---
Share your thoughts and opinions with the author or other readers.
Stephen Winks said:
December 10, 2016 — 7:17 PM UTC
---
---