News, Vision & Voice for the Advisory Community
A frenzied speaker-substitution effort was capped by a wee-hours lobby stakeout for Conway
December 6, 2016 — 9:17 PM UTC by Brooke Southall
Brooke's Note: Doing what she does best -- smoothing over rough edges for Donald Trump and the rest of the boys who surround him --  Kellyanne Conway today made her way to the MarketCounsel Summit in Miami to cover for two no-shows in Scaramucci and Priebus and put on a pretty good show herself. Part of what appears to have happened is a last-minute decree by the Trumpers not to have prospective Cabinet and chief-of-staff types giving speeches. That determination hit Scaramucci and Priebus -- and shortly thereafter, Brian Hamburger -- in real time. So the MarketCounsel Summit may have just wagged quite a big dog.
Brian Hamburger received a phone call at 7 a.m. EST yesterday -- the opening day of the MarketCounsel Summit -- with precisely the news that he didn't want to hear. 
A spokesman for Anthony Scaramucci, billionaire hedge fund manager and the man who might have as much say as anybody over the future of the DOL rule, was on the line to say that it wasn't looking good for their man to make it to Florida to speak at the MarketCounsel as promised. See: MarketCounsel texts like crazy to get and keep its white hot speakers, Priebus and Scaramucci, nailed down.
Soon after, Scaramucci himself got on the horn to deliver the final blow: President-elect Donald Trump had called a last minute meeting and his presence was required. No sooner had that happened than Scaramucci was on camera defending Trump's dubious involvement in the business of Carrier in Indiana. http://www.politico.com/story/2016/12/trump-team-defends-carrier-deal-232240
On top of that, a policy was being put in place to eliminate speaking engagements by people on the transition entourage.
It got worse. Twenty minutes Reince Priebus' spokesman called to say his man was cancelling, too. Priebus is currently the chairman of the Republican National Committee and is expected to be chief of staff in the new administration. 
Late-night check-in
The news left a gaping hole in the next morning's program. As Hamburger got off the phone, several hundred RIAs and industry vendors were headed to Florida partially on the promise of seeing these remarkably timely political speakers live and in person.
A mad scramble ensued -- one  that resulted in procuring a commitment from Kellyanne Conway, Trump's campaign advisor and now senior advisor -- a commitment obtained at 10:30 a.m.
But having seen two speakers vaporize in a matter of minutes, Hamburger and his chief operating officer, Marc Cohen, were taking no chances. When everyone else headed off to bed Monday night, they staked out the lobby like parents on curfew watch. When Conway appeared -- at 1:30 a.m. -- they welcomed her and helped her register.
"We weren't going to sleep until we knew she'd checked in," Hamburger says.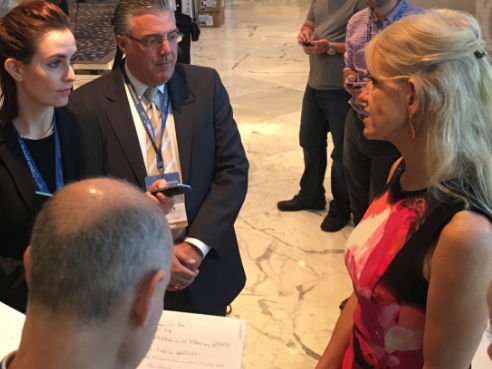 Still, Scaramucci, managing partner and founder of hedge fund Skybridge Capital, and a member of the presidential transition team, was to have been the main course among featured speakers. He is a speaker par excellence, well-versed on regulatory politics and quite certain that the new regulations from the Department of Labor regarding the fiduciary duty of financial advisors toward their clients are expendable. He has called the rule an example of government intrusion and has said it will send too much money pouring into low-cost passive investments like ETF's. See: 401(k) industry howls as DOL lets state governments become DC providers with advantageous exemptions
SkyBridge Capital manages about $12.5 billion, mostly of hedge funds of funds. The DOL rule, which casts a leery eye on fees charged to clients, is generally unfriendly to managers like SkyBridge because its fees tend to be many times higher than those charged for ETFs and other passive investments. SkyBridge charges .75% to 1.5% for its part but the hedge funds it manages can have much higher fees, which makes the all-in fee stratospheric by ETF standards.  See: Dynasty Financial Partners brings on Timothy Bello from SkyBridge Capital
Hamburger says Scaramucci was apologetic for the short-notice cancelation.
"He tried to make alternative travel arrangements and even offered to charter a plane but there was just no way he could do it. He said it made him uncomfortable and that it was the first time in decades that he had a situation where he didn't have control."
Grumbles from the crowd
The cancelations brought inevitable rumblings of "bait and switch" among conference-goers, reports Tim Welsh, president of Nexus Strategy.
But Conway's perpetual game face was on display when she took the stage for an interview with Hamburger Tuesday. (Hamburger tells RIABiz the conversation had no pre-established ground rules.) She even threw a bit of red meat to the crowd in the form of tidbits of what went on with in the Trump campaign. Some fireworks did threaten to erupt when she was questioned about whether Trump had truly won the election given that he is currently down by 2.5 million votes in the popular vote. But Conway dismissed the idea with her usual self-assured elan. See: How Donald Trump jolted Sallie Krawcheck out of sexism denial, maybe, and the startlingly retro remedies she prescribes for young women
But Hamburger says Conway was received with as every bit the appreciation that would have been accorded to Scaramucci. "I wouldn't classify it as a disappointment at all. I don't think people expected her to come here and speak to DOL."
---
Mentioned in this article:
MarketCounsel
Regulatory Attorney, Consulting Firm, Specialized Breakaway Service
Top Executive: Brian Hamburger
---
---
Share your thoughts and opinions with the author or other readers.
---