Sarah Bush: It lands near the middle.
Brooke's Note: If Donald Trump can sit down with The New York Times then I believe that Jeffrey Gundlach can sit down with Morningstar fund analysts. Gundlach would claim that it's an apples to oranges comparison. Whatever. I am a financial reporter who considers analysts fellow truth-seekers with no ax to grind. Anything that subtracts from transparency earns my skepticism. Gundlach has gotten away with his freezeout by letting his hot returns and his hotter inflows do the talking. But with this particular climate change may come a tidal shift that would make Machiavelli chuckle.
It's good to be Bond King -- right up until your 2016 fund performance gets so superficially plebeian that you could really use that Morningstar analyst you exiled to explain the deeper depths of those returns.
The chief critic and de facto explainer of all things DoubleLine within those castle walls is Sarah Bush, senior researcher at the Chicago fund-rater. The Morningstar analyst is also the one who can best add long-term perspective to short-term stumbles.
But since 2012, Jeffrey Gundlach, CEO of Los Angeles-based DoubleLine, has deployed his own monarchical prerogative of taking his case directly to investors and shutting out Bush and her colleagues. See: Morningstar bristles about being 'refused or ignored' by DoubleLine as the 'silly, ugly feud' between Jeffrey Gundlach and the ratings firm rages on
Gundlach and Morningstar have been on the outs since the powerful data company last paid a due diligence visit. Gundlach takes the stance that his investing methods are too sophisticated to be rated by the Midwestern researchers. The refusal of DoubleLine to cooperate with Morningstar is highly unusual in the mutual fund business.
Cold war thaw?
Gundlach's front-running PR strategy worked like a charm when his investment returns and inflows move upward in tandem. That didn't happen so much this year.
Now, maybe, a shift is in the works.
Asked if Morningstar still had no contact with Gundlach, Morningstar spokeswoman Nadine Youssef wrote: "Jeffrey Gundlach is not currently participating in our due diligence research process," but adds that Morningstar does "occasionally interact with DoubleLine representatives to address routine inquiries, which come up regularly with any asset manager," but that neither Gundlach nor anyone else at DoubleLine were participating in the due diligence process.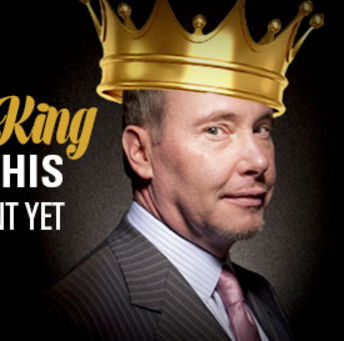 For the most part, however, this war remains as cold as ever. "DoubleLine has not provided our manager research analyst team with information on its strategy or access to the firm's personnel," said Youssef, in an email.
Still, it's an improvement from July 2015 when DoubleLine declined to even respond to fact-checking queries from the esteemed fund research company, according to this article in the Wall Street Journal.
DoubleLine double jeopardy
Morningstar has also thawed. When contacted, Bush referred RIABiz to an article she and Jeffrey Ptak wrote for Morningstar in July about why the rating of DoubleLine Total Return was being changed to Neutral from Not Ratable. The two say that "upon further review, we think it makes more sense to assign a rating to the fund that reflects what we know rather than, in effect, withhold a rating absent complete information."
As of Dec. 21, the Total Return Bond fund had returned 1.55%. The benchmark against which it is compared, the Barclays US Aggregate Bond Index, was up 1.92%.
Gundlach made his reputation as the Bond King, usurping the title of Bill Gross with his TCW Total Return Bond fund, which beat 99% of the competition with returns of almost 8% a year for the last 10 years he ran it. See: How RIAs are managing the Bill Gross problem -- from firing his old PIMCO fund, to detailed letters to clients to taking a good look at Janus
Undeterred, Gundlach went ahead with his Dec. 13 live webcast, titled "Drain the Swamp," presumably an ironic moniker given Gundlach's public stance on President-elect Donald Trump's stated economic intentions. See: Mum on DOL rule, Labor chief appointee Andy Puzder's 'check-the-box' 401(k) plan at CKE Restaurants speaks volumes
The webcast seemed to cover everything except what went wrong with his firm's fund this year and why. He devoted only the last few minutes of the presentation to the matter at hand.
Truth or consequences
Asked for perspective of DoubleLine Total Return Bond, Bush declined to be interviewed but did answer some questions by email.
"It's true that the fund has underperformed its intermediate-term bond fund average for the year-to-date through [Dec. 14, the day after the webcast,]" she writes.
On the webcast, Gundlach said only that he had "managed to do quite well" with his DBLTX despite not investing in corporate and emerging market bonds, which have done very well this year. The Barclays Aggregate Credit Index of investment grade corporate bonds was up 4.7% this year as of Dec. 19. In DBLTX, 87% of the assets are invested in more conservative mortgage backed securities and the rest in cash.
Bush reinforced this point.
"However, by design this is a mortgage-focused fund. Many of the funds that have outperformed in the intermediate term bond category for the year-to-date have held large stakes in investment-grade (or even high-yield) corporates and emerging markets bonds have been another strong performer. Those sectors have not been part of this fund's mandate."
In other words, Bush seems to say, don't hold Gundlach responsible for failing to achieve superior returns given its caution-minded mandate. Bill Gross' Janus Global Unconstrained Bond Fund is up 4.75% year to date. And, in his webcast, Gundlach pointed that "investment grade corporate bonds have tons of interest rate risk." See: Why I respectfully reject the harsh take on unconstrained bond funds expressed by Google and LPL co-authors
Gundlach's other fund, DBLFX, with assets of $6.5 billion, has returned 3.87% year to date. It does invest in corporates and emerging market bonds. Almost 16% of its holdings are in foreign bonds. Morningstar's emerging market bond exchange traded funds are up almost 10% year to date.
But DBLTX is the fund everyone watches, the continuation of the TCW fund that made Gundlach famous.
Bush: 'Lands near the middle'
Also, she cautions, "Investors should be careful not to read too much into short-term performance. The fund's long-term record is still very strong." Bush reminds everyone that DoubleLine has a Neutral Morningstar Analyst Rating on the fund. As for those nasty outflows, well, "although we estimate that the fund had some outflows at the beginning of December, it saw net inflows for most of the year."
Bush declined to read anything into the timing of Gundlach's webcast, saying only that he "regularly holds these calls and they're scheduled far in advance."
She declined to answer questions about what she would ask Gundlach if she were to be granted access, referring RIABiz to the article she and CFA Jeffrey Ptak wrote for Morningstar in July. It is an extensive list of questions on everything from portfolio construction to security selection, risk management, and stewardship, notably the appointment of Jeff Sherman as deputy CIO in June of this year. There are also questions about recent contact with the SEC and whether there is a plan to separate the roles of chief compliance officer and general counsel.
Obscuring information
The report concludes that Gundlach, by its estimation, is obscuring the most vital information a long-term investor needs in evaluating not only a mutual fund but also the company and people who run it, bringing into question just how much of the good Gundlach performance can be attributed to replicable processes and what would happen Gundlach himself, an apparent investing maestro, was no longer orchestrating the investments. See: PIMCO is 'probably healthier' without Bill Gross and the outflow bloodbath is likely near its end, Morningstar says.
As for Gross, the legendary fund manager is setting his sights on a total return mutual fund at Janus Capital Group, his home since his acrimonious split two years ago from PIMCO, the firm he founded in 1971. The fund would be in the same mold as his Total Return fund at PIMCO, which at its high in 2013 was the world's largest bond fund with almost $300 billion in assets.
In an Oct. 31 interview with Pensions & Investments, Gross revealed that an institutional investor is putting the finishing touches on plans for a total return strategy institutional separate account of at least $100 million at Janus. Gross did not disclose the identity of the investor. See: At Morningstar, PIMCO CIO and CEO preach collective manager brain power but individual manager accountability as post-Bill Gross formula.
Buffalo soldier
In addition to northward-heading inflows and returns on his funds, Gundlach is also hoping that 2017 will bring an NFL playoff spot for his Buffalo football team. His last words on the webcast? "Go Bills!" In mid-October, the they were up four games to two but have since suffered outflows of their own, losing five of their last eight games.
---
Related Moves
February 28, 2020 – 11:09 PM
---
---
---
Mentioned in this article:
---
---
---