Bill McNabb: We are in the midst of a great technological revolution – from self-driving cars and package-delivering drones to smart phones and 3D-printers – that is changing the way we live, work, and, in Vanguard's realm, invest.
Brooke's Note: If you really like cheese steak and want to be on the (V)anguard of the digital revolution, there will soon be a place for you.
The Vanguard Group Inc. is opening a think tank in urban Philly where as many as 100 people will soon put capital into projects not tied to short-term return on investment.
The Malvern, Pa.-based manager of $3.6 trillion of assets is taking space in downtown Philadelphia in anticipation of a June 2017 launch of a learning and cross-pollination sanctuary where the normal rules don't apply in terms of hires, cultural norms, geography and objectives.
This commitment of people and money to big-picture thinking is a heads-up to management that this is arguably mission critical, according to Doug Fritz, former chief technology officer for First Republic Bank, who now heads his own technology firm, F2 Strategy, in Mill Valley, Calif. See: First Republic's $70B-plus RIA roll-up loses four top executives as its contract with Luminous team ticks down
Bill McNabb, CEO of Vanguard, alludes to just that line of thinking in his comments in the statement announcing the project.
"We are in the midst of a great technological revolution – from self-driving cars and package-delivering drones to smartphones and 3-D printers – that is changing the way we live, work, and, in Vanguard's realm, invest."
One important personnel innovation on Vanguard's part is to tap into the minds of people who might not be willing to trek to the suburbs.
"We have not secured an exact location but the idea is to have proximity to University City and Center City, which will make it easier to have partnerships with both academics and entrepreneurs," says Vanguard spokeswoman Arianna Stefanoni Sherlock. University City encompasses Ivy League's University of Pennsylvania (and Wharton School) and technology-strong Drexel University.
No robo
What Vanguard is willing to share for now is that it will employ 20 staffers in the initial stages of the skunk works.The space will be 20,000 square feet, which anticipates adding an additional 80 personnel. No word on whether that leaves space for ping pong tables.
The employees have not been picked yet but are to comprise be a mix of Vanguard's current employees and outside hires.
Mixing old and new employees is vital to the success of this type of operation, Fritz says. Otherwise you bring the think tank's ideas to the legacy employees and "it's that car that hits the horse and buggy."
In response to a direct question on the matter, Stefanoni Sherlock says that Vanguard has no plans at all to develop a robo-advisor in the highly automated model of a Wealthfront. But Vanguard's release relating to this innovation center does cite the runaway success of Vanguard Personal Advisor Services that continues to add an average $50 million of AUM per business day and jumped from $41 billion in July to $47 billion currently. VPAS is often referred to as a robo because it is a virtual RIA, minimizing personal contact between advisors and investors and carries the average robo fee of .03%. See: Betterment makes Goldman Sachs and Vanguard partners as it shifts into higher RIA gear.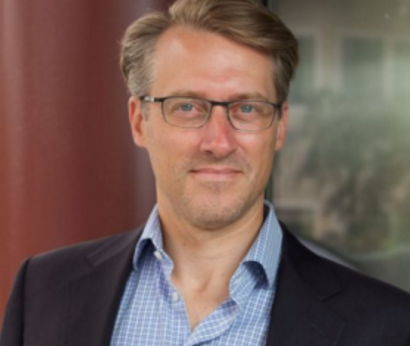 The mission of the center is to have the freedom to look beyond the daily demands of the business and identify unique ways to better serve clients, Stefanoni Sherlock says.
Look -- no hands
Fritz cautions observers not to look for any instant results.
"I wouldn't expect any difference that you can see for three years," he says, adding that a number of his clients are big national banks who pay ferociously close attention to expense ratios when it comes to technology. One such bank he's working with requires board approval for technology expenses exceeding $100,000, a practice he calls an "innovation killer."
The center reminds one of Fidelity Labs, which began with a small group of people in 1998 focusing on the future. The group has now grown to 130 people. See: My day of visiting the Fidelity campus in Boston and what vision and vibe I experienced
The Fidelity Labs mission is to "focus a couple years ahead of the core business unit," said Rick Smyers, vice president at Fidelity Labs responsible for innovation programs.
Currently, it is paying attention to areas like cloud computing, artificial intelligence, zero-user interface -- where people don't have to touch some screen to get information -- and augmented reality.
Edsels and Google Glasses
The alternative to forming a free-flowing technology unit inside a company is simply to let other firms do it then copy or outsource. But Fritz says that kind of reactive thinking is dangerous if "you want to own your own client experience."
A bonus for Vanguard is that it can reconnect with Philadelphia, a city that it has jilted in the past in favor of suburban serenity. The company has its roots in the Wellington Fund, which was founded in the city in 1929, and still manages active funds for Vanguard. In the more recent past, Vanguard opened a walk-in investment center in Center City in 1984 but shuttered it in 1999.
Over in Boston, Smyers says his technology lab has been as useful for weeding out false promises as it is for jumping on the bus to the future.
For instance, Fidelity tested out Google Glass technology in a financial services context and realized people weren't ready for it.
"We pay attention to the upcoming trends that will affect consumer but sometimes customers are not ready to adapt to the new technology," says Smyers. In that case, "we were a little ahead of where the consumers were ready to go." See: Orion draws a record pack of hackers to Utah to code, bond -- and compete
But the program can afford an unsuccessful attempt like that because Fidelity is privately held and isn't governed by the need to deliver from quarter to quarter. As a shareholder-owned firm, Vanguard has a similar advantage that has been apparent during its history. See: Why Vanguard Group has proved impervious to a '$34.6 billion' whistleblower suit and why nobody's suggesting Vanguard execs should breathe easy
It's a point that explains Vanguard's past success and anticipated successful future, McNabb contends.
"Innovation is woven into Vanguard's DNA, from our unique mutual ownership structure to bringing the first index mutual fund to market for individual investors," he says in the release.
---
---
---
FAA
November 5, 2016 — 12:27 AM
MHO the real disruption is the application of AI and Machine Learning in the investment arena. Much different that ROBO stuff. Not many who have a demonstrated capability here...but this will change the landscape. Take a look at Sonia Schulengurg and what her team has done in the Scotland. Window into some disruption.
FAA
November 5, 2016 — 12:38 AM
Schulenburg I meant sorry- interesting nonetheless