Sallie Krawcheck: I thought we had left sexism behind us by the time I was in more senior roles. After all, we had complaint hotlines and diversity plans.
Brooke's Note: Access Hollywood's notorious tape of Trump changed Sallie Krawcheck's views on sexism and its impact on women in today's workplace so profoundly that she was moved to write an essay to young women -- women she hopes will invest on her website. Of course, looked at from a purely demographic point of view, Krawcheck is more like Trump than the impecunious under-40 set she writes to. She is a rich New Yorker who plays the part to the hilt. When RIABiz managing editor Dina Hampton brought the Krawcheck piece to my attention, her reaction was so strong that I asked if she'd share some of those thoughts in a column. She agreed and produced this thoughtful piece.
Hired and fired from more Wall Street top spots than most of her male counterparts will ever occupy, Sallie Krawcheck is an influential voice for executive-track women, as can be seen by her thousands of LinkedIn and Twitter followers. See: What to make of Sallie Krawcheck's emergence as a Twitter-sphere celebrity
Which makes a recent essay penned by Krawcheck in reaction to the Donald Trump/Billy Bush bus tape so moving -- and her blinkered advice to her followers on the way forward so striking by contrast.
In "a letter to young women, in the age of Trump," which appeared in LinkedIn a few days before the presidential election, Krawcheck describes the determined obliviousness that saw her through years of discrimination and harassment by her male coworkers and superiors. Krawcheck's coping method was denial. "When I was your age," she writes, "I thought it was over ... . We weren't just on our way — we'd arrived."
The Trump tape pierced that membrane and led to some rueful self-examination. "I'm sorry if I didn't act when I should have. I thought we had left sexism behind us by the time I was in more senior roles.... I can't stop thinking about this and what we can/should do."
But as Krawcheck delivers her action plan, blinkers of a different kind snap into place. She writes, "If you're in a bad work situation, it's OK to quit." And, "Your company doesn't have a senior, successful female? Get the hell out of there."
Money is the key
They are statements breathtaking in their cluelessness. Who are these women who can quit jobs when they find themselves on the business end of loutish, actionable or even criminal behavior by their male colleagues or superiors? The answer must be, the ones who had the benefit of top-level college degrees and the career-advancing connections that come with them; the ones fortunate enough to come from wealthy families and/or to have high-earning spouses.
Pragmatically, of course, it makes sense for Krawcheck to address herself to women who have or who will soon have money to invest -- hopefully in her recently launched robo-advisor for women, Ellevest, a fact that she frankly discloses. See: With $9 million in second-round VC bucks from Venus and friends on the books, Ellevest's AUM remains ground bound. She does so as well in her upcoming book, "Own It: The Power of Women at Work" (Crown Business 2017), which also speaks to the concerns of Krawcheck's target audience as well those of financial advisors vying for the business of those investors.
One could argue that such saleswomanship is not in conflict with Krawcheck's take on women and power, especially given her premise that "at the end of the day, money is the real key to gender equality." If that's true, then these women who control the much-vaunted $5 trillion of women-controlled assets are the ones whose consciousness it is most important to raise as they are the ones with the greatest shot at effecting positive change in the workplace by dint of the clout they wield -- a sort of trickle-down feminism. See: Relying on men but 'losing sleep' Sallie Krawcheck seeks to robo-reap women investors with Ellevest.
Odd form of forward motion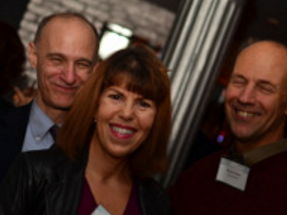 Except that in an essay written a few days after Trump's upset election, "what Trump could mean for women in business (and It may not be what you think)," Krawcheck seems to run up the white flag on energizing even this top layer of sisterhood. She now derives a strikingly different moral from the Trump/Billy Bush tape and all the bad behavior it represents.
"While as a mother and an aunt, I hate it, I hate it, I hate it that we haven't made more progress for younger women, this does represent an odd form of forward motion: we can't really deal with an issue until we fully understand the issue," she writes.
The action points in this essay are reworded but have the same thrust:
"Don't work at the company that doesn't 'get it' on making the work environment one in which you can be successful (Yes, I went there.)"
And, "Think hard about not joining or quitting a company that has no successful senior females running P&Ls…if they don't 'get it' by now, honestly, when are they going to get it?'
Krawcheck realpolitik
Post-election, Krawcheck's take-this-suboptimal-work-environment-and-shove-it rhetoric rings even more hollow. If "they" didn't "get it" before a self-proclaimed harasser was elected president, why would they now?
Krawcheck, from her personal experience and through the country's recent upheavals, holds to one constant as a means for women to gain power: "Invest our money in the markets, to give ourselves the opportunity to earn a higher return and close our personal 'gender investing gap,' which has historically cost us ... big time.' See: 'Bristling' at 'pink-it-and-shrink-it' pitfalls, Sallie Krawcheck files an ADV
But I draw a more doleful dose of realpolitik from Krawcheck's two essays: In the era of Trump, she seems to say, do as I did, not as I say: Climb the career ladder ignoring -- becoming oblivious to if possible -- the leering gazes and comments of the male colleagues that will follow you on your way up.
Dina Hampton is managing editor of RIABiz.
---
---