Abby Johnson takes charge at a buckle-your-seat-belts moment for the closely held family trust.
Brooke's Note: That was fast. Two years went by like nothing since Abby Johnson grabbed the CEO scepter with that absent stare that obscures what thoughts are getting thunk behind the eye sockets. We almost haven't had a chance to think about how to rate her in her new job what with streamlining of old divisions, see: Abigail Johnson takes Pyramis back to its Fidelity roots after her father tried to create exalted brand; attempts by media to call Fidelity's very core principles into question, see: After Fidelity Investments and its owners get blasted by Reuters for alleged high-level conflicts of interest, Morningstar accepts the Boston-based giant's explanation; and the uncharacteristic acquisition and acclimatization of eMoney that has allowed Fidelity to veer from being a financial firm to one based on technology. See: As Ed O'Brien packs his bags for Philly to take eMoney CEO reins, Mike Durbin resumes his job modifying Fidelity's future from finance to software. But when it comes to tone, persona and culture, Abby Johnson has picked up right where her dad left off. The wall that Donald Trump dreams of building already exists between her and the media. It's a calculated play that has worked for the Johnsons across patrician, and now matriarchal, generations, perhaps lending itself to clear thinking and intellectual self-possession. But Fidelity is now at a crossroads unlike anything seen in its history as regulations, technology and commoditization all convene to tear at its market and its profit margins. Add to that the branding challenges coming down the pike for boomer-geared Fidelity as assets pass into the hands of millennials. The good news: With Ned elevated to emeritus status, Abby, with no public shareholders or even dear old dad to appease, will be the most nimble CEO in the business -- and a nimble big business is one to be reckoned with. But to succeed it'll need a vision that can be achieved only by entering into communion with the outside world -- one that Abby lets in only selectively. Or so that's the impression she gives. Maybe that absent Abby stare is a poker face and she hears us, all of us, and Fidelity will become a better, more sustainable version of its already great self -- a royal flush.
Completing her ascent to the summit of the nation's biggest 401(k) provider at a time of profound uncertainty about the fate of the DOL rule, Abigail Johnson will become chairman of Fidelity Investments early next month, according to the Wall Street Journal. See: Why exactly DOL's latest action is so shocking to so many brokers -- and even ERISA lawyers -- despite years of warnings
Abby Johnson, 54, will succeed her father, 86-year-old Edward "Ned" Johnson III, who will become chairman emeritus, according to an internal memo seen by the Journal. Abby Johnson began at Fidelity almost 30 years ago as an equity research analyst and became CEO in October 2014. How Abby Johnson won the hearts of mega-RIA clients in advance of taking the CEO spot at Fidelity Investments. Ned Johnson plans to continue working from the firm's Boston office and will consult with his daughter, according to the Journal article.
"While we have enjoyed much success, evolving customer preferences and new regulatory requirements are transforming the investment management industry," Ned Johnson wrote in his memo to Fidelity staff, adding that he has "never felt more confident about Fidelity's future." See: In wake of high frequency trading hoopla, Fidelity Investments is designing 'Sakura' to secure better trades for its 'shareholders'
It is almost impossible to overstate the seismic shifts occurring in the financial services industry as the third generation of Johnsons takes the Fidelity helm. Brokerages are scrapping commissions on IRAs, ETFs are becoming the favored low-cost alternative to mutual funds and investors are shoveling money into index funds as fund managers engage in a race to the bottom on fees. See: Has indexing become too popular?
That's before you talk about the 401(k) business, which is in a state of disruption for the first time in its existence, with robos and other niche providers gaining ground and revenue-sharing fast becoming a bonanza of times past.
Still, the Johnsons have a track record for passing the baton between generations amid tumultuous change.
Enormous changes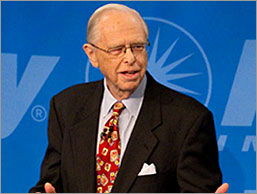 The Boston-based financial services firm was founded by Abby Johnson's grandfather, Edward C. Johnson II in 1949. His son, Ned III, has served as chairman and CEO of Fidelity since 1977. When index funds were first created, he questioned the appeal of funds that aim merely to match rather than beat the market. In 1995, Fidelity became the first mutual fund firm with a website.
The family controls 49% of the closely held company and the employees, 51%. Fidelity manages $2.1 trillion in assets and has $5.5 trillion in assets under administration across all of its businesses. The Magellan Fund is one of the best known equity funds in the world, with $14.5 billion in assets.
In her two years as CEO, Abby Johnson has tried to cut costs, moving more of Fidelity's operations to other parts of the country. She has also championed the company's index fund business, which has enjoyed an inflow of funds while some actively managed funds suffered outflows. See: Postscript to the Fidelity Executive Forum article: The RIA perspective
Fidelity cut prices on more than two dozen funds in June, and has touted how its prices compare to ultracheap Vanguard. See: After Vanguard gains $550-billion ETF lead, Fidelity makes 'rabbit out of the hat' play to regain ground
Nobody seems to have seen Ned Johnson's final departure from the chairman's seat coming. Like Charles "Chuck" Schwab, he could have hung on to his chair indefinitely. Chuck handed over the CEO reins to Walt Bettinger in 2008 but remains chairman of the company he founded. See; What a close reading of Barron's cover story on Walt Bettinger reveals
Unlike Chuck, however, Ned has a built-in advantage. Thanksgiving is coming. So is Christmas. The Johnsons are a close family. Abby will need to be on her best chairwoman and CEO behavior with a giant shareholder and father, who is a legendary figure, presiding over the holiday dinner table.
---
---
---