If Ron Carson were to leave LPL, it would be in keeping with his talk about being the disrupter rather than the disruptee.
Brooke's Note: It is not unusual for stories to be leaked to those of us who cover the RIA and IBD beats. Typically, however, the tipster chooses one publication to bestow his or her inside information upon. In this case, however, the leaking was widespread. A whole series of advisor trade publications got the story that Ron Carson was leaving LPL. Maybe we all had the same source? [Our source, reading tyhis note, assured us on Tuesday that we were the only receipient of a head's up and that they are certain a "separation agreement" was executed between LPL and Carson.] If you read Janice's story, you'll see we had the story quasi-confirmed as of Friday by a non-anonymous source but then it got unconfirmed. In light of that, we held off on through the weekend, and most of Monday, to explore the relevant aspect of why there is no official word to report after all this time.
Reported: Ron Carson is departing LPL Financial for Cetera Financial Group.
The longstanding LPL loyalist moving to the smaller, less-celebrated Cetera is -- or would be -- among the more startling intra-IBD defections ever seen.
Yet after a long weekend the purportedly done deal remains unconfirmed.
The assets in question are those under the Carson Wealth Management Group LLC-branded firm, the one that Carson built up to become LPL's top producer. It's a hybrid RIA whose assets of ultrahigh-net-worth clients with $10 million or more are largely housed at Boston-based LPL. Reporters jumped on the story of Carson's defection because he has long symbolized the success and achievement of working as a rep under the LPL brand.
Waiting in vain
RIABiz held off publishing the Carson-jumps-to-Cetera story last week despite an off-the-record tip from a credible source in hopes of gaining an on-the-record source. That persistence seemed to be rewarded Friday at 10:30 a.m. EST when an LPL spokesman promised a published statement by noon. Several hours and a flurry of emailed exchanges later it became clear that no statement would be forthcoming, after all.
Now, 92 hours -- and repeated requests to LPL, Cetera and Carson Group -- later, the response remains ... crickets.
What makes the story particularly fascinating is Cetera's underdog status. Cetera has long been considered a second-tier agglomeration of IBDs relative to LPL, a perception that has been heightened in the wake of Cetera's recent technology and leadership troubles. Cetera has 9,000 reps to LPL's has 14,000. LPL has a market cap of about $3.5 billion. Cetera got sold recently for about $1 billion. See: Why exactly Valerie Brown is out of a job at Cetera -- and Larry Roth is in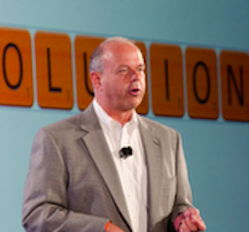 Its AUM grew 100% a year -- enough to attract the attention of private equity investors. Some Alliance assets already sat at a series of non-LPL custodians including Schwab Advisor Services, TD Ameritrade, Fidelity Clearing & Custody Solutions and Securities America. Carson raised $35 million in July and promised he'd be raising much more over time as he moved to expand nationally -- mostly with Carson Institutional Alliance. See: What to make of Ron Carson selling 29% of his empire for $35 million -- and how he's evolved his no-pain, no-gain approach to attract a new generation of talent
Favorable factors
Cetera chairman of the board Robert Moore and former president and COO of LPL is also making decisive strategic moves -- including a notable deal earlier this month with MoneyGuidePro. See: Cetera's giant software buy shows how eMoney's founder could prove a thorn in the Fidelity side $250 million later. It makes sense that Carson would take his personal book of business to Cetera given his trusted relationship with Moore, who has served on Carson's board of directors and who Carson also knew from Moore's time as number two man to Mark Casady at LPL.
That relationship may have trumped concerns about Cetera's meltdown on the night of Nov. 13, when its systems crashed and brokers couldn't do their jobs for most of the next two days. (Those advisors own their own practices and pay the firm for various services.) In September, Moore took over as CEO from Larry Roth. See: Sources: Larry Roth is out at Cetera, supplanted by ex-LPL president, Robert Moore. Cetera's parent, RCS Capital, filed for a pre-packaged Chapter 11 in January.
Another factor in such a move, sources say, would be the client infusion for Carson's first startup, PEAK Advisor Alliance, which offers training and motivational speeches from Carson himself to independent broker-dealer reps who come to Omaha, Neb. Sources say that LPL advisors are well-tilled soil and that Cetera advisors would give him a fresh vein of prospects. See: LPL's biggest advisor rallies his protégés Nebraska style. A clue that Carson had one foot out the LPL -- and one in the Cetera door -- came on Oct. 6 in a Fidelity press release that reported Fidelity Clearing & Custody Solutions had entered into a marketing agreement with PEAK Advisor Alliance. The portion of Cetera where Carson will purportedly hold his assets clears through Fidelity
Counteroffer?
It's also possible that Carson may miss being the biggest fish in a what used to be a relatively small pond. At LPL, numerous players that started with modest assets under administration in the millions have developed into multibillion-dollar AUA OSJs.
If Carson does walk, it would be in the footsteps of an Omaha deal by one of his old partners, Todd Feltz of WealthPlan Partners. Three weeks ago WealthPlan took its $2.2 billion of assets under administration through LPL's door and headed for Securities America. Why exactly a $2.2 billion RIA hybrid abruptly dumped LPL for Securities America -- and Schwab, Fidelity and TD Ameritrade
When we asked WealthPlan if there was any connection between its move and Carson's rumored move -- after all, Feltz and Carson had been partners -- the answer was – no comment.
Correction: Our original article identified Financial Planning as one of the publications that wrote about Carson Wealth going to Cetera. That is not true and we regret the error.
---
---
Mentioned in this article:
---
---
---