Doug Fritz: It's unfortunate that a firm that size can't stand something up on their own.
Brooke's Note: I had a feeling it would take days, not hours, to sort this Wells Fargo announcement out after reading: "Wells Fargo Advisors and SigFig today announced they will collaborate to develop a digital advisory offering for WFA to begin piloting in 2017" in the press release. I only learned for certain that my double-take about the words "collaborate to develop" was not unfounded. Didn't SigFig already have a digital advisory offering? But to answer myself, I first had to find Wells Fargo's former technology leader to lay out the unique IT and strategic circumstances that the giant bank and its many-headed wealth management unit faces.
Wells Fargo & Co. is half-buying, half-renting a robo-advisor in what could become the biggest cross-selling program in the history of the nation's largest bank -- and we're talking about the bank, not the wirehouse that sits under it.
The San Francisco-based conglomerate is entering into a hazily described arrangement with SigFig Wealth Management LLC, the robo startup down the street, to build a platform that sells automated financial advice to the retail bank customers who use Wells Fargo's 8,600 branches and 13,000 ATMs.
What does seem evident is that this deal will not make robo capabilities available to Wells Fargo's FAs anytime soon, a fact finessed in the press release in a quote attributed to David Carroll, head of Wealth and Investment Management at Wells Fargo.
"We have an opportunity to serve clients more holistically with a product that complements our full-service business by combining the investment strategy of Wells Fargo with sophisticated investing technology, mobile tools and intuitive design." See: Wells Fargo now has a testing paw in the RIA stream
(Wells Fargo responded to queries on that and other subjects -- but in manner calibrated to raise more questions for readers than it answers -- read on.)
Carroll's gargantuan division includes the full-service stockbrokers of the IBD under the Wells Fargo Advisors Financial Network brand, known as FiNet, and the private client business of Wells Fargo. All told, the accumulated divisions record revenues of about $3.9 billion per quarter, but growth had largely stalled even before the Consumer Financial Protection Bureau blew the whistle on Wells Fargo fining it $100 million for the widespread and illegal practice of secretly opening unauthorized deposit and credit card accounts. See: FiNet welcomes six wirehouse defectors at the apex of a withering Wells Fargo bank scandal that 'has legs'
The most concrete takeaway from the statement is that Wells Fargo has contracted with SigFig and "will collaborate to develop a digital advisory offering for WFA to begin piloting in 2017."
Q's and (not for attribution) A's
But this curious arrangement, which names the collaborator, fails to give Wells Fargo full ownership of the robo it launches.
"It would beg the question: why don't they just build it like Schwab did and then leverage the experience and investment in other client onboarding workflows?" says Doug Fritz, founder and president of F2 Strategy, a technology consultancy in Mill Valley, Calif. "While SigFig is likely their best option given this approach … it's unfortunate that a firm that size can't stand something up on their own. By having a third party, they'll have to reinvent the wheel four times more [by doing online onboarding for all the various systems of units within wealth management.]"
To keep the robo-advisor where it can't do too much damage internally, Wells Fargo might find it a home with WellsTrade, the bank's discount brokerage, speculates Fritz, who is in a good position to do so having served as senior vice president of technology for Wells Fargo Wealth Management Group from 2006 until 2013. Built a decade ago, WellsTrade came out to award-winning acclaim, but then the self-directed channel's budget was slashed and it was left to coast.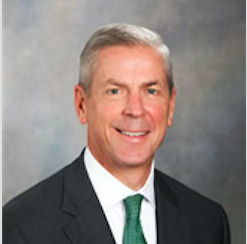 Wells Fargo responded questions posed by RIABiz for this article by facilitating a conference call between a reporter and SigFig CEO Mike Sha and Devon McConnell, Wells Fargo Advisor's managing director and head of digital and direct investing. At the start of the call, however, the reporter was told that any information gleaned from the conversation would be "on background" -- meaning that the reporter agrees not to quote a source or directly attribute information to them. See: How Barron's 'Next' lays bare the tail-wags-dog sponsored content predicament facing financial journalism
Too large to go big
In that spirit, we can report that SigFig would seem to agree with Fritz's assessment that "the need to seek help from a tiny company is a result of getting too big."
"Prior to the merger, Wells and Wachovia were able to innovate much faster and had innovative, compelling and client-focused offerings like their Private Bank service model. With the larger firm, the initiative approval and execution process (strategy, approval, funding and execution, roll-out) is now unwieldy and inefficient. With the increased size, complexity and strongly held legacy cultures." See: With BlackRock ahead and blue ocean behind, LPL finds its robo comfort zone
Wells Fargo is the second mammoth financial institution to partner with SigFig. In May, New York-based UBS Wealth Management Americas purchased a stake in the firm to, essentially, rent its software. SigFig has $114.5 million in AUM according to its Form ADV. Why there's more to the UBS-SigFig deal than meets Sergio Ermotti's gimlet eye.
The Wells Fargo robo is as yet unnamed and how, if at all, it will differ from the dozens of other banks, brokerages, advisors and standalone robos, is yet to be disclosed. The plan, as it stands, is to have in-house Wells Fargo investing acumen applied to the automated service, according to the company.
Choosing SigFig over other startups or over building its own robo likely reflects other Wells Fargo concerns, according to Chip Roame, managing principal of Tiburon Strategic Advisors. "I think SigFig is both less threatening and more industrial strength than some of the other robos. SigFig is increasingly positioned as an industry utility."
Access denied
Whatever its name and final form, Carroll, in his statement, says that investors will be the beneficiaries.
"Wells Fargo is committed to providing investors with quality advice that aligns with their goals and is relevant to all stages of their lives. As we continue to invest in technology that serves the evolving needs of our clients and our advisors, this offering will mark an important step forward in delivering financial advice to the next generation of investors, while building a long-term pipeline for our full-service business."
But the advisors, who serve those investors and who are being denied these new robo capabilities as they are delivered to their Wells Fargo colleagues, are likely to see the interjection of a robo by Wells Fargo differently.
"Are they cross-selling just a certain segment?" Fritz asks. "If I'm an advisor then you're cannibalizing my pipeline." See: LPL cannibalizes executive talent and launches mass-market entity
---
Related Moves
October 1, 2019 – 1:06 AM
---
September 10, 2019 – 10:52 PM
---
---
Mentioned in this article:
---
---
---