Tim Keating: There is absolutely no certainty that there will be cash flow from quite a number of the asset classes that they are invested in.
Brooke's Note: I am not among the ranks of those who like to bash The New York Times. If there is a better newspaper, go ahead and name it. But the Times is far from perfect -- especially in its business coverage. When its article on David Swensen and the Yale endowment came out last week, we were in the midst of writing the article below. Perhaps because we let it be known we would ask the hard questions we did not secure an interview with Swensen and received only generic responses from the PR people at Yale. Judging by its article, the Times appears to have asked not a single hard question and was granted full access to Swensen and his team. Amid a near total collapse in confidence in active management, Swensen remains a guy the active faithful can hold out as proof that brains and disciplined process beat passive investing. The trouble is that it's been quite a long time since that has proven to be the case at Yale as Swensen's strategy shows signs of reverting to the mean.
A veritable hagiography of a legendary financial professional turned up recently on the cover of the front page of the Sunday Business section of the New York Times -- complete with a sun-dappled portrait of its subject amid gothic architecture -- and with virtually pushback to his stated views.
The Nov. 5 profile of David Swensen, The Money Management Gospel of Yale's Endowment Guru, heaped praise upon the chief investment officer of Yale University for good reason: The esteemed and unassuming manager of the Yale endowment has not only amassed a titanic track record of investing but has done so to the good of a great Ivy League institution.
Yet the article, which includes quotes from Swensen dismissing the likes of Fidelity Investment's Peter Lynch and others as mere "asset gathers," comes after the better part of a decade in which Swensen and his methods have produced pedestrian results at best. See: The Yale endowment model 
of investing is not dead
To be sure, investors and investment professionals alike can still marvel at how Yale University's lead endowment manager continues to reign over almost $26 billion of assets he's almost single-handedly amassed from $4 billion he started with when he joined the university as its chief investment officer in 1985.
In return for their hero worship, Swensen's adherents not only get a story of investing success for a good cause but an endowment model pioneered by Swensen that has taken seed at other esteemed universities, including Harvard.
Beyond that, Swensen fans get a man who exudes nothing but grace in synthesizing the best of academia along with lessons no doubt learned at employers like Lehman Brothers. Swensen remains the paragon of a brick-by-brick active manager as opposed to a hedge fund manager who occasionally completes a Hail Mary pass -- and all this when the very concept active management is under siege. See: Chasing bad performance: Why investors can't get enough of those increasingly lame hedge funds
Cash poor
But if, as Harvard and University of Chicago theologian Paul Tillich posits, there is no faith without doubt, then our faith is being built up year by year.
The value of the New Haven, Conn. university's endowment declined from $25.6 billion, as of June 30, 2015, to $25.4 billion on June 30, representing $1.2 billion of the spending that supports faculty salaries, student scholarships and other expenses. Although there was a 3.4% positive endowment return, it does not mitigate the fact that this year's returns were not enough to fund Yale's annual operational expenditure obligations. Add to which, published results for the year ending June 30 show an 11% increase in projected spending from the endowment to fund operations.
Observers find these results more than usually troubling when one key tenet of Yale's endowment model is figured in -- the remarkably low allocation to cash and liquid equivalents. The current Yale model, in contrast to a more traditional index investment portfolio, invests heavily in illiquid assets like private equity and natural resources at the expense of safer, cash-rich investments such as stocks and bonds, making access to cash dependent on the whims of the market.
Currently, Yale holds 26% of its assets as liquid. Should the markets seize up or even experience a moderate decrease, this low percentage is a clear indication that Yale's distributions will dry up as they did in the Great Recession. This is especially true, critics say, when it comes to that model's emphasis on the most illiquid of investments -- alternative investments. See: Why the Yale endowment model has potentially calamitous pitfalls according to ... Yale itself
Other Ivies outperform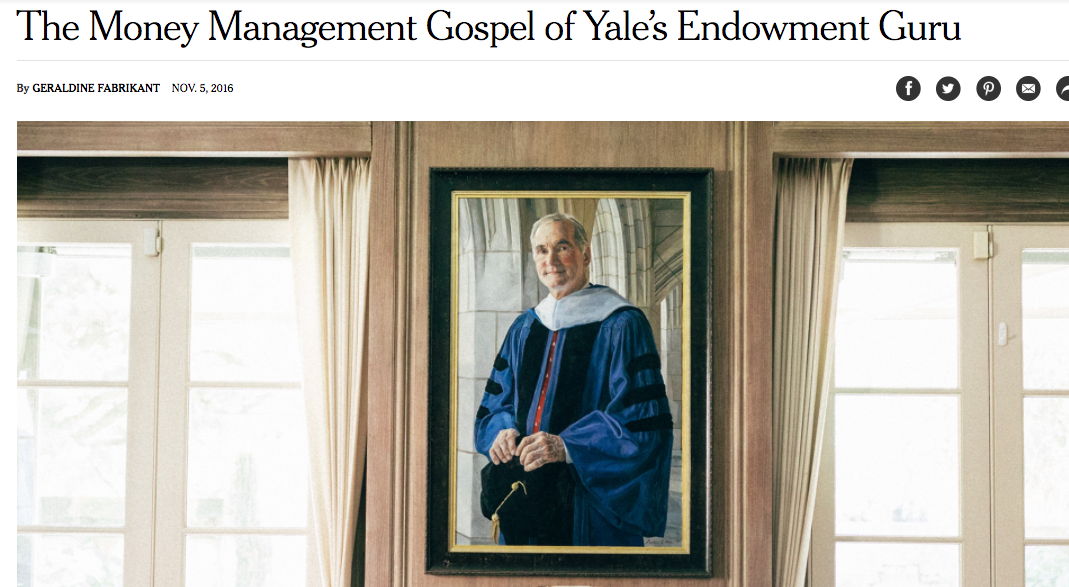 Yale still leads the pack in terms of long-term investment success with a 20-year annualized return of 13.5%. But experts like Timothy Keating are becoming concerned with the performance of its endowment as well as those of schools who replicate its model.
"There should be concern if there's too little cash to fund these obligations," says Keating, president of Keating Wealth Management LLC in Greenwood Village, Colo. "You've got to have assets that have certainty of producing that income to match the liability that has been self-created." See: How the Harvard and Yale endowment models changed to avoid a repeat of 2009 Keating's RIA has more than $600,000 in AUM.
Yale spokesman Thomas Conroy says the university's cash situation is no cause for concern. "Yale has a sound spending policy that ensures smoother changes in year-to-year endowment spending compared to fluctuations in year-to-year investment returns."
Yale is in no danger of slipping into the financial ranks of some of the smaller endowments but it is worth noting that the gap is narrowing. Numbers are showing a clear decrease in five-year returns for endowments heavily weighted with alternatives, what with university operating expenses on the rise and hedge fund performance on the wane. See: A hedgie defends hedge funds -- and their disparaged managers -- amid a tough PR run for the category
There even signs that other Ivies could begin to outperform Yale. In 2015, The New York Times predicted that "Princeton, too, is likely to exceed Yale's long-term performance." As of March 31 of this year, Princeton had a $21.3 billion endowment.
The latest National Association of College and University Business Officers-Commonfund study, which monitors the performance of university endowments, highlights a surprising new trend showing the nation's smallest endowments – those with less than $25 million – are outperforming the nation's biggest endowments like Harvard with their more equity-oriented investment approaches.
When endowment returns were examined by The New York Times in February, from a five-year annualized return perspective, these smaller endowments were found to be successfully achieving returns of 10.6%, while funds of $1 billion dollars or more are generating returns of only 10.4%.
Bolstering these results indicated by the index of returns for university endowments, research from a 2014 Vanguard Group study conclusively showed that "the majority of endowments would have been better off had they invested in low-cost, diversified, transparent public mutual funds."
Hazardous mix?
When questioned about the policy of Yale and other educational institutions of maintaining largely illiquid portfolios, John Griswold, the founder of the Commonfund Institute in Wilton, Conn., answers diplomatically: "We are in a very long-term bull market and those things tend to come to an end at some point." See: A style for all markets: momentum investing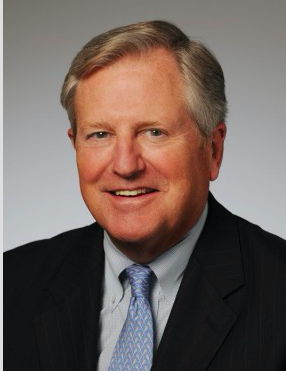 When pressed on the effect a market downturn along the lines of the 2008-'09 crash would have on a model that is already seeing diminished returns in a prolonged bull market, Griswold observes: "Even though the last couple of years have been disappointing for Yale and their endowments, they are still, over the last 10 years, doing quite well." See: See: The Yale endowment model 
of investing is not dead
Such returns are less reassuring to Keating against the backdrop of the low cash allocation.
"Yale currently has a combined 8.5% cap maximum allocation to cash and bonds, and so the question is how does that 8.5% allocation square up with the obligation of the endowment to fund the university?" Keating answers his own question by observing: "When you look at the mix of Yale's endowments there is absolutely no certainty that there will be cash flow from quite a number of the asset classes that they are invested in." See: Why the Yale endowment model may still be fundamentally flawed
Bonds ahead
Yale's endowment is still a front-runner if you look at its average 10-year annualized returns. However, the most recent five-year return results compiled by The Vanguard Group show that Yale earned a 3.3% return whereas a portfolio that is based on a more traditional index of 60% stocks and 40% bonds earned a 5.9% return.
Morningstar Inc. also indicates that compared to the performance of the Standard & Poor's 500, which has returned 6.21% thus far for its fiscal year 2016, Yale's 3.4% return in fiscal year 2016 falls short.
Given these factors, Keating sees a retreat to a more conventional mode of investing for the Yale and others as inevitable.
"When these universities voluntarily underwrite these higher funding levels to the operating budget, I think that they have no choice but to move into more bond-like investments to generate the income to fund the liability." See: Are negative yields for US bonds on the horizon?
---
---
---