Min Zhang: I came into the business thinking sophistication and complexity analytics were what advisors need, only to be humbled by the demand for simple.
Brooke's Note: Min Zhang turns the tables on us in this column. So often us baby boomer, Gen-X types observe millennials like field scientists among bonobos in the Congo. After her Stanford B-school classmates rip on FAs at reunion, a stung Min Zhang takes uber north to Pershing RIA event to hear out Kitces, Tibergien and Poirier on the topic Min, the 33 year-old millennial, went to observe baby boomers talk technology in their bizarre and atavistic manner in freakin' Las Vegas. She expresses compassion, humor, insights and wide-eyed amazement and in a voice that gives you a rest from this Gen-Xer. And, yes, millennial entrepreneurs understand the power of an iPhone 6 camera.
If I spoke in hashtags, "DOL" would definitely sit atop the trending board of last week's T3 Enterprise Conference in Las Vegas. Our industry is flush with regulatory changes. "Process" would be the next most popular keyword, and it is becoming longer and more onerous overall despite technology solutions.
A good product manager should have customer empathy, so at the conference I took on the persona of someone who runs a small- to medium-size IBD.
Immediately, visceral anxieties started to kick in. How can I run the business profitably? My B-D's technology may be behind already so there is all of a sudden a big gap to fill given the regulatory change. My CCO and her staff are already overwhelmed. I don't have a CTO -- the session by the cyber security guys from the Cosmopolitan hotel was extremely educational but how do I implement a program?
Our industry had needed a higher standard of service for some time, but I'm also wary that the additional processes are taking time and focus away from our client, or making the client experience longer and less enjoyable. See: LPL shares spike despite CFO downplay of buyout prospects as CEO Mark Casady reveals 'large programs' at banks are kicking LPL tires
Some things new
To gamify the results of my role-playing exercise, here are three cryptic keywords to summarize my takeaways – soap, dragons, and Trump.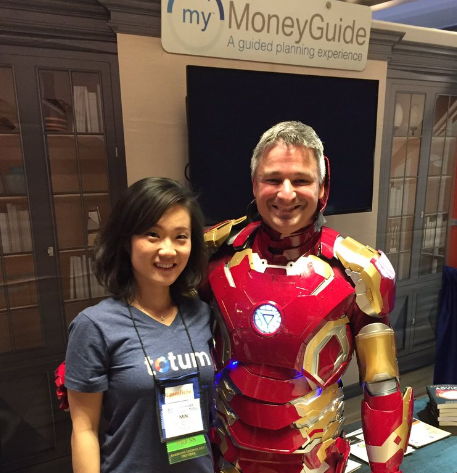 The book "Something Really New: Three Simple Steps to Creating Truly Innovative Products" by Denis J. Hauptly (AMACOM 2007), talks about how true innovation is about removing steps in a task rather than adding them. How can my FAs and reps excel at the client experience rather than being hindered by the additional steps?
(Taking off the persona hat, this is what I mean by "soap." My RIA friends used the analogy of hotel soap stuck together to describe the fragmented nature of the tools they used.)
At T3, digital client onboarding solutions (Laserfiche, JEMSTEP, INC., Oranj Inc.) help advisors become more efficient. A few providers (Morningstar Inc., PIEtech Inc., FI360) showcased DOL Best Interest solutions that not only enable compliance but also raise the fiduciary standard. Practice analytics (eMoney, Fidelity) monitor the risk in the business from the book level. See: One security lawyer's unvarnished take on DOL's 34 answers to 34 questions and what unsettles him about them
While we are each focused on building the best technology, I applaud the collaborative efforts between the tech innovators at T3 whose goal is to provide a more congruent and seamless experience between our platforms. Good progress on data and app integration and open-mindedness at Orion Advisor Services LLC, Envestnet Inc., and Sawtooth Software Inc.
Ultimately, it's about the value and experience to the end client. The advisor firms have to find the optimal mix between tech-only UX and the tech-enabled human relationship for their client base that balance trust-building human interaction as well as digitized efficiency.
Boomer bust
At a BofA technology innovation forum a couple weeks ago, Silicon Valley VCs quipped how AI chatbots and VR were so last season. In stark contrast, a few T3 attendees still disliked robo-advisors. There was also a healthy and expected dosage of millennial bashing.
Panning a snapchat around the room, the concern about the age of our industry became real. Most of them are certainly baby boomers. That's reasonable for broker-dealers, because most below age 35 are too busy building the next Uber for millennials (rather than IBDs), and those in their late 30s and early 40s made it as independent advisors through the dotcom bust and global financial crisis. See: Betterment wins Uber account from under the nose of its Silicon Valley robo-rivals
However, as observed by me, in the guise of a broker-dealer attendee, not many tech providers were as young as one might expect. Well, we are fully aware that our core clients (financial advisors), and most of their customers, are boomers. See: Five reasons for RIAs to think more like Goldman Sachs about businesses owned by clients.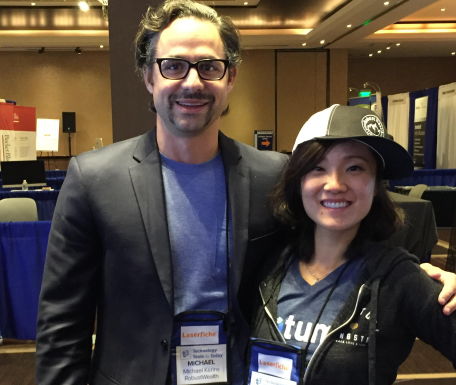 At one session, training was requested. This stunned me slightly. Our UI/UX head is adamant in his French perfectionism that if software requires training beyond a simple "walk-through" it means it needs design work. In defense of software-makers, it could be due to the age of our user base. See: Andy Rachleff takes back CEO spot at Wealthfront at critical juncture.
Perhaps a bit of both. But the point, and the goal, is "don't make me think." The reality is while boomers would be happy with a millennial UX, millennials would not bother with a boomer UX – they would happily go with, say, Wealthfront Inc., and call it a day.
On the topic of millennial bashing, someone from the audience at Matt Lynch's session recited the folklore that millennials have extremely short attention span and are on our phone all the time. Then a lady who works with Lynch said: To my daughter defense they are more collaborative and value better experience. I think we are a lot more socially conscious and not just driven by profits.
The other point less related is we may seem not as disciplined or professional and want a flexible work hours, but it's because we value the quality of life, impact and enriching our life experience.
The point of wanting better software integration is as a millennial I just want fewer steps and fewer tools either as an advisor or end client. And if they are stitched together they should work well as one tool. We see a few becoming a big hub that can do everything with Orion, Envestnet, MoneyGuidePro and eMoney, RobustWealth and Capitect and we want more congruency if they add other tools on top.
A stretch analogy for the tech we make is Daenerys Targaryen's dragons. They are not new, but are powerful and relevant if you have the magic to give them life. If I were to start a practice tomorrow, the tech capabilities needed may be similar to 10 years ago, but I'm not sure if would use anything that looks like it was designed and built then.
Post-conference -- and -election -- wisdom
Us millennials are also in it to learn. I came into the business thinking sophistication and complexity analytics were what advisors need, only to be humbled by the demand for simple.
Encouragingly, the millennial DNA borne by companies such as Twenty over Ten and RobustWealth made its way into this boomer conference, bring user-centered design principles and fresh design fashion that delighted both the FAs and clients alike.
"Simple-rich" was a tenet of Adam Holt of Asset-Map LLC that I resonated with, meaning intuitive while insightful. You may not actually want to overwhelm clients with a lot of tech, processes or a huge report, as these may detract from building a strong bond. See: How and why I'm starting an RIA from scratch and what I'm spending to make it happen
Vanare's David Coyle observed an advisor friend losing 70% of assets when their clients pass away. Where is your dragon for retaining the wealth transfer?
Now, a week later, as we see the presidential election results, I realize the where the nation's values reside despite the clear support from the top celebs and media. While the election result may turn out to be disastrous for most long-risk portfolios, it may be instructional for advisors and their vendors.
Specifically: Vaguely right trumps precisely wrong. Dumb, wrong but relatable trumps intellectual experience but can't be trusted. Client decisions, just like voting, are more emotional and intuitive. Not sure if my inferences are statistically correct or if it's the right take away at all, but it;s something to reflect on as we push out more shiny new tech.
One thing I do know: After feeling "conferenced out" over the last couple months, the luxury of having deeper conversations at the T3 Enterprise Conference -- especially with leaders of broker-dealers and wealth technology innovators -- was rare and dear.
Min Zhang, CFA is CEO and co-founder of Los Angeles-based wealth analytics firm Totum Wealth and a fintech entrepreneur.
---
---
Mentioned in this article:
---
---
---