Valerie Brown: AIG products don't and won't get special treatment.
Brooke's Note: I got to talk to Donald Marron while he gobbled a few bites of lunch right before he addressed AIG's advisors, no doubt to assure them. I got to talk to Valerie Brown, who sounded nothing less than fantastic after 18 months of kicking back a bit in Wyoming. Her play is different this time from what she did at Cetera — letting Erica McGinnis handle the day-to-day. Brown will make sure the transition to Lightyear ownership goes well to lay the groundwork for an unabashed play at rolling up stray IBDs.
In finally securing a deal for AIG Advisor Group — a deal that that was a badly kept secret — Donald Marron will attempt to do unto the sales force of the big New York-based insurer what it did with ING starting in 2010 — but with one less tailwind. See: Sources: Lightyear Capital is set to snap up AIG — and perhaps install Valerie Brown as its leader.
The chairman of Lightyear Capital LLC — as private equity buyers do — will endeavor to take a fixer-upper company and turn it into a Sotheby's-quality listing. In the case of ING, he bought an IBD network of 4,000 advisors administering $75 billion of assets and grew it to 6,200 advisors with $148 billion.
Now, Marron wants to take broker-dealer AIG, with 5,200 independent advisors and $160 billion in client assets under administration, and push it to new stratospheres with new technology, new branding, better products and a subtraction of conflicts, whether real or perceived. See: AIG's Advisor Group introduces a 100%-payout for big RIAs as part of a massive revamp of its fee-based platform.
He also plans to make it much more of a starting place for deals than was the case with Cetera — because AIG Advisor Group starts at a much more mature level in terms of technology and other fine-tuning, according to its CEO, Erica McGinnis. She says her management team was intimately involved with vetting potential suitors and the capital and intent to do deals was a big consideration. "The market is consolidating and the opportunity is great."
Battle tested
The difference this time is that — recent market turmoil aside — asset levels are not depressed like they were in 2010 — making growth by market rebound less likely to be a difference maker.
Still, the AIG Advisor Network, though selling at more of a premium than the ING brokers, also comes more battle tested, according to Ryan Shanks, CEO of Finetooth Consulting, a Springfield, Mass.-based recruiter.
"You might say the AIG one is strongest since they weathered the bailout episode and managed to retain a very solid percentage of their advisors across the network," he says.
Still, this deal is anything but a slam dunk, according to Bill Butterfield, a Maine-based consultant for Aite Group specializes in broker-dealers.
"I would rate the chance of success as medium-high," he says. "This will be challenging for AIG Advisor Group and other insurance/independent B-Ds as there is a product-centric culture currently coupled with a sales mentality. The cultures of ING and AIG are likely not all that different."
AIG Advisor Group's share of products sold is far less than 50% already and isn't the number one product brand in any category, including annuities, life insurance and mutual funds, McGinnis says.
Product-side innovation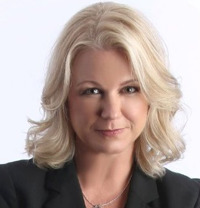 Erica McGinnis says AIG is no
longer number one in any product
category anyway.
Putting it more bluntly on AIG as product provider is Valerie Brown, who will serve as executive chairman once the deal closes, a senior position to the CEO once the deal closes.
"They don't and won't get special treatment," she says. "We will innovate on the product side, particularly in regard to regulatory changes."
Lightyear won't have too hard a time making a positive impression of advisors — based on what happened with Cetera, according to Marron.
"They understood right away that we understood advisors," he says. "We didn't ask them to sell anything they didn't want to sell."
Perhaps in this AIG deal, a medium-good return on capital for a medium risk will be sufficient — as signaled its single largest investor, PSP Investments, which is the Public Sector Pension Investment Board, one of Canada's largest pension investment managers with $112 billion of net assets under management as of March 31, 2015.
Mounties to the rescue
PSP Investments, which has the Canadian mounted police among its key participants, will have the majority of the seats on Advisor Group's board of directors. PSP Investments' head office is located in Ottawa, Ontario, and its principal place of business is in Montréal, Québec. In November 2015, it opened its first non-Canada office in New York City.
When asked in an interview why a pension investor was brought in this time but not for Cetera, Marron says that simple math dictated the move. "We needed a partner." he says. "It was a bigger deal."
Terms of the deal were not disclosed.
Still, it seems that Marron was negotiating with a good faith motivated seller in AIG, which told shareholders it believed it had to unload the sales force or hazard running afoul of the stiffened fiduciary requirements being imposed by the Department of Labor.
It's been a fuzzy area for years, according to Shanks.
AIG products
"AIG advisors clearly have an inside track on the proprietary AIG products, but regulations don't allow for preferred recommendations anymore; which is what drove the insurance companies to buy the Independent Broker Dealers in the first place," Shanks says.
The other X-factor in this deal is Brown who is being installed in a position senior to McGinnis. Brown's title is executive chairman. Brown moved to Jackson Hole, Wyo. after she left Cetera in May of 2014 and will remain based there. She will commute to AIG Advisor Group headquarters in Scottsdale, Ariz. frequently.
Marron says Brown's involvement addresses the biggest challenge of the deal — the 5,200 personalities of the reps and other humans involved. See: Why exactly Valerie Brown is out of a job at Cetera — and Larry Roth is in.
"Valerie understands that this is a people business and she understands clearly how to interact with people."
First, don't alienate
Experience matters, according to Butterfield.
"AIG is bringing on Valerie Brown, who has experience running a network of disparate B-Ds — namely the four Cetera B-Ds. Lightyear has experience building up then selling these entities — a plus for them. I think the key in these network deals is to centralize as much as you can from an operating/management perspective without alienating the unique cultures of each BD in the network."
Brown says she kept things simple during her sabbatical.
"I've just been enjoying life but I missed the industry."
---
Related Moves
December 20, 2021 – 11:59 PM
---
---
Mentioned in this article:
Aite Group
Consulting Firm
Top Executive: Frank Rizza
FA Match
Consulting Firm, Specialized Breakaway Service, Recruiter
Top Executive: Ryan Shanks
---
---
---
Stephen Winks
January 27, 2016 — 9:18 PM
In an industry evolving from product sales to advisory services, innovation is an imperative. The question is will AIG adapt and assume market leadership in advisory services in a meaningful way..
SCW