News, Vision & Voice for the Advisory Community
The objective isn't to cure the disease but to treat the myriad of symptoms being experienced until healing can occur
January 22, 2016 — 12:23 AM UTC by Brooke Southall
Brooke's Note: I am neither an advisor coach nor practice management expert. I am somebody who hangs around advisors and who experiences some anguish as markets get "volatile" — which is to say they zig and zag with a sickening downward bias. Those are my qualifications. I am also inspired. It happened when I read Brad McMillan's column and felt better. See: As the S&P 500 shoots below the moving averages, how much more should we worry?. Why? He treated me as a victim of the pain of not knowing, not the victim of a financial loss and did it well. I tried to pick up on some of that and pass it along to RIAs as they contemplate their task of reassuring clients.
It is amazing what emoting we all do about the cable guy, considering that most people move apartments or houses once or twice a decade at most.
It's not the pain. We like his service, even if he tramps in mud and makes the dog bark. We can live with his outrageous bill. We can even tolerate the way he wears his pants.
It's the pain of not knowing.
What we can not stand with any part of our being is to be told that the cable guy will show up at some unknowable time in an eight-hour time slot. We are not Europeans accustomed to queuing up. We are not dogs with skills honed from being dumped at the kennel with no notion of when if ever our owner will return.
It's a crushing sensation being consigned to such a black hole of uncertainty.
Unsafe at any speed
It's not unlike the pressure on our chest we experience as 18 months of investment gains go up in smoke a span of a week.
We aren't reassured by advisor explanations related to business cycles, interest rates, Europe, China or technology bubbles. See: Any bulls left? If not, that could be a good thing, opines LPL Financial's CIO.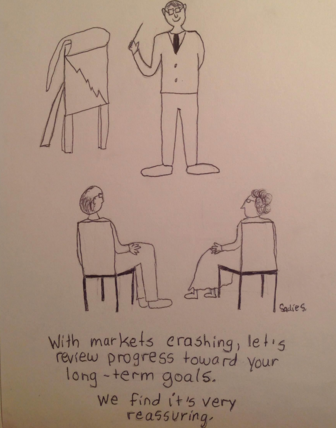 Refinement to the process of reassurance
can be achieved.
We especially aren't reassured by talking about our long-term goals even as we are careening at mach speed in the opposite direction. It's like checking the map after you missed an exit and drove 50 miles in the wrong direction.
What you want desperately as stock value evaporates, other than to squeeze the windpipe of your suddenly ultra-long worldview advisor, is to get a reasonable sense of when it's all going to be over.
The rules
RULE #1: You want the advisor to use professional common sense to convincingly narrow down how long the pain will last so that you can deal with it. See: A style for all markets: momentum investing.
It's the equivalent of having the cable company getting a eight-hour window down to one hour, which is, in effect, what your doctor does when he gives you an appointed time. In fact, if the cable guy is stuck on a complex job, you're fine if he calls to say you're safe to run some errands for a couple of hours.
RULE #2: Another thing that professionals do that can be surprisingly soothing is to paint a worse-case scenario. What will be the real out come if you lose 40% of your wealth. Whether you're lucky enough that most of the losses are on paper and your quality of living rolls on — or whether it means that your Harvard-bound daughter is now your Rutgers-bound daughter — the effect is the same. See: Five steps to get your clients out of bonds and into alternative, low-volatility investments.
You can experience a real imagined loss rather than the fear of unimaginable loss. The tangible damage that a loss of money can do in our lives is often substantially less threatening than the amorphously intangible fear of losing control of some portion of our destiny, our pride and our sense of security. See: How I'm doing after my advisor left Schwab Private Client to join a $2 billion RIA.
Speaking of control, there is one more way for advisors to use a sort of reverse psychology on us market victims. Forget our goals and road map for getting to wealth bliss and turn us into hedge fund managers who root for down markets.
RULE #3:: Set goals for greater market misery by making a wish list of stocks we surely want to buy at the right price that is still well below where we are.
In other words, find a way to make us root for the market to go down. Get in on a rare second bite at Apple, Starbucks or Netflix. See: As Schwab noncompete expires, Steve Cucchiaro jumps back into the ETF management game with old staff.
We all know that when that shift to deliberate negativity begins in earnest, the market will surge unstintingly up.
---
Mentioned in this article:
RIABiz.com
RIA Publication, Blog/Social Networking Tool
Top Executive: Brooke Southall
---
---
Share your thoughts and opinions with the author or other readers.
---