David Selig: We worked to figure out what to do when both firms competed for the same clients. Finally, we just decided to compete.
Brooke's Note: Sometimes you stumble on a story. Last week, I called David Selig to get his thoughts on the Johnson Wax people buying the RIA of Cleary Gull, the mini-investment bank. See: An $8.4 billion wealth manager emerges in Milwaukee after old RBC spinoff, Cleary Gull, finds local love. He responded by asking whether I'd like both he and Steve Levitt to stop by RIABiz in person to offer comments. Of course I know Levitt is based in New York and I was curious to find out what he was doing in Selig's home base, Mill Valley, Calif., hanging out with rival, Selig. It turns out one of Selig's local clients had morphed from a small succession gig into a potentially much larger investment banking client. Selig brought in Levitt to show that client a depth of expertise. Selig is a former management consultant and Levitt's background includes private equity — something this big wealth manager may need. Levitt did not disappoint in bringing his urbanity to Mill Valley, complete with dark pinstripe suit. Later, I spoke by phone with Levitt, back in New York City, for Friday's article about Focus Financial Partners, LLC. See: Focus Financial bags $3.1 billion, 50-person RIA and why it 'really is impressive'. He said he already missed Mill Valley where, like me and Selig before him, he'd become addicted to Equator coffee. That alone makes Mill Valley the place to live, solo or merged.
Park Sutton Advisors LLC and Advice Dynamics Partners LLC are now allies.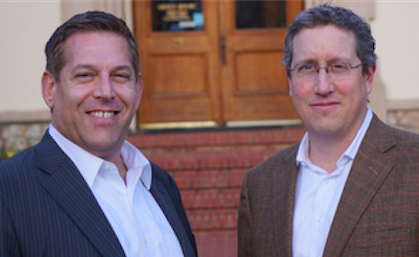 The RIA M&A firms, based in New York and Mill Valley, Calif., respectively, are practicing what they merger preach, combining efforts on a partial basis.
Park Sutton's Levitt and Advice Dynamic's Selig will extend each other's reach, prop up each other's brands — and compete with each other when necessary.
"The deal was delayed while we worked to figure out what to do when both firms competed for the same clients," Selig says. "Finally, we just decided to compete." See: Enter the deal makers: RIA M&A firms are hiring furiously — even without a deal boom.
3,000 degrees of separation
Still, the principals believe that their geographical distance ensures that those instances will be few and are outweighed by the advantage of the alliance.
Both firms were founded in 2008 and specialize in working with registered investment advisors that have between $500 million and $10 billion of AUM, of which there are approximately 4,000 in the United States. See: How many RIAs are there? No, seriously, how many?.
Levitt and Selig say their firms' cultures jibe — including a commitment to deliver clients the straight dope. RIAs, like other emerging enterprises, tend to wear rose-colored glasses when it comes to placing a value on their firms. See: Selling your value proposition.
"There is a great deal of noise in our industry with regard to valuations, deal structure and succession planning," says Levitt, who is co-principal with Jaime Carvallo.
"In addition to offering a unified cross-country front to help our clients, we will combine our voices and seek to educate firms with truthful analysis." See: How a Kansas wealth manager ate New York — or at least one of its big advisory firms — owned by an Arthur Andersen orphan.
Dress rehearsals
Selig adds he and Levitt worked together on some deals in the past.
"After having the opportunity to work together on certain deals, it became abundantly clear that ADP and PSA share a common view of how clients must be served."
At the rate the RIA business is growing and evolving, it made sense to the two men to err on the side of more capabilities under a shared tent.
"The financial industry is evolving at a remarkable pace," says Levitt, "and we look forward to helping our clients maximize their strategic initiatives as we head into 2016 and beyond — working alongside David and his team ensures that we are more strongly positioned than ever to do so." See: M&A market reaching a new normal based on RIA-driven deals, say competing reports from Pershing, Schwab.
---
Mentioned in this article:
---
---
---