The Boston Convention Center almost upstages its city -- big, bright, modern.
Brooke's Note: Conferences used to be weird gatherings where hyper-authentic RIA types subjected themselves to more plasticized men and women in suits handing out corporate brochures, business cards and pens with their logos. There's still some of that across-the-exhibit-hall-aisle dichotomy and it's not all bad. But these days it can no longer be assumed that the vendors will be corporate at all. Niche wannabes abound, and not just robo-advisors and RIA publications. It's no longer clear who is more likely to wear formal attire or bring the calcified views. In his very considerable rounds at the FPA's Boston event, Graham Thomas connected with vendors and advisors large and small — sometimes even hugging them and being happy about it.
If you measure it by hugs, the FPA's annual conference must rank among the top industry events — there was a real sense of community and genuine displays of camaraderie among the 2,000-some CFPs who converged in Boston this week for the for the gathering.
Such connections are not only desirable but necessary, according to Matt Lynch, managing partner at Strategy & Resources LLC of Dayton, Ohio.
"It can be a lonely profession and the FPA provides a sense of community, both at a national and local level," he said. See: How the FPA sexed up its 2013 Business Solutions Conference.
Lynch went on to cite local FPA chapters in Cincinnati, Northern California and East Bay as invaluable resources for advisors to connect with fellow advisors battling such major trends as changing consumer preferences, regulatory issues and fee compression. See: Tiburon Strategic Advisors signs on Matt Lynch, an ex-Moss Adams consultant as it strives to meet rising demand.
In this corner…
With digital advice the presumed major industry disruptor, several session at this year's FPA gathering at the Boston Convention Center was dedicated to the robo-advisor threat (many of which mentioned a general dislike for the term).
e
The most anticipated was the showdown between Michael "The Blogger" Kitces of Pinnacle Advisory Group versus Alexey "Baby Face" Sokolin from Vanare-Nest Egg, refereed by Rich Ellinger of Wealthminder Inc.
But despite the standing room only crowd, the disagreements were relatively muted. Kitces came out of his corner fast noting the advisors in the room had raised more this year than all the robos combined, counseling advisors not to attempt to "out-robo the robos," and tagging Vanguard a real robo threat. See: Vanguard's white-hot 'hybrid robo' just added $4 billion in three months — a heat that may cast a chill on 'pure' robos.
Sokolin counterpunched. His view is that high valuations placed on robos worth are justified by growth possibilities of a $9 trillion middle class and that advisors have been poor at best in capturing next-gen assets.
The bout ended with Sokolin gently explaining to one anti-algorithmic advisor that Vanare's platform could be completely customized to the portfolio of the FA. See: An insider, Sokolin, reveals turbo-contents of the In|Vest conference in New York, a summit of VCs, robo-founders and big banks.
Through the GuideVine
While the exhibit hall was still populated by stalwarts of active management — American Funds, T. Rowe Price, Jensen Investment Management and Westcore Funds — the conference had a larger tech representation, at least in number if not booth size. Some examples include RIA in a Box (Compliance Technology), GuideVine Technologies Inc. and FMeX (Financial Media Exchange LLC).
Raghav Sharma, co-founder and CEO of GuideVine may finally have cracked the code on introducing investors to advisors. Citing the painful process of watching intelligent relatives struggling to find a healthy financial planning relationship, the former McKinsey & Co. principal turned to video as the medium of opportunity.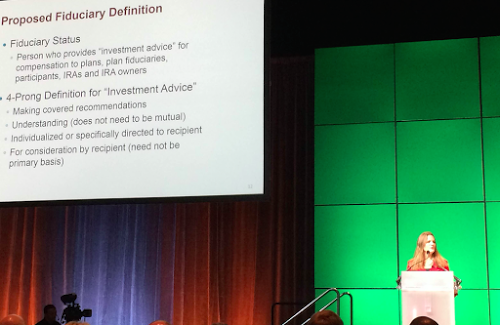 Marcia Wagner, principal of The Wagner
Law Group, did her game best
to put a comic spin on
the DOL's looming fiduciary rule.
The information is then sent back to the advisor so they can flush it out in their own voice along with coaching for the video shoot.
Aaron McGlaughlin, an RIA from Southern California (who heard about GuideVine on a Reddit subgroup of all places!) volunteered he had just had his first interview with a potential client that week. With 20,000 videos viewed on their site, and a purported $35 billion of advised assets, GuideVine might be a welcomed additional lead source for advisors. (Note: There is a pre-screening process). See: How an ex-Goldman superstar asset gatherer in LA is bringing her bazooka to the RIA knife fight.
Build before you buy
FMeX is the first CAAS (content as a service) player in the financial space, though Vestorly might disagree) and showed up at the conference at the ripe old age of three days. Managing partner Ric McConkey says his firm provides RIAs with the ability to engage with clients on relevant and personalized content. Not only do they write, curate and source content, it integrates with Salesforce Inc. (and with "dozens" more on the way, he says) and have a novel cloud-to-social-to-mobile strategy. In a comment indicative of a newer mentality in the Exhibit Hall, McConkey states "You have to collaborate with your competitors".
From a more traditional partnership model, the teams from FP Transitions LLC and Live Oak Bank not only shared a stage for a talk on valuations, but also a booth. Where FP Transitions focuses on the valuation, Live Oak takes care of the financing. See: What bet Rudy Adolf is making on RIAs by pre-borrowing $550 million from Bank of America and a wider syndicate.
In their Saturday session, FP Transitions' David Grau Sr. gave a tough-love talk, backed up by detailed statistics, on the reality that most firms face "death by attrition." He implored advisors to "build a business before you buy a business." See: An advertiser's-eye view of what the new-look FPA looked like in Seattle.
Ted Parker, head of advisor lending at Live Oak, noted that speed in obtaining financing is often a major component in winning a deal and since his firm's roots are in online banking, Live Oak can sometimes complete a loan as quickly 40 days with a paperless loan process and working off their own balance sheet make providing SBA loans to advisors as seamless as possible. See: Fidelity's M&A program reload looks 'game-changing' after it partners with LIve Oak to get Uncle Sam to guarantee RIA deals.
Ain't we got fun?
IRA rollovers will be subject to the fiduciary rule, and advisors need to pay particular attention to the potential abuses of cross-selling, especially if the advisor's fees on rollover assets are higher than fees on plan assets. In addition, Wagner cautioned advisors to watch for the so-called Buffet Rule — increased taxes on individuals making over $1 million per year. See: IRA assets could be ripped from the grasp of brokers if DOL has its way.
When the session ended, one advisor was overheard saying, "Well, wasn't that fun!" See: Why exactly DOL's latest action is so shocking to so many brokers — and even ERISA lawyers — despite years of warnings.
Oranj you glad
Back in the exhibit hall, Malcolm Thomas of Signator Investors Inc (beneficiary of "Park Place" real estate at the bottom of the escalators) said their traffic had been a 50-50 mix of RIAs and IBDs – but no wirehouse advisors at all. Interesting to note Signator had no mention of John Hancock on their booth and its focus was firmly on encouraging their 1600 advisors to hew to a more fee-based practice. See: How DFA is putting its John Hancock on the ETFs category.
Best conference swag easily went to Charles Schwab, which gave away water bottles infused with fresh fruit. The demand was so constant that the 800 bottles were gone by Sunday. Honorable mentions go to Matthews Asia for their sleek hats, and Oranj, who also gave away hats and T-shirts, but got kudos for the tag line "Oranj; you pronounce it 'more business.'"
"Great conference, we got a lot of RIA and IBD prospects to follow up with," said Greg Sauer, vice president of business development for Oranj.
Bill McCartan of FAM Funds noted the international flair, saying FAM's booth had nearly a dozen advisors from Australia and Japan stop by.
There were many other quality sessions that bear mention. Vanguard's session on IRAs and the "Planning for the Military Community" had great attendance, and many other exhibitors like Succession Link, FI360 and Relationship Science had interesting offerings.
Interesting in a bad way were the securities markets, shrinking advisor AUM with each passing hour.
But attendees remained outwardly oblivious.
"I haven't had one conversation about the market", noted Matt Lynch, adding "FPA is how this is less about AUM than a Barron's conference. Here it is more about how many letters you have after your name." See: How an iPhone app cut through stilted questioning at Barron's RIA custody panel in Scottsdale.
CFPs are alive, well, and happy to be reunited with their kind.
---
Related Moves
January 12, 2022 – 3:13 AM
---
---
August 2, 2019 – 12:48 AM
---
---
Mentioned in this article:
---
---
---