Co-founder Charlie Kroll started a successful online venture in his Brown University dorm room and appears be the day-to-day operator of this robo.
Brooke's Note: Until now, Sallie Krawcheck has been the Joe Biden of robo-investing: in the startup race but officially out of it. See: At Morningstar, Sallie Krawcheck blasts her own (presumably ex-) financial advisor — and herself. Now come the hard questions for the Wall Street alumna like: How do you plan to reinvent women's investing where all other efforts have failed? How do you come six years late to the robo sweepstakes and succeed when first-movers are struggling themselves? For now, Krawcheck has punted by tossing out a quippy quote in a press release: "It's time to turn our attention to another gender gap: the investing gap." Our distaste for this kind of fluff doesn't mean we have punted on the idea that Ellevest might succeed. There are lots of smart people here. But I can't help but notice how Ellevest's destiny is tied to the money and acumen of men — not that there's anything wrong with that, per se.
Sallie Krawcheck's robo-venture launch aimed at women has a secret weapon — a dream team of men.
The former chief of the stockbrokerage businesses of Merrill Lynch and Smith Barney reported that she will attempt to launch Ellevest next year. A beta version of the site is already up, though it's not clear whether the site is prepared to accept assets. A search of the SEC's website didn't reveal an ADV for "Ellevest."
Ellevest will be based in New York City and focus on hunting and gathering the assets of women. But Krawcheck's partner — Charlie Kroll, co-founder president and chief operating officer of Ellevest — and the investors she lists first on the press release are all men. Kroll founded account software firm Andera, which was sold to Bottomline Technologies Inc. for $44.5 million last year. There was $17 million invested in to it. See: The top 10 financial mistakes women make.
It is not clear whether Ellevest is private-labeling an existing robo-software or building it from scratch. A request for interviews with the principals was declined.
Les hommes
Also investing in the venture are: Mohamed El-Erian, chief economic adviser at Allianz and the former CEO of Newport Beach, Calif.-based PIMCO; Ajay Banga, president and CEO of Mastercard; Robert Druskin, executive chairman of the DTCC and a former chief operating officer of Citigroup; and Brian Finn, former chairman and CEO of Asset Management Finance Corp. and former president of Credit Suisse First Boston. See: After LinkedIn's stock retreats, LinkedIn CEO hosts NYC event with Merrill's Thiel, Allianz's El-Erian, BNY's Hassell and a robo-panel.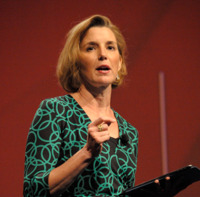 Sallie Krawcheck: I never lost sleep
when I ran Merrill Lynch. I
didn't. I slept like a baby.
I lose sleep over being an
entrepreneur.
"Ellevest has an innovative and exciting vision to help women invest," says the CEO of Morningstar Inc. in an email. "Sallie and Charlie have put together an outstanding team with the drive to successfully execute this vision, addressing the unique financial needs of women." See: Why women just aren't buying what financial advisors are selling.
An executive from another robo startup who asked not to be identified made this comment about Krawcheck's entrance into the women's investing field: "Even Learnvest scaled way back on their focus on women …. Best of luck to them and I genuinely mean that. Would be a great success story." See: The real reasons Northwestern Mutual paid a reported $250 million for LearnVest.
Will Trout, robo-analyst for Celent LLC, says that the Learnvest observation is keen.
"It's certainly something the 10 question onboarding process offered by Wealthfront et al doesn't lead to," he writes in an email. "LearnVest essentially operated as "online financial coach", not an investments platform per se, a positioning one would think would lend itself to greater personalization and the ability to deliver female-friendly advice. The fact that they moved away from this approach speaks volumes."
Networking = cheating?
Scroll down a bit farther in the Ellevest statement and you'll find two women supporters: Andrea Jung, CEO of Grameen America and former CEO of Avon Products Inc. and Karen Finerman, co-founder of Metropolitan Capital Advisors Inc. and a panelist on CNBC's Fast Money. (After original publication of this article, a PR spokeswoman sent an email pointing out these women were only low on the list because it was alphabetized. Fair enough.)
"It helps to be someone who is ready to go 'all-in.' That can mean drawing on what you've built, such as your network. I've met any number of people who've told me that they view calling on their networks for funding and introductions to potential customers as 'cheating.' (Yes, I've really heard this… quite a bit, actually.) Well, strong networks have been shown to be one of the key differentiators of success for entrepreneurs."
The Ellevest launch comes soon after the launch of Newton, Pa.-based SheCapital, founded by Tina Powell who serves as director of business management for Hackensack, N.J.-based RIA, Beacon Wealth Management LLC. It also follows, by a few years, the launch of Learnvest by Alexa Von Tobel, a robo-advisor effort aimed at women that was sold for $250 million to Northwestern Mutual. See: The real reasons Northwestern Mutual paid a reported $250 million for LearnVest.
Digging deep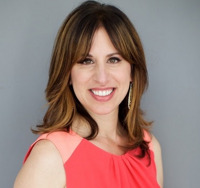 Tina Powell: I didn't grow up
for 30 years with the wealth
management spoon in my mouth.
Powell says she comes to the market with a different perspective than that of a Wall Street CEO.
"I didn't grow up for 30 years with the wealth management spoon in my mouth," she says. "In my blog I think I'm approachable and encouraging of dialogue."
Powell was raised by a single mom from the age of five and experienced divorce herself. "I had to dig deep during that time," she recalls. See: Why relying too heavily on a divorce attorney can be a bad financial planning move by clients.
Awake at night
Krawcheck declined comment for this article, but she has articulated the challenges she faces with Ellevest in recent weeks on her blog.
"I never lost sleep when I ran Merrill Lynch. I didn't. I slept like a baby. I lose sleep over being an entrepreneur." See: Why 4 a.m. is the best time to work.
Krawcheck loses sleep over what all entrepreneurs — male and female — fear: humiliation.
"What getting to success can mean is going all-in emotionally and risking failure and rejection," she writes. "Because you will fail; it's just a matter of what you fail at and how quickly you recover. And you will be rejected; it's just a matter of getting past the rejections." See: Forget their reputation; rich women are more fearless investors than supposed.
Krawcheck will face harsher scrutiny than most entrepreneurs due to her high profile and self-positioning as a world expert on wealth management. See: What to make of Sallie Krawcheck's emergence as a Twitter-sphere celebrity.
"Are you after the idealized portrait of a startup?" she wrote in a column. "Or do you really want to build something and create something from nothing? Are you so passionate about the idea that you're ready to go all-in? This takes being deeply honest with yourself about what motivates you and how you best operate."
---
Related Moves
February 28, 2020 – 11:09 PM
---
---
---
Mentioned in this article:
---
---
---
Maria Marsala
October 6, 2015 — 12:21 PM
MMMMM — a supporter —- Andrea Jung, former CEO of Avon Products Inc. Guess Sally didn't do a Google search.
Zoe
September 30, 2015 — 5:52 PM
Thank you Brooke for stating exactly what I was thinking when I saw the press release on MorningStars commitment two days ago. Sallie Krawcheck is beginning to walk like a man, talk like a man, act like a man …. and with all these publicly run companies run by men how can she possibly be trusted to communicate to women? Shouldn't a woman advocating women be working with women, partnering with women rather than just trying to capitalize on women?
And you are right: Look at all the men on her team. And it really looks like some of these previously tried and failed attempts at getting women to fork over their savings is likely because they continue to fail to have the most basic understanding of what women want and are interested in. Is this sociological? I am really not sure. But what I do know is that there isn't anything on any of these sites that draws women to all the sites they like to visit regularly. Perhaps that is a clue? Tina's SheCapital site offers very little information to the investor or potential investor….I like the name though. It's a skeleton with nothing to assuage the familiar fears about investing.
Someone should go back and read the book or see the movie "What Women Want"
Folks, the internet is for giving people access to what they want. A basic algorithm can tell you what women are interested in and how long they spend on a site…. I suggest Sally take her own advice and "Go All In" when it comes to understanding helping and calming women.