Deborah Fuhr talked SPIVA, short-hand for ETF indexing kicking active management tail end.
Brooke's Note: The cat has been out of the bag with exchange traded funds for more than a decade, and in existence for 14 years. We know ETFs are a more than worthy successor to mutual funds. But the picture of product leadership was clouded, and still is to a degree, by ETFs inability to make a dent on an absolute basis. Mutual funds still generate something like $80 billion revenue compared to just $6 billion for ETFs in US markets. With the ETF category hitting $2 trillion in assets, there is a sense that the category is beginning to have absolute relevance. ETF inflows surpassed mutual fund inflows even at wirehouses last year, never mind RIAs. What's happening? Two things it seems. One is that the snowballing effect, bolstered by continued acceptance of passive investing, is fulfilling an inevitable rise. Less obvious is that ETFs, with the explosion of smartbeta products, are starting to skim cream off of the mutual fund investor base. Here is a cheap way to get alpha, but with a certain amount of risk management built in through diversification and some adherence to indexes. Smartbeta ETFs are only at about $400 billion but that is double what it was a year ago. It is in this atmosphere of hockey-stick-shaped inflection that this ETF event chronicled by Graham Thomas took place. It was blessed by right-time, right-place rarefied air that the Pope only added to when he almost literally showed up.
While the rest of New York City ground to a near-standstill on Friday to catch a glimpse of the "Peoples Pope," ETF insiders gathered to celebrate a similar, if secular, sense of community and the growth potential that still exists in their explosive product category.
Organizers Tom Lydon and his ETF Trends team couldn't have predicted the police presence surrounding Lower Manhattan and the Conrad Hotel on when they planned this event. Focusing was a challenge, never mind transit. But the second "ETF Boot Camp" brought together a diverse group of expert panelists to revel in the present, and fixate on is hoped to be an equally bright future. See: Fleet-footed RIAs storm into the active ETF market as fund giants tie pretzel dough.
The ETF industry took 17 years to reach $1 trillion in invested assets — much of it due to RIAs' entrepreneurial spirit — and only four more to reach $2 trillion.
In the opening session Dodd Kittsley of Deutsche Bank and Deborah Fuhr, principal of ETFGI a research and consultancy firm, discussed the "democratization of investing" that ETFs provide the kindling for, pointing to Deutsche Bank's currency-hedged products as examples of hedge fund like strategies.
And while tax efficiency and access to new asset classes drive ETF growth, Fuhr showed a powerful S&P indices performance versus active funds (SPIVA) study on the performance of active managers versus benchmarks around the globe. Even without their gee-whiz attributes, ETFs, on the strength of indexing, more than hold their own in performance. See: Why most RIAs bent on launching in-house ETFs should swallow hard and start a mutual fund.
Live person to yell at
Next up were a panel of lawyers introduced by Tom Lydon (with the caveat he was heading out to the hall to grab coffee in preparation), who voiced uniform skepticism on the likelihood of the SEC taking action on how and when active ETF's can be introduced with regulatory blessings any time soon, especially with the recent liquidity issues of active funds creating negative mainstream headlines. See: The basic ETF trading practices that can save your clients money.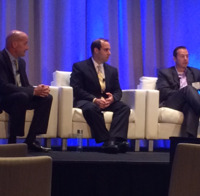 Tom Lydon talks to panelists.
This set the stage for the liquidity panel later in a day, a fascinating first-hand account from market- makers and traders about their perspective on the events of Aug. 24. Lest you forget, China was down 8% that day when U.S. markets opened. Despite volatility, the markets acted properly in the face of massive "algo" (algorithmically-ordered) stop-loss orders, and came away with the positive view that markets could handle other events like this in future. See: The wild ride that Goldman Sachs took to launch its first ETF — one that even an RIA could love?.
The only minor disagreements in the day took place on the "Choosing an Index Provider" panel where Steffon Schuebel of Solactive took the contrarian view of his competitors on the growth potential of smart beta (suspicions abound that he was intentionally stirring the pot), while the exchanges traded paint about their various capabilities and specialties.
Parsnips and port
Day 1 wrapped up with dinner at Colicchio and Sons, where stations of duck, parsnips, charcuterie and decadent raw seafood were plundered, supplemented by passed apps and a very fine 1977 Port. Yes, ETF people now dine the way mutual fund people always have.
The next morning started with heads of sales from State Street, PowerShares and BlackRock iShares, citing RIA's as being the necessary "early adopters" of new ETF's while ignoring data that shows that this trend is on the upswing. See: ETF makers mostly have $500-million-plus-AUM RIAs to thank for growth, 2015 study shows.
Following this was a marketing panel that touched on the topics of speaking on TV (Don't share your face time – aka the "Carmelo Rule" a very Gotham reference to Carmelo Anthony being a ball hog), along with a good overview on smart marketing strategies (measurement is your friend), video being a good medium to convey more complex ideas, and data being the guide See: RIAs surpass wirehouses in ETF asset distribution and it'll mean change.
Dumbfounding Smart Beta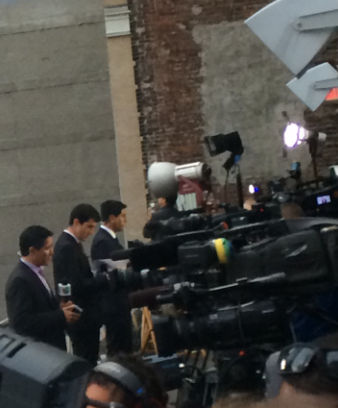 W Hotel balcony with the press
laying in wait for the Pope
and making an ETF event test
its focus.
Reoccurring themes on both days was the inevitable rise of "smart beta" fixed Income products. In a world where ETFs are hot, smart beta is scorching. In the last two years this active-passive hybrid ETF mutant category has blossomed to about $420 billion — up from about $200 billion in 2013. There are 400 ETFs that fit that category with many more being introduced every month. Goldman Sachs introduced its first. See: The wild ride that Goldman Sachs took to launch its first ETF — one that even an RIA could love?.
The original smart beta firm, DFA, is now collaborating with John Hancock to put its light fingerprints on this explosive smart beta category. See: How DFA is putting its John Hancock on the ETFs category.
TD weighs ETF pay-for-play
If news came out of the Lydon event, it was a result of TD Ameritrade's Matt Judge speaking openly about his firm's commission-free ETF platform. Trevor Hunnicutt of InvestmentNews wrote an article for his publication about this. Currently, TD has only 101 commission-free ETFs to choose from and Judge allowed some RIAs are seeking greater choice.
TD is at least open to dumping Morningstar, creating a much longer list of ETFs and even, for sustainability reasons, going the route of many competitors and making the list all or partially pay-for-play. Joe Giannone, spokesman at TD Ameritrade, cautioned not to read much into these Judge comments, saying that such matters were always under review but that nothing remotely resembling a plan to change was in place.
Pope out
As the ETF Boot Camp ended, attendees planned and executed their escapes from New York, circumventing the papal gridlock by any means necessary. And despite the surreal papal presence, the conferences stated objective to give attendees a crash course on exchanged traded funds was certainly achieved.
My only complaint was having to leave early recognizing the extra time it would take me to make a train amid all the hubbub created by a beloved Pope. But I wasn't headed for the Hamptons but rather for Boston and the FPA's national conference that starts today. Look for my report from there. Meanwhile, look for me.
Disclosure: Graham Thomas sells advertising for RIABiz and has also done marketing-related work for ETF Trends.
---
---