Scott Hanson: Frankly, I didn't leave the conference deal-hungry, but it did give me some food for thought as we plan the future of our business.
Brooke's Note: Scott Hanson has already succeeded beyond most people's dreams in this business. But he doesn't ever feel like he knows enough or can market too much. The Saturday before last I was driving to dog-walking trails when I heard a great conversation on the radio about financial planning topics. It was Scott! His Sacramento, Calif.-based radio show just got picked up by San Francisco station. Meanwhile, he was headed to LA to cover this event, after which he gathered his thoughts and shared them with us. Scott is already a best-selling RIABiz writer for another adventure in learning. See: What they do teach at Harvard Business School that's worth learning even after banking monetary success. What you are bound to like is that he brings his discussions into a broader RIA context, which is the name of the game.
As financial advisors, many of us do quite well. We earn similar pay to that of senior executives in large, publicly traded companies. Some financial advisors consider themselves big shots.
But as an industry, our firms are tiny enterprises. We are small fry. At least that's one of my takeaways from last week's Deals and Deal Maker's Summit in Newport Beach, Calif.
This was the first year that I attended the annual ECHELON Partners' annual gathering in Southern California. I had read about the summit in some past articles and thought it had sounded like an interesting function to attend. See: Dan Seivert drops M&A data bombshell at his Dealmakers Summit to gasps.
There must have been some marketing around the Deals and Deal Maker's Summit, such as email blasts and maybe even an ad or two in the financial pubs, but I never took notice. It was a personal invitation I received on LinkedIn from Dan Seivert that caught my attention. It reminded me of how the digital world is changing the way we interact with each other. See: Casting a marketer's eye on Pershing INSITE, April Rudin pleads with promoters to tone down the digital doublespeak.
I haven't done any transactions with my RIA (Hanson McClain in Folsom, Calif.) We haven't acquired any other firms and we haven't merged with anyone and frankly, I'm not sure I want to.
My business partner and I built a reverse mortgage company in the 2000s and sold it to Genworth Financial, so I knew from personal experience what a sale of a company entailed. But clicking through my LinkedIn message I saw an agenda full of a lot of great speakers and figured it would be worth two days away from the office.
PE-powered deals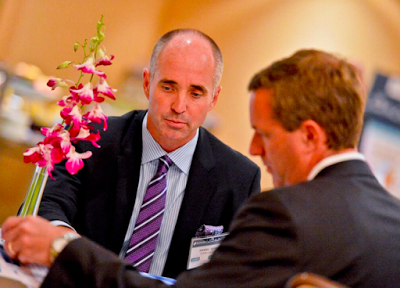 Dan Seivert and Jeff Dekko
The conference certainly lived up to its reputation and to its advertising.
Seivert, CEO of Echelon Partners and host of the conference, kicked things off with a presentation full of statistics and stories of M&A activity in our space. It was during this first session that I realized just how small our firms are. There are several hundred firms with more than $1 billion, few with more than $25 billion and I couldn't think of any greater than $100 billion, other than Financial Engines. And even that is pretty small in comparison to the $23 trillion in professionally managed assets. The fact is, no one has any real market share. See: RIAs and online brokers are winning the market-share game.
There aren't a lot of mergers and acquisitions taking place in our industry. There have been an average of 46 reported deals done per year for the past several years, but Dan figures the actual number is somewhere between three and 10 times that amount. Whatever the number, it's still relatively small in comparison to the number of RIAs out there.
The banks were the big buyers in the early 2000s, but these days most of the deals have been from other RIAs, financed either by private equity or through bank financing. But much of the PE money has been flowing into the robo space, with some 60 firms investing $350 million in this space. See: The 19 ways private equity has juiced up the RIA business and how it's working out.
There were some encouraging stats, such as the United States is producing 500,000 new millionaires each year, bringing the number of U.S. households with one million or more in assets, excluding their homes, to over 10 million. This certainly creates a great opportunity for financial advisors. Yet the number of advisors is declining each year and there are relatively few new advisors entering this space.
This might sound like a great supply-and-demand scenario for the individual advisor, but it creates a real problem for RIA firms that are trying to find good talent. See: Scrutinizing — and celebrating — Schwab's plan to build 150 branches, at $1 million per throw, and people them with thousands of home-grown advisor talents.
Bankable RIAs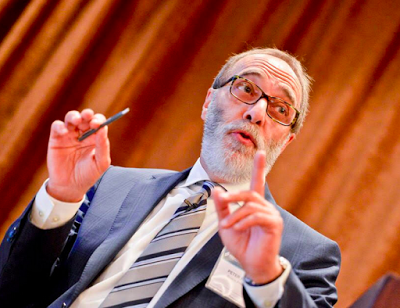 Peter Raimondi [pictured], Mark Tibergien and
Jeff Dekko engaged in a lively
debate about the elements of a
deal.
In addition to Dan's stats on the latest in our field, there were a number of experts who shared their wisdom and experience.
Mark Tibergien, CEO of Pershing Advisor Solutions and one of the gurus of industry, joined a panel with Jeff Dekko of Wealth Enhancement Group and Peter Raimondi, CEO of Boston Private Wealth. Hearing the history of each of these firms was fascinating in and of itself, but the session really became lively when they debated various elements of a deal, such as how best to determine value, allocating the benefits from synergies, etc. Both Dekko and Raimondi led their firms through multiple purchases and sales. See: In a triple merger, fast-growing Florida RIA scoops up an LPL advisor and a fellow asset manager to double firm size.
The day-and-a-half long summit was chock-full of great speakers on a variety of topics. The presenters were from a variety of fields. Pat Burns of Advanced Regulatory Compliance, Inc. and Bill Willis of Willis Consulting shared about advisor recruitment, transitioning and lift-outs.
Jason Carroll of Live Oak Bank and Doug Rosenthal of Opus Bank provided lots of information on bank financing and what the banks look for in loaning money in the RIA space. See: Banks are hungry to buy RIAs again.
I was surprised to learn that in the vast majority of cases, advisors opt for a variable rate loan when they borrow from a bank. Regardless, bank financing seemed like a good fit for many RIAs, particularly in financing a transition from an older advisor to a newer associate. See: Fidelity's M&A program reload looks 'game-changing' after it partners with a middleman to get Uncle Sam to guarantee RIA deals.
Capital connections
There were some other great sessions covering tax and estate strategies on business sales as well as how to deal with the human capital when putting firms together.
As with any great conference, much of the benefit derives from the conversations and connections that take place during the breaks and cocktail receptions. I was able to connect with some old friends as well as make some valuable new connections with people I hadn't known before.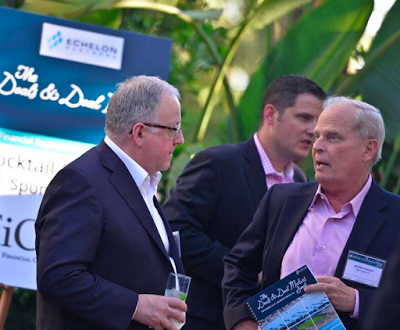 Mark Tibergien chats with Kevin O'Grady
at cocktail hour.
Whetted appetite
I believe our industry is at a pivotal moment. If you look at other professional services firms, such as accounting, legal and consulting, you see a lot of mom-and-pop shops, like most RIAs, but you also see some very large, national players. I would love to see our industry look the same. The large firms have great strategies for finding and building talent, client acquisition and fulfillment and continuity. See: RIAs are ready to make the 'golden hire' and more painlessly add another $1 billion of AUM.
It's time for our industry to grow up. The day will come when we'll see national, independent RIA firms with several hundred advisors. Firms growing merely organically may get there, but it will take a long time. Those firms that can figure out how to grow both organically, as well as through acquisitions, will be the ones that reach this scale first. See: How a swath of billion-dollar-plus RIAs are posing a threat to indie advisors.
As I left the conference and returned home, I began to reflect on the future of my own business. Will we rely on organic growth only, or will we look to acquire other firms? Would we consider a merger with another RIA? Frankly, I didn't leave the conference deal-hungry, but it did give me some food for thought as we plan the future of our business.
Scott Hanson is a senior partner and founding principal of Hanson McClain.
---
---
Mentioned in this article:
Allworth Financial
Mergers and Acquisition Firm, RIA Serving Other RIAs, Advisory Firm
Top Executive: Scott Hanson and Pat McClain
---
---
---