Rocky start: Coders -- presumably tamer than the miners who used to stay at this 19th century former hotel in Park City -- were evicted after complaints from the neighbors.
Brooke's Note: Eric Clarke may have sold a majority stake to buttoned down TA Associates in Boston but he did not change his business model in the process. While companies like Envestnet, Fidelity, Schwab, IAS, Black Diamond and Addepar are all working to create one-stop, one-vendor (or few-vendor) technology stops for RIAs, Clarke remains determined to serve advisors that want a best-of-breed agglomeration of software providers. The problem with that strategy is that you have coders with different bosses, different cultures and different area codes. How do you bring that all together? For Eric, the answer was to literally bring them all together — and he has. The trip was loaded with perks and hellish hours. Luckily, all we need do is read about it, and marvel.
It seemed like a simple idea. Gather 25 technology companies and 70 self-described tech-nerds (myself among them) in the ski town of Park City (yes, that's the home of the Sundance Film Festival), call it Fuse, and bond personally and in real coding terms with a series of disparate companies and applications all aimed at independent financial advisors.
We rented two houses for the coders. The rest of us stayed in a nearby hotel.
Things got interesting right off the bat. It turns out that when you get this many people together wearing T-shirts, ball caps and jeans and descend upon a suburban home, followed closely behind by a catering truck, neighbors notice.
OK, maybe the optics weren't great — particularly if it's your house. The owner either had cameras well-hidden onsite or he was getting a play-by-play from the neighbors. Either way, to him it appeared as if he had just rented his home out to a horde of booze-hungry college kids preparing for an all-night rager.
He called, and despite Jud Mackrill's pleas to the owner which probably went something like: "Sir, I assure you, it's just a bunch of RIA industry coders and companies kicking off a three-day integration event," we were asked to vacate the premises.
If this was us communicating and collaborating effectively, we were off to a questionable start. See: How RIA industry execs took on the ultimate teamwork challenge: Conquering the highest summit in the lower 48.
Garage-a-thon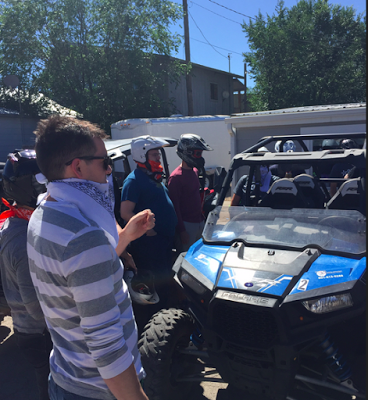 Outdoor inspiration: At an ATV rental
shop outside of the Uinta mountain
range before we set off on
the trails.
As you've probably gathered, Fuse, now in its second year, exists to harness the power of architects of the technology that powers the independent advisory industry by sticking them in a few garages and college-dorm-style living environs.
And by architects, I mean real coders — the sort that often get left in their cubicles while the more naturally social and communicative employees board jets to sterile conference centers.
At Fuse, we strive to steal a march or two by keeping going for three straight days fueled by Red Bull and thousands of amps of electricity with some ATV riding, mountain biking and trail running thrown in for good measure.
Who knows what might by revealed?
Union Pacific run
For me, one of the more poignant moments of the trip took place on a run on Friday morning. Just as the sun rose, a small group gathered together outside the Junxure house to head out on the trail. I was excited to spend some time catching up with some of the sharpest financial technology minds in our industry, picking their brains for industry insights, development roadmaps and plans liberated from that famous box and brought to Park City.
As I ran the Union Pacific Rail Trail with Tony Leal (MoneyGuidePro), Mike Wilson (AdvisoryWorld), Bo Brustkern (NSR Invest), along with Joe Leyboldt and Jeff Kliewer who head up Orion Advisor Services LLC tech support, it was clear that something special was about to happen. See: What I learned about our industry's toughness, endurance and character across four peaks, 28 miles and 7,500 vertical feet in Aspen.
As we finished our run and gathered back at the Junxure house for breakfast, things were already abuzz with developers sitting shoulder to shoulder working on integrations. See: "Joining the industry-wide trend, TD Ameritrade announces its upcoming project for open architecture technology integration.
I recall a distinct feeling of euphoria. Was it runner's high or perhaps the anticipation of what these techno-minds would produce next for the RIA community?
The weekend was filled with interactions like this. Coding late into the night followed by daytime networking and communing with nature. We had rolled into a beautiful environment, carrying more tech gear than most would know what to do with.
Networking, coder style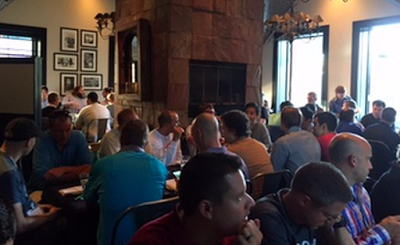 Coders brave fresh air and social
interaction to create lasting working relationships
and tighter technology integrations.
After that brief stumble out of the blocks, and calming the neighbors, our techies settled in to work.
When my team at Orion developed Fuse last year, we wanted to create an event where our integration partners could come together in a hack-a-thon environment to more easily create lasting working relationships and tighter technology integrations.
Getting all of these developers together in one place to collaborate requires a different sort of conference if one can even call it that. No panels, PowerPoint, breakout sessions, lectures and lanyards here. This is a gritty approach but an effective one.
In the right environment, networking can take a germ of an idea to a full-fledged solution in no time. IT coders and developers are a unique breed — they need the right set of conditions to thrive. Strategic sleep deprivation would pay off for us. See: Why 4 a.m. is the best time to work.
IM-pressive
A notable breakthrough centered on the ever-popular, but seriously pricey, Bloomberg Terminal. It costs $25,000 a year to rent and competitors charge $2000 for much, if not all, of the same technology.
But what keeps many users of the terminal hooked is something incomprehensibly simple: the chat feature. Traders and analysts have been asking Bloomberg to break this function off for them as a standalone they can then integrate into their technology environments. See: Morningstar throws more money — and loses one of its own — at keeping its stake in a Bloomberg-lite venture intact.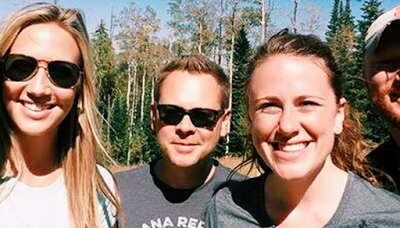 Megan Carpenter of FiComm, Christopher Norton
of Blu Giant and Rebecca Tschetter
of Mineral Interactive.
The Redtail Technology team was thinking along these lines when they approached Orion and Riskalyze about a collaboration earlier this year. What if there was a regulations-compliant way for advisors to text-message client reporting, showing their clients how they are doing minute by minute for those times when communication about such things becomes especially crucial. See: Three ways to use social media in turbulent markets.
At Fuse, our tech guys succeeded in creating what in effect was a polished rough draft — much more will be revealed about this new offering, very soon.
$1 billion in seed money
Another noteworthy aspect of Fuse was the intermingling of massive brands with industry startups in an intimate environment — a testament to the rapidly evolving community of advisor technology.
Mega-companies like IBM Watson and Citrix were on hand, eager to tap into the RIA market. See: What RIAs should make of Blackberry CEO's prediction that iPad-like tablets will be dead in five years.
Marc Perkins from IBM's Watson project and Steve Hubble, a senior engineer, presented IBM Watson Thursday night to all of the developer attendees and talked about how they spent over a billion in development money. They also encouraged the developers to discuss various ways that Watson could be incorporated into their platforms. Perkins used an example of having IBM Watson gather social data on client prospects to then help automate and develop a risk profile. See: The T3 conference has a rebellious air and the makings of success.
At Fuse this year, the scope of the "reveals" broadened. They included a deepened integration between eMoney Advisor and Riskalyze: an extension of Riskalyze's Autopilot for Orion, and enhanced mapping solutions for partners of Laser App Software. See: In a T3 teeming with deals, eMoney's Edmond Walters owned Dallas.
We also were intrigued by practical applications developed by emerging companies such as WealthAccess Inc., Blu Giant Advisor Studios, WealthSite, PrairieSmarts LLC and NSRInvest. Leading integration themes were improved communication, accessibility, reporting, and workflows.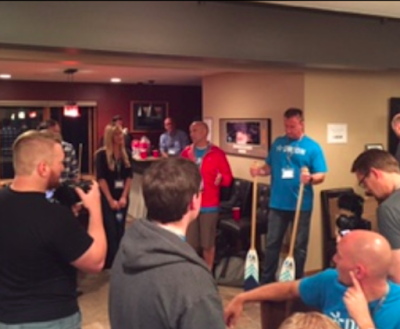 Oars, mine, ours: Opening night kickoff
with me and Brad Burgess showing
off the coveted award paddles.
De-Fused
After two days of intense collaborations and coding, the coders made seven-minute pitches to Michael Kitces (author of blog Nerd's Eye View), Bill Winterberg (FPPad.com), Joel Bruckenstein (T3), Ryan Beach (CLS Investments), Billy Oliverio (United Planning Financial Services), J.D. Bruce (Abacus Wealth Partners) and Steve Sanduski (Belay Advisors).
The stringent reactions from these notables illustrated that despite the college-dorm atmosphere, the stakes involved are very real.
Bruckenstein pulled no punches — he took issue with pre-Fuse project completion, asked for more thought in the presentations and at times seemed unimpressed — kind of like McKayla Maroney at the 2012 Summer Olympics after receiving a silver medal.
The judges even scrapped a few award categories altogether rather than give out undeserved awards.
Bruckenstein was from that point dubbed the Simon Cowell of the fintech judge's panel at Fuse. At this point, few are unfamiliar with the collective social media power and sharp intellect of this group of judges. To say there was some pressure to deliver an interesting pitch would have been an understatement.
Compliance as tech laggard
Taking home the award for "Best in Show" was RIA in a Box, which launched its first-ever third-party integration with the Orion Compliance Checker. See: Can advisors keep their dirty compliance laundry in the closet thanks to lack of NASAA, SEC and FINRA coordination?
Built entirely onsite at Fuse, this integration addresses compliance as a tech laggard, and delivers an automated solution for managing state-by-state registrations and other important ADV data points. See: What advisors should know about the next sweeping change: the switch from SEC oversight to state regulation.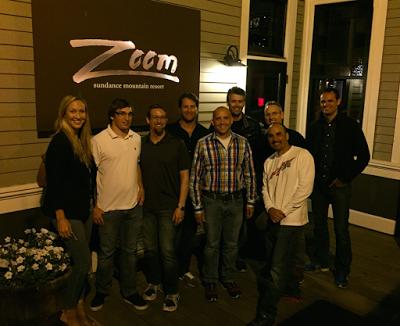 Outside Robert Redford's restaurant Zoom: Megan
Carpenter, Anthony Dagostino, Bill Winterberg, Mike
Wilson, Eric Clarke, J.D. Bruce, Peter
Giza, Billy Oliverio and Jud Mackrill.

Also taking home "Best in Show" was the new Capital Gains Distributions technology from Total Rebalance Expert (TRX).
Ultimately, the judges handed out 14 awards in a variety of categories, recognizing contributions for the best use of Orion's API, the best end-client experience and many more. Click here for a complete list of winners. See: Eric Clarke rolls the API dice by posting Orion software's code online.
Park City nostalgia
I have great memories of living in Park City some twenty years ago while attending graduate school at the University of Utah. Park City is where my wife Jill and I got engaged, married and started our lives together. At that time, it was a sleepy ski town of some 4,000 year-round residents and was often overlooked in the shadows of what other western state ski resorts had to offer.
As I was finishing grad school, Salt Lake City won the bid for the 2002 Winter Olympics. A majority of the Park City that I knew during grad school had become nearly unrecognizable after a development bonanza.
One modern exurbia downer we sustained last week was a wholesale parking ticketing of our cars parked in the neighborhood where we gathered. But after paying them we should probably frame them as souvenirs of a weekend we won't soon forget.
---
---
Mentioned in this article:
---
---
---
Pete Giza
September 21, 2015 — 10:45 AM
Speaking for WealthSite, Fuse was a great experience. The excitement and comradery made it a "must be there next year" event and we look forward to our potential of making the grade for next year's event wherever it may be.
The tech presentations were enlightening and eye-opening enabling the audience to identify new integration opportunities and even potentially new products borne of innovation and combination of those present.
While the judges took some exception to participating partners not coding at the event, further investigation revealed that those partners were launching completely new and/or complex APIs and capabilities with Orion. Some partners were coding and collaborating remotely with Orion engineers attending Fuse. Bivouac coding to API version 1.0 is tough when there are 36 hours to reach success so perhaps some leeway is in order.
Speaking for Pete Giza, despite contracting a respiratory infection on the flight out – Fuse represents the type of collaborative effort this sector of the FinTech industry needs so badly.
We had a great time and look forward to next year!
Pete
Bo Brustkern
September 18, 2015 — 9:49 PM
Congratulations to RIA-in-a-Box and TRX on your well deserved "Best in Show" awards. We were honored to be among you, and look forward to many years of collaboration to come. To Eric, Jud, and the whole Orion / Mineral team: you are a class act. Well done!