Ric Edelman: His departure has no impact on the firm's future or our strategic plans.
Brooke's Note: If there is one thing harder than forming an acceptable arms treaty with Iran, it's creating a succession plan for the charismatic leader of a super-RIA. That is especially true if you are Ric Edelman or Ken Fisher and your last name is on the door, and everywhere else. Edelman seemed to be on to something by doing a trail partnership with David Bach, a younger version of himself. And a news report on April 14 that Ken Fisher had one foot out the succession door. But Fisher now disputes there is or ever was any validity to that — in colorful language that makes a complete reading of this article worthwhile.
After trying to form a dynamic Batman and Robin-like partnership, two superheroes of the RIA world, each with mighty personal brands, have ended up where they started: flying solo.
David Bach, 48, author of 11 best-selling books and CEO of FinishRich Media, has parted ways with Ric Edelman, CEO of one of the country's largest RIAs. Last month, Bach quietly gave up his vice chairmanship at Edelman Financial Services LLC; Bach says he is spending the remainder of the summer with his family.
Edelman, 57, says Bach's departure is essentially a non-event for his company.
"His departure has no impact on the firm's future or our strategic plans," Edelman writes in an email.
Flash Bach
This curt assessment indicates a sharp turnabout. A year ago, Edelman touted his new partner's big-ticket brand as one that would bolster his Fairfax, Va.-based RIA. See: Ric Edelman takes on an advisor-evangelist clone in David Bach — but says mitigating key-man risk is a very secondary purpose of the hire.
Back then, Edelman expressed hopes that adding another headliner like Bach — one as camera- and stage-friendly as he, could help drum up thousands of new clients for EFS. In this way, Edelman thought he could substantially mitigate his key man risk, the perpetual bogeyman for an RIA leader whose personality is critical in sustaining the business. See: How Ric Edelman manages to bring on 4,500 new clients each year by force of personality while diminishing key-man risk at the same time.
Bach, he said at the time, will "provide the firm with greater continuity so it's not dependent solely on me for financial education and serving as the public face of the firm. David helps to assure continuity for the organization."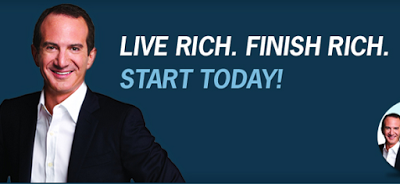 David Bach has his own media
empire to tend as he parts
ways with Edelman.
While unwilling to speculate in depth on what went wrong at EFS, Michael Kitces, blogger-in-chief of Nerd's Eye View, observes that the odds of two industry giants getting along were always long.
"Certainly, both Ric and David each had very big individual brands unto themselves; it's not entirely surprising to hear that they just couldn't find a way to merge them that worked for everyone. When you put that much into building a personal brand — which they both have done — it tends to make you very protective of that brand, which can be challenging to compromise around even for an otherwise appealing business synergy."
There are currently no search results for David Bach's name on the Edelman Financial Services website.
But back in the summer of 2014, it seemed that Bach was a viable key man in EFS's succession plan.
"David is eight years younger than me, so there's that possibility, which we acknowledge," Edelman said in a joint phone call with Bach In an RIABiz interview.
That was the first and last time Bach featured publicly in EFS succession talk. RIABiz reported in January that Edelman was thinking about hiring a new CEO to take over more of his executive responsibilities, with chief operating officer Rene Chaze appearing to be a leading candidate. See: Wanted: New CEO for Edelman Financial whose name is not Ric Edelman.
"Our thought was we'd hire a COO who could turn in a few years into a CEO. We've decided to accelerate that process now," Edelman said in January. "We've realized our needs are both diverse and timely. So, we need a CEO to focus on that. The company is getting bigger and there's no way that I can sustain all of the functions. It's important to focus on continuity for the firm. It's not healthy for the business to be solely dependent on me." See: Wanted: New CEO for Edelman Financial whose name is not Ric Edelman.
What's needed now
Currently, Edelman Financial Services appears to growing quickly enough to satisfy the desires of even the most avaricious private-equity owner. EFS had $14.9 billion in AUM as of March 31, according to its website, and Bach says the company serves 28,000 clients. That's up from $12.75 billion in AUM from 24,000 clients a year ago. With this pace of organic growth, it might make sense to focus more on hiring more advisors, fine-tuning operations and prepping for a looming sale rather than drumming up thousands more clients.
In interviews, Edelman has emphasized that EFS isn't expanding its physical footprint as fast as it initially planned because it is managing growth in its existing offices. See: The 19 ways private equity has juiced up the RIA business and how it's working out.
New York City-based private equity firm Lee Equity Partners bought 58% of EFS in April 2012. Edelman says a sale of EFS could come as soon as the end of the year. See: Ric Edelman strikes a private-equity deal that subtracts $2 million in expenses — now let the after-bidding begin.
Money circuit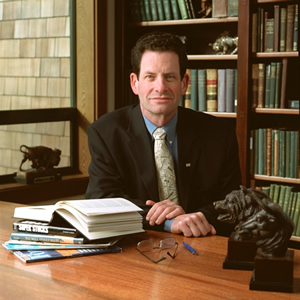 Ken Fisher: If you're looking
for him I assure you on
a stack of Bibles he isn't
here.
Bach, based in New York, is certainly a media force, having made hundreds of appearances in all manner of media; a popular live speaker and with bestselling books to his name, all ringing variations on the theme, Live Rich, Finish Rich. As ambassador for Edelman and his army of advisors, Bach toured the country under the EFS banner, taking his "Smart Couples Finish Rich —The Retirement Tour" to Chicago, Detroit, Boston and Irvine, California. While on the road, Bach says he spoke with about 2,000 attendees.
Edelman and Bach also worked to double the size of the EFS speaker team, a group of advisors who give seminars for the company, and had about 5,000 people attend associated "Finish Rich" seminars.
No longer joined at the hip with Edelman, Bach is free to tend his own brand on his own schedule. Bach says he will begin working on a new book, targeted at young investors, this fall. He also plans to update three previously released books.
'Tremendous year'
Bach is gracious about his time at Edelman's RIA.
"We had a tremendous year and I'm extremely proud of work together," he says in an email. "We had many new initiatives that I was thrilled to be a part of. It was a pleasure do over 135 media appearances, providing financial education messages to over a hundred million consumers and doubling the media impressions of the firm."
He continues: "Ric has a tremendous team of dedicated and hardworking people at EFS and I wish them all continued success. I have no doubt that anyone who came to EFS as a result of our partnership or my seminars will be well taken care of by their fantastic advisors."
News from the West Coast
In other key man news, Ken Fisher, CEO and co-chief investment officer of Fisher Investments, his multi-billion-dollar AUM RIA headquartered in Woodside, Calif., has no plans to retire after 35-plus years in the business. See: Ken Fisher keeps expanding his $42 billion RIA empire despite UHNW head winds.
"When I leave the company hell will have frozen over (global warming aside; I think hell operates on a different scale but I've not verified that)," he writes in an email.
Fisher is philosophical about the Edelman-Bach split.
"I'd not heard that Bach left Edelman but it makes sense."
But he reports that he hasn't run into Bach lately.
"If you're looking for him I assure you on a stack of Bibles he isn't here," Fisher writes.
---
Related Moves
January 12, 2022 – 3:13 AM
---
---
---
---
Mentioned in this article:
Kitces.com
Consulting Firm
Top Executive: Michael Kitces
---
---
---