Dave Romhilt: I was having all of these conversations separately and Tom Palecek said, 'What are we going to do about this?'
Brooke's Note: One factor that keeps brokers down on the wirehouse farm is that the primary connection between these thousands of individuals is corporate management. We talk about RIAs as a fragmented community but full-service brokers toil in plenty of isolation in their own branches. They are divided, and thus mostly conquered, by a regime of dumbfounding compliance in a decaying business model. This breakaway story describes how a bunch of human fragments came together and conquered the confines of corporate brokerage dependence — with one unlikely corporate employee as the catalyst.
A former senior research analyst at Barclays Wealth Management has orchestrated one of the biggest — and almost certainly the most complex — breakaways of the year. The result: Five advisors spread across San Francisco, Chicago and New York — plus the analyst himself — have formed an RIA with a potential $3 billion in assets that are destined to be parked primarily at Pershing Advisor Solutions and administered by Addepar's software.
The new RIA, Summit Trail Advisors, comprises the latest defectors from New York-based Barclays Wealth Management since it announced massive job cuts in 2014 leading up to its sale in June to St. Louis-based Stifel. See: Big brokers take action on F-Squared funds and Virtus shares reel as SEC actions sink in.
Dave Romhilt, the ex-Barclays' research analyst in question, began masterminding this giant deal more than two years ago when, in his travels across the country to meet with clients, he began to have some off-the-clock chats with five professionally and geographically disparate high-net-worth advisors. See: How Russell is faring since joining the competitive ETF party with an all-star ex-Barclays crew.
"We'd be at a meeting and talk with clients and then there would be downtime and we'd get a bite to eat and we were all kind of complaining and it was like déjà vu," Romhilt says. "Finally, we all got together last July or August. I was having all of these conversations separately and Tom Palecek said, 'What are we going to do about this? It's one thing to complain and another thing to do something.' That's when we decided to really seriously look at the independent space."
Romhilt actually left Barclays in February after a disclosure was added to his FINRA U4 stating, "allegations regarding his role in deficiencies regarding performance and recordkeeping of certain due diligence activities."
Plans to leave were already well-underway at that point. Romhilt declined to comment specifically about the allegations just to say: "The firm and I had differences of opinion on how my team was resourced at Barclays, I voluntarily resigned in late February".
The other five advisors departed July 24 and the six men created RIA Summit Trail Advisors. Jack Petersen, 49, is managing partner. He and Romhilt, 38, Summit's chief investment officer, will be based in New York. Peter Lee, 36, is based in Chicago. James Cantelupe, 41, will shuttle between Chicago and New York. Tom Palecek, 38, and John Scarborough, 39, are based in San Francisco.
"Dave Romhilt was really the one who connected all of us together and Tom Palecek was the catalyst to prompt us to have our first conversation about doing something independent," Petersen says. "One by one we all signed as we completed our own individual due diligence and then we started doing things together last summer."
Addepar gamble
In addition to serving as the catalyst in creating the firm, Romhilt was also behind the new RIA's decision to choose Addepar Inc. rather than a more predictable portfolio manager software provider. See: Takeaways from a New York Times article about Addepar.
Barclays was self-clearing until November 2014 when the firm chose Jersey City, N.J.-based Pershing LLC as its custodian. Summit Trail Advisors also uses Boston-based custodian Fidelity Institutional Wealth Services. See: How Russell is faring since joining the competitive ETF party with an all-star ex-Barclays crew.
These big vendor relationships are managed through Dynasty Financial Partners of New York. See: What exactly is Dynasty Financial Partners and why is the Smith Barney execs' startup gaining so much attention?.
Romhilt knows portfolio software from his first job at Cambridge Associates LLC where he "crunched" performance reports. "It was pretty mundane — grunt work — but it gave me a spectacular view of the reporting world." See: Why a disconnect between reporting software and advisors to UHNW assets persists — and what makes the problem so thorny.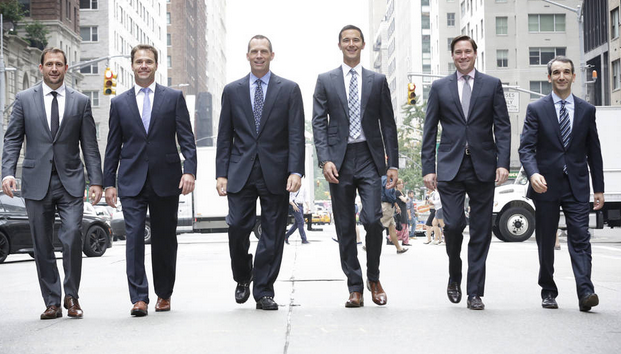 The six partners of Summit Trail
— Cantelupe, Palecek, Petersen, Lee, Scarborough
and Romhilt — bestride and form
a non-bikers version of Critical Mass
on New York City street.
Romhilt was with Lehman Bros. in 2003 when the firm acquired Neuberger Berman Trust Co. Barclays acquired the soon-to-be-defunct investment banking and trading divisions of Lehman Bros in 2008.
On steroids
Romhilt first gave Addepar the once-over in 2013 when he was at Barclays. He liked the software but adopted a wait-and-see stance to see how the upstart company would fare as it matured.
"It was amazing to see progress made in two years. The development cycle at Addepar was on steroids," he says. "We're very comfortable with what the product is today and also where they're going to be in one, two or three years. All of us see the power of the organization and we're very excited about where it is going." See: Addepar lays out world-fixing vision and rolls out upgrades at swanky The Battery event in San Francisco.
Addepar is the right fit for Summit Trail Advisors, Romhilt says, by dint of the quality of its reporting, specifically on private-equity and time-related returns. First Republic bank's RIA, Silicon Valley Bank's RIA and Robertson Stephens are known users of the software system. See: Swatting aside 'doubters,' Joe Piazza uses an improbable hook to nab Wells Fargo private bankers — pent-up Addepar lust.
But Romhilt concedes that the sheer amount of information Addepar provides may seem overwhelming at first.
"It's going to take us some time to get used to it, but there's so much customization. It felt right. Addepar is having the world at your fingertips," Romhilt says.
Continuity a plus
At Barclays, Romhilt held several important-sounding titles. He was managing director and head of alternatives, head of manager due diligence and the chief investment officer of Barclays Wealth Trustees. Romhilt says losing access to Barclays' research will not be a hindrance in his new role because he didn't use a great deal of Barclays' internal research and the investments he researched were much smaller in size than those the giant Barclays would have preferred.
"I tend to focus on managers earlier in the lifecycle and smaller boutiques. Barclays focuses on bigger managers like the Blackstones and BlackRocks. I'd joke that my managers weren't that great of a client for Barclays. I was choosing managers at Barclays and to their credit they gave me the flexibility to do so. They understood why. It was unique for a big organization to give flexibility." See: Focus Financial doubles down on financial engineering by making five hires — four of them deal hounds.
Romhilt is in the process of hiring a staff of five for research.
Petersen says that having Romhilt in charge of investment research is comforting the advisors and clients alike. Romhilt will work with all five advisors' clients.
"Dave knows most of our clients and our clients have been working with him ever since the beginning," Petersen says. "We've actually replicated the platform at Barclays because Dave is still chairing the investment management team and he's our CIO."
Un-Stifeled
The advisors maintain that their decision to leave Barclays was not based on the uncertainty in the run-up to the Barclays-Stifel deal, but rather on their wish to build a wealth management practice on their own. However, a number of advisors have left Barclays since its sale to Stifel was announced.
A British bank headquartered in London, Barclays has operations in more than 50 countries and territories and has around 48 million customers. Barclays had total assets of more than $2.42 trillion. Multiple emails seeking comment from Barclays were not returned. See: How Russell is faring since joining the competitive ETF party with an all-star ex-Barclays crew.
"The Stifel acquisition of Barclays Wealth in the U.S. was purely coincidental," says Petersen. "We made the decision to go independent last summer. A number of our friends and former Barclays colleagues will join Stifel this Fall, which I believe provides a great fit for their businesses,"
It's no surprise that Barclays advisors are shopping around for a new home given the uncertainty at Barclays, recruiters say.
"Anytime there's a change in ownership even if it's the best firm, it absolutely causes people to explore. Even if the intention is to stay, it's irresponsible not to explore and make sure you have a Plan B," says Mindy Diamond of Diamond Consultants of Chester, N.J.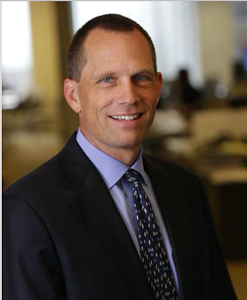 Jack Petersen: One by one we
all signed as we completed our
own individual due diligence and then
we started doing things together last
summer.
In May 2014, Barclays announced that it would cut thousands of jobs. In June, it announced it would sell its U.S. wealth and investment management business to Stifel for an undisclosed sum.
"Barclays was up on the block for a long time and that left a lot of advisors with uncertainty to explore options. It look a long time for Stifel to come to the deal. The more time, the more vulnerable advisors are," Diamond added.
Real shopping
Dynasty founder Shirl Penney confirms that the advisors were peppering him with questions long before Stifel announced its intention to buy Barclays. See: Why quiet co-breakaway of LPL and Ameriprise advisors in Downeast Maine speaks so loudly to Shirl Penney.
"I really like a firm like this because it's a wealth management boutique of the future. They absolutely have an investment worldview. The worldview that Dave Romhilt built on the investment side at Barclays will be used by all of the advisors and all of the offices. They're really focused on building a smart investment brand."
Summit Trail's founders envision keeping the same boutique feel they had at Barclays. Petersen declined to name how many clients the firm has but did say advisors keep their number of clients low. Some of the clients have as little as $5 million in assets and others have hundreds of millions in assets.
"The majority of our clients are first-generation wealth and business owners — public and private. That's a unique personality of very good risk takers," Petersen says. "The response has been really positive. We tell the story of our new firm and clients understand the benefits of the new firm." See: Family Office Exchange is betting that RIAs and the ultra-affluent can't get enough of each other.
---
---
Mentioned in this article:
---
---
---
Investor
Summit Trail talks a lot about research and offering other investments that weren't available to them in the past. Where are they getting their research…are they using a product to gain access to this data?
Investor
Brooke,
I found out. They're using Smart Vision by evestment. I believe most large firms use evestment.
brooke southall
Investor,
Unless I'm mistaken they are using Callan Research. I think that is the Dynasty standard.
Brooke
camelia waxman
Useful writing . I was enlightened by the facts , Does someone know if my assistant could locate a blank Form 1 copy to complete ?
Jeff Spears
An impressive story that reminds me of the successful strategy of independent firm Argos Wealth Advisors.
A huge advantage that most independent wealth management firms do not take advantage of is their ability to work with early life cycle money managers who have a better chance of providing alpha..