Eric Clarke [r.] next to brother Todd: They didn't even blink an eye about our expansion proposal.
Brooke's Note: I just flew back from visiting my family in Maine for a week on a midday flight. I had a window seat on a relatively clear day leaving my Charlotte connection en route to San Francisco. My takeaway from the flight: There is one hell of a lot of Midwestern space out there — and few signs of human habitation. The NorthStar-owning Clarkes know this fact and continue to live by a philosophy of making company campuses out of cornfields. We are seeing Black Diamond make a similar growth move in Jacksonville, Fla. and LPL is doing same in South Carolina. We write about how big hires show the very real impact the RIA business is making in the United States. Now it's starting to show up as a physical presence on the frontier — starting with grown men in suits wielding shovels.
If you are a client of NorthStar Financial Services Group LLC and you are determined to meet one of the company's executives at its headquarters in Omaha, Neb., you might end up at the other "star" in the Omaha, Neb. constellation — Starbucks Coffee. In fact, Ron Carson, CEO of Carson Wealth Management Group, and Eric Clarke, president of NorthStar's subsidiary, Orion Advisor Services LLC, had coffee there yesterday morning.
Ok, maybe the two CEOs just like their drinking caramel macchiatos in anonymity.
But the dislocation to a retail coffee chain comes about as the holding company for Clarke's Orion Advisor Services, CLS Investments LLC, Gemini Alternative Funds, Gemini Fund Services, LLC, Gemini Hedge Fund Services, Northern Lights Compliance Services and Northern Lights Distributors finds itself putting employee desks in its conference rooms to accommodate company overflow. Even that isn't enough. The company rented the second floor of a local Union Bank branch (who knew bank branches even had second floors?)and 40 more NorthStar employees will need to call that home for now.
The need for this extra square footage arises from NorthStar nearly doubling its staff by adding 326 employees in the past 18 months. In a year's time, the firm's assets under management have grown more than 31%, thanks to advisors who are using the firm's outsourcing services and technology. For example, NorthStar recently won the reporting account for the state of Texas's 529 plan. See: Boston firm buys Orion Advisor Services as part of NorthStar succession deal.
Lincoln to Omaha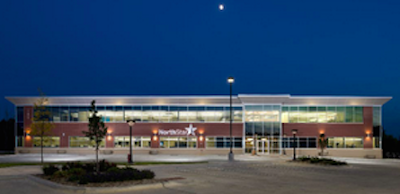 NorthStar's current 60,000 square-foot headquarters on
the western edge of Omaha was
supposed to be adequate for seven
years but got sopped up in
three years.
NorthStar's current 60,000 square-foot headquarters on the western edge of Omaha, Neb. was supposed to be adequate for seven years according to its business plan but got sopped up in three years. In August 2014, NorthStar had $247.5 billion in assets under administration and management and the company's current assets under management and administration stand at about $325 billion. NorthStar has a total of 709 employees and 480 of them are in Omaha and 200 are in New York with others sprinkled in small locations in Chicago, Phoenix and Seattle.
To keep up with this dramatic spate of growth, NorthStar recently broke ground on a new $6.3 million, 45,000 square-foot building, which should be completed in the fall of 2016. Construction started on Tuesday. NorthStar will end up paying about $18 triple net compared to $60 triple net for comparable space in Silicon Valley. Of course, the space is literally in the middle of nowhere, an equidistant 30 to 40 miles from Lincoln, Neb. and Omaha. See: How Omaha is emerging as the RIA business' center of gravity.
Happily for NorthStar employees, most commutes from home to the office are in the two-to five-minute range. See: Orion signs on three $1 billion-plus RIAs on its even-keeled Omaha reputation then rocks its own boat with a sale to Boston firm. Not only is the space dramatically cheaper but Eric Clark estimates he pays staffers a third or half of what a comparable staffer is paid in a Bay Area hotspot.
Clarke allows that Silicon Valley does have one advantage over Western Omaha. "We're not on the absolute cutting edge of technology as you could be," he says.
But NorthStar's value proposition relies as much on its service as its technology — and that is the aspect of the business that is driving up headcount so much, Clarke adds.
Pricey, but not Silicon Valley pricey
Orion and competitor Envestnet Inc., based in Chicago, has offices in Mountain View, Calif. and its soon-to-be subsidiary, Yodlee, is in Redwood City, Calif. Envestnet also has a campus in Trivandrum, India, which no doubt is even cheaper than Omaha. See: Envestnet stock skidded 35% — so will it force a rethinking of the Yodlee deal?.
Blink of an eye
All this growth comes as NorthStar begins life as a holding of a Boston-based private equity firm.
In February,TA Associates announced it was purchasing a majority stake in NorthStar. See: Boston firm buys Orion Advisor Services as part of NorthStar succession deal. Orion became the last of the big-four RIA portfolio accounting providers to swap independence for more liquidity and capital.
Clarke allows that this deal has only helped with the expansion.
"They didn't even blink an eye about our expansion proposal," he says.
Revved up
But has all this growth and big Boston money changed Eric Clarke?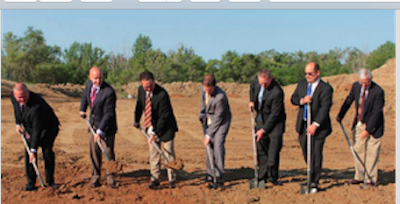 Members of the NorthStar board break
ground on the new 45,0000 square-foot
building, which should be complete in
the fall of 2016. [l.-r.] Bill
Wostoupal, Eric Clarke, Todd Clarke, Daniel
Applegarth, Brian Nielsen, Andrew Rogers, Larry
Fazzini
"If anything, Eric Clarke seems to be more energized," Carson says. "He seems more energized than ever before and I think it's because he has a partner to help him do what he wants. I know some advisors hate change but I think this is what Eric and his family wanted to do. He's more driven than I've ever seen him."
Clarke says he is so motivated because of the number of large, prominent firms that he serves. "They are our friends and we don't want to let them down."
Two years ago Carson, whose RIA caters to ultrahigh and high-net-worth clients, and Carson Institutional Alliance and PEAK Advisor Alliance, his coaching company, switched his firms' technology to Orion. Carson says since the sale to TA, he has noticed no negative changes. See: Ron Carson chooses Orion-Salesforce software for his $5-billion RIA as he lines up an additional $3 billion.
225 acres
This spring, NorthStar sold the idea of a campus to the developer.
Even though NorthStar has access to capital, Todd Clarke, CEO of CLS Investments (and Eric's brother), says there was no loan or any type of financing taken out to pay for the new project because NorthStar is leasing the new space.
"Our contractor owns the buildings. We feel very strongly that our capital is better used in fueling the growth of our business. We get better use of our capital to improve business rather than to purchase commercial real estate in Omaha," Todd Clarke says. See: How Omaha is emerging as the RIA business' center of gravity.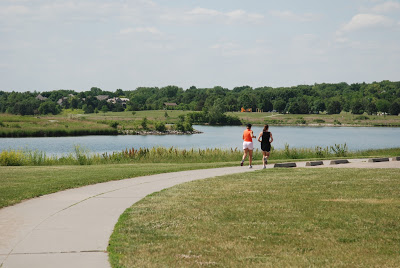 Eric Clarke on the new NorthStar
campus: "When I was a kid,
it was all cornfields and bean
fields. It's still a half mile
to cornfields and farms.
NorthStar's campus is nestled off a main corridor and is right next to the Zorinsky Lake and Recreation Area that offers seven miles of running and biking trails, a lake and two playgrounds on 225 acres.
"This is an expansion of the existing campus. When we built it, we had that vision in mind. We also host training sessions here once a month. We have 30 RIA firms that come into our office every four weeks and we have interactive training sessions on how to make the most of their investment with the Orion platform," Eric Clarke says.
Orion jumps
Orion currently has a million accounts on a platform with 700 advisory firms and has reached $225 billion in assets under management, a 45% increase from $155.3 billion a year ago.
Being a nerve center of RIA assets is a new use for the property.
"When I was a kid, it was all cornfields and bean fields," says Eric Clarke before pausing to add: "It's still a half mile to cornfields and farms."
---
---
Mentioned in this article:
---
---
---
Bill Winterberg
August 28, 2015 — 6:28 PM
The coffee at Le Peep next door to NorthStar is way better!