News, Vision & Voice for the Advisory Community
The suit says the track record was fabricated using backtested hypothetical results that were not only falsely presented to investors but were themselves grossly inflated
August 26, 2015 — 3:54 PM UTC by Sanders Wommack
An earlier version of this article contained a reference to "insider trading." The lawsuit by New York law firm Bernstein Litowitz Berger & Grossmann LP brought against Virtus does not use the wording "insider trading" in reference to alleged sales of Virtus stock by officers. We apologize for the use of those words. We also regret having conflated destruction of marketing materials to avoid having them get into the hands of consumers with the destruction of the materials as incriminating. The suit does not allege the latter.
A potentially explosive lawsuit was filed late last Friday against Virtus Investment Partners, a Hartford, Conn. mutual fund company, and its officers.
The consolidated class action complaint filed in the Southern District of New York alleges that company officers of mutual fund company, Virtus, falsely marketed its flagship product based on a purported blockbuster performance record that in reality never existed.
"During and before the "Class Period", Virtus and its senior executives told investors that the proprietary trading strategy underlying its AlphaSector funds had an astounding historical track record," the suit reads.
The suit further alleges that defendants knew the strategy underlying the AlphaSector funds did not even exist prior to September 2008, "and the funds' purported track record was fabricated using back-tested hypothetical results that were not only falsely presented to investors but were themselves grossly inflated."
Until recently, many of Virtus's largest and most lucrative funds were marketed based on the now disgraced AlphaSector investment models provided by Wellesley, Mass.-based F-Squared Investments in its capacity as subadvisor. See: Where Virtus stands after F-Squared seemingly led it astray, to mutual benefit.
The complaint, Case 1:15-cv-01249-WHP Document 33, also accuses two company officers of selling big portions of their Virtus stakes after they learned of F-Squared's duplicity and raises ethical questions about a September 2013 secondary offer organized by Virtus in which the firm raised $167 million from the public market.
New York law firm Bernstein Litowitz Berger & Grossmann LP is leading the litigation against Virtus and filed the lawsuit, which is the result of a lengthy investigation conducted by BLB&G attorneys John C. Browne and David Schwartz. Among other cases, the firm has led successful litigation efforts against Arthur Andersen in 2002, WorldCom in 2005, and Tyco International in 2009.
Virtus Investment Partners, through a public relations representative, declined to comment on the accusations put forth in the lawsuit.
F-bomb
On Dec. 22, 2014, F-Squared Investments settled accusations by the Securities and Exchange Commission that it had marketed its flagship AlphaSector line of indexes deceitfully by using returns based on incorrectly calculated backtests, not real results.
Under the leadership of then CEO Howard Present, F-Squared invented a fictional track record for its AlphaSector index that showed it gaining 135% versus the actual 28% gain for the S&P 500 between April 2001 and September 2008. Present promulgated the fiction — that real clients had experienced these incredible returns — via marketing materials, presentations and private communications. See: How Howard Present parlayed an intern's algorithm into a small fortune — and when the SEC says he knew of a mega-disconnect.
The fraud began its inevitable unraveling in July 2013 when a routine SEC examination at F-Squared's headquarters turned up irregularities. By September 2013, Howard Present had informed Virtus, his mutual fund partner, that F-Squared's historical investment track records were under investigation. See: In reply to SEC, Howard Present blames bad advice for any alleged wrongdoing.
The BLB&G lawsuit alleges that Present personally delivered this news to about 30 Virtus employees, including the leaders of Virtus's national sales team, at a due diligence meeting in Chicago in late September or early October 2013. Present's news touched off a panicked reaction at Virtus, according to the lawsuit, which goes on to allege that Virtus leadership then took actions to hide what the company knew about the AlphaSector track record.
Fire sale
The consolidated class action complaint reads, in part:
"After this announcement by F-Squared, according to this former employee, 'all hell broke loose' and Virtus went into full damage control mode. Indeed, shortly after the Chicago meeting Virtus management organized an all-hands-on-deck conference call, which included CEO George Alyward as well as [senior executives] [Jeff] Cerutti, [Pete] Batchelar, [Paul] Cahill, and [John] McCormick. According to a Virtus wholesaler who participated in the conference call, management told Virtus's employees that they 'had to do a scorched earth' and destroy 'any materials they had' relating to AlphaSector's prior track record. This employee said that he and others destroyed both hard copy documents and emails because 'everything needed to be gone.'"
A lawyer for Virtus says in a letter sent to RIABiz after this article was published that such a contention is implausible on its face. "... as an SEC-regulated entity, Virtus is subject to and implements document preservation requirements (including of emails) relating to its business." The lawyer's letter goes on to say: "Virtus did not destroy evidence related to F-Squared or anything else."
The class action complaint continues:
"This former employee recalled that Virtus employees were 'shocked' by this order but many, including himself, complied by deleting emails, PDFs, discarding hard copy documents, and advertising materials — anything that reflected the AlphaSector 2001 to 2008 track record. This employee recalled that '[i]f it was internal between product research, salesforce, and management — there was quite a bit of that and that all had to go.'"
According to BLB&G, the orders to destroy evidence were given by Virtus's executive vice-president and head of national sales, Jeff Cerutti. He left Virtus in March 2014 to become CEO of AMG Funds at Beverly, Mass.-based Affiliated Managers Group, a post he currently occupies. AMG has not responded to a request for comment. See: AMG is suddenly among the RIA roll-up elite after the Baker Street deal pushes it past $25-billion of AUM.
Allegations
These allegations come in the wake of reports that suggested Virtus management knew much more about the AlphaSector's fake historical returns than they told clients. Research conducted by attorneys at Bernstein Litowitz Berger & Grossmann suggests that Virtus management came clean to its salesforce — but nobody else — regarding F-Squared's use of backtesting in a December 2012 meeting. That alleged occurrence was covered in RIABiz previously
The lawsuit quotes attendees at Virtus's 2012 wholesaler conference at the Boca Raton Beach Resort in Florida who say they can confirm that moments after Howard Present had given a talk about his company and left the room, a senior executive in charge of compliance, Batchelar, rose to tell everyone else not to listen to Present when he spoke about F-Squared's supposedly live track records. Batchelar then allegedly said that Virtus knew all of F-Squared's returns were based on backtesting prior to September 2008. See: Where Virtus stands after F-Squared seemingly led it astray, to mutual benefit
At least two officers of the company, Cerutti and Francis G. Waltman, were in the room when Batchelar made this announcement, the suit says. According to the complaint, CEO George Aylward, while not physically in the room, was conferencing into the meeting over the phone.
Based on SEC documents from the F-Squared settlement, it appears possible that Virtus did not yet know that the backtested returns were also incredibly inflated. According to publicly available information, the earliest point at which Virtus knew that Howard Present and F-Squared had mishandled the strategies' backtesting in a way that boosted returns was May 2013.
Stock
Despite allegedly telling its salesmen the truth about F-Squared's historical inception date in December 2012, Virtus Investment Partners did not change its marketing materials for these incredibly lucrative AlphaSector mutual funds for 10 months, the suit contends. Prospectuses and fact sheets continued to list April 2001 as the inception date for the AlphaSector funds. Leadership at Virtus allegedly encouraged their wholesalers to continue to push the false AlphaSector story.
According to an employee quoted in the suit filed against Virtus: "[Virtus wholesalers] were instructed (or rather commanded) by sales management, including Defendant Cerutti and others, that 'this is how it stands so go out and sell with it. So we did, vehemently.' This employee said that while employees were concerned by the comments at the Boca Raton meeting, their complaints became a 'broken record' and eventually the truth was 'swept under the rug.'"
It continues:
"According to this former employee, the wholesalers were 'instructed to show what the funds did in 2001 to 2008' and emphasize that they 'dramatically outperformed the S&P 500.' When asked how important it was in client pitches to emphasize this information, the employee stated that —'it closed the sale' and 'everything was built on the [2001-2008] track record.'"
Virtus, as a corporate entity, is also called out in the complaint for selling its own shares while withholding material information from investors. The lawsuit further alleges that during September 2013, nine months after the Boca meeting and weeks before its officers allegedly ordered subordinates to destroy information about F-Squared's returns, Virtus sold 1,129,000 shares of its common stock to the public at $155 per share in a secondary offering. This garnered Virtus net proceeds of approximately $167 million, according to SEC filings. Shares in the company later rose to as high as $247 before falling dramatically as the SEC investigation of F-Squared ended with the government's gun sights on Virtus.
Shares traded for $114 on Friday. On Monday, shares dropped over 5% to close at $108.32. The movements approximated general declines of stocks hit in the recent correction.
Potential $60 million disgorgement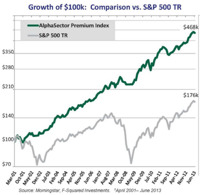 AlphaSector Premium returns—according to F-Squared and
Virtus
Virtus management continually downplayed the significance of the SEC investigation into F-Squared, insisting to company employees that this was an "F-Squared issue, not a Virtus issue." On quarterly conference calls since news of the F-Squared investigation broke, Aylward has been no more forthcoming, frequently shutting down or brushing off questions about the matter.
RIABiz confirmed there was an SEC investigation into Virtus Investment Partners after filing a Freedom of Information Act request with the SEC in March. See: SEC denies Freedom of Information request by RIABiz related to Virtus funds as Ameriprise and TD Ameritrade become latest biggies to cut ties
Virtus admitted the existence of an investigation May 11, the same day it announced F-Squared would no longer be subadvising the AlphaSector line of mutual funds. These funds were rebranded and taken over by Dorsey Wright & Assoc. of Richmond, Va. See: Virtus bites bullets with F-Squared firing, Dorsey Wright hiring and an admission that it'll likely pay a $5-million-plus SEC settlement
Virtus has thus far set aside $16.3 million to settle with the SEC, but analysts say the ultimate figure will probably be much higher. The lawsuit notes that an analyst for Jefferies LLC, a global investing firm, estimated in June that a potential SEC penalty and disgorgement could rise as high as $60 million for the mutual fund company — assuming Virtus was at an "arms-length from the source of the errors."
Back(test) story
CEO Howard Present built F-Squared into a $28 billion AUM company between 2006 and 2014 by creating and marketing a line of ETF portfolio indexes, which were designed to limit exposure to market downturns. Unfortunately, Present created these "AlphaSector" indexes by incorrectly backtesting a licensed, third-party algorithm, a mistake that led to the AlphaSector indexes appearing to have a return that was 350% higher than it should have been. Despite being warned that the backtesting method F-Squared used had created highly inflated historical returns, the SEC says Present continued to market these world-beating indexes. See: Bean Town Brahmins — ex-Windhaven execs — may pay as much as $100 million for F-Squared remains.
Also problematic was Present's insistence that the backtested, historical returns he himself had invented actually represented investment returns experienced by real clients. Present and F-Squared claimed that the inception date for these strategies was April 2001 and not September 2008 when F-Squared publicly launched the indexes.
In the wake of the financial crisis, they practically sold themselves. Investors stampeded into F-Squared products, the long-term investment returns of which appeared to have crushed the S&P 500 and avoided practically all of the market's downturns.
Business boomed. Starting from nothing, F-Squared gained $28 billion assets in six years.
At its peak, $12.5 billion of these assets were in Virtus mutual funds and at least another $1 billion in separately managed accounts. Virtus collected commissions on these fund sales and split ensuing management fees with F-Squared. AlphaSector SEC filings show Virtus earned gross advisory fees of $137.5 million in management fees from the five AlphaSector mutual funds in 2014 after collecting $71.5 million in 2013. This compares to total revenue of $451 million in 2014 and $389 million in 2013.
The SEC uncovered the fraud during a routine examination in July 2013. Two months later, on Sept. 23, 2013, Present told F-Squared staff to stop claiming that returns before September 2008 returns were "live" and shortly thereafter told Virtus about the SEC investigation into the AlphaSector track record.
F-Squared settled with the SEC on Dec. 22, 2014. F-Squared paid a $5 million fine and disgorged profits of $30 million under the settlement. Present did not settle with the SEC alongside his former company, contesting all charges against himself. The trial, currently in its discovery phase, is scheduled to go to trial next year. See: In reply to SEC, Howard Present blames bad advice for any alleged wrongdoing
On the block
F-Squared's $35 million hit appeared small at the time in contrast to its revenues, but in conjunction with mounting legal fees for Howard Present, fleeing clients and a shattered reputation, it was enough to kill the company in less than seven months. F-Squared filed for bankruptcy in early July. At the time, it had just $5 billion in assets left under management. The company, or what's left of it, is in the process of being purchased by Broadmeadow Capital LLC, a Boston-based RIA with close to $16 million in assets under management, according to its SEC ADV form.
New York-based Zamansky LLC filed the original class action complaint against Virtus Investment Partners in February. It was, essentially, a shorter repackaging of the SEC's Dec. 22, 2014 complaint against F-Squared. The Arkansas Teacher Retirement System, which managed about $14 billion in 2014, is the lead plaintiff of the new, consolidated class action complaint filed by Bernstein Litowitz Berger & Grossmann, which has 49 lawyers. The class action represents anyone who purchased Virtus shares between Jan. 25, 2013 and May 11, 2015.
---
---
Share your thoughts and opinions with the author or other readers.
Alan said:
August 26, 2015 — 7:59 PM UTC
That's quite a retraction… I suppose that's what you get when a kid just out of college writes articles about an industry in which he has no formal education or work experience….
Phil said:
August 26, 2015 — 11:54 PM UTC
Two retractions in one day? I guess "Accuracy in Journalism" is an elective at the University of Chicago…..
Dan G said:
August 27, 2015 — 10:25 AM UTC
Does this suit really claim these people were trying to hide evidence by deleting emails? Trust me, I worked in data services – you can't make emails disappear by deleting them. Just ask Hillary.
Virtus said:
December 15, 2017 — 8:07 PM UTC
---
---