News, Vision & Voice for the Advisory Community
The intellectual puzzle of the Envestnet-Yodlee deal was one game played but Laser App's featured speaker took gaming deeper
August 24, 2015 — 4:08 PM UTC by Guest Coumnist Timothy Welsh
Brooke's Note: Mary Poppins was no scientist but she knew that the spoonful of sugar making the medicine go down would cause a minor harmful hypoglycemic reaction. But no matter; there were bigger ills to cure. Humans need their pleasures. A technology business that wonders why humans are slow to adopt its offerings is as obtuse as a nanny who forces unsweetened medicine on her charges. Who cares about a cure if the path to it brings misery? So while I'm suspicious of using games and dope to encourage software adoption, I am not wildly skeptical, not at all. I think part of my joy in publishing RIABiz is watching how our pages of ugly code transform with a push of a button into articles with prose, captions, photos and headlines. I write in anticipation of that 'ting' moment — a condoned guilty pleasure.
The Laser App Financial Software Conference last week provided a happy answer to the pain of adopting technology — rewarding diligent RIAs with pleasurable signals to the brain.
The Ontario, Calif.-based firm's annual San Diego event took technology adoption as its theme, but the digital forms king did more than implore, cajole, beg and speak in solemn tones in hopes of getting people to do what they don't want to do — though Ed Beggs, Laser App's CEO and founder, threatened to go in that direction in his welcoming remarks.
"This year's theme is all about adoption. We've gathered the industry's leading technology platforms here to help all of us solve this pressing issue of getting advisors to actually use the incredible systems that are available to them. We've all built elegant software, but that is not enough. We have to convey value and it is incumbent upon the technology community to convey that value as a motivation to use it."
To bring the adoption message into focus, Laser App constructed a packed agenda of presentations by top firms such as Grendel and MoneyGuidePro, the conference platinum sponsors, to share insight on how they were using interface design, training materials and coaching to spur adoption. See: Laser App is showing the prosaic business form's sexy side at its San Diego conference.
"The biggest threat from the robo-advisors is their ability to meet client expectations online," said Aaron Guidotti, CEO of Grendel, a CRM and wealth-reporting platform. "Therefore, advisors need to have a client portal that has that same robo functionality, is easy and intuitive to use, and is communicated to clients that it is available."
Straight dope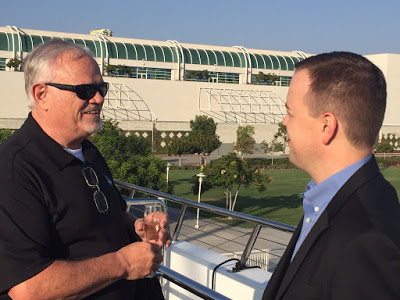 Laser App chief Ed Beggs and
Riskalyze's CEO Aaron Klein compare notes.

Gabe Zichermann, CEO of Gamification Corp. and Dopamine Inc. offered a refreshing spin on what is making robo-advisors overachieve in his popular and engaging keynote. One of his key messages was that robo-advisors aren't enjoying their run of success solely on the basis of gee-whiz technology — it's more the effect that technology has on the chemicals known as dopamine that whiz neuron-transmitted signals through users' minds to stimulate their reward centers.
"Why are games so addictive, particularly the ones on your phone?" Zichermann asked the packed crowd. "It is because of dopamine, the wonder drug."
Robo-mountain high
He went on to discuss making business interactions more self-service to better engage and empower clients — a lesson that the early robo-advisors have taken to heart with their engaging online, human-free platforms.
Zichermann is an expert in "gamification," the process of engaging clients and employees with games and loyalty programs to influence behavior. In order to increase adoption and usage of advisor technology, he says that the industry is ripe for gamification, a message that was fervently discussed by not only the tech execs, but also the advisory firm principals in charge of buying and deploying technology for their advisors. See: The 6 biggest trends affecting the RIA business.
Dopamine is a powerful neurobiological agent that rewards us when we achieve something. When the brain provides a hit of dopamine, according to Zichermann, it feels so good that we want to do it again and again.
"In a game setting, you are challenged and achieve success through a swipe of the finger hundreds of times an hour. And it isn't just the millennial generation that are addicted to phone games — the largest demographic of phone gamers by far, are women over 40." See: Forget their reputation; rich women are more fearless investors than supposed.
Synching up with the technology adoption theme of the conference, Zichermann provided examples of companies that have used gamification to change behaviors of both customers and employees, such as the Dominos "Pizza Hero" app that has customers designing their own pizzas and then, with a flick of a finger, sending it off to the local Dominos to be baked and delivered. When customers creates a certain number of pizza designs that are innovative, they get a certificate of achievement and a job offer to make pizzas full time. This single game app has created a significant increase in sales as well as provided Dominos with a powerful employee-recruiting pipeline.

Michael Laks of Riskalyze and Grendel's
Aaron Guidotti
With over 33,000 forms in its electronic library from 425 custodians, fund companies, broker-dealers and insurance companies, Laser App is the digital hub for wealth management. It is also the reason why it is able to gather several dozen technology companies that integrate with its forms engine to streamline the new account opening process, one of the bigger operational tasks that advisors' affiliated custodians and broker-dealers have to deal with on a daily basis. See: 9 ways for RIAs to minimize brain drain and secrets seepage in an era of employee mobility.
Front-end intelligence
Armed with all that data, Robert Powell, vice president of marketing at Laser Apps, provided an intriguing barometer of the level of compliance-creep in the industry.
"The average form in our library is 5.3 pages long, up from 4.1 pages last year. This represents a more than 20% increase year over year and is almost entirely from new legal and compliance disclosures," he said. See: RIAs in the catbird seat to leverage straight through processing in 2012.
Powell highlighted some of the latest enhancements in the Laser App platforms, both desktop and cloud, that included e-signatures, interfaces, automated workflows and the ability to insert barcodes to streamline integrations with CRM, document management and other client data systems.
"Our focus is on making forms smarter by putting in intelligence on the front-end, to eliminate mistakes on the back-end," noted Powell.
All of the industry's leading CRM platforms were in attendance including Junxure, Redtail Technology, Salentica (Microsoft), AppCrown LLC (a customized version of Salesforce), Sycamore, Smart Office, Advisors Assistant, and Paperclip Inc. along with document workflow management and e-signature providers Laserfiche, C5 Technology, Signix and eSignLive. Other tech heavyweights at the conference were TD Ameritrade, Sungard, Orion Advisor Services, LLC, Advisor Websites, Finance Logix, ActiFi Inc. and newcomers Riskalyze, Wink Inc. and Oranj.
Why Yodlee?

By the Bay: Tanya Tygesen and
Melissa Best of Salentica and Jill
Jaglowski of Financial West Group
Meanwhile, the biggest buzz in the exhibit hall was the recently announced Envestnet acquisition of Yodlee. See: Envestnet buys Yodlee and its treasure trove of 'permissioned' data by selling its vision of the future of financial advice. Not one single technology executive I spoke with could make sense of the deal. "Why would you pay $660 million for something that you can readily access?" more than one CEO expressed.
The only rationale that held some water among these tech executives was that Envestnet might bundle Yodlee into their CRM platform so that advisors would have undisclosed intelligence on their prospects as to where their assets were — but the Big Brother, creepy factor made this somewhat of a non-starter. One tech CEO joked that Envestnet had to buy Yodlee because, "they aren't able to partner with anyone."
The one aspect that keeps attendees coming back to the Laser App conference year after year is the focus on networking opportunities and building community among the software providers and their large clients. Key to this philosophy is the second-night outing that has featured dinners at the "Top Gun" fighter-pilot base officers' quarters, commandeering water parks and more.
This year, top sponsor hosts MoneyGuidePro and Grendel didn't disappoint with a casino cruise through the San Diego Bay. Attendees wined, dined and fake-gambled for a chance at a raffle for high-end electronic gadgets, including a camera-wielding drone.
To learn more about what went on at the 2015 Laser App Financial Services conference, check out the many Tweets on the #Laserapp2015 hashtag on Twitter.
Timothy D. Welsh, CFP® is President and founder of Nexus Strategy, LLC, a leading consulting firm to the wealth management industry, and can be reached at tim@nexus-strategy.com or on Twitter @NexusStrategy.
---
Mentioned in this article:
MoneyGuidePro
Financial Planning Software
Top Executive: Bob Curtis
---
---
Share your thoughts and opinions with the author or other readers.
Stephen Winks said:
August 24, 2015 — 8:35 PM UTC
The reason why software executives are at a loss to explain Yodlee is they are focused on very narrow applications that are ancillary to advice. Envestnet must address the advisory services business in its entirety, with that context, Yodlee makes great sense if one is interested high level expert advisory services with is beyond the scope of most software vendors. But there is pressure on Envestnet to execute an overarching expert advisory services strategy. Critics may be correct, but if not, they are vulnerable to what is coming, putting brokerage and custody services on a far higher advisory service plane.
SCW
Stephen Winks
Mike said:
August 26, 2015 — 8:15 PM UTC
Great article – Great event.
---
---