What I learned about our industry's toughness, endurance and character across four peaks, 28 miles and 7,500 vertical feet in Aspen
Bears, lightning, not to mention the 'Frigid Air Pass' and the 'Soul Crusher,' challenged the RIA adventurers on their fourth, and most grueling, trek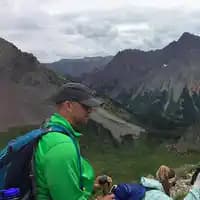 Eric Clarke (l.): It was possible to snatch an hour or two of shuteye prior to hike departure, but I highly doubt anyone slept.
---
---
Mentioned in this article:
Allworth Financial
Mergers and Acquisition Firm, RIA Serving Other RIAs, Advisory Firm
Top Executive: Scott Hanson and Pat McClain
---
---
---
Marie Swift
August 13, 2015 — 4:10 PM
Excellent piece. Thanks for sharing the experience with us in such a vivid and intelligent way, Eric. Lots of good business lessons here. And hats off to all those who made the trip. I am proud to call many of you friends and business allies.